Lately, we've seen ecommerce activities spike more than ever before, and Statista predicts that it will only continue. The ecommerce industry is set to make up 22% of global retail sales by 2023, which means online retailers need to invest in the right systems and technology infrastructure to support this level of growth.
Whether it's under normal circumstances, or through a crisis such as the global supply chain disruptions, you need to act with resilience. With the right tools, you'll be equipped to effectively manage operations without hiccups that can impact customer experience, business performance, and ultimately, revenue.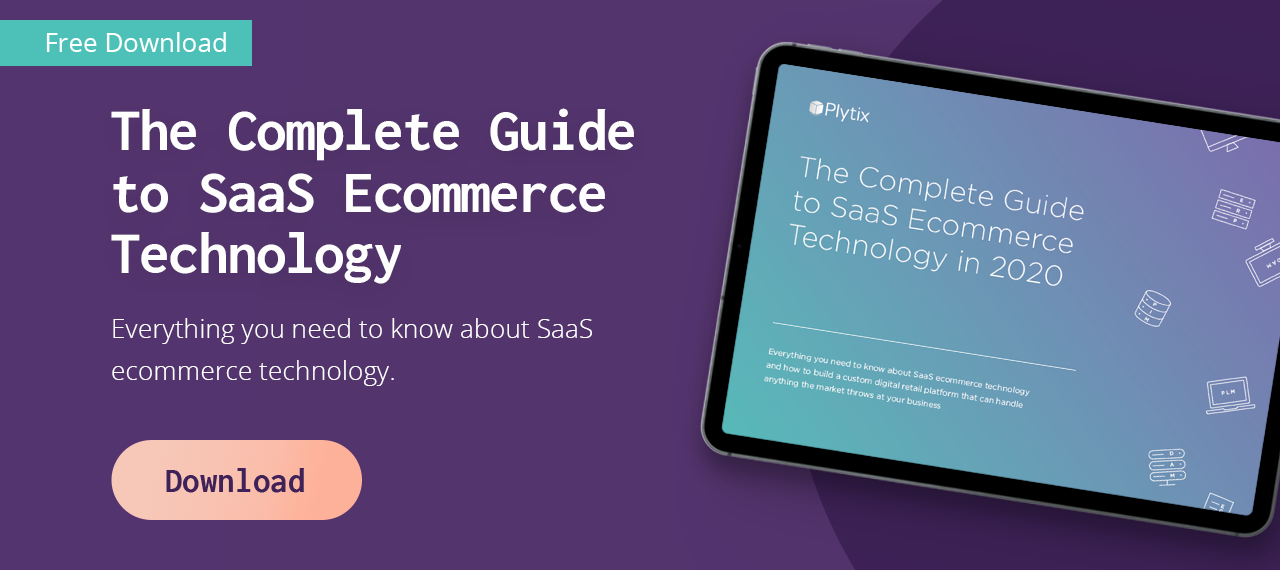 There are so many ecommerce solutions out there, many of which have unrecognizable acronyms or overlapping functionalities that make it hard to keep track of them—and even harder to make a decision for your business. Especially if you're operating on a tighter budget with fewer resources (which is the case for most small businesses). So, in this article, we'll narrow them down for you.
1. Product Information Management (PIM)
Your ecommerce technology stack will not be complete without a product content management system. This tool makes managing the data you need to market and sell your products easier. Essentially, a PIM tool is a single source of truth for information such as SKUs, product titles, product descriptions, technical specifications, and other content that help customers make buying decisions.
While not every PIM is the same, the best PIMs come equipped with DAM capabilities. For instance, Plytix PIM has DAM functionalities designed to sit alongside written content, making it a suitable option for small businesses.
When everything lives in one central location, you get to save on costs, and you won't have to worry about wasting time switching between different systems.
2. Enterprise Resource Planning (ERP)
The goal of enterprise resource planning (ERP) is to help integrate the stock processes and finances that are essential to running a business's backend. Despite the name, ERP software isn't only for big, enterprise ecommerce retailers.
Businesses of all sizes likely use some kind of ERP system to manage their most important operational data; including inventory, accounting, supply chain information, and even the creation and maintenance of fundamental product data like SKUs. This product data is usually exported from the ERP to a PIM platform where all the marketing copy, imagery, and other final touches are added to prepare products for sale. Without PIM, an ERP alone can limit your content's potential as you're unable to enrich it. When you enrich your ERP with a PIM like Plytix, you power your processes to deliver high-quality product data at all times.
3. Ecommerce Platform
An ecommerce platform serves as the customer-facing storefront that enables digital retailers to generate revenue. This is also called a CMS or Content Management System. At its core, ecommerce platform software enables online retailers or brands to list and sell products to consumers via the internet.
There are a wide variety of ecommerce platforms available on the market, Shopify, BigCommerce, WooCommerce, Magento, and so much more. Each with its own pros and cons for business industries and sizing. All platforms offer the features that are required to run a web shop, and connect with marketplaces.
When you're looking to either move your brick-and-mortar online or migrate to a different ecommerce platform, you first have to know your business needs. That way, you can choose one that either offers the features you need to successfully run your business—website management, marketing, sales, operations, etc.—or easily integrates with platforms that do. One of the greatest things about Plytix PIM is its multichannel integration ability, which allows you to easily distribute content from ecommerce platforms such as the ones mentioned above. This means you can sell on multiple sales channels from one centralized location.
4. Multichannel Listing Management
Multichannel listing management tools specialize in distributing synchronized product content feeds from web stores or key sales channels, all while remaining compliant with each of their unique requirement sets. With a product catalog tool like Plytix PIM, you don't need to have separate software for multichannel listings.
Our Channels module is designed to help you with your multichannel needs. With our PIM database, you're able to organize, store, and update your data for your ecommerce platform, and all of your other sales channels. What's more, is you can also easily create an automated sales feed that is compliant with the unique requirements of your chosen sales channels in a matter of minutes.
It makes multichannel distribution easy!
5. Ecommerce Analytics
Ecommerce product analytics enables businesses to track and measure important metrics that provide insights to understand customer behavior. Once you gain this knowledge, you can use it to make necessary changes to your ecommerce site, and your other product listings. Doing that ensures that you attract and engage customers to drive traffic and sales. Ecommerce analytics tools such as Google Analytics collect demographic and behavioral data such as what source brought them to your web store, how much time they spend looking at particular products, where they ended up making a purchase, and much more.
Plytix is also an ecommerce analytics tool with a product analytics module that's connected to Google Analytics. With this module, you can view all your product impressions for both your web store and marketplaces in one location.
Plytix: the all-in-one tool you need
These starter pack tools have all of the important ecommerce technology solutions you'll need to begin your online selling journey. As you can see, Plytix is a well-known PIM for small businesses because it is an all-in-one product information management system that's specifically built (and priced!) for small businesses.
For more information on how to get started with building the ultimate ecommerce tech stacks, get in touch with us! Our PIM experts would be happy to chat.
Alternatively, book a free demo session on our PIM system and its benefits!