Amazon is a buyer-focused platform, your listings need to fall in line with their requirements in order to be successful. To help, we have complied a list of important features of your product listing and how to make the most of them.
Here is your quick and dirty guide on how to optimize your Amazon product listings. (At the bottom you'll find some tools to help you get it done):
1. Keywords
Choosing your keywords is the foundation of your product listing. Getting these right will help you rank higher and be more visible to customers. To discover good keywords for your product do a search to uncover top search terms and competition by looking at the suggested products and the results.
Summary
Use the Amazon search results to discover relevant keywords
Check competitor products to find opportunities
2. Product Titles
Probably the single most important thing you write on your Amazon listing, the title is the main way users will find your product. Constructing a solid product title is a combination of best practices and common sense.
Writing Your Amazon Title
You only have 200 characters in which to shove all the important information a potential buyer might need to find your product. It is important to use this space wisely and follow Amazon Guidelines.
They explicitly ask that sellers avoid using promotional, salesy, or suggestive marketing copy in the titles. Price is also a big no-no. And while fitting a lot of information is made easier by using special characters, avoid using the ampersand (&) in place of the word "and".
Luckily, Amazon does provide title formulas for certain categories like homewares, electronics, and more. There are some without formulas though, so here is a pretty standard example:
Brand Name + Product Type Model + Important Identifying Specs (e.g Size)
Summary
Use objective, informative keywords to build your title
Use Amazon title formulas when you can
Fit it all into the 200 character limit
Put most relevant keyword first
Do not use ALL CAPS
But DO capitalize the First Letter of Each Word
Use special characters to improve readability like | or -
3. Photos (and video)
Amazon gives you up to 9 images including a lead image. Those 9 images means 9 chances to sell.
One thing to keep in mind is that your main product photo should be on a white background and take up 85% of the frame. Additional shots of the product (still on white backgrounds) should show closeups and different angles. People want to see all of the curves and edges of what's being offered, they want to get as close to the real thing through the screen as they can get.
Make sure your images are at least 1000px in height or width so that the zoom function will be enabled. This means your product images have to be detailed and high quality.
People buy a product because of what it can do for them. Don't forget to include what some call the "hero images." These are the images that help visualize using the product and include written benefits, guarantees and people using the product. Adding graphic overlays is a great way to do this. They also help with things such as showing product packaging and conveying its scale.
Amazon also give you the opportunity to add videos. Videos are great for showing off your product in action. If you've got a quality video, don't hesitate in adding it in.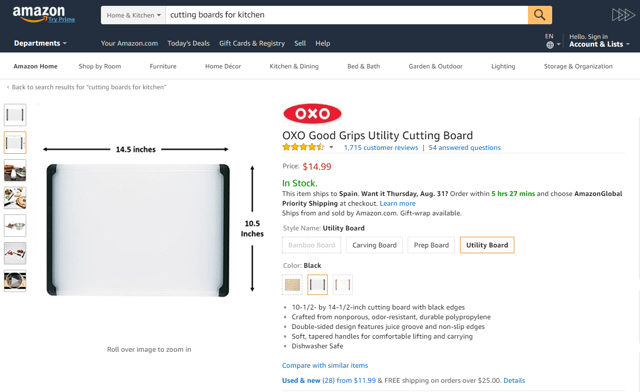 Summary
Use all 9 image spaces if possible
Size images to be at least 1000px to activate zoom function
Add a video if you can
Utilize a white background for the main image
Show off the detail of the product
Include real life images to put the product in context
Use images that show only the most important details/features
Use infographics to convey the scale of the product
4. Bullet points
Amazon gives you 5 bullet points where you can highlight product features and benefits to potential buyers. This is a huge opportunity for you since these are the first product details the customer will see after the title.
Make them count
Use the space wisely to differentiate yourself and give the buyer peace of mind so that they know your product is the right one for them. To do this, focus on the applications and benefits of the product. If there are any differentiating features, here is a great place to show them off. Consider use cases and the pain points that will give life to your product.
A good way to structure these bullet points is by using CAPITAL LETTERS to begin and give each point a "header" so to speak. Check out this example from Bellissima Kitchen: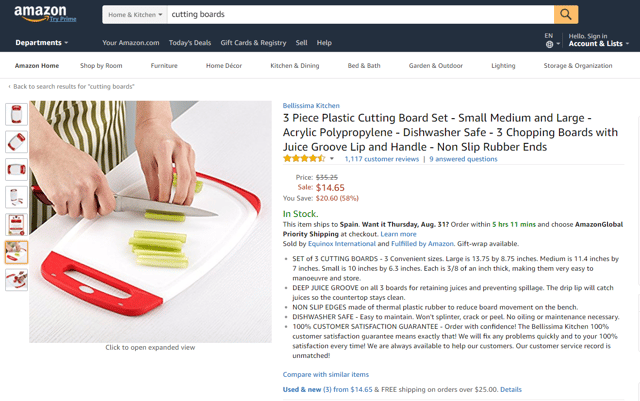 See the Bellissima Kitchen listing
This is NOT a place to talk about price or promotional offers. Again, be mindful of the Amazon Guidelines.
Summary
Use all 5 bullet points if you are able
Use the space to highlight differentiating features and benefits
Focus on applications of the product
Keep it product oriented
5. Choosing Categories
Getting your categories right will help people find your product easier and will aid Amazon's algorithm in recommending your items. Do a bit of reverse engineering to find the right categories for your product. Since a great step-by-step article exists on this already, I am just going to leave it here for you:
Read: How to Choose the Best Amazon Product Category
Summary
Do in-depth category research on Amazon using the article above
Search for your products and look at suggested items
Research competitor products to see where they are located
6. Descriptions
Although descriptions don't affect ranking, they do affect visibility. Here you have a whole 2,000 characters to focus on telling the story behind your product.
This space gives you an opportunity to tell the who, what and why behind your brand and product while squeezing in the keywords you want indexed. A well-written description along with a call to action can have a positive effect on conversions.
Keep descriptions short and concise. Always lead with the key features and benefits to the consumer, then move on to the product.

Description from Totally Bamboo
You have two options for formatting your description text:
Text only and format it with HTML
Enhanced Brand Content (EBC)
This article helps explain the difference. Depending on your product, the type you will want to use varies.
Summary
Write a description - don't ignore this part
Keep descriptions concise and lead with key features
Tell a story that highlights the product's value
Choose the best text formatting for your description
Tools to Help You Optimize Your Listing
If you are incredibly stressed for time, consider using some tools to help you:
Jungle Scout - Amazon Sales Estimator : This nifty tool helps you find out what the average sales are for a given product
Jungle Scout - Amazon Listing Grader

: This one gives you an optimization report for your Amazon listing

Sonar - Amazon Keyword Research - Free Amazon-Specific keyword research tool
IO Scout - Product Research Tool - Discover trending products using historical analysis. You have the possibility to access the history of every product, which helps you identify trends and get meaningful insights.
Plytix - Product Information Manager - Our product information management tool helps you get your product listings ready for Amazon by providing real workspace and template builders
Do you have any favorite Amazon Optimization tools?
Share in the comments!