"The cost of being wrong is less than the cost of doing nothing." - Seth Godin
When it is time to roll out your new product, you cannot afford to sit back and hope it catches on. You need a good, solid strategy for launching your product. Doing every single thing isn't feasible, especially for smaller companies with limited budgets. So here are a few practical tips for successfully launching your new product online.
1. Carefully consider the market, and your niche, before writing content
Now this may seem like a "duh!" step for you, but I'm putting this step on the top of the list.That means it is one of the most critical steps you can take, and surprisingly one of the most overlooked aspects of a product launch.
If you're thinking, "hey who would overlook the market?", you're not thinking deeply enough. If you want to create generic, all-pleasing content, you are more likely to fail. Finding and targeting a certain niche for your product will help it gain a foothold. Why? A niche is easier to target, and if you target the right niche, they will do some of the work for you.
In today's consumer driven world, word of mouth is more powerful than ever. Getting product reviews early on will help your products thrive on multiple channels, as 90% of buyers look at reviews first. By targeting a dedicated niche, they are more likely to be the first on the ground to promote and review your products if they like them. The reviews will create not only interest, but trust in your new product.
2. Create a content checklist
So now that you know who you are going to target, you will have a clearer idea of the type of content you will need. Regardless of the frills, there are some must-haves when it comes to making an impact through content with your new product:
USP focus

Landing pages

Press release & press content

Product descriptions

Product images

Images that show off the scale of your product (infographic overlays)

Images that show off the use case of your product (lifestyle photos)

Email announcements

Social media designs and ads

PPC Campaigns (Adwords, Google Shopping, Facebook, etc.)

Product videos

Retailer-specific content if you sell on other sites like Amazon

FAQs

Offer outlines (if you are offering a discount or special promotion)
From there you can get more creative about how you promote the content. Using influencers and blogs is a great way to get airtime for your new products, as well as using sites like Massdrop and Hubba where you have a built in community of people looking for new stuff. But without all the other content in place, it makes it harder to start those campaigns
3. Focus on what's in it for your customers
When you start creating content, you'll want to keep it about your customers and not about you or your product. This is one of the most effective, tried and tested tactics of marketing for any product.
Your product may have 10 great features that no other product has, but so what? How does it make your customers feel? How does it actually solve their problems?
That's what you need to focus and that's what you need to publicize.
When you talk about the features of the product, frankly, nobody really cares or understands for that matter unless you make them care. Not sure what I mean? Check out Apple and their iPhone X launch press release.
It speaks perfectly to the people that will be the first in line to buy the phone. It peppers techy, feature explanations with media that shows real-life use cases. Like with their new emoji animation: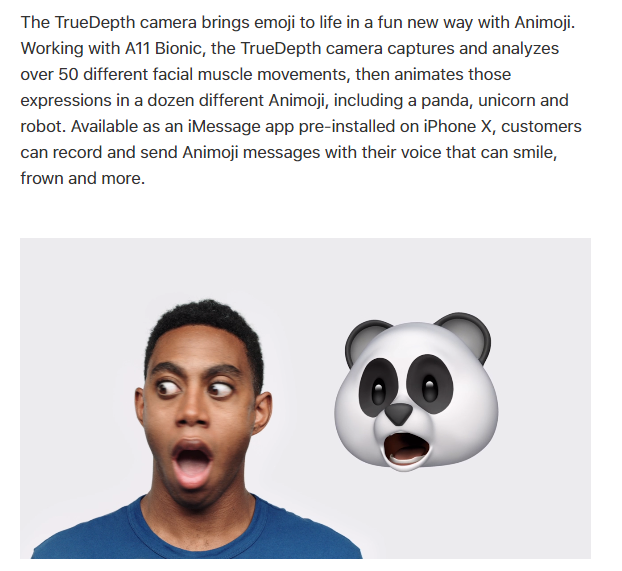 Image Source: Apple
Tell me it has a TrueDepth camera that analyzes my facial movements, and I am skeptical at best.
Tell me I can send animated emojis to my friends, and you've got my attention.
4. Create a launch event
Even when you're launching a product online have a launch event for it, because it is one of the biggest opportunities for you to introduce the product to the public and the press in person. This doesn't necessarily mean you need to have a physical presence, throwing virtual launch parties is a thing.
A dedicated event lets you talk up your product while at the same time have an interactive and fun meet and greet with potential customers. Use it to create an impact and start a meaningful relationship with those that show up.
There are two big advantages here: everyone is going to love and remember a pleasant and fun experience with your product and, for them, it will feel exclusive.
People often associate launch events with high end brands and their products. So by joining the bandwagon, your customers will feel that something important is about to happen and that they need to be a part of it.
Throw a cocktail party, gamify product testing, or try a Pop-up shop. Whatever you do, make sure it encompasses the whole experience. Will people only remember the band you hired or will they remember you brand, values, and of course, the product?
5. Consider pre-ordering
This is one of the best ways to get your customers super excited about your product. This is how most big names have their product sold out by the end of day of launch. Make the option to pre-order the product available on your website. If you decide to do this, make sure you have enough time to hype the campaign and measure the results before your official launch.
A lot of online ecommerce websites like Amazon and Net-a-Porter offer pre-order facility whenever they have a new product in their shelves.
Now this of course should be a follow-up of the hype that you've already created about your product. Which brings us to the last point.
6. Get influencers rolled in well ahead of the launch date
Having known influencers review and use your products is big social proof that can't be beat. Influencers and opinion leaders do not need to be Beyonce (though if you can get her, please do get her.) When you have narrowed your niche, you'll be able to find people on YouTube, Instagram, and even Snapchat that can reach your target audience faster and more effective than you ever could.
For example, L'Oreal and NYX Cosmetics always have very influential beauty bloggers like Carli Bybel, Jeffree Star and Manny Mua talk about their products way before their launch, which gives their followers a better reason to trust and use the products.
However, most of us aren't L'Oreal, so we have to build trust with the influencers from the ground up as (gasp!) human beings. They will want to know who you are, what you can offer them, and the assurance that you aren't going to harm their personal brand.
And the biggest thing to remember when launching a product:
The key to all these 6 tips is timing and organization. Regardless of what you do, if your timing is off, your product launch is prone to fail. Be mindful of the details surrounding your launch and make sure to track everything. Keep all your product information, images, and market research on hand, constantly checking that everything is going as you hoped.
Keep these pointers in mind before you think of a new product, plan well ahead and have a smooth and successful launch!