This past week, we launched a brand new feature: Computed Attributes. Computed Attributes give you the power to transform your product data using formulas. In honor of our newest feature, we want to highlight some of the other ways you can transform content in the PIM to achieve channel readiness!
First of all…
What is Channel Readiness?
Channel readiness is the level at which your product content is formatted and fit ("ready") for successful delivery to a particular sales channel.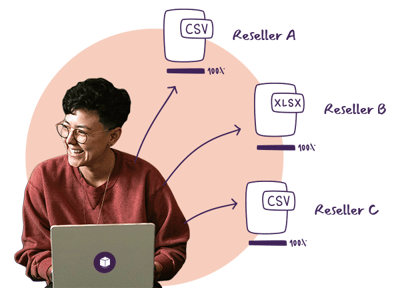 So for example, in order to achieve channel readiness for Amazon, your product listing and content needs to have:
A descriptive and optimized title that is up to 500 characters
Images that are 1000px or larger in TIFF,JPEG,GIF, or PNG format
A set of bullet points that each have up to 500 characters
A detailed, plain text product description
Your Amazon price
All the category requirements from the inventory template
Having a PIM already makes the majority of this work really easy by storing and automatically populating your Amazon Item Template with product updates. But transformations make customizing product data for Amazon so much more manageable. The more manual changes are needed, the less likely human error is to come into data transfer.
Channel readiness can be applied to marketplaces like we saw in Amazon, retail partners you work with (their particular requirements), or your own web shop (SEO, consistency, marketing).
Here are some of the transformation types you can find within Plytix:
Attribute Transformations
Calculations
These are math-type transformations available in Computed Attributes using multiply, divide, add, subtract. These are no-brainers for people looking for differentiated pricing on their different sales channels.


Use a set of base pricing that lives in the PIM, and then apply markups, discounts, or promotional pricing for each individual retailer or region.

Concatenation
Concatenation is the joining of different strings of information. So when writing your Amazon title, you can actually "build" your descriptive title using attributes you already have.
Brand + Line + Product Name + Product Type + Color + Dimensions
By using a concatenation formula for Computed Attributes, you can pull together your data in this way to make dynamic, high-converting, consistent product titles and descriptions.
Conditional Formatting
Sometimes not all product data is created equal. For many reasons, there could be missing content or fields. Conditional formatting allows you to identify those problems using formulas and apply rules for filling in data.

So if a particular field is blank for a given product or an item is out of stock, you can change the output of the product data automatically.
Conditional formatting also allows you to identify the character length of a field, and apply rules to that accordingly.
Date Format
07/07/2020
07-July-20
July 7, 2020
7 July 2020
San Fermin!
Date formats come in all shapes and sizes, and everyone thinks theirs is best (don't get me started on the Europeans). But regardless, dates need to be different depending on where they are going. While our US retailer might think July 7, 2020 is correct, and the UK retailer wants 7 July 2020, the Pamplona based retailer in Spain will definitely think that the best way to describe that date is "San Fermin". In Plytix, you can manage all these types of date transformations for each while maintaining your own sanity.
Decimal Format
Some places use a comma, some places use a point. For anyone who has to switch between the two, it perhaps isn't a big deal. You can do a search and replace for commas and points in Excel. But then you either need to go one by one to ensure you're not becoming a grammar criminal or you need to isolate your data beforehand.
Or you could just set it one time for the region you are selling to, and never think about it again.
Image Format Swapping
Storing images in multiple formats can drive you a little nuts. In Plytix, you can store your images in one single high resolution format like TIFF, SVG, or PNG, and then transform the output to PNG or JPEG without having to convert and store images individually.
Image Renaming
Have you ever simply given up renaming images? Because it is tedious and soul-crushing? With Plytix, you can rename your images in bulk for your different channels by setting up rules. Build names using your SKUs, custom inputs, and other attributes. So when GS1 asks you for images named by GTIN, you won't cry inside, but instead, press two or three buttons and move on with your day.
That way your retail partners get descriptive image names and URLs that are good for SEO and general use.
Image Resizing
The other frustrating image transformation is getting your images into the right size dimensions for a particular channel. Home Depot requires that all swatches are 400x400, but Amazon requires all images to be 1000px or more. So what do you do? Keep two or three versions of the same image? You could, or you could hold one high-resolution image and resize it automatically for channel outputs.
Map Options
Translations and small changes to the text are required for some channels. Using operations available in Computed Attributes, you can map values depending on where it is used. For example, you can change your color options from "red" to "rouge" and "blue" to "bleu" to accommodate French translations. Or you can take internal values and decipher the Amazon item type options for your category.
Replace Text
Use Computed Attributes to find and replace pieces of text so you can customize descriptions for your marketplaces, partners, or comparison shopping engines.
Text Formatting
Some places need HTML tags, others want plain text. Others want data in ALL CAPS while others demand all lowercase. These are easily managed using Computed Attributes. You can strip HTML and styling from text or transform capitalization. You won't need duplicated product data just to accommodate one or two channels.
Better Product Management
If you have the ability to transform your content for different requirements, this liberates you from having duplicate attributes, images, and other information. Instead of having to manually create and modify content, you can quickly set up and test different sales channels to see which are actually worth your time.
At Plytix, our mission is to help you get your products to market faster and smarter. This is why we have built these types of features into our PIM.
About Formulas & Computed Attributes
Some of the transformations available in Plytix don't require any type of formula writing at all, like image transformations. The formulas used in Computed Attributes are designed to help you get the most flexible and customized attribute transformations your business needs.
Computed Attributes currently offers about 50 different operations ranging from Math, Text, Operators, and Logical types. See a full list here: Computed Attribute Operations.
Operations are as faithful as possible to Excel and Google Sheets functions. We did this so that those of you who were already Excel fans, could apply the knowledge you already have without needing to learn something new. For those of you who are not Excel savvy, not to worry. Plytix is easier than Excel and we're always here to lend a hand.
Are you interested in learning how to use attribute transformation to improve your product content workflow? Just let us know and we'll set up a time to talk.