"Every aspect of marketing is entirely useless unless it produces conversions." – Jeremy Smith
And every conversion lost is money down the drain.
So why is it that every time I visit a web store, I feel frustrated by confusing checkout systems or even just overwhelming "store front" pages that end up causing me more headache than joy.
I'm here today to give you my perspective on some of the things online stores can do better to stand out to, and accommodate millennial consumers like myself. Think of this as an anecdotal crash-course in MCRO - Millennial Conversion Rate Optimization.
For those of you who do not know, Conversion Rate Optimization (CRO) is all about making the final step in the consumer decision process frictionless. It's about making sure your customers take action i.e. put down their avocado toast and pull out their credit cards without a moment's hesitation (if we still use credit cards that is).
So why do I leave your webshop (and how can you make me stay)?
1. Your webpage is too slow.
Speed is everything! This isn't just a millennial thing by the way. All of us in the information age have attention "spans" that are laughably small. Around 50% of people expect your page to load within 2 seconds or they are gone. They may think your page is broken, the wifi is funky, or they rethink how important whatever it was they were looking for is. Essentially, if it takes longer than 3 seconds, you will lose more than half the people who were willing to visit you site in the first place, so you should probably go fix that right away!
2. There is too much clutter
Like I said, us millennials are anxious (though... TBH, at this point we can find enough evidence on the internet to support the idea that millennials are actually lizard people).
So although you may be dying to show off everything you have to offer, the key is to focus on your customers. Too much clutter will throw us off. Taking the minimalistic approach means you can also enjoy a cleaner, easier-to-maintain website.
Personally, there's nothing I enjoy more than online shopping, and even better, it's by far the easiest option. Why leave the house if you don't have to? However, one thing I know for sure is that there are sites I avoid because of how their homepage makes me feel. Take ASOS for example…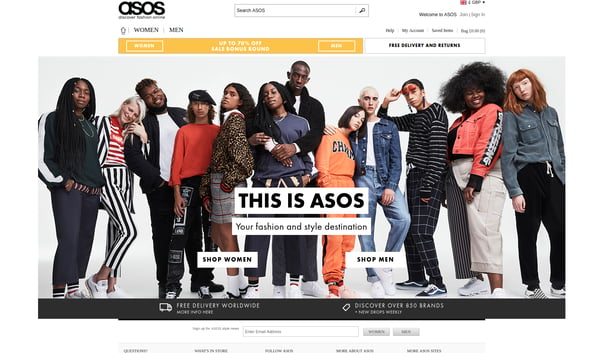 Now it may follow the rules of limited icons, and helping the consumers to shop, but there is actually so much going on on this page image, I don't know where to look. However, I'm desperate for a new outfit, and thank god there's a 'shop women' button hidden down towards the fold on the homepage, so lets go!
But then…
Rather than being taken to a page of clothes, I'm taken to another page with more options, like a 'style feed',...what's that? At this point I want to go elsewhere. I do not feel as though I am in the right place. It's important to make sure every page flows and has consistent ease of use not just the homepage.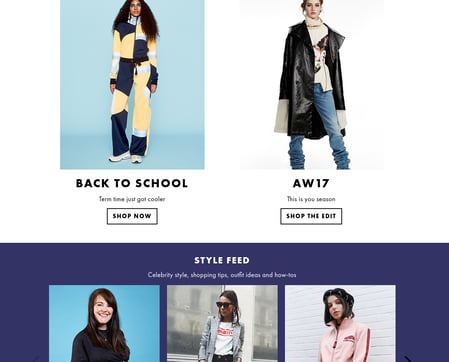 So an online shopping giant like ASOS has lost my sale (conversion), big deal, what's one person's opinion? But there is a chance that other consumers will feel the same and will want to shop elsewhere. So for all you smaller online retail sites, use ASOS weakness to your advantage and get not only your homepage but your whole website minimalized and user-friendly too.
How do you do this? I'm glad you asked...
3. I don't know how to contact you
Whilst this may sound incredibly obvious, for an online business lacking that face to face communication with the customers, you need to enable dialogue between your company and the consumer.
Knowing that I can easily contact the business is really appealing. Remember how much we hate phone calls? Give me a live chat, please! Our whole schtick is messaging, so if you don't have our natural means of communication available, you'll be missing out. Actually, 63% of people are more likely to return to a website with live chat and 38% of people have bought something thanks to a live chat session.
And for those strange folk that like to speak to a human directly, there's nothing worse than finding no telephone number, just a contact request, or an email address and hope they contact you back: There's nothing quite like hearing someone else's voice to reassure you when wanting to purchase.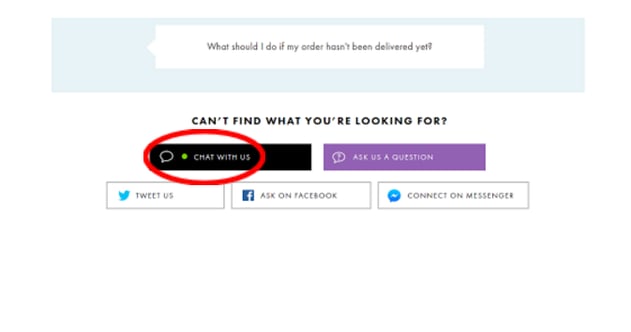 Now despite my own personal issues with their homepage, there's no denying that ASOS has the live chat feature which is incredibly helpful, and also offers various opportunities for customers to communicate on social media, which is a way of building consumer trust. So go ASOS! (just maybe work a little on your homepage and links)
4. You don't speak my language.
Visitors to your site are far more likely to stay and take action if they understand and identify with what's going on. If you know your customer persona well enough, you will be able to speak with them as they wish to be spoken to.
A prime example of an online retailer who speaks their customers' language is Chubbies, the 'fun in the sun', an all-American short company. Not only do they speak to their consumers in a way that's as fun as their shorts, but they have created a community through their user-generated content (UGC), which is a seriously effective way to learn about who your consumer really is and getting them on board. So effective in fact, that 93% of consumers will rely on UGC when making a purchasing decision.
Chubbies, for example, has a gallery of Instagram photos their customers have submitted via the hashtag at the bottom of their product pages. That kind of social proof is instantly reassuring to a customer who might be on the fence.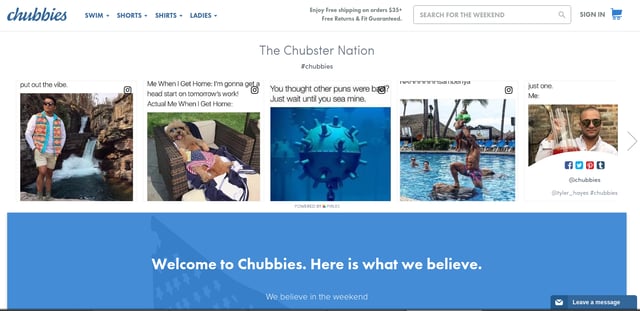 If Zara spoke like this to their customers, they would likely be turned off. It is all about the brand you want to build and the people you want to be a part of your larger community.
5. I don't trust you
Personally, if I'm searching to buy online I will simply type it into Google and see what comes up. I'd like to say I am motivated by the product itself when making a purchase, but that's just not true! You see, the moment I don't know or don't understand the brand or the website I'm suspicious. And more often than not for my own peace of mind, I just use Amazon.
I realize how painful that is for some of you, but it is true.
One thing that's necessary in building up my trust is feeling secure and that my information will be kept private. Now as soon as I see a site has the option for PayPal, I'm immediately reassured because of their seller protection, even if I'm happy to enter my card details, I'm thinking, 'well if they offer Paypal they must be trustworthy right?' Not just PayPal, but Secure Badges are a great way to prove your consumers' data is safe, and actually, 79% of us expect there to be some kind of trust seal on a website as a minimum.
But that's not enough, I wanna know that the product I'm buying is going to be exactly what I'm looking for. How will I know?
I rely on customer product reviews. And I know for a fact I can see those with Amazon! I might actually go to Amazon to check out the reviews and just stay there because it is easier.
So how do you stop the people from hopping from your store to Amazon? You reassure your customers by providing those reviews on your website. It has recently been identified that 88% of people will consider online reviews, and it's seen to boost conversions, with one online store receiving an increase of 13% just by offering product reviews.
The chances are the product you're offering is spectacular compared to what you can find on Amazon, but that is just no good if the customers don't trust you!
6. Your s*** doesn't work
Thanks to companies like Apple, we have been trained to expect things to just work. Not only does it need to work, but it also needs to be easy to use, and, mobile-friendly.
Start with your website. It is your storefront and thus it is your most powerful marketing tool: Because let's face it, all the strategy in the world isn't going to save you if your website isn't up to scratch, especially regarding its adaptability to mobile devices.
Get Mobile Ready
Statistics show that only 56% of small ecommerce businesses have optimized mobile websites, which means, great news for you, you've got a way of differentiating yourself, and are likely to see an increase in conversions as 80% of online users access the internet from a mobile or smartphone.
So if you haven't already, get your mobile site sorted!
If you still aren't sure why mobile is important (you may have bigger problems), let me tell you. Millennial shoppers want an omnichannel experience. We are used to using multiple pieces of technology at a time. When I am watching Netflix I will fact check Narcos on my phone to see what is real or not while writing a term paper on my laptop.
So when I am shopping IRL, you better believe I take out my phone to double check your products to compare price and specifications, even when I am in the store. This is the webrooming/showrooming phenomenon, and it isn't stopping any time soon.
Make it easy to use
As far as ease of use goes, Baymard identified in a study that something as simple as drop down menu options provide serious usability benefits, and now 88% of all ecommerce sites have a mega drop-down option. Which seems like a good thing!
But the study also identified that 43% of sites using drop-down menus suffered flickering meaning that visitors wanting to select a certain item can't because the mouse keeps moving (flickering) away. Firstly, this will lead to frustrated consumers. Secondly, they will leave your website and head straight to your competition. And lastly, no conversions for you.
Moral of the story : If you're going to implement a feature in order to optimize your website, make sure it works properly!
7. I don't feel compelled to do anything
Playing heavily on that anxiety I was talking about, you want to create a sense of urgency in that they are missing out on something.
Putting on an offer like a free trial on a countdown from when someone enters your site, or adding a 'sale ends today' limit has had a follow up increase of conversions by a whopping 25%, so think about it!
But linked to what we talked about before, please make sure your deals function properly, you wouldn't want the customer to feel frustrated and deceived because the deal advertised isn't actually available.
That's all for now folks…
Obviously there are so many ways in which you can optimize your online business for millennials (or not for millennials), these were just the really simple but important ones I wanted to highlight.
But before I go there's just a few TL;DR takeaways for you:
Do simplify your homepage to make it attractive and user friendly. Don't forget about the rest of your website though.
Do make sure your website loads quick enough. Don't sell yourself out of a conversion immediately because they got fed up of waiting for your page to load.
Do make sure you know your target market. Don't put all your efforts into marketing your online business that your customers just don't get.
Make. Sure. It. Works. (Need I say more?)
Do make your site is secure and trustworthy. Don't lose out because of a lack of security badges or a customer review feature.
Most of these methods of MCRO are super easy to implement and so effective, there's really no excuse. If you already do all of these things, awesome, I'm sure you've noted an increased conversion rate. But if you're still looking for more ways to optimize, here's some great ideas to optimize your online business.
Happy Converting!