There's no question about the importance of content marketing for the success of your business. Whether your goal is to reach a new audience or inspire loyalty amongst your existing customers, a well-developed strategy can make all the difference in getting you the desired results.
However, it's not uncommon for brands and retailers to feel overwhelmed by the thought of having to produce valuable, high-quality text, audio, and video. With that in mind, it's not a bad idea to have a bit more insight into what you can do and achieve with different production approaches.
Regardless of whether you're just getting started or looking to up your game in 2022, the following tips are sure to help you win at content marketing:
1.) Understand That One Size Does Not Fit All
As with any creative process, before you start writing, recording, or filming, you need to understand your readers, listeners, and viewers. They won't all be after the same thing, and for this reason, every content marketing strategy needs to start by defining the different stages of the buyer journey.
Traditionally, marketers divide the sales funnel into three main stages: the awareness, consideration, and purchase phase. The first category, the awareness phase, will target the people just discovering the products you offer. They'll want general, easy-to-consume information that'll acquaint them with a topic and that will offer them some basic knowledge they'll be able to use later in time.
For example, take a look at this blog post describing the best ways to prepare coffee at home. It's a well-written guide for people who are new to brewing methods. It offers the right amount of information to get a person acquainted with popular at-home techniques.
The consideration phase is already more complicated. During this time, your potential customers understand the differences between products in the same category and are likely to have a set of requirements they want to be fulfilled. During this phase, your main task will be to convince them to buy from you. For example, you can prepare "top 10" type posts or comparative reviews, which will help them make a purchase decision they're happy with.
The last stage of the sales funnel is the purchase phase, where people are ready to buy from you. Here, your task is to offer as great of a customer experience as possible and start distributing content that will usher them from being a one-time buyer to a regular customer. A well-designed product page that includes a video demo is an example of content made for this phase. So are testimonials and free resources.
2.) Base Your Decisions on Data
Although your industry insights may give you a good grasp of what your customers are looking for, it's always best to back your marketing strategies up by data. And while it may seem like a lot of effort, it's far less stressful than guesswork.
There is so much you can do to ensure your content marketing yields the absolute best results. For one, you can compile your list of long-tail keywords based on search trends. Tools like Google's Keyword Planner can give you suggestions based on seed search terms, along with key metrics like search volumes, traffic potential, location trends, etc.
You can also take a deep dive into your website and find relevant data there. For example, Google Analytics will give you information about demographics so that you can choose the right social media platforms to distribute content. It'll also detect the most common devices and browsers used by web visitors, show you which pieces of content get the most views, and give you insights into how people behave on those pages.
You can even take things a step further and share data with your online retailers. This way, you'll be getting a chance to learn from them, as well as to identify untapped opportunities when it comes to content ideas.
Just as using a Product Information Management tool like Plytix helps e-commerce businesses stay organized across channels, having your content marketing data organized will help make better decisions going forward.
3.) Remember Your Customers Are Real People
One of the biggest content marketing mistakes is writing articles or product listings for the purpose of SEO. Yes, getting free traffic is an excellent outcome. But what's even better is reaching people who'll connect with your brand's values, invest in your brand, and turn into long-term customers.
So, when planning your strategy, think about what people want.
For example, a recent SproutSocial survey revealed that consumers want to connect with brands whose values they share. When that happens, 57% of people will increase their spending, and 76% will choose that brand over a competing one.
Then, there's the data that shows how important it is to offer value. According to Spotlight Conductor, consumers are 131% more likely to buy from a brand after reading a piece of educational content. Moreover, they show an average of 9% increase in identifying the brand as trustworthy and an 8% increase in labeling it as positive.
Take these statistics into consideration. Think about ways you can better connect with the right audience through content marketing.
Perhaps you're operating in a problematic industry that's witnessing a lack of trust and overall skepticism? In this case, you could do great things by simply adding a Testimonials page to your website or doing something along the lines of Transparent Labs' Advisory Board page.
Or, you might be dealing with a highly specific niche. In this case, sharing your insights, offering advice, or even creating entertaining content that'll grip your audience's attention can be the way to go. Think about Netflix's Netflix Is A Daily Joke show. It features short, one-minute episodes, each of which is a joke by a Netflix-backed comedian.
4.) Encourage User Generated Content (UGC)
One common misconception about content marketing is that you have to pay a pretty penny to get something usable – especially if you want visuals and videos. But the thing is, this doesn't have to be the case.
First of all, consider the benefits of living in the 21st century. Nowadays, you can easily outsource a variety of tasks to remote professionals and get outstanding results. Just take a look at this YouTube video sponsored by Fiverr, and you'll quickly see that quality does not have to mean expensive.
But, of course, there's another option as well. You can get content that's just as impactful by reaching out to your customers.
Including user-generated content along with influencer marketing on your website and socials is a cheap and effective way to show off your products in a real-life setting. According to Business2Community, UGC is 50% more trusted and 35% more memorable than other media. And people love sharing it! Shopify's own research shows that social media users want to share their opinions about products, connect with other consumers, and support their favorite brands.
So how do you go about collecting UGC? Well, a simple way is to create a hashtag and encourage buyers to use it on social media. Alternatively, you can offer an incentive such as a gift or a discount in exchange for reviews or content. You can also combine multiple strategies, then show them off on your homepage, as done by Zoma.
Their way of doing things is to collaborate with professional athletes and influencers, encouraging them to use the #SleepToWin hashtag on Instagram. Seeing that their target audience includes sports enthusiasts looking for better recovery, this is an excellent method of promoting their products. Combining content marketing and social proof, Zoma is establishing its authority as a trustworthy brand in the health and fitness industry.
5.) Mind Your Tone
So, you've conducted your research, planned your publishing schedule, and have a sufficient number of ideas to appeal to a wide variety of consumers. All you have to do now is start writing, right? Not entirely.
You see, producing high-quality content isn't just about what you have to communicate, but it's about how you do it as well. Think of it this way: 96% of consumers don't trust media and advertising. With this in mind, you want your content strategy to come off as far from an ad as possible.
No matter what platform you're creating for, make sure not to over-promote your products. Be confident that the quality of your content speaks of the trustworthiness of your brand. Moreover, understand that content marketing isn't just an SEO or sales strategy. It's also a powerful branding tool that can position your ecommerce business as the best possible solution in the market.
An easy way to nail your tone, whether writing or recording, is to pay attention to the type of language you use. Consider these questions:
Does it align with the values your business stands for?
How does a piece of content serve your mission?
Is it helping you connect to your audience in the right way?
Are you maintaining a consistent voice?
If you think about some of the most successful brands out there, you'll find that they always have a recognizable tone, no matter the communication channel. For example, Volvo's marketing campaigns always dedicate a significant amount of focus on the car manufacturer's commitment to safety. It's represented in equal measure on their homepage, product pages, and even TV ads. But it's not just a sales pitch. More than that, safety is the company's mission, which is why it's no surprise that Volvo is often the first choice of people who are after maximum protection when driving.
In addition to your brand's voice, you should ensure that other elements of your content marketing also practice consistency. Whether you're expressing ideas, giving advice, or posting visuals, you need to stay true to your point of view.
For example, IQUNIX is a company that does an excellent job at this. Their content marketing strategy centers around creating stunning visuals and expressing their mission through an aesthetic approach. Take a look at their website and social media profiles. You'll find that their consistent philosophy is to encourage users to express themselves by setting up their work and gaming spaces to represent their personality.
6.) Don't Limit Yourself to a Single Channel
There's one last piece of advice for ecommerce brands: If you're looking to up your content marketing strategy, make sure you use every selling channel opportunity out there. Don't think that you have to stick to blog posts just because that's what your competitors are doing. Who knows, you may get better results if you start recording a podcast or creating Snapchat filters.
Take a look at what Bay Alarm Medical did on their website. Instead of creating a standard features section for their homepage, they decided to go with an animated explainer video. Ninety-nine seconds long, this piece of content is entertaining, emotionally impactful, and the perfect product pitch for both senior citizens considering investing in a medical alarm as well as people exploring such systems for their loved ones.
Of course, the best thing about well-made content is that it's always repurposable. A video can be just as efficient on your landing page as it can be on your social media profile. Or, you might turn a blog post into an infographic so that it's more shareable. Some brands choose to create educational content then distribute it through email as part of an onboarding experience.
Ultimately, you want to be brave enough to experiment with formats and distribution channels. Just because something hasn't been done doesn't mean that it's not worth the investment. In fact, it may turn out to be the opportunity with the highest ROI out there.
Final Thoughts
With the growing number of content being created every day, nailing your marketing strategy in 2022 will be more important than ever before. Generic, unoriginal content will simply become lost in the sea of posts published daily. However, that doesn't mean you can't stand out if you're just getting started.
By following the tips we've discussed here – doing your research, following data, practicing consistency, and being brave enough to experiment – you're sure to come up with a winning strategy. After all, companies don't succeed because of their budgets. Ecommerce success comes from finding the best possible way to connect with consumers and fulfilling promises every step of the way.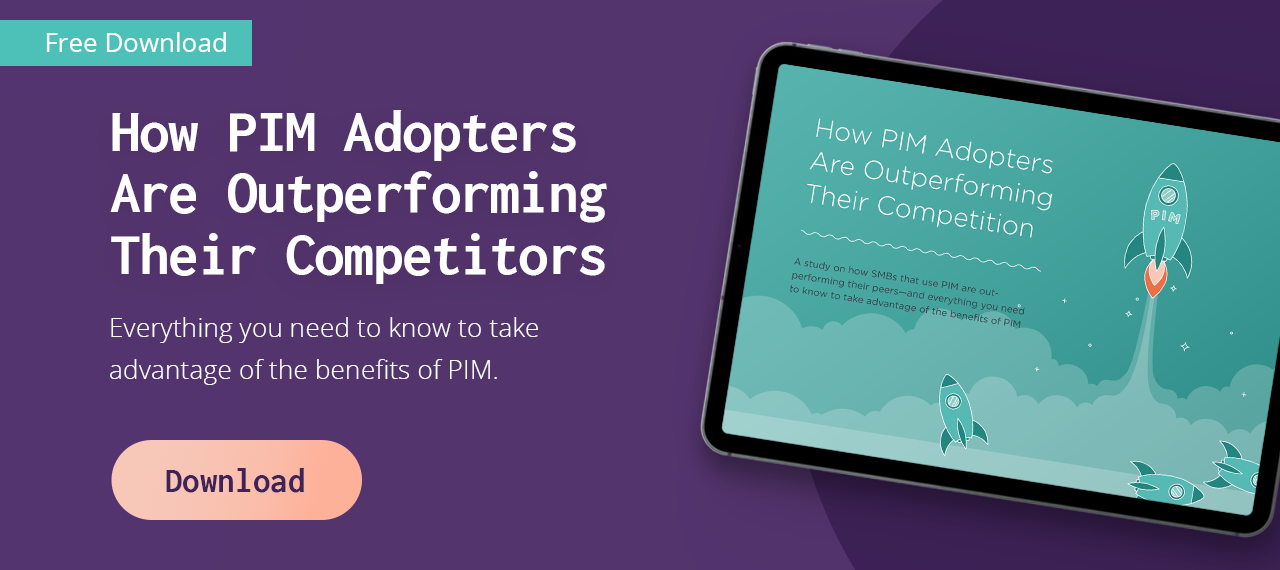 Take control over your product content with one single source of truth. See how our clients have reaped the benefits of PIM in this downloadable white paper.