We have seen a lot of great content over the past few years. We decided that instead of keeping it to ourselves that we would begin to share our favorite ecommerce websites, content, and marketing strategies so that you can get inspired by companies around the world.This is our first installment of a monthly series of content inspiration, hand-picked by us just for you. We will profile companies and share what we loved about them and how you can give their strategies a go of your own. So without further ado...
Home accessories
United States
What it is:
Post Studio makes quirky and colorful home accessories like coasters and trays. While you may not have strong feelings about coasters (unless you are a Monica), you might feel differently after seeing their great designs. Post Studio was founded by husband and wife, Beth and Erik who wanted to decorate their home, but couldn't quite find what they were looking for. "[We] started Post Studio in 2013 when we moved into a loft apartment in downtown LA and desperately needed unique, colorful and affordable art for our walls. We couldn't find anything that met all three criteria, so we started designing our own."
The content we love:
Their website is minimalistic, but very forward when it comes to visuals. It feels more like Instagram than an online store. What works really well here is that they are contrasting the simple, black and white website elements with their colorful product images.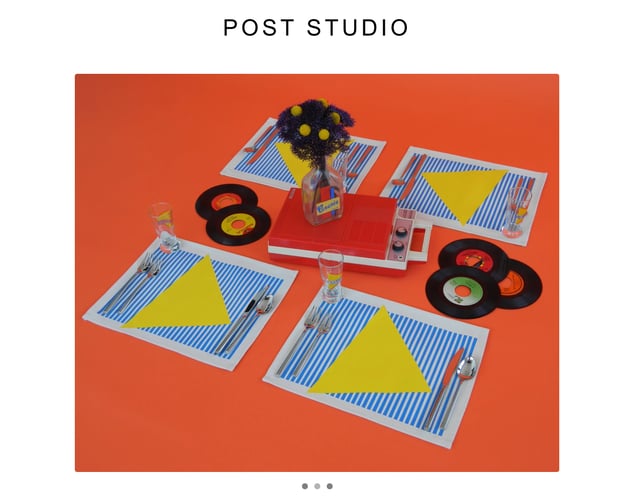 Not only that, but the product images are in context. They do not show a product on a white background, but rather they give the product depth with drinks, plants, and picnics. This leaves no mistake for the buyer about how big the product is or how the colors of the products play off of other home decor.
How you can follow suit:
Show products in context, giving depth and personality to each one

Contrast your website design with your products so that the products take center stage
Footwear
New Zealand

What it is:
Allbirds is a sustainable footwear company. They create shoes from renewable, natural materials and really favor wool. Allbirds truly leans into their mission which is evident throughout their business setup, packaging, and community outreach efforts.
The content we love:
Besides the amazing brand values, their website gives you the warm and fuzzies (...maybe it's the wool?). Their use of motion graphics and whimsical illustrations brings out their playful side. Normally you see static images or a lack of diversity in the use of design elements. Allbirds throws all that out the window.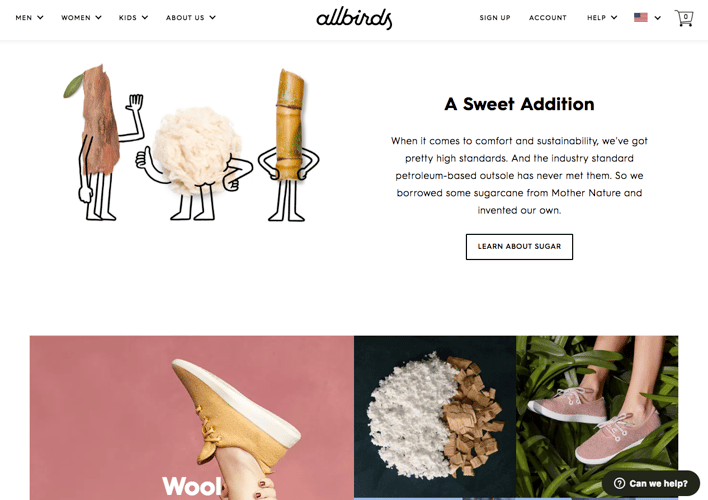 They use gif loops, icons, illustrations on top of pictures, close-ups, models, and more. The best part? While this may seem overwhelming, the designers over at Allbirds struck a balance that is pleasing to the eye, makes you feel closer to the brand, and brings clarity to their communication.
Take that boring design standards.
How you can follow suit:
Don't be afraid to mix and match design elements

Design from your brand not from your competitors

Dare to be different
Kitchen Thermometers
United States

What it is:
Lavatools makes kitchen thermometers. About 4 different kinds, actually. Each elegantly designed in bold colors. But they wouldn't be on this list if all we had to say about them was that they let you check your meat heat in style. They also take things to the next level with an app that lets you set temperature alerts based on what you are cooking. Not sure what to cook? They also have a ton of recipes in the app.
The content we love:
Their wealth and display of product information is something to behold. They don't have many products, but each one has a lot that goes into it. They do an excellent job of segmenting and presenting the product information so that the viewer isn't overwhelmed. To the contrary it is interesting to scroll down the page and learn more about the powerful little thermometer.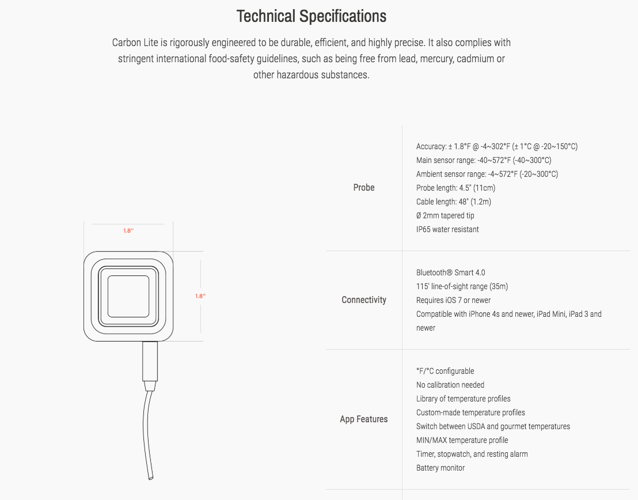 The top of the product page looks pretty standard. Clean and white, with product images, a description and price. But then you scroll to see the unique properties of the product starting with its durability. Then they move on to the practical applications of the product, and then show off all the tech that goes into it. The result is a well rolled out, digestible presentation of the product. Check it out here.
How you can follow suit:
Know your buyer persona and segment your product information accordingly

Use different design elements to display product specifications

Create a balanced flow of information
Mattresses
United States
What it is:
Sleep technology. Purple was founded by two brothers, a rocket scientist and a comfort tech genius, to bring the world better mattresses. They have snappy copy and a lot of personality all over their website, but our absolute favorite thing is...
The content we love:
Their video content. They prove that explainer videos are just as effective for goods as they are for software. It also isn't surprising that they aced video content, since they started as a Kickstarter project where the right video can make all the difference. Explaining the videos are less effective than watching, so check out these two videos:
How you can follow suit:
Invest in high-quality video content. Remember it is a one-time fee that (if done right) will keep bringing you traffic for a long time.

Don't be afraid to get weird. If it is attention grabbing, you are probably making a good decision.



Sporting Goods
United States

What it is:
FlyLow is an outdoor apparel brand that was born out of necessity by two friends who needed better ski pants. From one set of ski pants available in only one color, they built a brand for skiers - both on and off season.
The content we love:
Their dropdown menu and the inspiring content they have woven into their webshop. It makes browsing an interesting experience. They feature interesting athletes, like freestyle cliff diver Travis Sims, that align with their values and their followers.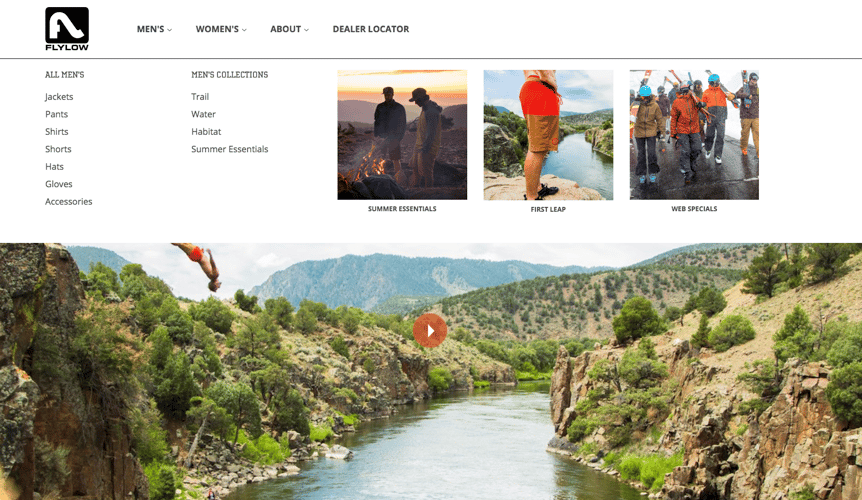 They also feature small "shop the look" features on their product category pages that have the same inspiring vibe. For a real treat, check out the Flylow Instagram. It follows the same philosophy.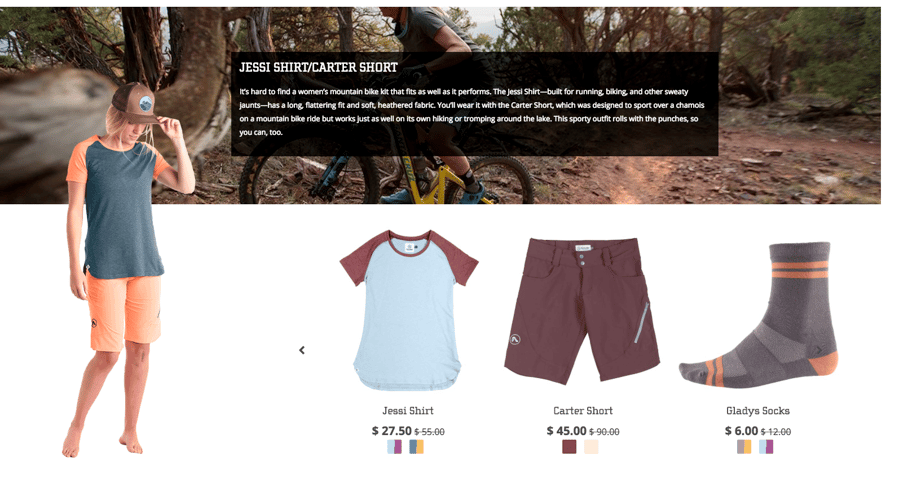 How you can follow suit:
Create content that inspires your customers to try something new

Offer up visual suggestions and make it easy for customers to shop the look



---
Looking for more content inspiration?