It's free, it powers analytics for 64 percent of the top 500 retailers in the U.S., and it single-handedly made analytics a mainstream concept for marketers and ecommerce managers everywhere.
But just because it's the most popular option doesn't mean Google Analytics is the absolute best option for every ecommerce business. Let's explore a few of the main reasons why.
Why Should I Look for Google Analytics Alternatives?
Google Analytics Isn't Friendly for Ecommerce Users
Sure, it's a powerful tool, but have you ever actually found what you were looking for in Google Analytics without digging around for at least 10 minutes? Because it's free, the one-size-fits-all platform is difficult to customize and quite overbuilt for the average user. And the views you really want—like seeing user behavior related to a specific product, monitoring conversion points along the customer journey, etc.—are considered "niche" use cases and therefore even harder to set up and maintain using Google Analytics.
Google Analytics Brings Up Privacy Concerns for Consumers
With Google Analytics, you allow the platform to access your website to collect user data. The program then returns an analysis to help you gain insights about how people interact with your website. During this process, Google puts the responsibility on you, the website owner or manager, to scrub any personally identifiable information (PII) before even giving them access to your data. Unfortunately, most people don't. Nor do they even know where to start or why it matters.
Instead of Google masking IP addresses, removing tracking on certain pages, and taking other precautions to avoid collecting sensitive information; they let customers like you bear the brunt of the work—and the brunt of the punishment if you're ever caught out violating privacy guidelines.
Consumers are only getting savvier when it comes to protecting their privacy. It might not be much longer that you'll be able to rely on an analytics provider who doubles as the largest collector of personal data in the entire world.
However, we all know that the best way to improve something (like your website performance) is to consistently tweak and measure it (like with analytics), so we're not willing to throw in the towel on analytics just yet. Which is why we're happy to report that Google Analytics alternatives—especially those built specifically for internet brands are retailers—are exploding in popularity and functionality.
There's no need to waste your valuable time trying to make the status quo work for you. Instead, adopt one of these top Google Analytics alternatives specifically for ecommerce users and boost productivity with an easy-to-use tool that doesn't compromise your shoppers' privacy or your legal and ethical boundaries.
The 6 Best Google Analytics Alternatives for Retailers
Mixpanel
With the option to start with a free plan, Mixpanel is a great option for small retailers and those who are just starting out.
Mixpanel provides deep shopper behavior analytics by focusing on four key features:
Engagement which helps you understand what users are doing on your website or application
Retention to visualize how often people return and engage with your brand and if your changes are making any impact
Funnels to educate you on the consumer journey and improve conversion points
People so you can put together a robust profile to understand and cater to your customer base.
In addition to these pillars, Mixpanel allows retailers to take advantage of smart automation technology to send personalized messages, trigger A/B tests, and surface important insights so you can act quickly on new trends.
Heap
With codeless customer data capturing—it's clear Heap's analytics platform was built to make analytics less painful and more useful for ecommerce businesses that don't have the time or the resources to maintain a bunch of customized software.
Heap's automatic system catches every customer action—whether it's a click, a submit, a transaction, an email, or something else—on any platform. And thanks to their unique retroactive measuring capability, users have complete and reliable datasets that empower them to make more educated decisions than ever before.
Other special ecommerce features like advanced attribution, conversion rate optimization, a focus on increasing lifetime value, and faster actionable insights give ecommerce managers a way to drill down to the most important data.
Kissmetrics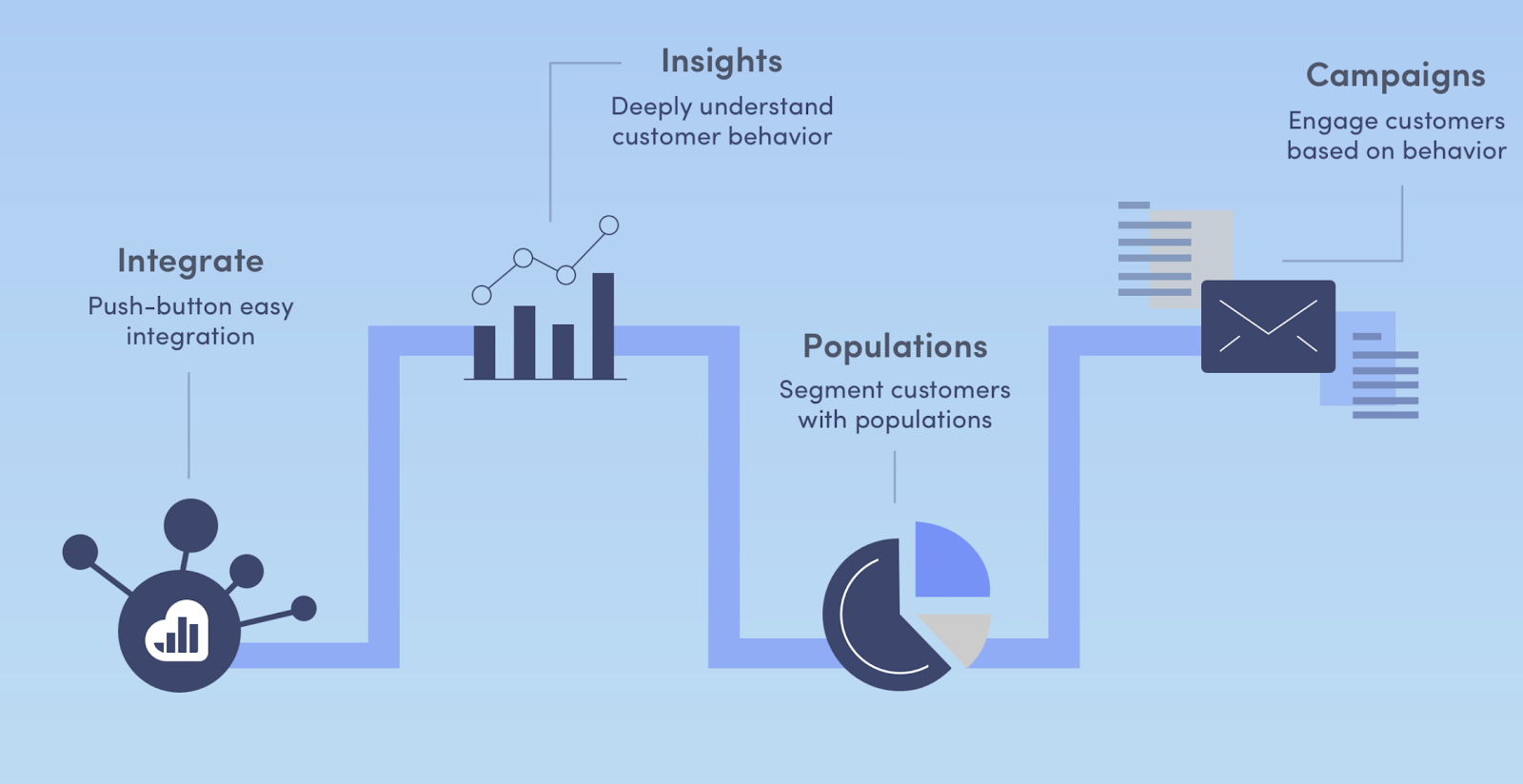 While Kissmetrics wasn't exactly built with ecommerce in mind, it's certainly a hardy Google Analytics alternative and a recognized name when it comes to zeroing in on individual user behavior to boost conversions, engagement, and retention. And what ecommerce manager or marketer would say no to more sales and more loyal customers considering today's booming online retail market?
Kissmetrics gives you detailed visitor action all the way from discovery to purchase, but what really sets it apart is the capability to act upon this data with automatic, targeted email and social media campaigns.
Mention
Even though it isn't a direct Google Analytics competitor, we wanted to give Mention a, well, mention because it helps retailers optimizes an important data source that is easily overlooked but increasingly important in ecommerce today—social media.
Mention's platform allows users to monitor what's being said about their business on social media all from one dashboard. With this data, retailers can find influencers to represent their products, understand what the public thinks about their offerings, engage with their audience, and overall exercise better control over their reputation on social media. But it doesn't stop there. Mention users can also use the tool to manage brand crises and PR workflows, conduct research on what competitors are saying and what's being said about them, as well as track mentions on online media sources outside of social media such as news sites, blogs, and more.
Adobe Analytics

Adobe Analytics is yet another tool in Adobe's big, creative toolbox. And it's a powerful one, at that.
Recognized as a leader in web analytics by research and advisory firm Forrester, we like Adobe Analytics for its cutting-edge multi-channel capabilities (find out more about multi-channel management and rocketing your retail growth here) that allow users to integrate and analyze data from nearly any channel; including web, mobile, video, wearables, apps, social, and more. What's more is its attribution algorithm that helps retailers understand the impact of each touch from every customer so you can determine the most effective content, campaigns, and channels in which to invest.
Replete with machine learning, artificial intelligence, and other modern capabilities—there's no denying that Adobe Analytics is a great Google Analytics alternative for large retailers who have the need, the staff, and the budget to support it.
Plytix
Last but not least, Plytix is another standout Google Analytics alternative for ecommerce marketers and managers.
Plytix is the only product information management (PIM) software with built-in product analytics—and damn proud of it. Our analytics dashboard is easy-to-use and just as easy to read. It feeds you the exact data you need to take action and improve product performance. No more switching between several different product management tools day in and day out.
From the ground up, we've built a lean, mean, ecommerce machine that will empower you to centralize, optimize, distribute, and of course analyze your products and product data all from one intuitive platform. Our CODA methodology (Yep, it's a thing. Find out more here.) can be used by any ecommerce business regardless of their size or technology stack—and we guarantee it will improve your company's revenue per employee.
Go ahead—take us up on it! Smaller teams can start with our free package while bigger teams will get more awesome shit done with an upgraded plan. Set up is a snap and no credit card is required.
Want to know more about what Plyix and product information management could do to help you finally build that retail, brand, or ecommerce empire you've been dreaming of? Get in touch or download our Ultimate PIM Buyer's Guide for free.