Starting a business can put aspiring entrepreneurs in a confounding situation. On the one hand, they need to market their business to attract customers and generate revenue. On the other hand, they need revenue to fund their marketing efforts.
If your business is in this situation, you're not alone. Fortunately, there are a lot of revenue-generating marketing tasks you can do on a $0 budget. Here are some inspiring ideas to get you started.
Share Advice in Social Media Groups
Creating a presence in social media groups to position yourself as an expert is a free way to generate traffic to your business. The tricky part of this approach is doing this in a way that doesn't violate the group's terms or conflict with the owner's efforts.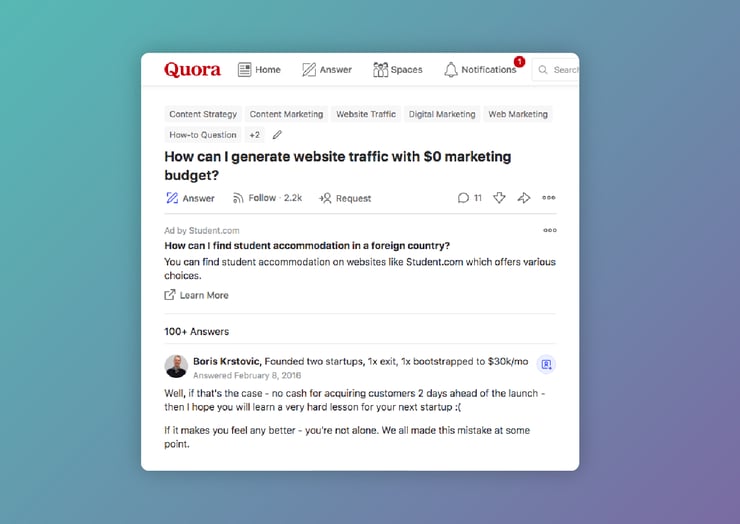 Some popular areas to share advice and knowledge includes:
Quora
Facebook Groups
Twitter
Reddit
Industry-specific forums
For example, a business in the automotive industry could share advice on a car enthusiast forum with links back to their offering. A graphic design agency could share insights in a Facebook networking group for new business owners.
Before you dive into the world of social media, take some time to define your ideal customer. It's not worth your time to target people who wouldn't pay to use your services. While the efforts might be free, your time is still valuable.
Use Affiliate or Referral Marketing
If you lack the funds to pay for marketing efforts upfront, using affiliate or referral marketing puts the onus on other people to do the legwork for you.
Tesla is a prime example of a business that utilizes referral marketing for the majority of their marketing efforts. Their referral marketing program generates a 40x return on investment through the use of cash incentives toward a purchase and a VIP buying experience.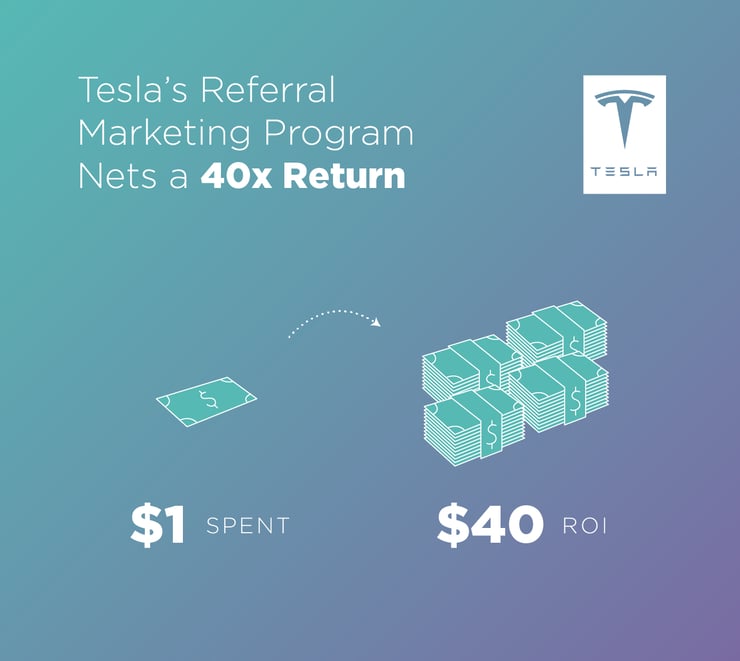 Of course, Tesla is a very niche, luxury brand that opts for lower volume, higher price points, making it a unique case study.
The trick to affiliate and referral marketing is partnering with the right people and creating an offering that incentivizes their marketing efforts.
Influencer Marketing with Affiliates and Referrals
One of the most common approaches to affiliate and referral marketing is to partner with influencers. For influencer marketing to be effective, you'll need to have strong policies and brand standards in place. While influencer marketing can be profitable, this strategy isn't a low-hanging fruit for generating income.
If you opt to work with influencers, find people who are in alignment with your brand and have an engaged audience. Many businesses are moving forward micro and nano influencers (fewer than 10,000 followers) to take advantage of better engagement rates.
Create Shareable Content
Regardless of which approach you take for digital marketing, content is king. Creating high-quality, shareable content requires an investment of time, but can yield fantastic results. Through shareable content, you can generate traffic to your website and increase your audience base on social media.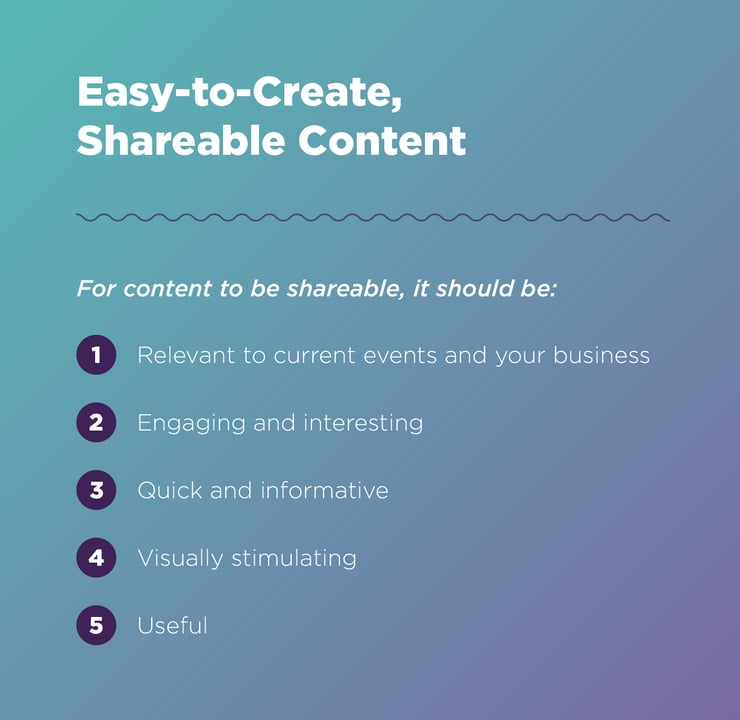 For content to be shareable, it should be:
Relevant to current events and your business
Engaging and interesting
Quick and informative
Visually stimulating
Useful
When evaluating inexpensive ways to market your small business, you must tap into your inner storyteller. Content that elicits an emotional response is more likely to be shared. Using an app like Grammarly can help you find the right tone for engaging your audience.
Implement Search Engine Optimization (SEO)
SEO takes your content to the next level by optimizing it to rank high on a search engine results page (SERP). This can be a challenging task if you don't have the funds to invest in an SEO tool like Ahrefs or MarketMuse. However, as the goal is to optimize your content for Google, you can use Google to drive your efforts.
Use Google to search the keywords for which you'd like to rank. You can remove your own search metrics from the equation by opening a private or incognito window. Take note of the questions that people are asking about the content relevant to your business, then create content that answers those questions.
When it comes to SEO, keywords aren't everything. Having frequent posts with valuable content will start to make a big impact over time. Once you generate revenue from your organic traffic, you can start to drill down on your SEO efforts.
Guest Posting and Backlinks
Another core area of SEO is having backlinks from relevant sites to your content. Reach out to blogs and online publications and offer to put together a guest post in exchange for a link. When you craft content on your page, include external links to relevant websites as well.
Use In-Person Networking
In the modern business world, people tend to forget the basics of marketing one's business. Networking events are a tried and true way to meet potential clients, as well as similar businesses you can partner with for cross-promotional efforts.
Look for local and regional networking events that pertain to your target demographic. Craft an elevator pitch that outlines what your business can offer and what pain points it solves.
Offer Free Solutions
Free trials and freemium services are a fantastic way to build a sales funnel and customer loyalty. By giving potential customers a sample of your product and proving your worth to them without a financial investment, you build trust and generate word-of-mouth marketing.
A word of caution: if you use a free trial that transitions into a paid trial, be very clear about what will happen when that free trial ends. Many consumers will give poor ratings and reviews to businesses based on their inability to read the fine print.
As a new business with no marketing budget, it's also worthwhile to strategically offer your full services for free. Slack became a $2 billion startup within the first two years by taking this approach. The founders reached out to a few reputable businesses and offered access to the beta platform for free in exchange for a review. From there, they opened up a limited preview to the general public. By the time they officially launched, they were already a viral sensation.
Create a Strong Email Sales Funnel
Email marketing isn't dead— it's evolving. Crafting a strong email sales funnel is the key to building a rapport with potential customers, creating conversions, and aiding in customer retention.
In addition to the standard emails that promote your products and tell your brand story, include strategies for things like:
Browse abandonment
Periods without a repeat purchase
Customer loyalty anniversaries
The more creative you can be with your email strategy, the higher your conversion rate will rise over time.
Go Live
Video marketing has been a significant disruptor in the online world over the past couple of years. Fortunately, video production isn't what it used to be. Businesses are no longer investing thousands of dollars in high-quality videos. Instead, they're taking a guerilla marketing approach and going live on the fly.
Not only does going live circumvent social media algorithms, but it creates an opportunity for your audience to engage with you in real-time. Use live videos to:
Host webinars and training sessions
Provide updates about your business
Give customers a behind-the-scenes look at your operations
Share quick tips and valuable advice
Going live gives you valuable content that you can repurpose later, and takes minimal time to prepare. This is the ideal approach for marketers with a $0 budget.
No matter what approach you take to market your business, do so with the customer in mind. If you're working hard to solve pain points for your customers, you won't need a significant marketing budget, even as you grow.