Product pages are some of the most important assets that your online brand has in its arsenal. Nowadays, running a successful online store depends heavily on two things: delighting your visitors and earning their trust, and scoring points with search engines.
A well-optimized product page can start to rank on its own merit, before you've even started building up your backlinks and social feeds. But without a good user experience to back it up, you won't manage to make conversions, and page engagement metrics will fall.
Product page optimization is definitely a delicate balancing act, with plenty of tools that can aid you with both content and SEO optimization. Here is how to optimize your product pages for SEO and users, so that your pages rank highly with search engines and your customers. Get the best of both worlds and see your brand engagement rates soar…
Optimizing your pages for SEO
Start with keyword research
Thorough keyword research is essential when writing product pages that you want to rank. It reveals what users are looking for, and the most relevant words and phrases being typed into search engines. Without good keyword research underpinning your content, you could find yourself targeting the wrong keywords for your product, leading to low-quality traffic and fewer sales. Well-optimized pages bring relevant traffic that is much more likely to convert, not to mention a lower bounce rate.
When you do your keyword research, keep an eye on factors like search volume, relevancy, and keyword difficulty. In particular, seek out low-difficulty long-tail keywords that are highly relevant to your product. There are several good keyword research tools out there: try free ones like Keywordtool.io, Übersuggest or Answer the public.
It's best to mix and match keyword results from different tools to get a better idea of the overall search market – and don't forget to look at data for different countries if you are trading internationally.
Write unique content
In short: don't use the manufacturer description that came with the product. If others are selling the same products as you, then chances are this description is already being used on hundreds of other websites. This is duplicate content. In 2012, Google released an algorithm called Google Penguin designed to lower the rankings of any website using 'black hat' SEO techniques, which includes use of duplicate content, as well as other spammy techniques such as keyword stuffing and cloaking.
Of course, there is an easy way around this, and that is to write unique product descriptions yourself (or hire a freelance writer to do it). Manufacturer descriptions are rarely the most compelling read anyway, and you can surely do much better. Think about how you can bring the description in line with your brand tone of voice, while still hitting those important keywords.
A good rule of thumb for product content – talk about product benefits to sell, whereas features are great for inbound marketing and ranking in search engines. Try to balance your copy to include a healthy mix of both features and benefits, and always put customers first. Think about what they want to find out – not necessarily what you want to tell them….
Fix duplicate pages
Now you have all this lovely unique content on your product pages, but there's one more thing to address, and that's removing any duplicate versions of these pages that may have been generated automatically. This sometimes happens with DIY ecommerce builders when you've organized your products into categories, but there is overlap, with several URLs all linking to the same product. So, for example, if your 'Green Off Shoulder Dress' appears in 'Products' and also in 'Women's Clothing', you may get two different pages, like so:
www.website.com/products/green-off-shoulder-dress

www.website.com/clothing/womens/green-off-shoulder-dress
Luckily it's a pretty simple fix: simply use the 'rel=canonical' tag to inform Google that the extra page is not duplicate content, and you will be on your way. This little bit of technical SEO can make a big difference to your store's rankings, and will make the search engine experience of your site a lot better.
Find out more about using SEO to get high rankings and more customers to your webshop.
Optimizing your pages for users
Use the F-reading pattern
Unless you have an Arabic audience, most of your website visitors will naturally scan your pages from left to right – and then back to the left again. It's called the F-reading pattern because it looks like this: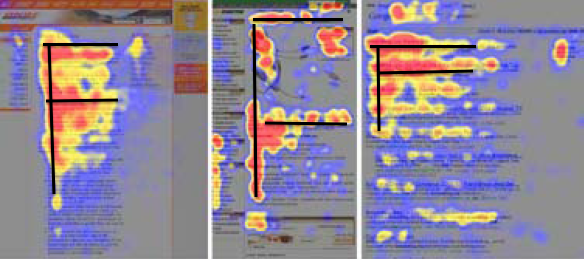 credit: howtowritewebsitecontent.blogspot
For this reason, the most user-friendly ecommerce stores usually place a large primary image on the left, followed by a product description on the right. Because we are predisposed to scan pages in this way, it makes sense to work with it, rather than against it.
Ensure that your images stand out (more on this below) and that your most important information is near to the top of the page. Remember, online users are impatient and often scan pages for key points, rather than reading the whole thing. It's a good idea to use bullet points in product descriptions (a la Amazon) so that fast readers can quickly ingest key product data.
If you want to get down to the nitty gritty, try using eye-tracking software to see how readers are really experiencing your product pages.
Nail your product imagery
It seems obvious, and yet so many websites still get it wrong: always feature the most clear, high-quality product photos you can produce. That means good lighting, no pixelation, and no stretched or skewed images. Ideally, you should have the product shown against a neutral background in the primary image, and allow the user to zoom to see it in more detail. Remember, when we shop online we don't get to handle and touch the item for ourselves, so imagery has an important compensatory role to play.
Alongside your main product image, you should ideally have a gallery of photos that show the product from different angles, as well as in context – on a model, for example. It's important that users get a tangible feel for product size and dimensions. If you sell smaller products, like jewelry, consider placing the product next to a ruler for scale, as in the photograph below: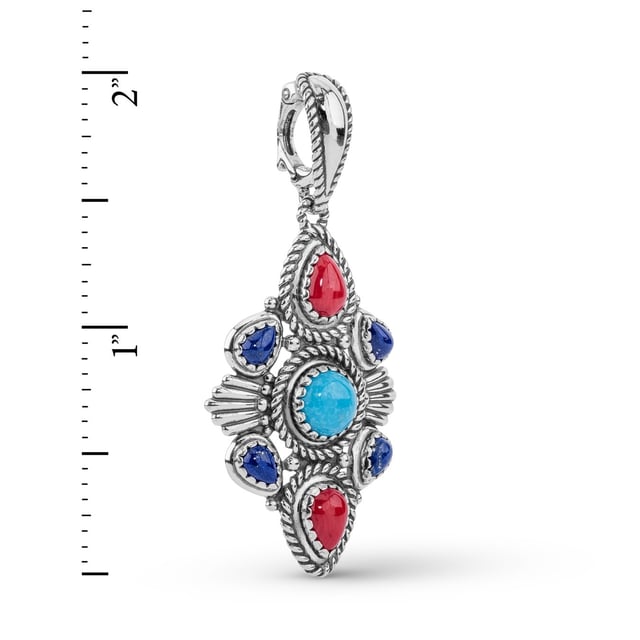 credit: carolynpollack.com
Never produced product imagery before? Read this image guide.
Display customer reviews
Customer reviews are an important addition to your product pages that can really help to enhance your sales. Visitors really trust customer reviews (since they are unbiased) and use them to discern whether they rate your company and the quality of the products. In essence, they provide reassurance, provided the reviews are good. It's all about credibility.
Whether you display text reviews, or implement a points or stars system, make sure that your reviews are well formatted and accessible to the busy web shopper. There is no point in acquiring loads of reviews and then burying them on your site. Good quotes about products can be lifted out and incorporated into product copy as an extra value proposition.
That doesn't mean you should hide bad customer reviews. You can't open your store up to feedback, only to eliminate everything that doesn't fit your agenda. This is an opportunity to demonstrate good customer service and resolve the customer's problem for them. They may have flagged up a problem with your product that you didn't know about, in which case, the issue may be solved and you can still save the customer relationship.
Did you find this article helpful?
What steps will you take to optimize your store's product pages for higher visits and conversions?
Let us know in the comments.