The shift from brick and mortar to digital has been a slow-moving trend. But fast-forward to COVID-19, and that trend has accelerated significantly as businesses, small and large, quickly realized the limitations of existing as a physical-only store.
Since migrating to digital, many have experienced a boom in sales, customer retention, and overall business growth. And given that ecommerce is a rapidly growing industry, there's no doubt that there's more success that awaits.
According to this study, it is said that ecommerce sales in the US grew by double digits, up 17.9% by the end of 2021. Now, ecommerce penetration will continue to increase, more than doubling from 11.0% in 2019 to 23.6% by 2025.
These stats prove that there's a growth in digital buyers and a huge demand for multichannel commerce offerings. They also show that there's an opportunity for big retailers to harness the power of ecommerce and make serious bank.
Put simply, that means ramping up your marketing strategy to cater to the digital market and capitalize on this revenue opportunity. Magento is the key to achieving this, so let's tell you more about this valuable ecommerce platform below.
Why Magento?
Ecommerce is a highly competitive space, even more so for large retail brands. You need to be smart about the platform you choose to power your store; you need to choose a platform that will not only meet your expectations and needs but also deliver quality customer experience suitable for a diverse customer base.
Magento is exactly that platform.
In 2020, it was one of the three main platforms that merchants migrated to the most. It was also named as one of the leading ecommerce platforms worldwide. Brands such as Nike, Jaguar, and Land Rover use Magento as it offers flexible and scalable solutions that are specifically built for merchants with high sales volume. Not only does it have the ability to support more than 500,000 products, but it also allows merchants to easily add more new products. (Good to know: Magento 1 has an upgraded version, Magento 2, but the base of both is similar. The only key differences are the features and the level of support gained.)
Besides the product scalability, other capabilities include:
Product management
Category management
Client account management
Order management
Customer support
Various payment options
Search technology
International support
Promotional and marketing tools
Marketplace integration
Global selling
Ultra user-friendly CMS (Depends on the software you choose)
Website customization
Easy and flexible configuration
Intuitive interface for content management
SEO features (Depends on the software you choose)
Easy integration of third-party add-ons
Multi-stores feature
Advanced security
Ecommerce performance analytics integrated capabilities
Full-fledged service support (Depends on the software you choose)
Freedom to select any hosting service of choice
Over and above these features, you can choose any extensions from the Magento Marketplace to take your ecommerce web store to the next level.
Now, create your ecommerce store with Magento
In the case of this article, Magento 2 is a self-hosted ecommerce solution, so you'll need your development team to be all hands on deck to develop and set up your web store using this platform. So, if you've chosen the Magento Commerce route, your development team will need to follow this step-guide to getting started:
Step 1:

Installation process

The first thing to do is to check the requirements needed to run the application. Once they're done ensuring that the requirements are met, they need to:
Configure your server environment
Get the Magento software
Install the software using either the Web Setup Wizard or command line
Check the result – it needs to reach 100% to be successfully installed
Once installed, you're ready for the next step.
Step 2:

Store set-up

For this step, you'll need to make use of the Magento Admin Panel.

In the panel, you'll gain access and capabilities to:
2.1) Create your ecommerce website and store views
The store views feature is useful for creating multiple stores under your company umbrella to live in one centralized system. Once you login, you'll see the admin dashboard, a basic panel with default settings. This is where you can customize your website(s) layout by adding either default or personalized themes.
2.2) Set team permissions
You'll need a dedicated team for website management, so this is where you give them access to website activities they're assigned to be responsible for. Navigate to System>Permissions> All Users>User Roles.
2.3) Supply your store with inventory
Magento Stock function gives you the tools to connect with sales channels. Navigate to Stores>Configuration>Catalog>Inventory to configure this function.
2.4) Set up and manage product data
As you know, product data is the cornerstone of your ecommerce web shop. It helps drive traffic to your web store and gives customers the information they need to make a buying decision. So, you cannot afford to skimp on it. You have to ensure that you have a product information database that has content designed to create an exceptional product experience for your customers.
Thankfully, Magento allows you to create appealing and useful content for your customers. Once the content is ready, you can start adding categories and sort them in an order that appeals to you (or that you think will appeal to your customers). From there, you can start adding products with any attributes of choice. Magento has excellent features that automate product addition from the backend. The challenge, however, is that there are cases where you have to add these manually. And dealing with tons of spreadsheets can be quite a headache.
To save you time on product content management, you'll need a Product Information Management (PIM) system that can easily remove the spreadsheet data bottleneck and streamline processes. This is where a PIM tool comes in.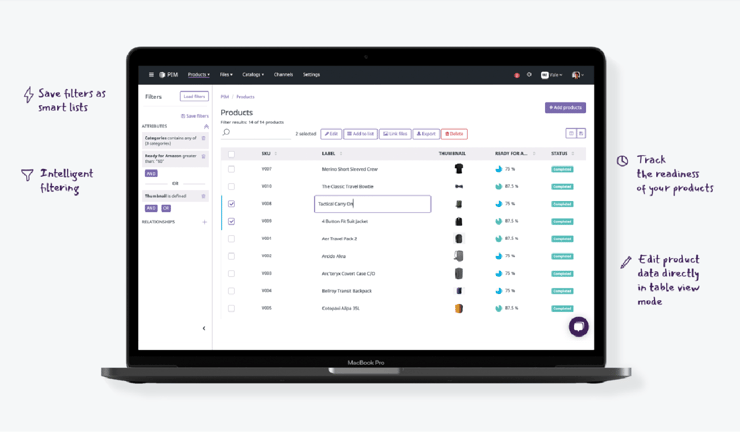 Plytix is a central source of truth that lets you add, manage and distribute product information to several marketplaces in real-time. All members of your team (and we mean that, unlimited users) can access your product information tool to add, edit, update the information and have it automatically changed in Magento.
2.5) Configure search options
Customers may need to search for a specific product when they come to your website. If it's not properly optimized for search purposes and intent, they will just leave. It is suggested that you set up clear product taxonomies in your Magento web store so that you can provide the best possible search experience.
2.6) Configure payment options
Online payments are usually a huge pain point for customers, which can lead to low checkout conversion and high shopping cart abandonment rates. One of the many reasons, as detailed in this article, is the lack of payment options. Magento ensures that your web store is integrated with a wide list of payment options so that your customers can choose the desired option when they reach the checkout stage. To configure this, navigate to Stores > Configuration > Sales > Payment Methods. Follow this Payment Settings Guide if you're unsure how to set it up.
2.7) Set up shipping methods with tax rules
Once the payment has been successful, you need to ship the products to your customers without missing a beat. Setting up a variety of shipping methods is going to help you with this. Configure the shipping methods by navigating to Stores > Configuration > Sales >Shipping Methods. Once done with configuring shipping methods, jump onto the tax rules. When you navigate to the Stores>Taxes, you can add the tax rates according to the national rules on taxes.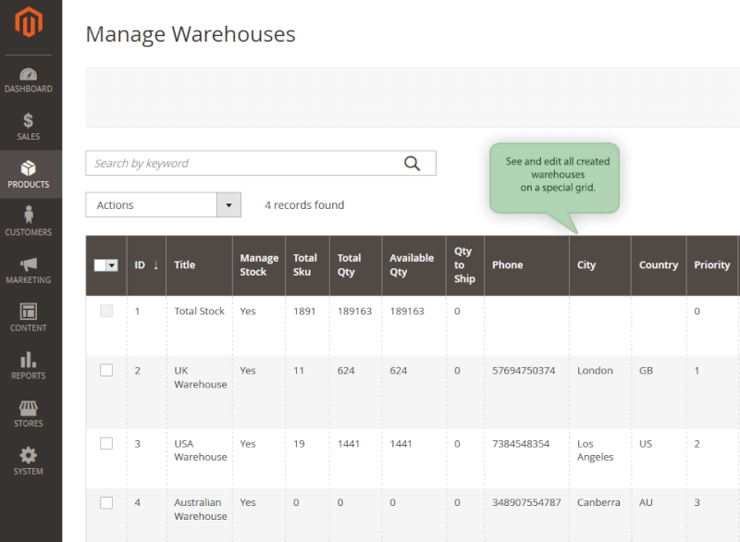 Voila! You've got a basic web store sorted. Now, you need to hone in on the quality of your product content and visual assets to ensure your store is appealing to your target audiences. The process might look easy on paper, but trust us, a content migration takes time. It's a big step that requires planning and preparation.
Depending on your portfolio, it could take months. If your information is accurate and accessible for digital use, your store will be up and running within a couple of weeks. But sadly, that is not the case for people working from spreadsheets. By using a PIM, you'll prevent future hiccups from rising. Any time you decide to add a new product to your portfolio, the foundation is there. It's just plug-and-play.
One step closer to online success
Pivoting online from brick and mortar-only is never easy for any organization, no matter how big or small. But there are resources and tools that make the experience painless and effective for the intended goal. Investing in Magento as your ecommerce platform will bring you one step closer to online success.
And, just by taking the next step with a PIM to centralize product content management, you're increasing your chances of success even further. It's no wonder that leading online retailers that are adopting PIM are outperforming their competition. Download our free ebook to learn more about how you can stand out from the competition and trump their performances as a new PIM user!
For more, book a chat with our incredible customer success team to learn more about how PIM for Magento will help your physical enterprise soar online.