It has been almost a year since our Product Information Management (PIM) platform has been on the market as a paid tool. When we first launched the PIM we decided that we wanted to have a product-based pricing plan. That is now changing.
As most of you know, our current pricing model for our PIM has been $49/month which includes 100 SKU's for free. Then for any additional SKU you'd pay an added $0.10 per each product. In this price structure, you were granted unlimited storage space for files per product and you'd have access to all of our features.
We initially chose this price in order to ensure:
That we would be the most affordable PIM for SMB's

That our customers pay a fair price based on the costs we'd have for hosting their products

And that the price would be as easy to understand as possible
However, even though we've seen healthy growth, since we've launched our PIM out of Beta earlier this year, we must also acknowledge that we still have areas on which we can improve.
Over a period of 3 months, we have conducted hundreds interviews and surveys from existing clients, non clients and clients in our pipeline in order to get an understanding of what they believe should be the right price. Here are some of our findings which has led us to change our pricing strategy.
(if you're reading this and recall such interview or survey from us, then thank you for your participation)
Perceived Value
Alex (my co-founder) and I, are very consumed by being fair. We want to be fair to our customers and to ourselves. That is why we initially loved the idea of paying 0,10$ per SKU. That way, SMB's with few products, would pay less than the large corporations.
And we thought that this would be received extremely well in the market, but we were wrong. The truth is, most people don't care about what we in Plytix think is fair or not. Most people only care about the value they get out of the features… And they should, if you ask me.
Here are some of the responses we got from our interviews and surveys.
"I can't justify paying that price for a glorified Excel"
"I am not sure about this, how can you be so cheap when other PIM's are 10 times the price"
"I pay $39 for my Shopify which has way more functionality, so I think a fair price should be $19 or $29"
"I think you should be charging at least $399 as a base price"
As you can see, the interviews didn't tell us if our pricing was too high or too low. It told us something different. It seems that we were priced in an awkward limbo of being either too cheap or too expensive.
So we decided to investigate a little further and looked into secondary parameters such as location, sizes of companies, job description of the person we've interviewed etc.
This allowed us to see some tendencies, but it wasn't significant enough for us to base any decisions on it. So we started looking into each previous conversation with our interviewees and their engagement with our product during their 30 day trial.
Now there we found some interesting insights.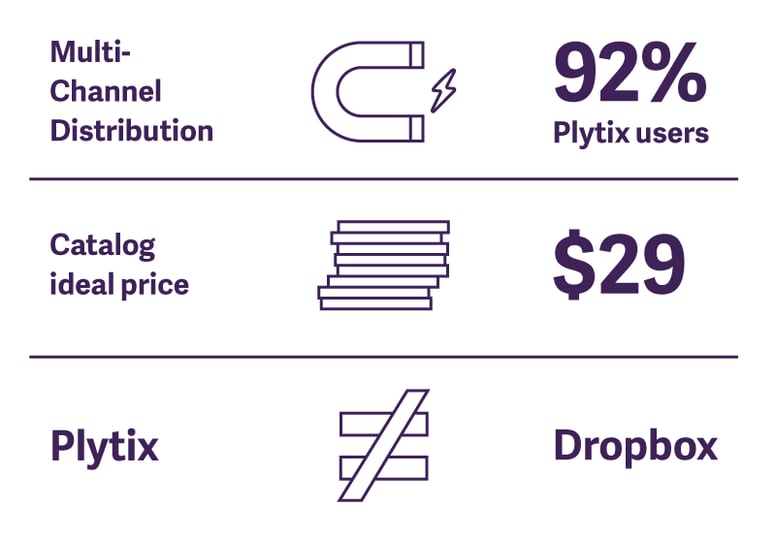 92% of users who signed up for Plytix because they were interested in multi-channel distribution, thought that our product was way too cheap.
All users who were only using our smart catalog feature said that their preferred price was somewhere around $29, but would pay more for the ability to customize
Users who were using Plytix solely as a repository for organising their product content, kept comparing the prices to Dropbox.
That and many more interesting insights were revealed, but the point is this: we needed to change our perception of what is fair and valuable.
When asking our users what they wanted to pay, it was clear that they based their prefered price on their own perceived value of the system.
Product Syndication
Users interested in our Channels feature, obviously needed to find a system that allowed them to automate processes. Plytix offers users a single hub from where they can automatically synchronize all product content across multiple channels (Google Shopping, Magento, Kelkoo etc).
For these users, we are offering them a tool that allows them to be on multiple channels without the hassle of manual maintenance. It is easy to see how Plytix will contribute to huge cost savings and added revenue, which is why the perceived value of the service was high and our base price of $49 was too low.
Users with these kinds of needs were anchoring their price point on the cost of building custom integrations or licensing enterprise software. What hurts worse is that we have lost clients because they thought that Plytix was too cheap.
I call this the Perfume Paradox. Pour the same perfume on two different bottles. One is priced at $5 and the other at $50. The $50 one will sell out, but the cheaper one will be a huge failure. Perfume is expected to be expensive, so the $5 version is immediately suspicious.
Product Management
Users who primarily needed Plytix to organise and manage their product content were different. They compared Plytix to other storage providers such as Dropbox and Google Drive. They all agreed that Plytix provides more functions than just being a file container, but the difference between paying a starting price of $9 for Dropbox and $49 for Plytix was just too high for them. They couldn't justify paying that much more for the limited added value they would get out of it.
And I agree, if you only use Plytix as a repository for managing your content for 100 SKU's, then you're probably better of with Excel and Dropbox. And that is why Dropbox and Excel are exactly the price anchor for these users.
Digital Catalogs
Many of our users also signed up for Plytix because of the opportunity to easily distribute product content to their resellers.
These are mainly brands, and they are mostly interested in the look and feel of their product catalogs. We have developed this feature in order to accomodate a demand from our existing clients. We have been very focused on the behavior of the catalogs which allows the receiver to actually download files in the exact format they want.
So while we argue that we have the most sophisticated catalog feature on the market, brands thinks otherwise.
These users will look at our catalogs and conclude that it doesn't include any branding customisation or template customization and therefore the perceived value is low.
Summary
This exercise has been super interesting a huge learning for us and now we are taking matters into our own hands. First of all, we need to break our products into separate modules and price it according to the perceived value for the user.
Our Basic PIM will now cost $9 for each 500 SKU's

Our Catalogs will have a free and a premium version

Our Channels will have a starting price at $199
Update: We have modified our channels price to be smarter for those just starting out. Originally we thought that $199 for a package of 10 channels was the way to go, but after getting a lot of feedback from our clients after the roll-out it became clear that there was more to the story. Check out our updated pricing for channels here.
Secondly, we had to look into the personas of the users using each of the modules. What we didn't know then, but what we know now, is that the person using catalogs in an organisation is usually not the same as the person setting up channels. We need to design each module se they serve the needs of the right users.
That encouraged us to take a deeper to look into our current product and identify performance gaps. We attacked this task by asking ourselves "How can we increase the perceived value for this modules and tailor it towards the right users". This has let us to totally rethink our roadmap planning for 2018.
What does this mean for you?
If you're a client, I bet you're thinking - so how does this affect me? And you should be :) The new pricing structure will be publicly communicated starting in January 2018. During the month of January, your account manager will reach out to you and tell you how this will affect you.
In the meantime, you can check out this list of FAQs that should answer many of your questions.