Product information management (PIM) software is no small investment for an ecommerce business — whether it's a small, bootstrapping brand or a large, bustling business with plenty of SKUs under its belt.
We live in an age where it seems like there's a tool for everything, so a big challenge for brands is deciding which tools bring enough value to the business to justify their costs. The good news is, when it comes to PIM, that's easy.
PIM systems bring so much to the table, for brands of all sizes. But not every PIM adopter is getting the maximum value out of their system. PIM software comes with a ton of value-adding features that some users just don't take advantage of.
Ready to get the most out of your PIM system? Read on to learn about some of the hidden values you may not be taking advantage of — and to learn how Plytix makes sure each and every customer gets value from their PIM that far outweighs the cost of the system.
The Hidden Value of a PIM System
Most PIM adopters know the basics of what the system is supposed to offer: A centralized place to store and organize product information.
But most PIM systems can do so much more than that. Are you missing out on any of your PIM's hidden values? Consider all these features, which any good, modern PIM system should offer.
Product Data Syndication
One of the biggest benefits PIM offers is a boost to your brand's omnichannel capabilities.
But a great PIM should go even further than that — it should allow you to syndicate product listings across multiple channels, so you can manage and optimize them all in one place. It's a major timesaver for brands who sell across Amazon, Walmart, Google Shopping, Facebook, and more channels.
What's great about syndication to multiple channels in one place is that it eliminates errors in product data. When all your product information is kept accurate and up-to-date in your PIM, then distributed from there to all those channels, you know the product information that customers see, wherever they see it, is accurate. That means happier customers, and fewer returns — both of which boost your store's bottom line.
Faster Time to Market
Companies that implement PIM software have shown they can reduce time to market by up to 400 percent in some cases. Need we say more?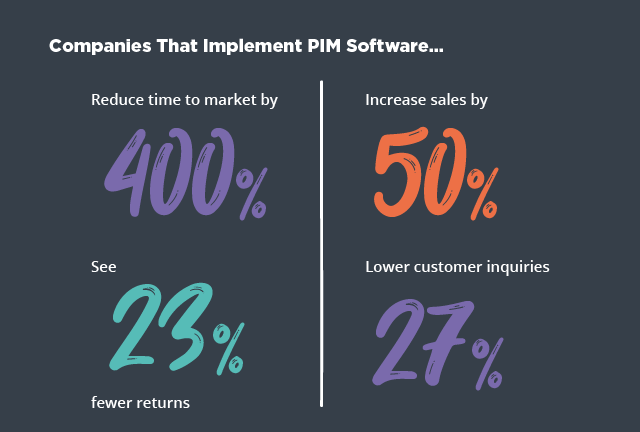 Better Employee Satisfaction
We know all about how PIM can increase customer satisfaction, but another hidden benefit is how it can also give a big boost to your employee satisfaction.
Not only does a PIM eliminate some of the cumbersome, time-consuming tasks that go along with manual product information management — and saves your team from having to pull product details from a spreadsheet called productinfo-v2-final-jimedits-final-for-real.xlsm while wondering if the version they're using is actually "final for real."
A good PIM system will also be able to provide your team with product performance analytics across all your channels. Analytics can be turned into insights, which can be turned into action — AKA the decisions that help your brand boost revenue.
Exportable Sales Tools
Since a PIM system already has all your product information centralized and organized in one place, it's a no brainer that you should be able to export that information in a number of different formats to help you meet your sales goals. Think automated PDF product sheets, product catalogs, and brand portals.
Where PIM Really Shines: Creating an Unforgettable Customer Experience
All these hidden values (and the obvious ones that got you interested in a PIM system in the first place) add up to one invaluable benefit for brands: An unforgettable customer experience.
That's probably what got you interested in a PIM system in the first place — as omnichannel retail becomes the standard for ecommerce brands, those who adopt PIM are the brands that will lead the pack in sales, revenue, and success.
But, as we've already mentioned, a PIM system is a big investment. If you're worried about getting enough out of your PIM to justify the expense, we'd love to share how Plytix is making sure all users maximize the value of their PIM in as little time as possible
How Plytix Ensures Users Get Maximum Value from their PIM
Ecommerce retailers who are looking for a PIM system have a lot of choices. But no PIM supplier helps ensure a return on your investment quite like Plytix does.
It all has to do with our unique onboarding process, and how we use a scoring system to help each and every customer find a path to maximizing the benefit they get from their PIM.
It's a pretty simple idea, really. We identified a set of common user behaviors in our platform, and assigned a score to each one based on how much value that behavior brings to the customer while using our PIM software. Here's a simple example: Each user assigned to a customer's account equals three points. So if the customer has three assigned users, that adds up to nine points.
The sum of a customer's points is their score, and we learned that any customer who has a score of 25 points or more is getting more value out of their Plytix PIM than what they pay for it.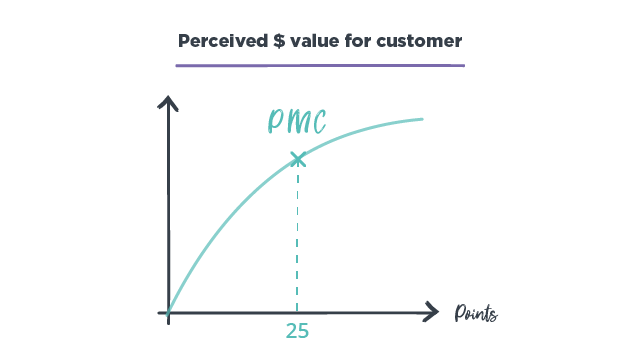 How Plytix Created an Onboarding Process that Guarantees Customer Success
We use that scoring system all across our organization to measure and predict all kinds of business factors.
But one of the areas where we've found it to be most useful and valuable is when we're onboarding new customers. At Plytix, we don't have a standard onboarding process that we copy and paste from customer to customer. We know that every customer is unique, and so all or our new users have different challenges, needs, and goals that we can help them address.
With that in mind, here's how our onboarding process works, and how our scoring system brings value to it for each and every customer.
When we onboard a new customer, we start with a kick-off call between the customer, our Account Executive, and an Account Manager who will be responsible for the customer moving forward. And yes, every client receives a dedicated Account Manager during onboarding.
During the kickoff call, we determine the shortest possible path to the 25 points needed for PMC. It's different for every client, and it may not seem like a logical journey at first.
As the customer begins their journey, we check in regularly to make sure they're reaching PMC and seeing a tangible return on their investment. This is mutually beneficial — we see less client churn, and our customers maximize the value of their new PIM system.
Every ecommerce retailer's PIM journey is different, which is why our personalized approach for every client sets us apart — and sets our customers up for success. Ready to learn more? Sign up for Plytix today!