How often do you send out product line sheets with the hopes to attract sales, only to be disappointed? Perhaps, you're unknowingly making mistakes and missing a couple of crucial details that can help sway the decision-making process.
Retail buyers go through hundreds of product line sheets in a day. This is in addition to buyer's meetings, sales analysis, store visits, trend reviews, and a whole host of other things. Ensuring that yours piques their interest is your top priority.
While line sheets need to be visually appealing, they need to be clear. You should only include basic product information that potential buyers need to know. (Having said that, it doesn't mean they require less planning, time, and effort.)
Line sheets are a sales tool that impacts your bottom line—you cannot make mistakes. That's why we've put together a list of mistakes, and how to avoid them going forward, so that you can increase your stockists' list and grow your brand.
1. Not telling your brand story in a concise way
Today's shoppers want brands to go beyond showcasing their products. They want to connect with the brands they're considering buying from on an emotional level.
The same can be said about buyers: they need to connect with your brand and be confident that shoppers will too. Explain your brand's story in a compelling manner that inspires buyers to want to make the order for your product line.
When you create it, consider;
Making it clear, direct, concise, and consistent
Ensuring that it is authentic to your brand voice and tone
Ensuring that it is true to your brand values
Showcasing how your brand and products are unique from competitors
Making your brand's mission and vision visible
The power of storytelling lies in its ability to humanize your brand.
Your line sheet should reflect that.
2. Not considering buyers' perspectives in your delivery
Wholesalers flip through tons of line sheets every day—make sure yours stands out. To do that, you need to put yourself in their shoes. If you were a buyer inundated with several line sheets, think about what would make you look at yours. For starters, it's the brand story in the point above. Experts say the best line sheet should answer all of the questions buyers need to know, such as;
What differentiates your products from others in the same category?
What's exciting about the product line?
Who is the target market, and how will they use the products?
Do the products match current trends or fill a gap in the market?
What's the lead time?
How do you order? What are the payment terms?
As a rule of thumb, your line sheet should include the following information;
Your brand's logo

Contact information

General ordering information

Any sales terms, like minimum order amounts or shipping prices

Product images

Product names

Product descriptions

Available sizes, colors, and any other variations

Wholesale prices and suggested retail prices



3. Not paying attention to, and overlooking design
Design can make or break your chances of clinching a sale with buyers and retailers. Your sheet design cannot be disorganized, have a hard-to-follow layout, or be difficult to navigate. Instead, have a layout that is clean with enough white space. It should match the brand's image and message through the use of the right brand colors and logo. It must have the complete product information, be filled in at the right places, and be neatly categorized according to product types.
Here is an example of a simple and clean layout:
Source
A well-structured layout is more organized and appealing.
Unfortunately, you won't achieve that using a Word document page to DIY the design. You can hire a graphic designer and pay truckloads of money, or you can invest in the right tool that will get the job done with precision and a lot smarter. That's exactly what Plytix is. But we'll tell you more about PIM, keep reading.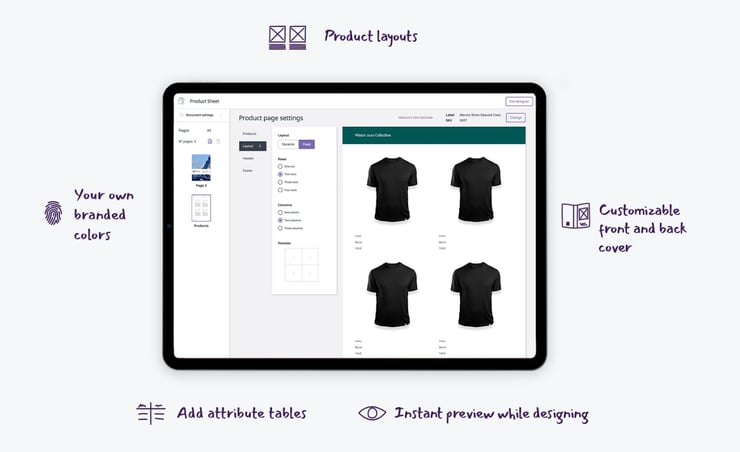 4. Having low-quality product information
Product information is one of the biggest selling points! If the content is of poor quality, no one will be interested in looking at it. When we talk about product information, it includes everything from product names to description, sizes, colors, pricing, images, and much more. Your line sheet content can be centralized in a PIM, making it easier to locate product line content when the time comes.
When you create the written product information, make it simple, straight to the point, and interesting to read. It should also not be in small font that it becomes a struggle to read. Doing so helps you retain the buyer's attention. Most importantly, avoid typos or errors! Fact-check and proofread your copy before sending it out.
Product images need to be quality high-resolution. When images are blurry, with jagged edges, it takes away from the quality of the product. In fact, 75% of online shoppers rely on product photos when deciding on a purchase, as do buyers.
So, ensure that the quality of the product shines through even in images.
An example of a low-resolution image:
An example of a high-resolution image:
Avoid using contextualized lifestyle images in favor of product photography with white backgrounds. That way, it's easy to see what item is being shown. You can consider adding different sides and angles to showcase more product details.
5. Making accessibility a challenge
In the world we live in, accessibility is currency!
The quicker you understand that you're bidding for buyers' time against many others like you, the more effort you'll put in to ensure they easily get everything they need from you. Don't make them work hard for it by having them download zip files or scattered attachments or create an account to get to your line sheet.
Make it easy for them to review your sheet with as little effort.
A 'click and view' must be the goal.
Product Sheets is just the right tool for your job
Product Sheets will help you stand out in a sea of line sheets in buyer's inboxes. In addition to Plytix being a product information management (PIM) system that centralizes, organizes, and distributes product data to sales channels, it lets you create branding and marketing materials such as... you guessed it, line sheets.
But there's more to it. You don't need to have graphic designer skills to use our line sheet maker. It's so simple that you only have to choose from a wide selection of sheet templates. Then, customize your line sheet layout by plugging in the products you want to include and pulling all relevant information, automatically from the PIM. You get to fine tune your product data, add fonts, colors, images and logo as you see fit. Our PDF designer does all of that with a few clicks here and a drag and drop there. This will save you time on tedious tasks to focus on selling.
Once you're happy with the final look of the sheet, you can download it in PDF and distribute it to anyone you're pitching a sale to. (Soon enough, you'll be joining a huge list of early PIM adopters who are outperforming the competition.)
Why waste anymore time thinking, when you can get cracking on your line sheet with Plytix today. To learn about the overall benefits of a PIM system? Check out our buyer's guide. When you're ready to get started, sign up to get yours set up!