Foursquare recently published a list of most popular retailers in America by state using their check-in data to determine which was the place to be in each. Some are pretty surprising!
We decided to take that information and stick it into a handy map: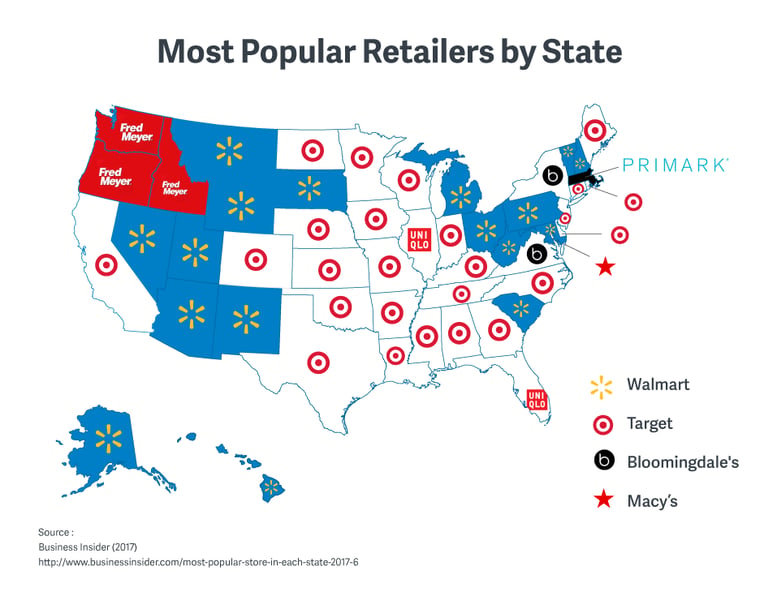 The most popular retailers are:
Target
Walmart
Fred Meyer
Uniqlo
Bloomingdale's
Primark
Macy's
---
Target
Home State: Minnesota
Headquarters: Minneapolis, Minnesota
Target scooped up around $69.5 billion in revenue in 2016. They are actually the second largest retailer in the country behind Walmart, but seem to be the most popular place to check-in. According to their annual report from last year Target they operate about 1,802 stores nation-wide, but are also really proud of their digital sales channels stating "[digital channels] have consistently out-paced the industry averages with annual growth of nearly 30% over the last two years."
States: 25/50
Alabama, Arkansas, California, Colorado, Connecticut, Delaware, Georgia, Iowa, Indiana, Kansas, Kentucky, Louisiana, Maine, Minnesota, Missouri, Mississippi, North Carolina, North Dakota, Nebraska, New Jersey, Oklahoma, Rhode Island, Tennessee, Texas, Wisconsin
Walmart
Home State: Arkansas
Headquarters: Bentonville, Arkansas
Unfortunately, Walmart did not win over it's home state, Arkansas, in this contest. Needless to say they are probably not too worried with the about $485.6 billion in revenue they raked in last year. Walmart is the biggest retailer in America and consistently sits in the top 5 of retailers worldwide.
States: 17/50
Alaska, Arizona, Hawaii, Maryland, Michigan, Montana, New Hampshire, New Mexico, Nevada, Ohio, Pennsylvania, South Carolina, South Dakota, Utah, Vermont, West Virginia, Wyoming
Fred Meyer
Home State: Oregon
Headquarters: Cincinnati, Ohio
Fred Meyer has been a household name in the NorthWest for a long time and still holds klout in the region. In 1998 they were bought by supermarket giant Kroger who boasted sales of over $115 billion in 2016. If you are interested in some retro people watching, you can go back in time and check out what one of the Washington-based stores was like in the 1990's. Enjoy!
States: 3/50
Idaho, Oregon, Washington
Uniqlo
Home State: None!
Headquarters: Tokyo, Japan
Uniqlo is a Japanese company owned by Fast Retailing Co. that opened its first US store in 2006 in Manhattan, NY. They now have over 40 stores around the country and want to continue to open 20 to 30 more stores each year. However, we will see if politics gets in the way of their US expansion.
States: 2/50
Florida, Illinois
Bloomingdale's
Home State: New York
Headquarters: New York, New York
Bloomingdale's is owned by Macy's, another contender for most popular retailer. Just like it's parent company, the company is pretty darn iconic. The luxury department store is known worldwide thanks to series like Friends that made it an integral part of the plot. Last year Bloomingdale's made $1.072 billion in revenue.
States: 2/50
New York, Virginia
Primark
Home State: None!
Headquarters: Dublin, Ireland
It is no surprise that an Irish retailer would be most popular in Massachusetts. But what is surprising is how fast they became so popular. Primark opened it's first US store in September 2015. There only about 8 stores nation-wide all neatly packed into New England with 3 of the 8 in the Boston area.
States: 1/50
Massachusetts
Macy's
Home State: New York
Headquarters: Cincinnati, Ohio
Macy's is probably the most iconic retailer in the United States. They are the orchestrators of the Macy's Thanksgiving Day Parade, a cultural staple since 1924 and have shown up on screen in Miracle of 34th Street, Seinfield and Friends. Macy's was the top retailer in revenue in 2015, so it is curious that it is not more popular around the states. This year Macy's is getting a new CEO, Jeff Gennette, and it will be interesting to see if he can bring the store back to it's old glory.
"State": 1
Washington D.C