Brands and retailers have a complicated relationship when it comes to product performance and POS data sharing. If you are sitting on one side of this relationship feeling neglected, we understand how you feel. This is why we have built a Google Analytics integration into the Plytix PIM that makes sharing ecommerce analytics as easy as clicking a few buttons (among other fun features).
A big question that is up in the air is, "Why should I use this if my information is already in Google Analytics?" Well, I'm glad you asked!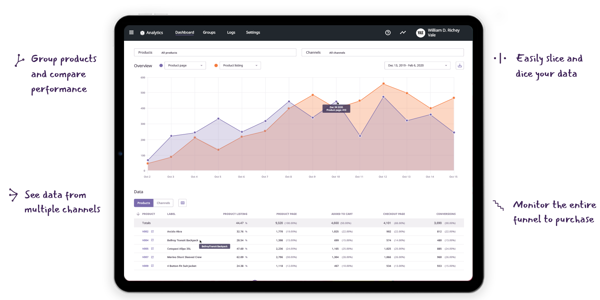 1. You can get uniform data from your retailers
Brands and retailers currently share data very inefficiently, so much so that they often decide not to go through the trouble of searching for or sending the data because of the time-consuming nature of the project. Plus, the data isn't standardized and the process is slow and cumbersome. Brands will get data at random intervals, or not be able to marry the metrics correctly.
Using Plytix, you can get data directly from your retailers' Google Analytics accounts within 24 hours, no coding required. Since all the data comes from Google Analytics, data consolidation becomes a non-issue.
2. You can pull in data from multiple properties
If you have multiple storefronts in your Google Analytics account, you can pull in all the data from each web shop into a single dashboard. This will give you a separate and personalized overview of your product performance that you can then segment however you wish.
3. You can segment data using your product lists
Hold on to your hats! You can create product segments with your product lists. This means you can apply a couple of filters, hit save, and then see performance metrics for those products you selected. No queries need to be run and no custom reporting. If you want to see how all your blue products perform, you can. All the products at a certain price point? No problemo.
4. The interface is simpler
Google Analytics is an amazing platform, especially if you are a superuser. There are so many great insights you can get out of it that sometimes it is overwhelming. Plytix takes the information and makes it less daunting and easier to manipulate. For team members who aren't GA savvy, Plytix will help them understand important metrics quicker.
5. The data is closer to where action can be taken
The combination of the Plytix PIM and Google Analytics data allows brands to efficiently create content and monitor performance at the same time. The right teams can access the data and make updates quickly within the same platform. This is a game-changer for multichannel marketing and commerce and enables brands to make sure all their retailers have the newest content and updated information at the right time, reducing time to market significantly.
In August 2020, we finally introduced this feature into our Product Information Manager (PIM) as an open beta. This has been a project we have been anticipating for a long time and was finally made possible with help from the Horizon2020 fund from the European Union. In the future, we hope to add more data sources to the PIM including big retailers and marketplaces.
While in open beta, the Google Analytics integration can be used for free in all its glory for a limited time.