📌 Check this post periodically for the latest updates and releases from Plytix.
Updated on 21 January 2022
2022
February
🚀 New design and features on the Product Details page
You've probably noticed your Plytix account has been getting a makeover. But do you know why?
These changes aren't just to make a "prettier" system. In fact, they are the building blocks to making the system work better (and faster⚡️) for you, our users.
With the new Product Details page, you'll be able to download all the information related to a specific product directly from that product's details page (Meaning you won't need to go to the Product Overview, look for that product, and then export).
You'll also be able to personalize the "Variations" and "Relationships" tabs with the attributes you want to see. Pretty neat, huh!
Learn more about the new Product Detail page here.
🚀 Channel Process Logs
No more "did all my products syndicate correctly? 🤔"
Going forward, you'll now see a log of the last 10 times a channel was processed. You'll be able to see:
Who processed the channel

When the process was started

When it finished

The status of the processing

How many products were processed

Whether the processing was successful or not



All to give you more clarity and control over the information you syndicate!
Lean more about the process log of a channel here.
January
🚀 Export Product ID
You all know that the product SKU is the unique identifier for your product in your Plytix account, but did you know that every single product has a unique identifier that's internal within the Plytix PIM database?
"But why, Plytix?" 🤔
The internal product ID is used for API calls and to showcase your product in Brand Portals.
You can now export this ID from the table view and from our Channels module allowing you to skip searching for a product SKU when using the API and allowing you to quickly map to a brand portal's product page.
Learn how to export Product IDs.
🚀 New Computed Attribute Operation SPLIT
There are times when you just need to split a string of text into an array 🤓. And now there's an easy way to do it. With the new SPLIT operation, you can format data correctly for certain output requirements by turning a string of text into an array.
Learn more about how to use the SPLIT operation.
🚀 Create an SFTP Connection
Your privacy is important to us, which is why we've added the ability to create SFTP connections. This allows for a more secure connection to external servers like say connecting Plytix with your ERP system. 🔐
Learn how to create an SFTP connection.
2021
December
Just call us Santa 'cause this month we came with a full bag of new toys.
🚀 The All New Product Overview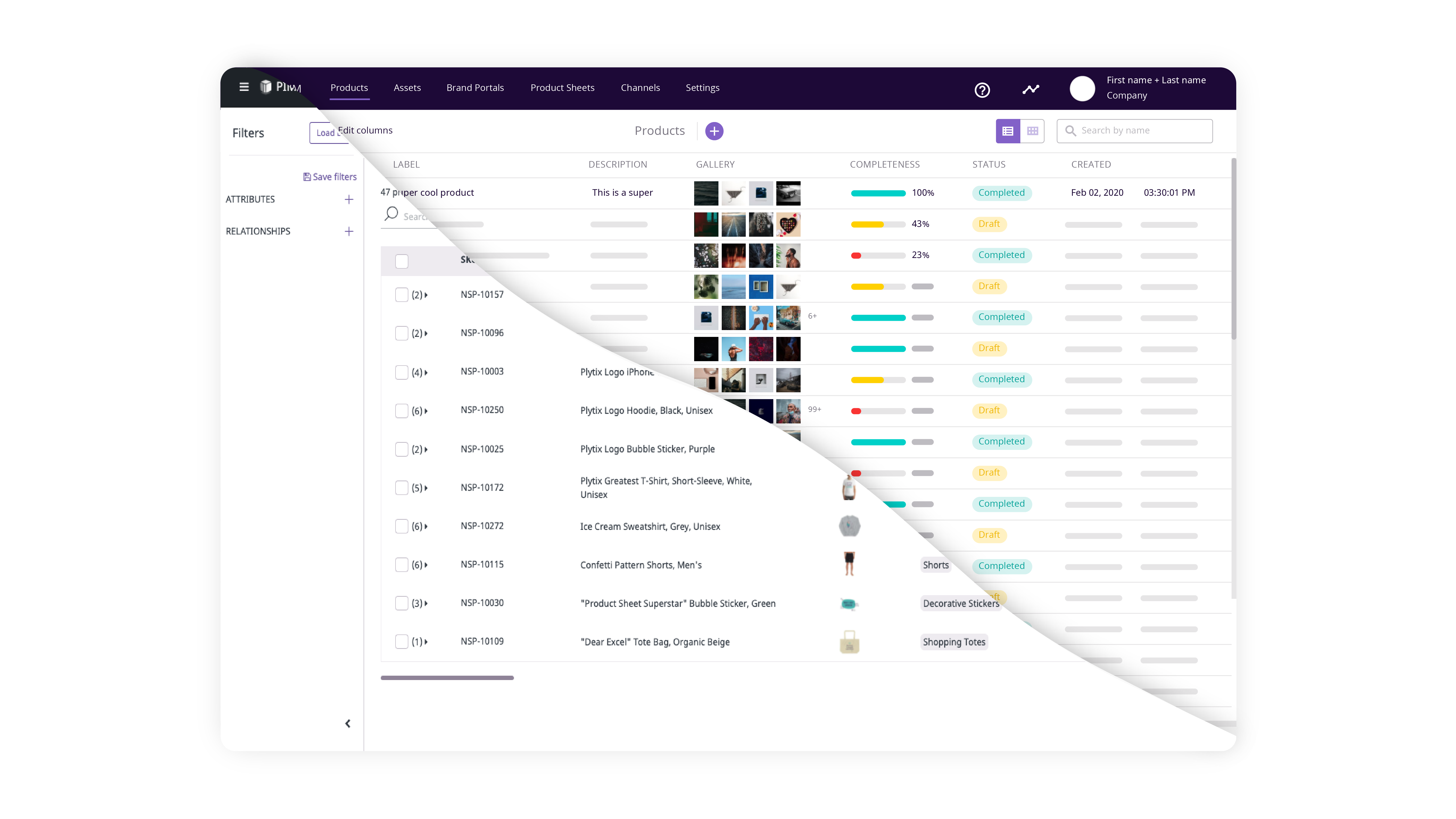 We all love to hate on spreadsheets but the truth is… there's a reason everyone uses them. So for this update, we've taken everything you love about spreadsheets and combined it with everything you love about, well, us. The new product overview comes with more than just a new design. It comes with new features and functionalities such as:
Freezing columns
Drag and drop re-ordering of columns
Column re-sizing
Grid view
Keyboard shortcuts for navigating the overview
Seeing the name of the view they have applied to the table
See timestamp on created and modified dates
See missing attributes for completeness directly from the overview
You can learn all about the new product overview here.
But wait…. there's more.
🚀 New filter parameters for SKU
Remember when you wanted to quickly add a list of SKUs to filter through but couldn't 😬. Well, now you can! When filtering products, you can search for up to 100 individual SKUs using the functions "contains any of" and "doesn't contain any of."
🚀More options when bulk editing multiselect attributes
Didn't it suck when you wanted to add multiselect options to a set of products but ended up replacing them all instead 😰. We thought so too, so we've added the options to add, remove, and replace multiselect attribute options when bulk editing.
🚀Filter on character count for short text and paragraph attributes
Remember that time you wrote the most perfect, SEO-ready title for your product only to get it rejected because it went over the character limit by 1 😤. To make sure that never happens again we've added the ability to filter plain text attributes on character count so you can quickly identify and fix those frustrating little mistakes.
🚀 Filter down to the time on Created and Last Modified attributes
Let's get down to the nitty gritty. You can now filter down to the second a product was created or last modified. This way you can be sure of exactly how up-to-date something really is. 🤓
🚀 Quicker (dare we say bulkier) way to link assets to media attributes
We heard you were having to update products with the same thumbnail ONE by ONE 💩. Your time is precious so to help speed things up we've added the ability to link assets directly to a media attribute when linking from the asset overview or the product detail view. This means you can now BULK 👏 EDIT 👏 MEDIA 👏 ATTRIBUTES 👏
🚀 Increased Limit For Dropdown & Multiselect Attributes
"The limit does not exist, THE LIMIT DOES NOT EXIST!"... Okay it does, but we've increased it by A LOT! You can now add up to 1000 options to your dropdown and multiselect attributes! Before it was 550, and hoo-doggy that was a pain in the rear.
Not sure how to use these new features? Head to our Knowledge Base or reach out to us via chat or email! 😄
Happy holidays to all! And to all a good night. 😘
November
🚀 View which user created or was the last to modify an entity in your account
Going forward, in addition to seeing a timestamp, Plytix users will see who created and who was the last to update any product, asset, list, or other entity in your Plytix account.
Learn more here.
🚀 Add descriptions to attributes that can be seen as a tooltip
Account admins can add descriptions to attributes. This allows admins to communicate to other users the use of an attribute or any other important information like character count, requirements, etc. These descriptions can then be seen by users in the product editing area as a tool tip when hovering over an attribute.
Learn how to add descriptions to an attribute.
September
🚀 Upload CSV templates for channel outputs
Channel users can now upload sample templates to channels. This means you'll no longer need to manually type in output labels, or reorder the attribute output to meet different requirements.
To learn more about how to upload a CSV template to a channel, see this Help Center article.
🚀 Schedule automatic import feeds
Users can now set automated CSV import feeds from a file URL, FTP server, or Dropbox account –reducing the amount of time spent executing imports manually. This is a quick and easy way to retrieve data from your ERP and other systems and import it into your Plytix account.
For more information, visit this Help Center article.
🚀 Get an overview of your data models
PIM admins can now download an overview of the product attributes, relationships, and categories, and asset categories used in their Plytix account. This allows you to get a quick overview of the data models of your PIM account for internal purposes or to share with your customers.
For a list of the URLs, visit this Help Center article.
August
🚀 More efficiency per API call
We've increased the amount of products you can select per API call from 100 to 1,000. This means users can now bulk edit more products meaning you can do 10X more in one go!
For more info, take a look at our API documentation.
🚀 Increased control over what values can be imported on multi-select and dropdown attributes
Admins can now decide if new options, or values, for multi-select and dropdown attributes can be added upon import. This means no more duplicate, misspelled, or downright incorrect values, ensuring that your data is always sanitized.

Learn more about how to restrict multiselect and dropdown attribute here.
July
🚀

More customization in the asset table overview

You can now hide, add, or re-order columns to see only what you need to in the asset table. You can also see and sort assets by their extension, and/or categories.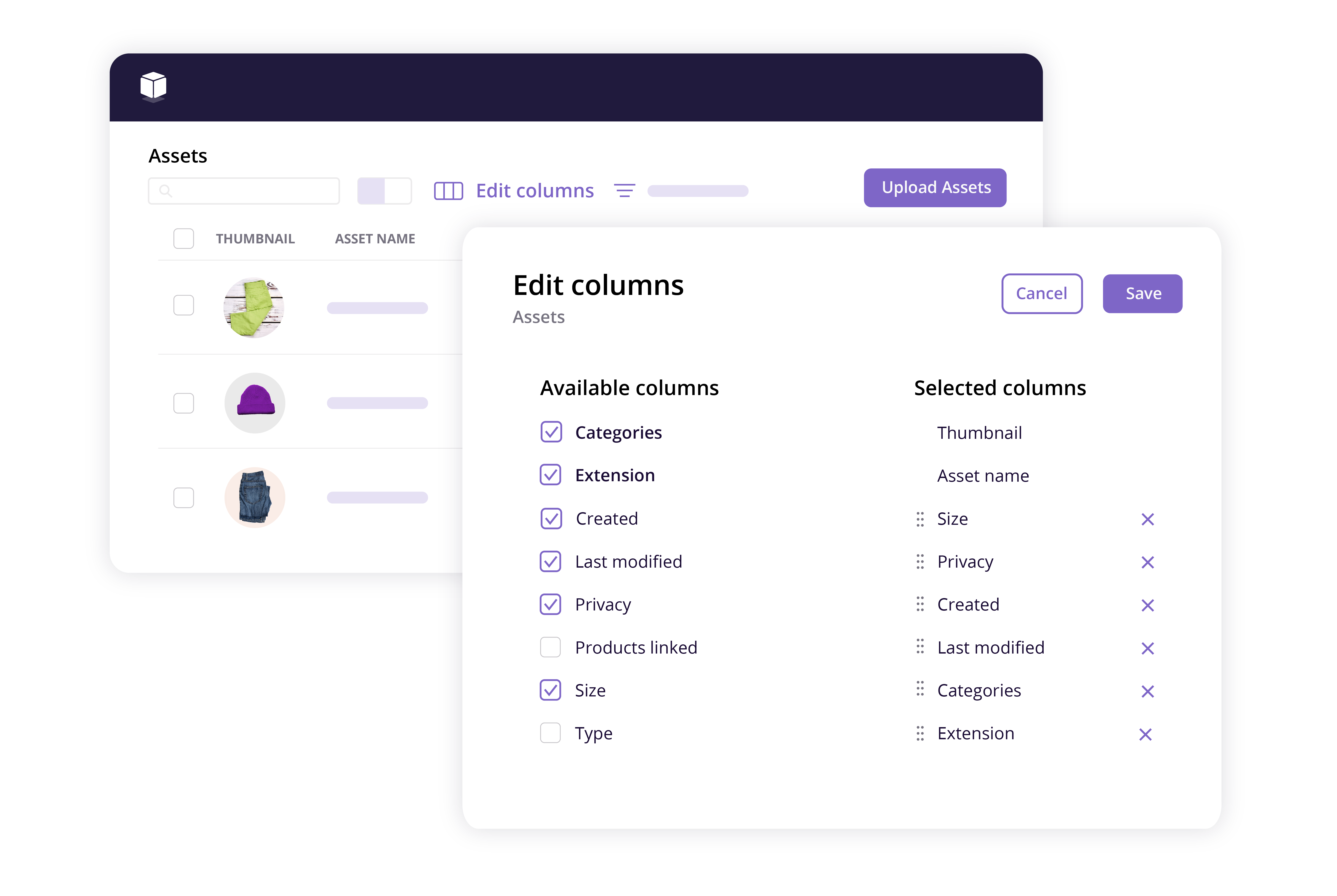 Head to your asset table now to begin customizing it.
For more info, head to this Help Center article.
🚀 New attribute to choose from when creating relationship tables
In the product sheet designers, you can add tables that show different product relationships. You can now add a quantity attribute to the relationship component of a product sheet.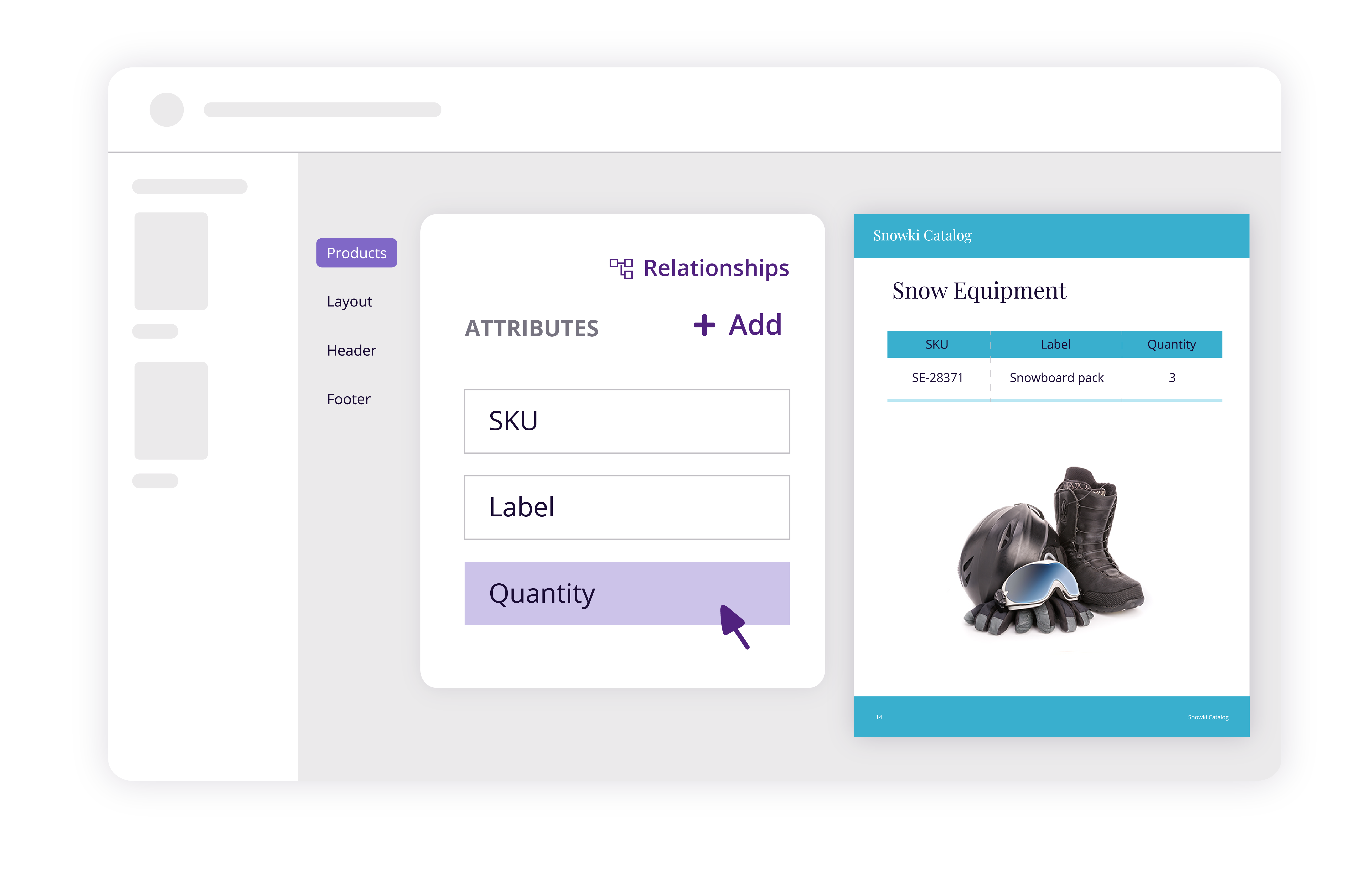 This feature is available for users with the Product Sheet add-on.
For more info, head to this Help Center article.
May
🚀 Better control over which users can import content
With Import Permissions, admins of a PRO account can now decide which users can import content.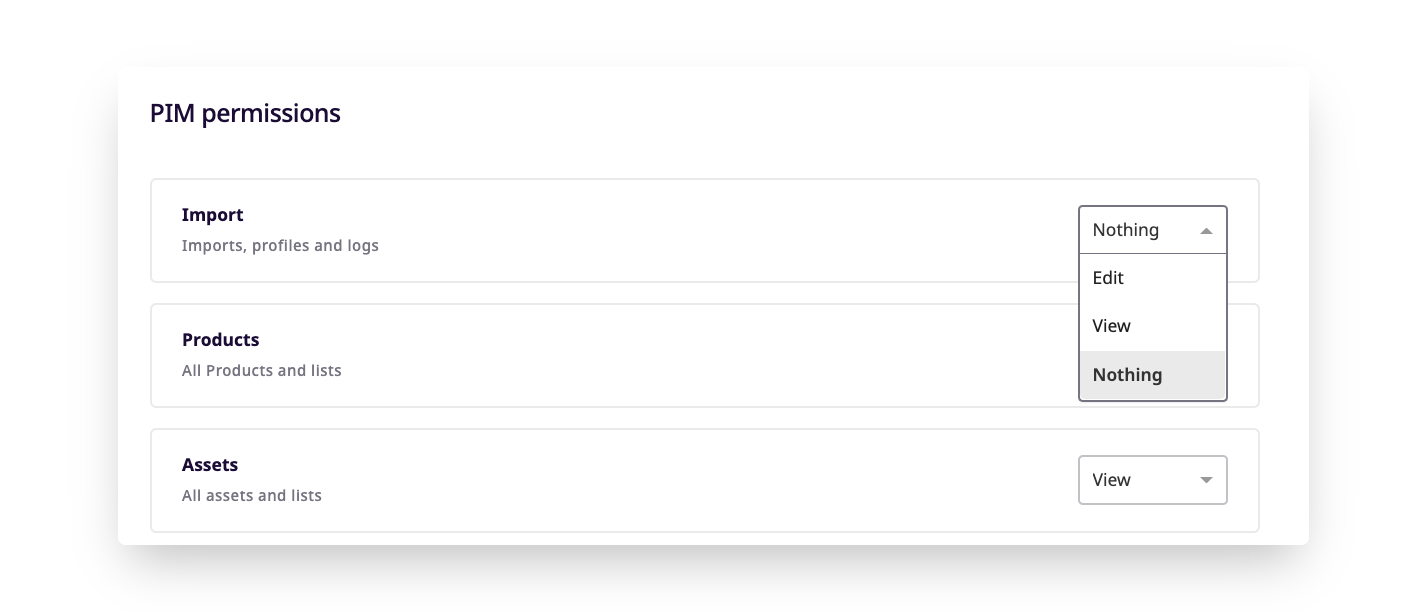 🚀 More options for scheduling channel processing
Now you can schedule CSV, XLSX, and XML channels on a monthly, weekly, daily, or periodic-hourly level.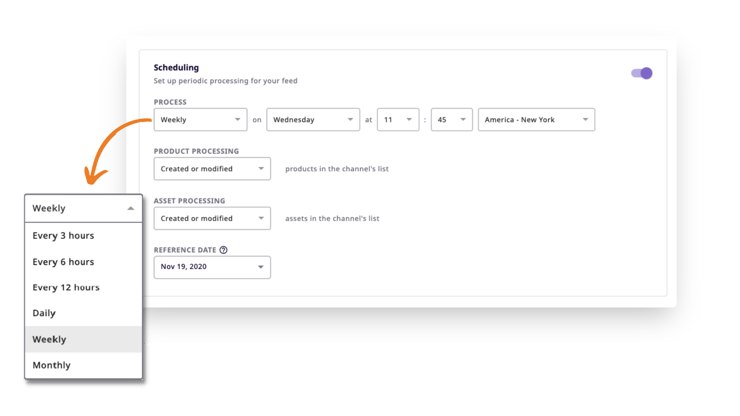 🚀 More attribute columns in your product overview
Now you can see up to 50 attribute columns in the product table overview.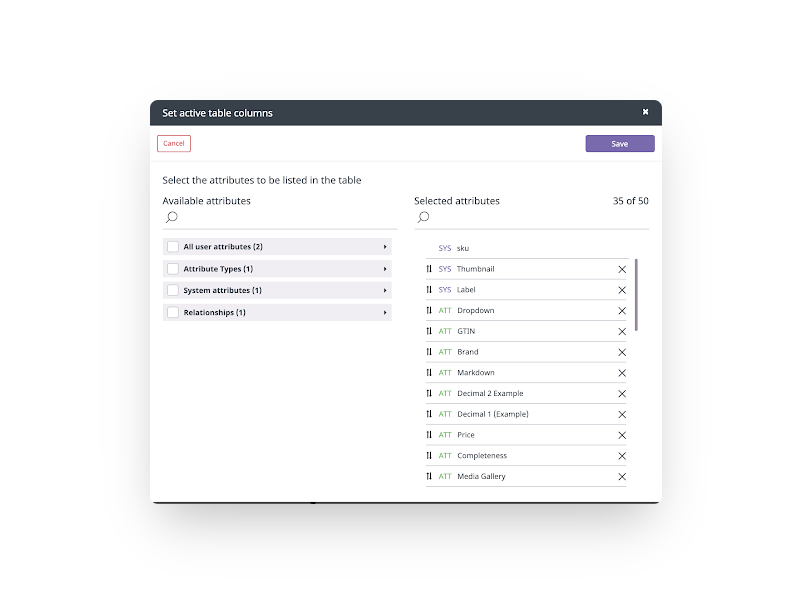 March
🚀 More import logs
Now you can see up to 25 of your last import logs and reports.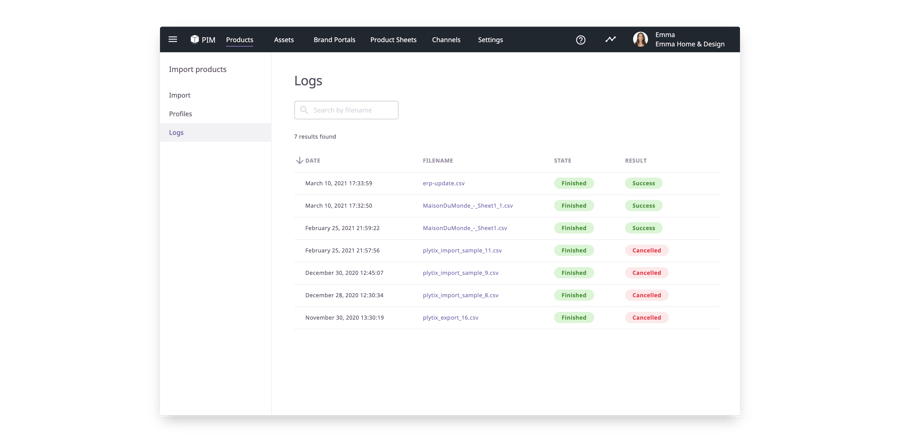 🚀 New Design for Brand Portal management and Export Logs
The Plytix platform is catching up in terms of design. We have worked hard to ensure that the Brand Portals and Export Logs get the modern look you'll love.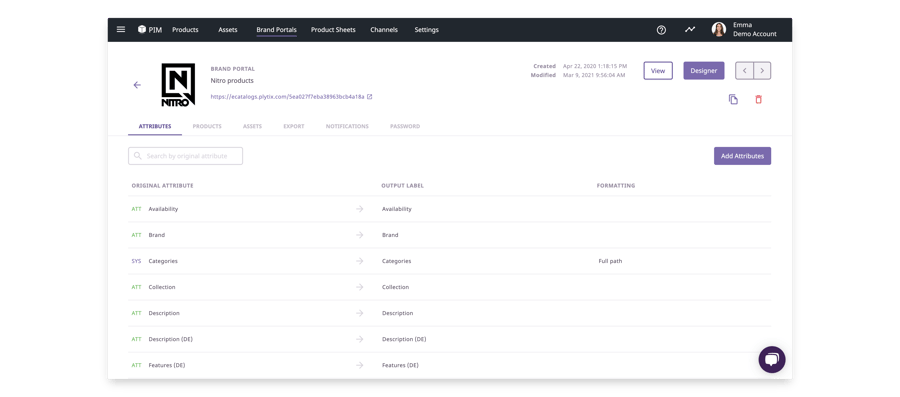 🚀 Improved mobile display for public Brand Portals
We've rolled out a more responsive display for public Brand Portals, so no matter which device your visitors are on, they will have a more consistent experience.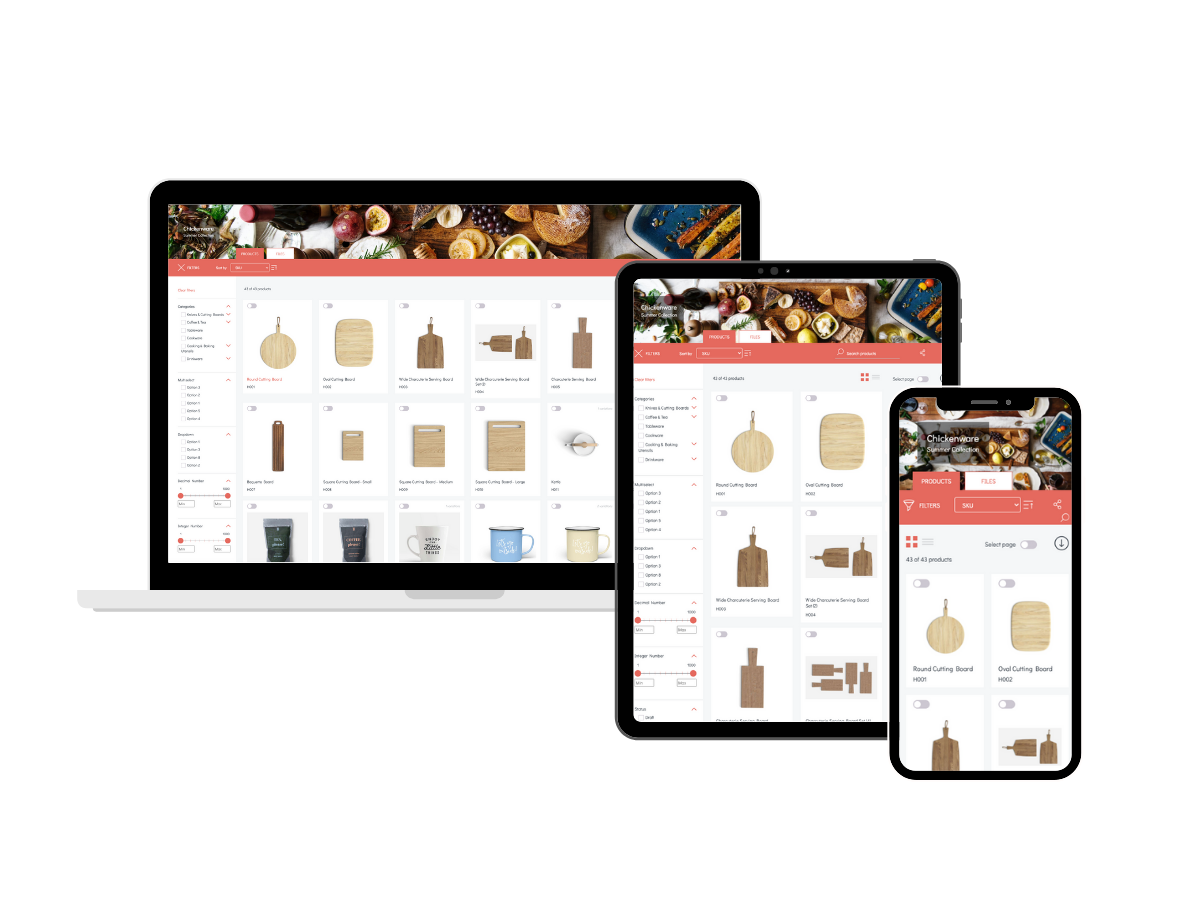 February
---
🚀 Link assets to a static list from the overview
Now you can add assets to a static list directly from the asset overview. This makes it easier to create asset packages for your Brand Portals and customers.

🚀 Linked products column in asset overview
When browsing your assets, get a clear idea of how many products are linked to that asset. Click on the icon to see a list of the products associated with that asset.

🚀 In-depth billing overview
Now you can see more details about your subscription all in one place. Go to your admin account and check out the new "Plan" tab to see more.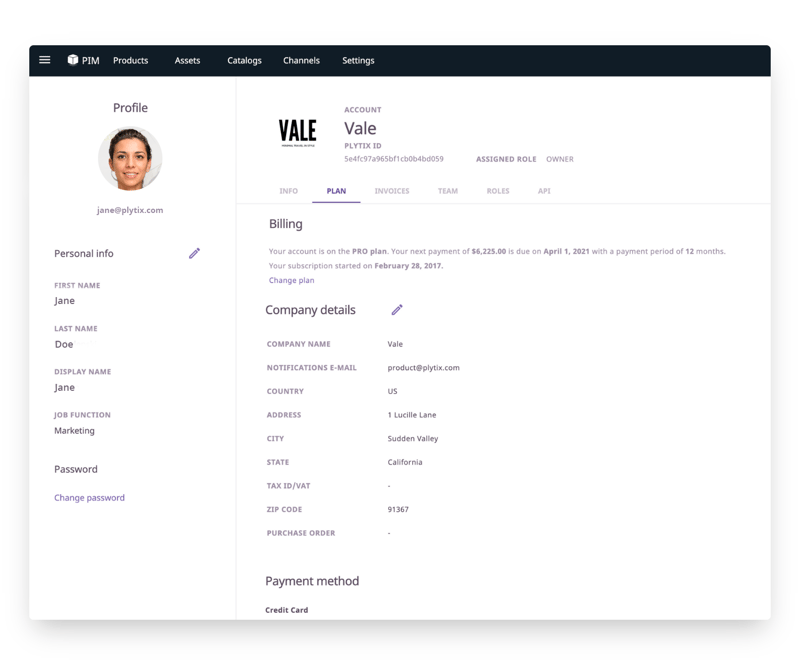 🚀 Search bar for attributes in product editing view
Find and update your attributes faster with this nifty little search bar we installed in the product editing view.

🚀 Import Products to a Static List
This new import option will create a new Static List from your imported products.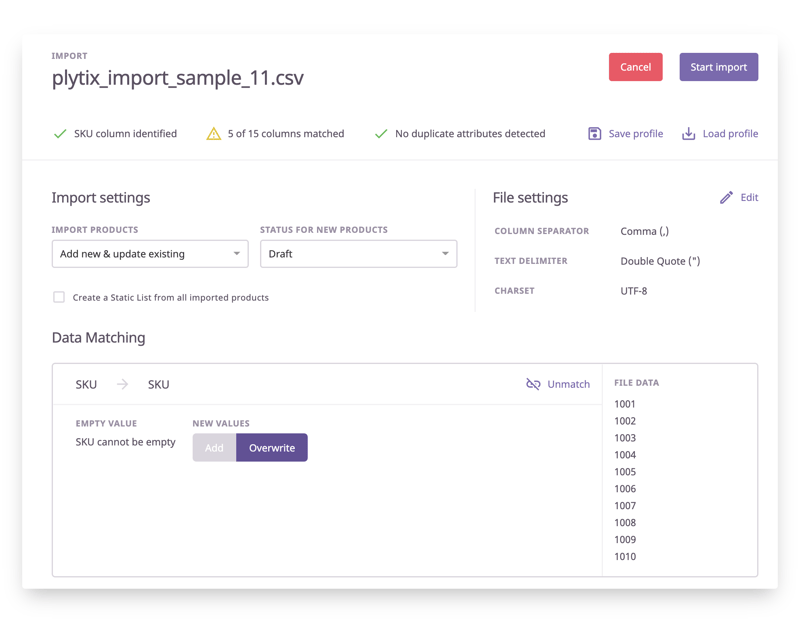 🚀 $IS_VARIATION Property for Computed Attributes
Use this property to identify if a product is or is not an attribute in Computed Attribute formulas. Check out all the available properties and how to use special properties.
January
🚀 New Design for PDF Section
PDF Templates are being renamed to "Product Sheets" and are getting a new look. Not to worry, nothing has changed in terms of access to your templates. This is part of a larger effort to update the Plytix platform to a more modern look and feel by switching our front-end technology to Material.io. This switch will help us deploy features faster, and provide a smoother user experience throughout Plytix.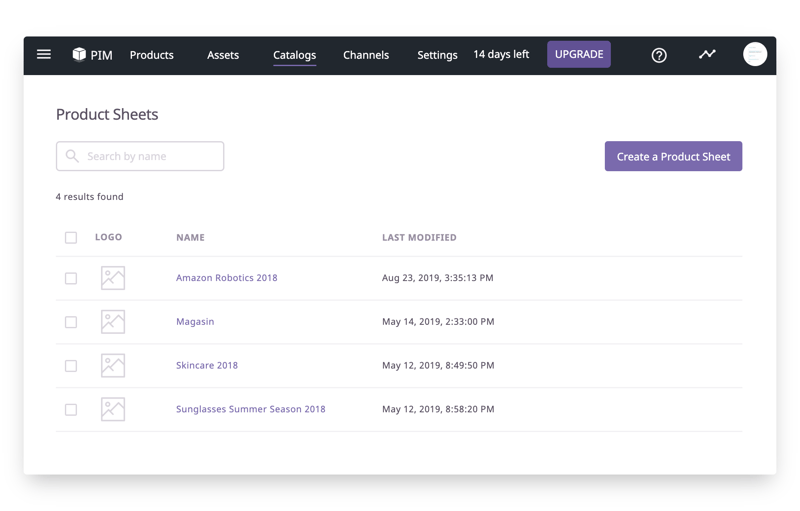 🚀 New Design for Channels Section
The "Channels" feature has gotten a face-lift. This is part of a larger effort to update the Plytix platform to a more modern look and feel by switching our front-end technology to Material.io. This switch will help us deploy features faster, and provide a smoother user experience throughout Plytix.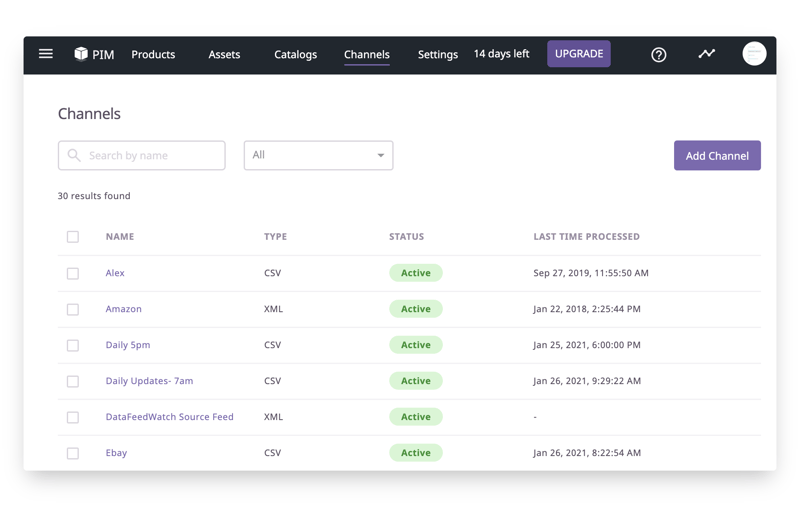 🚀 See Missing Attributes in Completeness Attributes
Now you can see all the attributes that are missing from your Completeness Attributes without navigating away from the Product Editing area.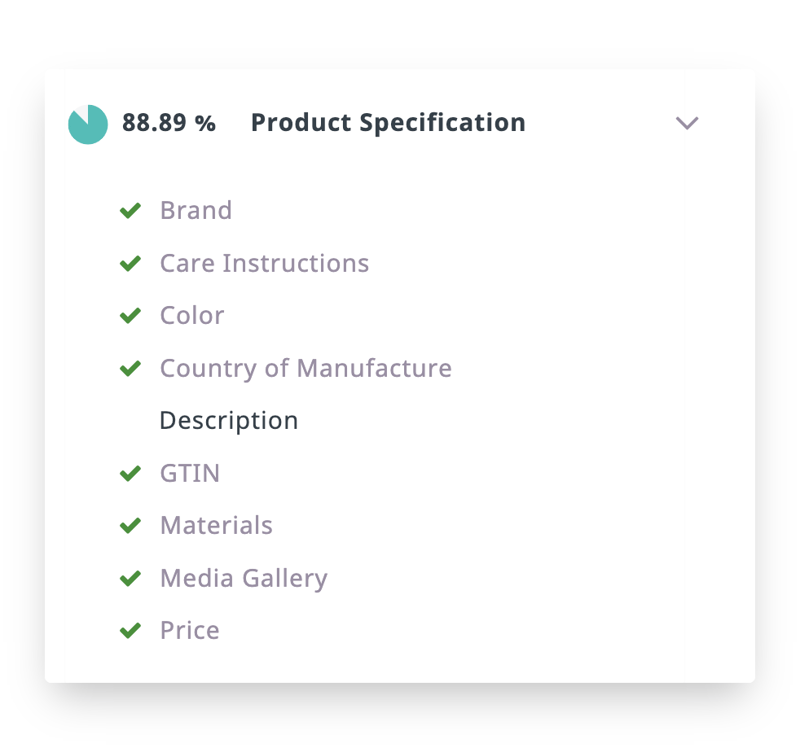 🚀 Select All Assets When Linking To Products
When linking your assets to your products, you can now select all the assets.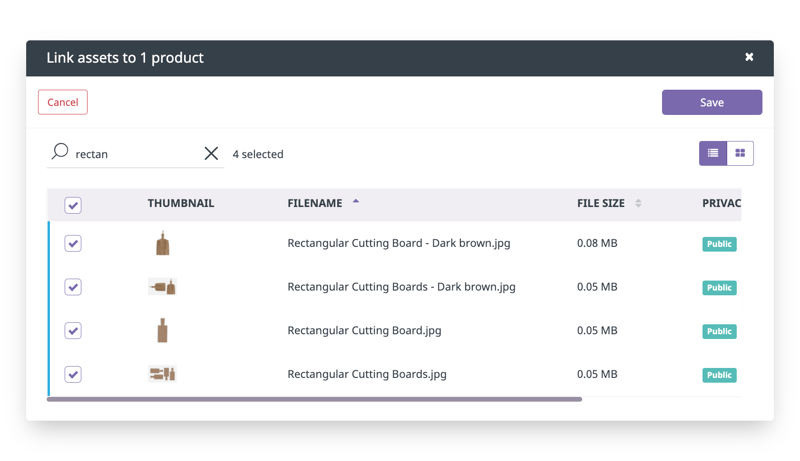 🚀 Search Bar for Attributes Tab
We've now added a search bar to the attributes tab of Channels, E-Catalogs, and Product Sheets so that you can quickly find the attributes you want to reformat.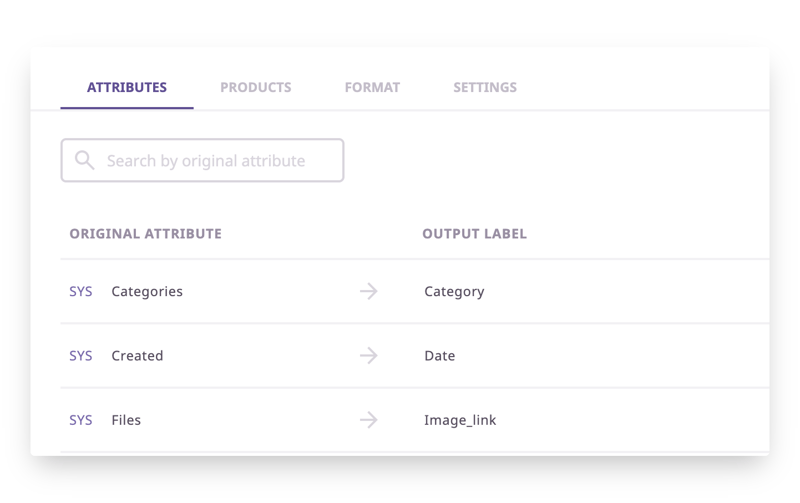 🚀 Hide and Show Empty Nodes for XML Builder
Now you have the option to hide or show empty nodes in the XML Builder.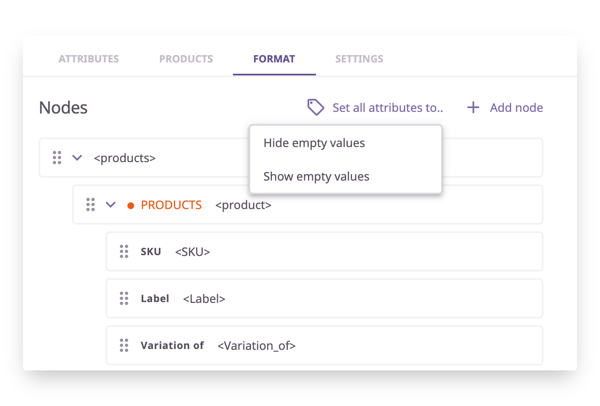 🚀 Text Extraction Operations: LEFT, RIGHT, MID
New formulas for Computed Attributes that help you extract text from different parts of a string.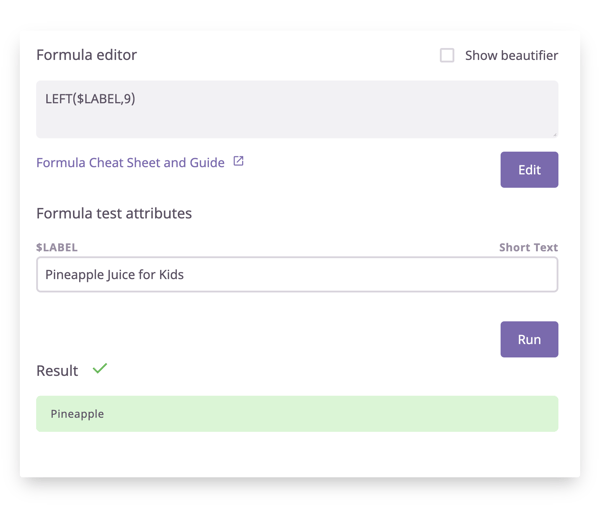 🚀 Conditional Operation: SUMIF
New conditional math formula to make setting up custom prices and amounts easier.
🚀 Rounding Operations: CEILING and FLOOR
New formulas for Computed Attributes to give you a more exact rounding result.
🚀 Filtering Operations: CONTAINS_ANY and CONTAINS_ALL
New formulas for Computed Attributes to help you identify if an attribute includes a word, phrase, or number.