What a week! We are excited to announce that Plytix has been named one of the first ever DIGITALEUROPE SME Award winners at the Master's of Digital 2018 in Brussels. In total there were 11 nominees for the award, and we were selected to be honored in the top three.
The jury saw huge potential for Plytix and our solutions in the grand scale of European innovation and growth. With over 23 million small and medium businesses in Europe alone, many of which have yet to capitalize on ecommerce opportunities, Plytix is in the right place with the right solutions.
Plytix was honored along with two other European companies, AirFaas (Finland, taking first place) and Deeper (Lithuania) for their potential to become future European tech giants and their innovation and digitalization in their business processes and product solutions.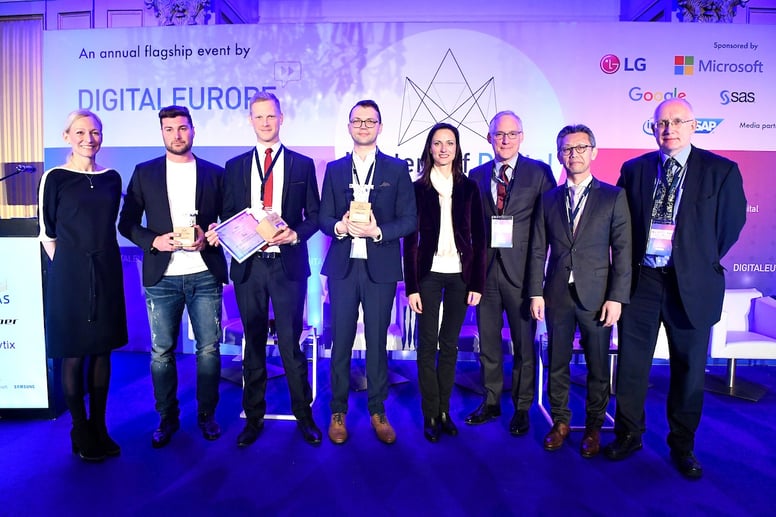 We are a company that is not only committed to innovation in-house, but we are also in the business of helping other SME's achieve digital excellence by creating affordable, user-friendly cloud solutions that empower smaller businesses to take control of their data. Our product suite includes a cloud-based Product Information Management (PIM) system and an image-based analytics platform for ecommerce.
Morten Poulsen, our founder and CEO, puts it this way: "History shows that big corporations should be scared of the small garage startups. SME's need to embrace digital transformation without fear to take on the challenge. Becoming data-driven is essential for survival in today's world. We are on a mission to squash the myth that the move towards digital needs to be expensive and time consuming."
Businesses that mature digitally have the potential to become powerhouses with expected growth up to 6 times faster than companies that do no prioritize digitalization. Where Europe falls behind countries like the US in digital investment, it will be essential for smaller companies to have access to affordable digital tools like the ones provided by Plytix to fill in the gap.