The concept of social commerce (or social shopping) means buying products or services online directly through social media sites. So for example, while performing the all too familiar 'deep scroll' through Instagram, the image of someone wearing a leather jacket catches your eye. You stop scrolling.
The jacket has a price tag and a clickable shop button. You click on the product, decide you want it, you pay, and it gets delivered to you. That's social commerce.
What isn't Social Commerce?
Social commerce is not social media marketing.
Though they're closely related, the goal with social media marketing is to drive traffic to their website or online store. With social commerce, the customer never leaves the social media app to go to your domain - they buy directly from it.
Why Consider Social Commerce
To quote Marketing Guru Seth Godin, "You can use social media to turn strangers into friends, friends into customers, and customers into salespeople."
And that seems to hold true.
According to HubSpot, research shows that 71 percent of customers are more likely to buy a product if it's been referred to them by someone on social media. Brands, therefore, have the opportunity to have their products instantly shared and recommended through vast networks of consumers.
This takes the connected, conventional shopping space (think local markets and shopping malls), and fuses it with the ease and convenience of shopping online.
Social media is fundamentally word of mouth. It's a golden opportunity to make sure your brand is being spoken about in the best way possible. It provides an opportunity to foster authentic engagement around your brand, which results in increased brand trust and loyalty.
Social commerce takes it a step further. It makes it easier for consumers to take action and buy your products in the space they are already in. It also allows the pathway to purchase to be as frictionless as possible.
Between the years 2017 and 2018, the number of retailers in North America using social media as an ecommerce outlet nearly doubled.
Taking into consideration the Covid-19 pandemic and social distancing, it may be too soon to tell how social commerce will be affected long-term. According to worldwide research by ACI, there was a 74 percent rise in online transactions in March 2020 compared to the same period last year. If this activity continues, social commerce will undoubtedly be rising faster than it ever has before.
Social Commerce Adoption Around the World
About 3.8 billion people, essentially half of all humans on earth, use social media. This is a 9 percent (321 million) increase from 2019, according to a study done by social media management site Hootsuite and creative agency We Are Social.
A 2020 survey from GWI found that social commerce in Western markets still needs some more time to gain traction, as consumers are less likely to trust social media apps to complete the path to purchase right to the very end.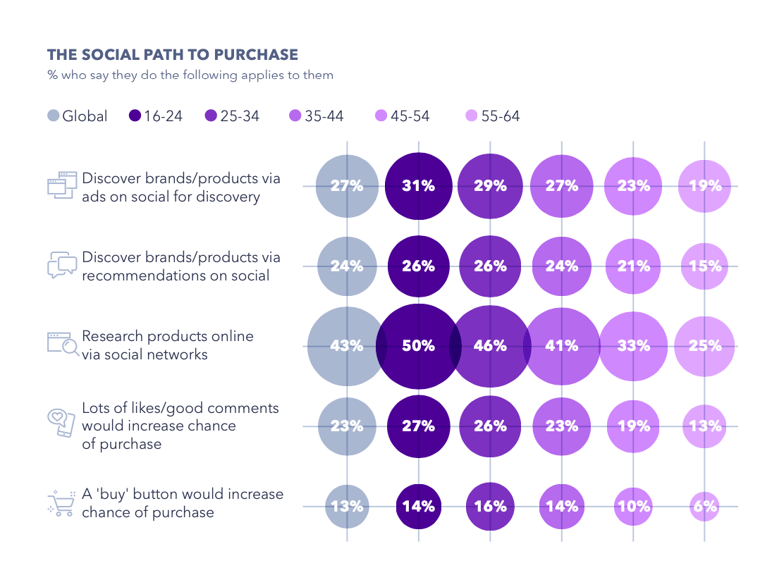 Source: GWI
Social Commerce has already been growing at a rapid rate in Asian markets, however. Research cited in Bloomberg Businessweek showed that social shopping made up about three percent of all online sales in the US in 2018. Contrast that to China, where it was 8.5 percent in 2017 and is forecast to grow to 15 percent by 2022. Social commerce could account for a fifth of all online sales in China or a whopping $166 billion by the year 2023.
Retail expert Angela Wang describes the experience as "exploring in an amusement park. It is chaotic, it is fun and it's even a little bit addictive. This is what's happening when you have this integrated ecosystem. Shopping is embedded in social, and social is evolving into a multidimensional experience."
There is a massive amount of opportunity when it comes to social commerce. Potential shoppers are already spending a great deal of time in these spaces and on the platforms. They just might be looking for a brand to fulfil a certain need or desire for them.
If the path to purchase is shortened, and shoppers trust the brand and the in-app payment setup, there is no reason why they wouldn't take to shopping without leaving the app.
Let's first take a look at some of the platforms that are leading in the social commerce sphere, and how a few brands have managed to come up with relevant and engaging content to drive sales.
Instagram Social Commerce
Instagram, owned by Facebook, is taking the social commerce world by storm. 60 percent of users look to Instagram to discover new products, so it only makes sense to sell directly to those users. What started out as just a photo-sharing app in 2010 has grown into an engagement and influence powerhouse, particularly popular with Generation Z and Millennials. It was just a matter of time before Instagram would turn into the platform where brands could market, display, and sell their products, and what seals the deal is it's completely free to have an Instagram business account. Nothing to lose.
Shoppable posts, stories, and the ever-popular "link in bio" are three separate ways to make your content shoppable from Instagram.
Swatch is an example of a brand doing things right. Instead of just another product flatpack shot, Swatch reshares visually appealing content posted by influencers in the industry and makes the posts shoppable. It's simple, fresh, and aspirational, further enforcing the sense of community that comes with Instagram.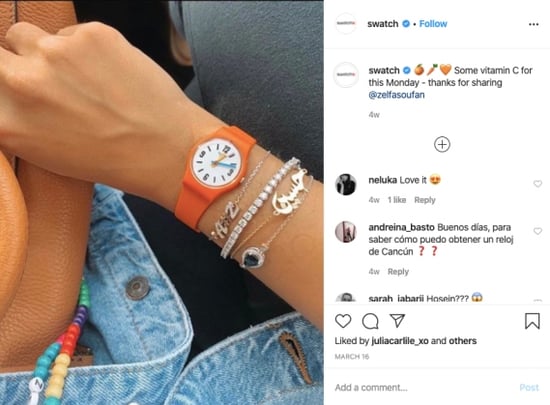 Sephora partnered with skincare expert and influencer Shani Dareden and posted a series of Instagram Stories to showcase the skincare product they have been collaborating on. There was an introduction to Shani and the product, a sneak peek into how it's used, with some tips and advice, making it shoppable straight from their Stories.
While it's true that the Instagram Shopping checkout option is only available in certain countries and markets at the time of writing, it is forecasted to keep expanding, and something to keep an eye on.
If you are hyped about the idea of selling on Instagram, check out this 2020 Guide to Selling on Instagram to get you started.
Facebook Social Commerce
Facebook has been spending some time and effort to move on from just Facebook Marketplace, Facebook's version of Craigslist. The social media platform has been working on more advanced ecommerce capabilities and has come up with Facebook Shops. This will allow businesses to easily open a free online store on Facebook or Instagram.
Retailers are engaging with shoppers by using Facebook Messenger chatbots for round-the-clock communication, information, and promotion. It's also a great way for brands to collect data on their consumer's habits.

Vans works to build up a community of like-minded people interested in skating, art and self-expression. They work with influencers in the form of professional skateboarders and artists. By uploading videos on their social feeds, they promote the aspirational lifestyle followers engage with via comments and likes. When you open the Vans Facebook page a chat window automatically appears, bridging the gap between brand and consumer.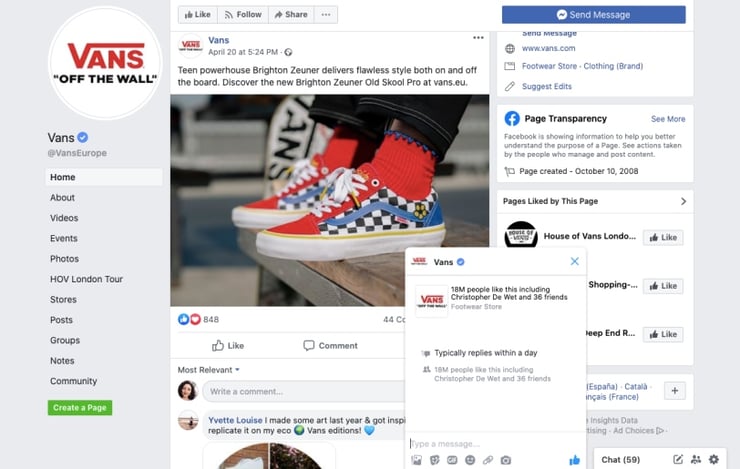 To find out everything you need to know to begin selling on Facebook Marketplace as a retailer, head over to our Facebook Marketplace Guide for Retailers.
Pinterest Social Commerce
Buyable Pins were released in 2015, and Pinterest saw the number of those buyable pins double to 60 million in only three months. While Pinterest has strict guidelines when it comes to Buyable Pins, if you fulfil the guidelines you can be up and selling in no time. There is also a Pinterest app available for Shopify users in the U.S. and Canada to turn their catalogs into shoppable Pins.
The average order value of sales from Pinterest is $50, which is higher than any other social media site. Exploring through products that you like, it's a simple case of clicking through to them and being taken to a landing page within the app to complete your purchase.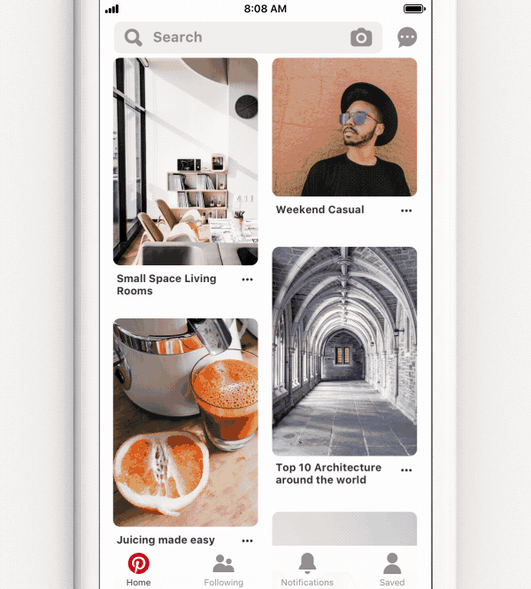 Snapchat Social Commerce
Even Snapchat has jumped on the social commerce bandwagon, and for good reason. This photo sharing app radiates social shopping success. This is due to the temporary shelf life of photos being visible to its users. It's a recipe for success, adding to the urgency to make the purchase before "stocks run out".

"A perfect example of this is the 2018 collaboration between Snapchat and iconic shoe brand Jordan that was built around the NBA All-Star game and involved accessing an exclusive QR code in the app, augmented reality with Michael Jordan himself, and the new unreleased stock was sold out in minutes" says Harry Johns White, Marketing Specialist at NBAblast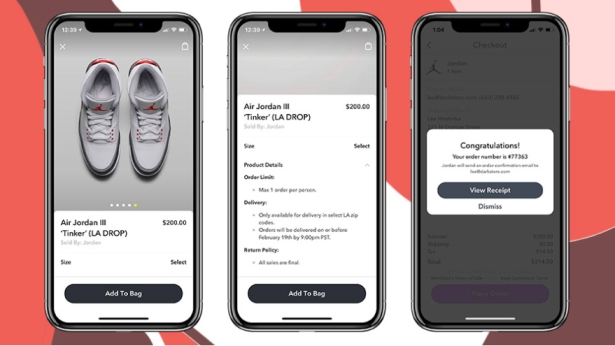 Social Commerce Plugins and Third-Party Apps
Some social media sites have been working on the all-important "Buy Now" button for years now. Some have tried and ultimately failed, like the case with Twitter. While these social platforms are working out how they approach social commerce, some third parties have jumped on board to create a solution to ease the path of social selling.
Soldsie, one such third-party app, is integrated with Facebook and Instagram, and it works with comments made by shoppers on your posts. Followers simply comment "Sold" on a post containing a product they like, and the app automatically takes it from there. The confirmation email is sent, the order is processed and one comment was all it took!
Planning a Social Commerce Strategy
The steps to planning a social commerce strategy aren't far off from a digital marketing strategy. Here are a couple of tips to get you going in the right direction.
Decide if you're ready for social commerce
Taking stock of your current resources, customer base, and revenue streams, you might want to sit back and ask yourself "Why do I want to do this?" and "Does this fit into my larger strategy?" If your answers are solid, like "I already have a large following on Pinterest and I want to increase my sales conversions for that channel", then testing social commerce is probably the right thing to do. You should be going into this with an idea of what you want to get out of it beyond "more sales."
Choose the right social network
This isn't the same answer for everyone. Here are some signs that a particular site is right for you:
It already caters to your target demographic natively
You already have an audience there
You already have high engagement on it
It would feel natural for your customers to buy there
You have the means to create the right content for it (videos vs. high-quality photography...etc)
Context is important because social networks are communities. If you sell Man Cave supplies to middle-class 50-somethings, they may not use Pinterest, let alone feel comfortable buying from there. Whereas, his 20-year-old counterpart is probably buying dorm supplies from Snapchat.
Also, understand that social commerce is only effective if you already have a social media following to begin with. You need to already have your audience engaging with you on social channels. If this is not happening, don't be discouraged. There is no time like the present to ramp up social media activity.
Define your goals
You must be able to measure the effectiveness of opening this new sales channel. Think about things like:
What conversions do you expect after X amount of time?
How much of an increase in sales are you hoping for?
Are you more interested in final sales or engagement?
What amount of revenue makes it worth your time to maintain the channel?
Track your efforts and adjust your strategy accordingly. Make sure these goals follow the SMART framework. Goals need to be specific, measurable, achievable, relevant, and time-bound.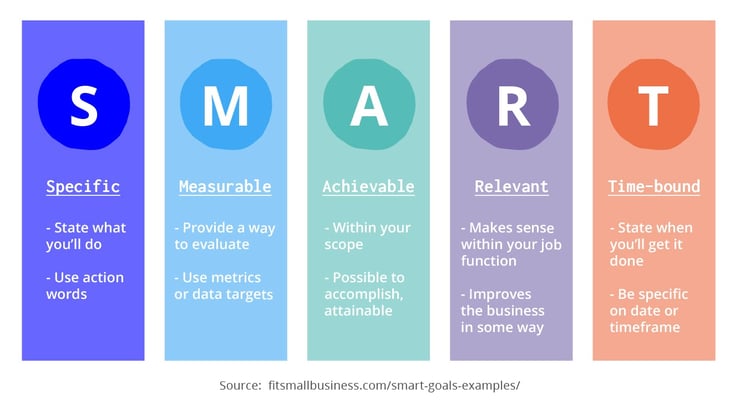 Create native-looking content
Make sure your content fits the site and your strategy. Your content should make sense in the space where it lives. Where high-quality images work for Instagram, interesting videos make TikTok worth visiting.
You need to be providing real value to your audience and potential customers. Instead of trying to explicitly sell them products, you are reaching them with inspirational and educational content to inform their decisions to invest in your products.
Additionally, you need to think hard about connecting with influencers who can work with you to speak to your audience from their perspective. This will build trust with your audience, and keep your brand at the forefront of their minds.
Learn how to optimize
Each social media site will have its own tips and tricks for how to optimize your content, format, and copy to drive the most conversions. Learning this is something that will happen as you go, but you're wasting money if you don't get familiar first.
That said: Beware of "best practices". If it's a best practice related to the number of characters, image formats, or something logistical, then you're probably good to follow it. Be skeptical of "best practices" that make your content look like everyone else's. Your audience expects your brand, don't dilute it.
Be data-driven
Social commerce will give you lots of data points. Find them and use them.
Each site will likely have its own analytics dashboard, but you'll also want to cross-reference with your order management system, web shop, or other channels.
Tracking your social commerce efforts will help you discover what content is effective when. This way, you can create more of the content that is engaging, and throw out the type of content that isn't. It's an ongoing process of adjustment, and so satisfying to see those numbers climb.
Consider the funnel from impression to payment
Social commerce requires you to think about the whole customer journey. What does it look like if they stay in-app? What about if they leave and go to a landing page?
Make sure the in-app landing pages you are driving your customers to are user-friendly and nice to look at. You need to make sure the journey through to payment is intuitive and provides a pleasant experience that your customers will want to repeat.
You'll also want to keep in mind that there needs to be a design and message match throughout. Your customers should feel confident as they move through the process that the product they wanted and the product they are getting are the same.
You'll also want to streamline the payment process as much as possible. Make sure your customers trust your brand and the third-party payment setup too. Make the pathway to purchase as short and quick as it possibly can be. The less time that is taken to fill in login details, the better.
Start Testing Social Commerce with PIM
If you look at the planning phase for social commerce, but you're overwhelmed by what it would take to manage new sales channels like this... consider adopting a PIM solution.
Product Information Management (PIM) is like a product database where you can prepare your content for sale (in this case, social commerce!).
PIM helps brands and retailers alike optimize, prepare, and distribute their product content from a single place. This centralization makes it way easier to test, validate, and manage new sales channels. It also has the added benefit of keeping your content consistent wherever you may be selling.
As part of building and executing a cohesive social commerce strategy, it makes the world of sense to use PIM to centralize and distribute your product content to maintain brand consistency.
Learn more about omnichannel retailing and how PIM makes all the difference by downloading your free guide below.