In this post, our product specialist Kresten outlines the different solutions that you as a brand can implement for more efficient product content management. Furthermore, Kresten explains how Plytix integrates these solutions, giving you a far better foundation for strategy development and decision-making.
---
With the age of digital communication unfolding, it has become all the more important for businesses, especially in e-commerce, to organize, distribute and protect their digital assets efficiently. Most businesses have a myriad of different digital assets to manage.
These digital assets include, among others:
Product Images
Video Files
Audio Files
Design Files
Logos
Presentations
Documents (user manuals, assembly guides, product information, brochures, etc.)
Every department within an organization works with one or more kinds of digital assets. Losing, misplacing or having bottlenecks in the lifecycle of digital assets can be very costly. In order to ensure optimal business operation, the organization can implement software that facilitates secure storage, processing, and distribution of digital assets.
Since there are so many, I will be focusing on product content management and outline some solutions a business can implement in order to work more efficiently. I'll also touch on how Plytix can integrate with a business' existing asset management solution to increase efficiency and provide a better foundation for strategy development and decision making.
3 solutions for product image management
When it comes to managing product images, there are generally three types of solutions.
Cloud and networked storage
Digital Asset Management
Product Information Management
So what exactly are these? I'll briefly go through each of these product content management solutions below.
1. Cloud and networked storage
Storage solutions like Dropbox, Google Drive, and OneDrive are good solutions for accessing files from anywhere. To some degree, they also enable collaboration across an organization or between business partners, as you can share access to folders and files. However, the main drawback of these solutions is that they simply act as a container where files can be dumped, but don't directly facilitate a workflow.
2. Digital Asset Management
The world of Digital Asset Management systems (DAM systems) is vast and diverse. Some deal with niche markets, some aim more broadly , and many providers also offer tailored solutions. What ultimately defines the DAM systems is that they directly support workflows rather than just being a file dump.
All digital assets have a general lifecycle that looks roughly like this: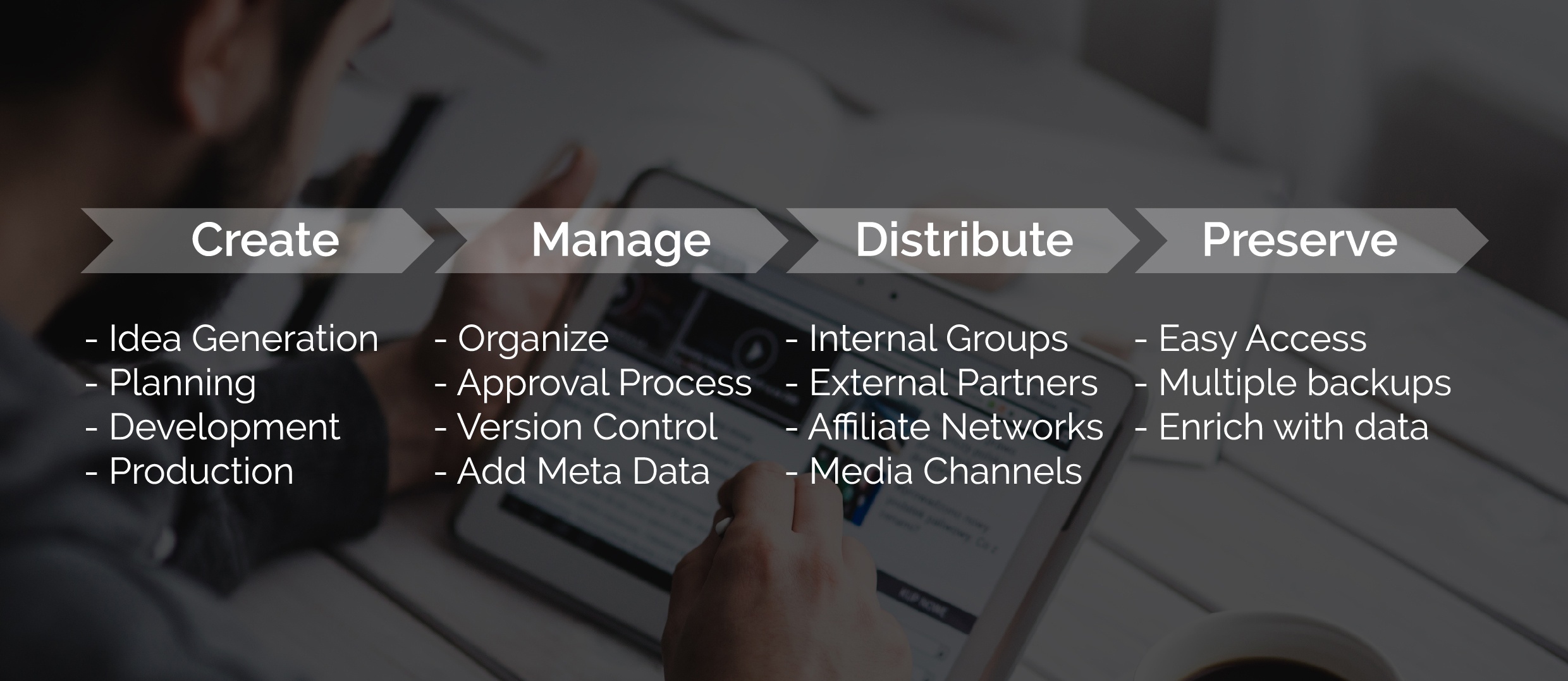 In order to support this lifecycle, a DAM system can manage metadata and comments, as well as provide automated actions like file conversion, versioning etc. Additionally, a DAM can integrate with external services like Product Information Management systems, background removal, display networks among others.
3. Product Information Management
A Product Information Management system (PIM) is a system that manages all the data about products in a catalog. Like a DAM, a PIM directly supports the lifecycle of product data, which have the same characteristics as digital assets.
Since a DAM can store product images and add metadata to these, some companies will be happy using a DAM.
But if a product catalog is too complex to be handled by just adding metadata to the assets, the company should consider implementing a PIM, which is excellent at handling the following:
Relationships between products
Prices
Images
Marketing content related to products
Translations of marketing content
Taxonomies
Workflows
As you can see, there are some overlapping functionalities between a DAM and a PIM. The two systems can manage both product images and product data. This means that if your business needs a PIM to manage a complex product catalog, this PIM must either integrate with a DAM or have DAM functionalities built in to handle the product images, videos, and other files.
Which solution should you choose?
In our experience, cloud/networked storage solutions such as Dropbox and Google Drive should only be used to store employees' own files, so that they can access them from anywhere. Using these storage solutions to store files that are used across an organization and/or distributed externally will almost inevitably lead to an unmanageable mess. Plus, a lot of man hours will be spent on tasks that a DAM or PIM could automate at a lower price.
When we started on-boarding brands at Plytix, we offered to manually upload brands' products and fill in the related product information, in case they did not already use a DAM or PIM system. From these brands, we received a zip-file with the images and a separate catalog file with product identifiers like EAN, UPC etc. In every single case, there have been conflicts and inconsistencies in the material, all of which could have easily been avoided had they used a DAM or PIM system. In general, we see that the businesses who tend to do well are those who invest in a DAM or PIM.
Which system you should use is entirely up to you, but it is important to weigh your decision.
Cheaper is not always better if it means you have to spend time on things that could be better done by automation. Every company is different and there are DAM & PIM systems for every budget and business case. So ultimately, the right system for your company depends on the characteristics of your business.
Beyond organization
It would be nice to say that we are done, but really we're only half-way through. Now that your product assets are organized and easily manageable, let's zoom in on the final two steps in the lifecycle of digital assets: Distribution and Preservation.
Distribution
In many cases, brands distribute their product images to retailers by either sending the files directly, sharing access to cloud/networked storage or by having an image bank on their website. Some methods are more efficient than others, but they all share two fundamental drawbacks:
A) Retailers have to source images individually from all the brands whose products they sell. This is a huge bottleneck in cases where a retailer sells products from hundreds of different brands.
B) Brands have serious difficulty finding out how end users interact with their products when they are displayed on third party sites such as web shops.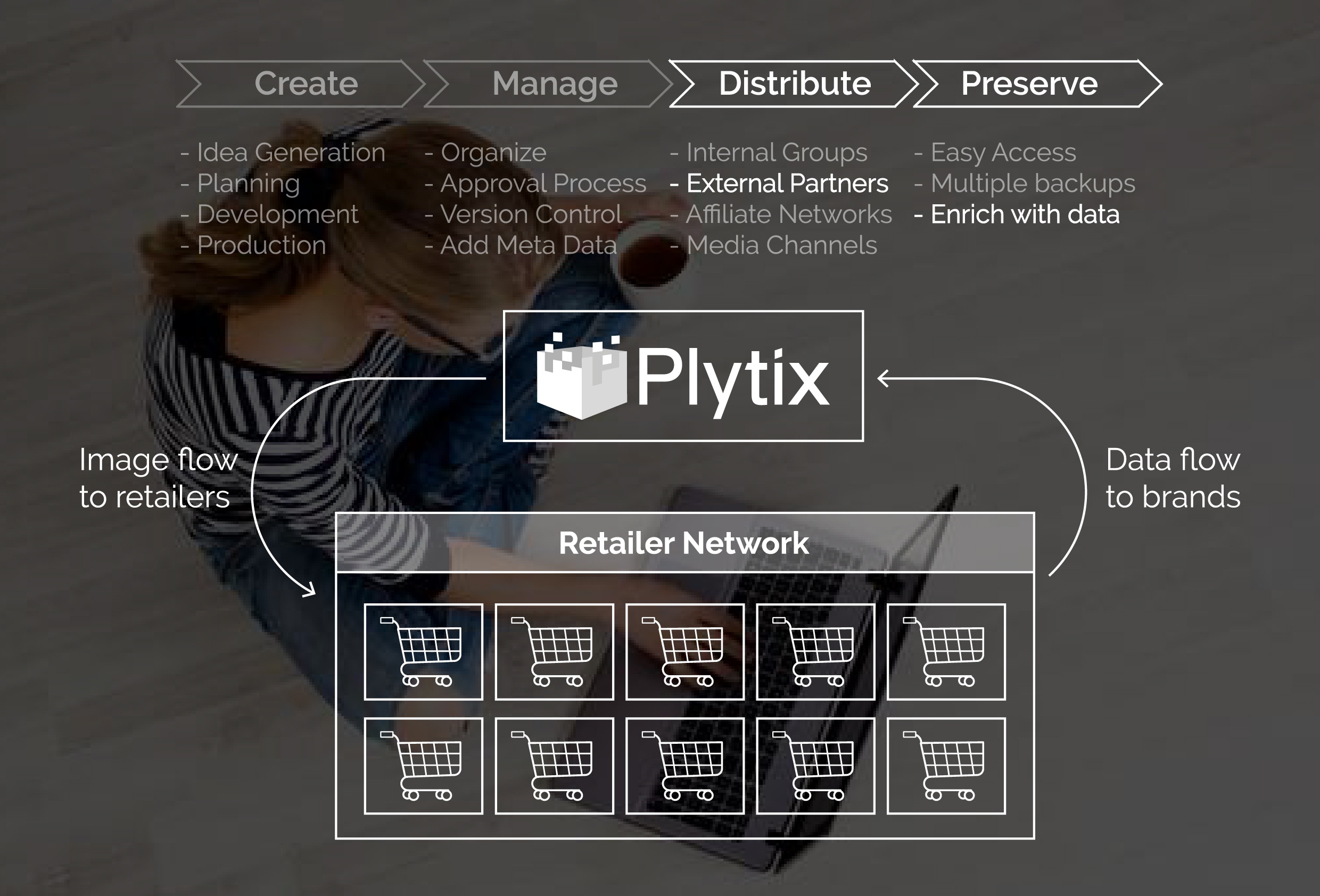 To make this process a lot smoother, Plytix can act as an external partner through which brands can distribute their product images and information. In return, brands get data about how consumers interact with these images. By handling the distribution of images and content through Plytix, brands can easily reach all their retailers and can enrich their product selection based on the new insights.
The best part is that all of this is included in the basic service package of Plytix. There is no need to spend extra time or money on product image management when the right tools exist.
Plytix is basically a one-stop solution where brands can enrich, organize, and distribute their product content to retailers and other stakeholders without unnecessary friction or cost.
Our mission is to reduce the waste of resources in e-commerce. On the one hand, we want to save retailers hours of tedious work on things like accessing product images and creating products. On the other hand, we want brands to be able to know more about their customers' preferences, so they can provide a better product selection and have better inventory control.
In short, it's all about creating lean business solutions that streamline productivity without the headache of wasting valuable resources.
---
Looking for an affordable PIM solution designed for ecommerce?