Digital assets like product images tend to cause some headache. Getting them created for your products is one mess, but then comes the chore of keeping them organized, usable, and linked to products. Many people spend too much time and money juggling images, videos, and other digital assets. Lets find out how to fix that.
Digital assets in retail
As everyone moves towards remote, online work, it has become all the more important for businesses, especially in e-commerce, to organize, distribute and protect their digital assets efficiently. Here are some big challenges faced by those in the retail industry:
A lot of formats and file types
Retailers need a place to manage all sorts of digital assets. It is so much more than "images and videos". There are many formats these assets need to be in.
There are product images in PNG, JPEG, PSD, and TIFF that need to be transformed or resized for Amazon, Ebay, and Shopify.
There are videos, GIFs, CAD files, and more.
There are manuals, assembly guides, compliance documents, sales brochures, price lists, and other documents that need to be visible to certain people and not to others.
Storing them together is sometimes difficult because different cloud storage systems don't accept certain file types. Then they get kept in local storage on a computer and the chaos continues.
Keeping them linked
Most digital assets in retail need to be linked to particular products or categories. This becomes a wild mess quickly as most teams try to manage this with naming conventions, folders with spreadsheets and files, or just "ask Karen, she knows".
If you need to share product content quickly, having everything together and accessible as a package is invaluable.
Accessibility
Every department within an organization works with one or more kinds of digital assets. It should be possible for everyone to:
Know where this information lives
Access the assets they have privilege to 24/7
Know how current the asset is
But this isn't the case in most organizations. Access is scattered, difficult, or even too open. Not to mention, losing, misplacing or having bottlenecks in the lifecycle of digital assets can be very costly. In order to ensure optimal business operation, the organization can implement software that facilitates secure storage, processing, and distribution of digital assets.
3 solutions for product asset management
When it comes to managing product assets, there are generally three types of solutions.
Cloud and networked storage
Digital Asset Management
Product Information Management
So what exactly are these?
1. Cloud and networked storage
Storage solutions like Dropbox, Google Drive, and OneDrive are good solutions for accessing files from anywhere. To some degree, they also enable collaboration across an organization or between business partners, as you can share access to folders and files. However, the main drawback of these solutions is that they simply act as a container where files can be dumped, but don't directly facilitate a workflow or any sustainable organization for the particular challenges faced by retailers.
2. Digital Asset Management
Digital Asset Management (DAM) systems, like Bynder, Widen, and Frontify are the cream of the crop when it comes to managing files online. The world of Digital Asset Management systems is vast and diverse. Some deal with niche markets, some aim more broadly , and many providers also offer tailored solutions. What ultimately defines the DAM systems is that they directly support workflows rather than just being a file dump.
All digital assets have a general lifecycle that looks roughly like this: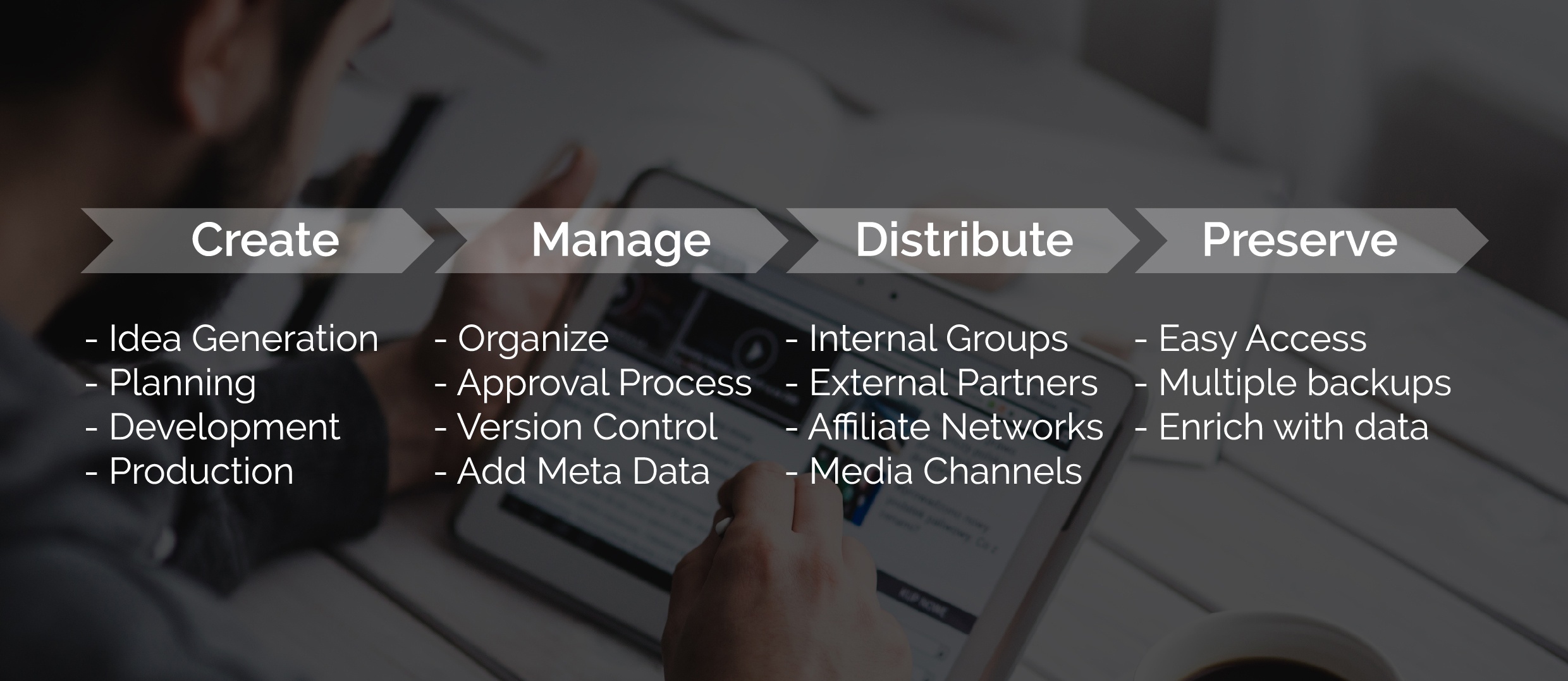 In order to support this lifecycle, a DAM system can manage metadata and comments, as well as provide automated actions like file conversion, versioning etc. Additionally, a DAM can integrate with external services like Product Information Management systems, background removal, display networks among others.
3. Product Information Management
A Product Information Management system (PIM) is a platform that manages all the data about products in a catalog, including digital assets. Any good PIM system will also have built in DAM capabilities like storage, access permissions, resizing, and reformatting.
A PIM will give you the added benefit of being able to link product information and digital assets together, making it easy to package and distribute that content anywhere it needs to go.
Which solution should you choose?
In our experience, cloud/networked storage solutions such as Dropbox and Google Drive should only be used to store employees' own files, so that they can access them from anywhere. Using these storage solutions to store files that are used across an organization and/or distributed externally will almost inevitably lead to an unmanageable mess. Plus, a lot of man hours will be spent on tasks that a DAM or PIM could automate at a lower price.
Here are a few short comparisons:
General cloud storage is generally cheaper than PIM or DAM
Companies that use PIM and DAM are less likely to end up with inconsistencies or quality issues like cloud storage
PIM and DAM are better at managing digital assets with more controls and tools
PIM and DAM also have better distribution methods for sharing content like setting up password protected portals
PIM will also keep your assets linked directly to product content in a single product library/database
Which system you should use is entirely up to you, but it is important to weigh your decision.
Cheaper is not always better if it means you have to spend time on things that could be better done by automation. Every company is different and there are DAM & PIM systems for every budget and business case. So ultimately, the right system for your company depends on the characteristics of your business.
Looking for an affordable PIM solution designed for ecommerce?