Visual content is as important as ever in 2018. Virtually all social media networks are making changes to their platforms to accommodate the shift. If you or your business haven't adopted this highly effective medium, it's time to get on the bandwagon.
But how? Not all kinds of visual content are created equal. Infographics and other visuals that break information into digestible chunks reign supreme. Incorporating infographics into your strategy can boost your website traffic by 12%. They can also help you spread your influence, since they receive 3 times as many likes and shares than any other type of content.
Their popularity in the digital era has skyrocketed, but the usefulness of breaking down data into easy-to-read, visual chunks is nothing new. They have actually been around for hundreds of years and can be traced back to the Enlightenment. Now, I'm not saying that infographics helped usher in a new age of intellectual achievement, but I am also not not saying that.
But before you hire graphic designers in a panic or write off infographics as something only bigger companies can afford, you should know that nowadays there are a number of tools available that make creating them easy - even for inexperienced social media marketers and army-of-one entrepreneurs.
Using Infographics
You can use infographics for more than just explaining a lot of statistics in long form. There are a lot of projects you can also do with infographics (I mean it is just information + graphic!)
Comparisons
Step by step instructions
Overlaying information on a product image (like for Amazon)
Social media headers
Digital advertising images
Event information
Breaking down how a product or system works
Pretty much anything that requires an image and words is a contender for a good infographic.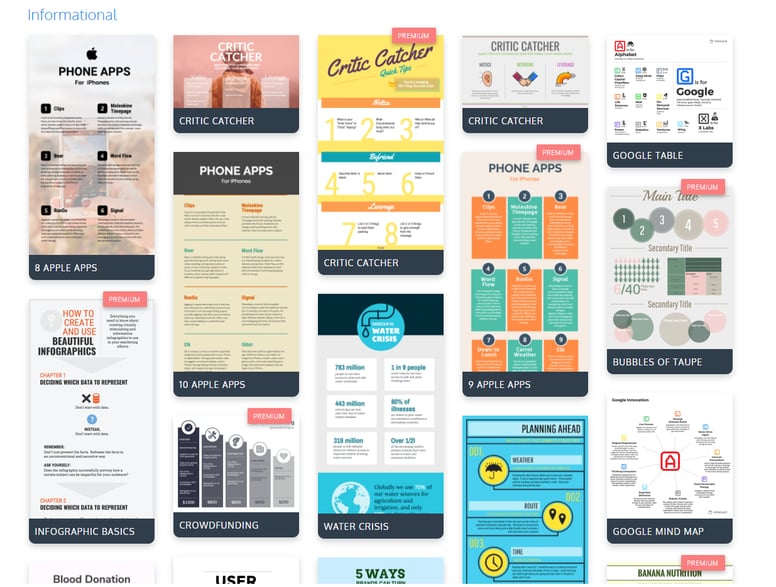 Venngage Infographic Templates
The Good & The Not-So-Good of Infographics
Before we dive right into some of the options, the first thing you need to think about is whether or not infographics are right for you and your business. Not all information lends itself to visualizations, so here are the pros and cons of using infographics.
Pros
Easily digestible information
Infographics take something that could take several minutes of reading and simplifies it into something easier on the eyes. And that's important, because 65% of people are visual learners.
Eye-catching content
Colorful graphics are much more interesting to look at than blocks of text, and as a result infographics are 30 times more likely to be read than pure text.
Easily shareable
Images and infographics are much easier to share on social media than long for articles. In fact, they are shared 3x more than any other type of content.
Cons
Excluded from SEO
Search engine optimization is still a critical part of driving traffic, and infographics are often treated the same as any other image by search engines. Much of the searchable information they contain is lost to Google's crawlers.
Time, data, and research
Compared to traditional blog posts and articles, infographics are time consuming endeavors. Not only do you need to find and carefully select the data you want to show, you also need lay everything out in an attractive way. That will take some time, even for experienced designers.
Limited information
Infographics may make data digestible, but in doing so it can eliminate crucial details. This can be a good thing or a bad thing, but in the end you don't really have a choice. Piling on contextual information will quickly turn your beautiful graphic into an unintelligible mess. Sometimes it makes sense to pair an infographic with a larger piece of content or in a very clear context.

So when you have decided to use an infographic, like we said, you do not need to hire a designer or buy expensive software. There are many tools out there to help you with templates and guides.
Tools to create your very own infographics
Now for the good news: there are tons of free and paid services that will let you create your own infographics using simple templates. With the right data and a plan at hand, you can get all of the benefits of infographics without paying thousands of dollars to a graphic designer.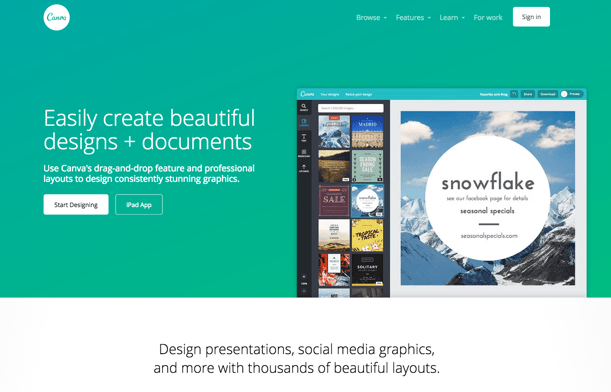 This isn't the first time Canva has come up on this blog, and for good reason. It's one of the most powerful and flexible tools available for creating all kinds of visual content for social media.
There are lots of templates with an easy to use drag-and-drop interface. However, not all of their templates and visual assets are free. There is more than enough to get you started, but if you do find a graphic that you just must have, you can purchase them individually for a small amount.
Canva is great for people new to graphic design, and after watching a few YouTube tutorials you'll hit the ground running. If you find it useful and want to take it to the next level, the business plan is quite affordable at just 12.95 a month per user. With it you can create custom templates and designs for your business to speed up the job even further.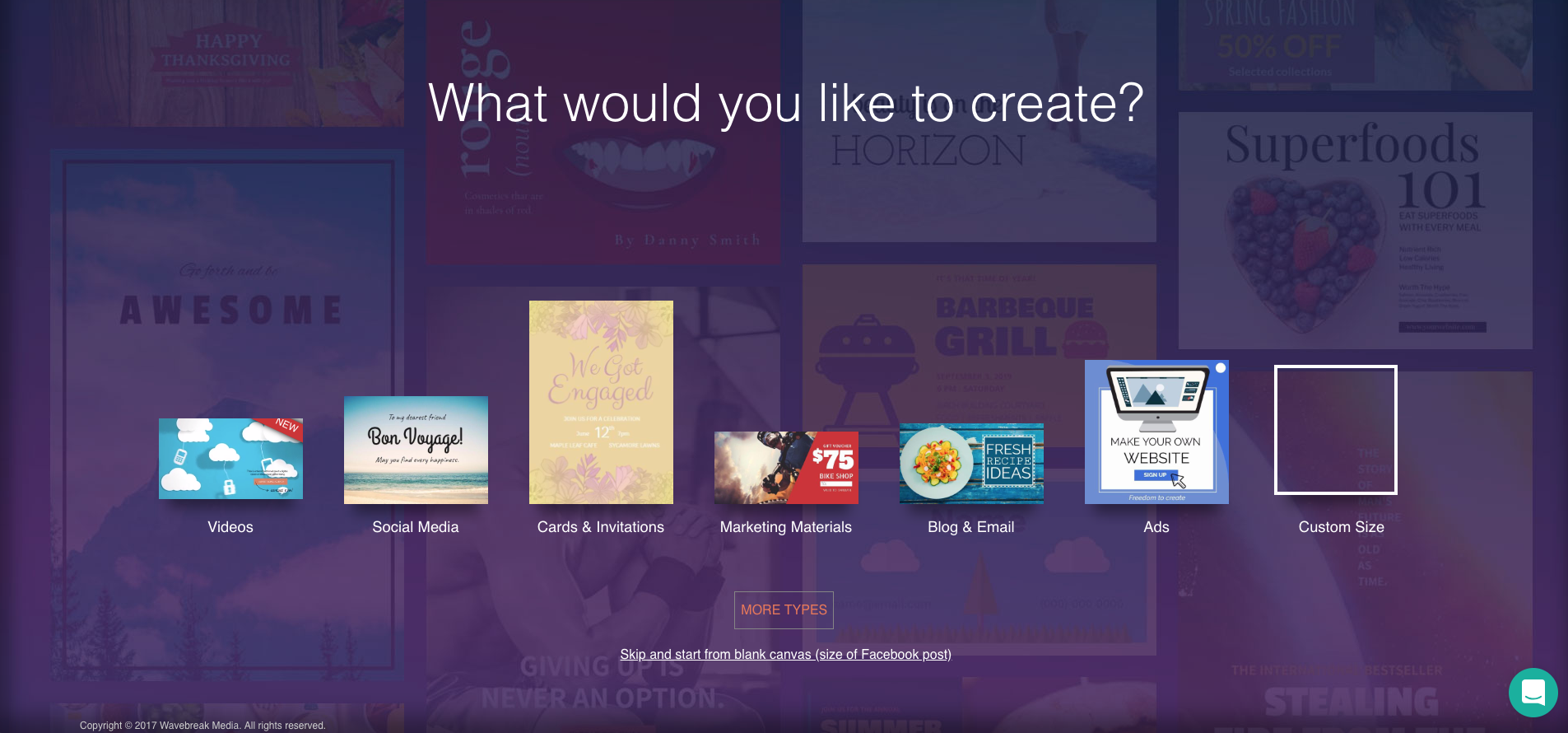 Design Wizard is another example of an online graphic design tool that allows you to create compelling visual content with only a few clicks. What makes Design Wizard stand out however, is its magic resize button, which allows you to change the size of an image while you are creating a design. This makes for quick creation and editing of an image template. It also features integrations with Hubspot, Marketo, Buffer and Intercom.
Another element that really caught our eye is that you can easily create personalized videos with several templates to choose from, which is not something you can always find with design-tools, especially free versions. And don't worry if you get stuck, they offer an online chat for customers, with a response time of under 5 minutes. Pretty handy stuff.
From a pricing perspective, they do offer a free-trial, which has many features included - plenty for any non-designer to get started. The free version is limited in terms of stock images, storage space and image/template quality, so as you start to grow or your design needs change, their more advanced versions start from $7.41 a month, making it one of the cheapest on this list.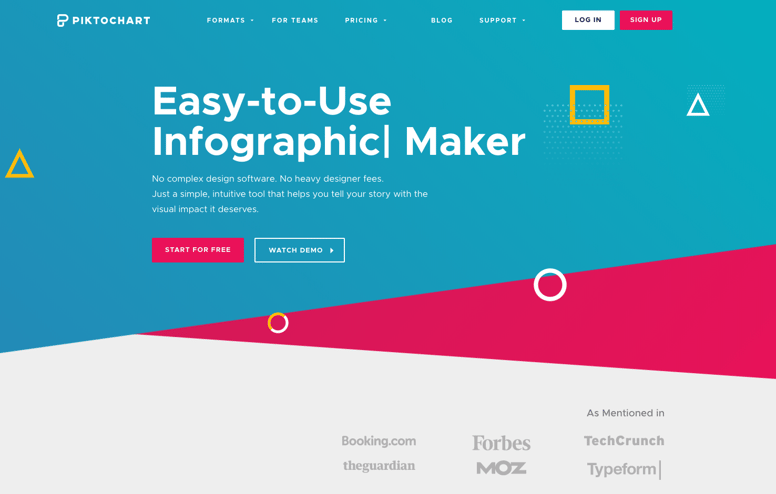 Piktochart is another excellent tool to get you started on eye catching visual content. They have tons of templates and thousands of images and icons at your disposal. They even have options to make your infographics more SEO friendly.
Most of this is available for free, but with some limitations. You can download your creations at any time, but if you high resolution images you might be out of luck. You can only upload 40 Mb of images for each infographic, which is pretty low for vertical formats. Plus, there are some issues downloading the finished piece in different formats, with graphics moving out of place in pdfs, for example.
Piktochart is nice because it's specifically designed for infographics, but if you want to make the most out of it you need to pay for the 'pro' membership. It isn't cheap, at 24.16 a month, but it will allow you to create infographics without watermarks and further customize them to suit your brand profile.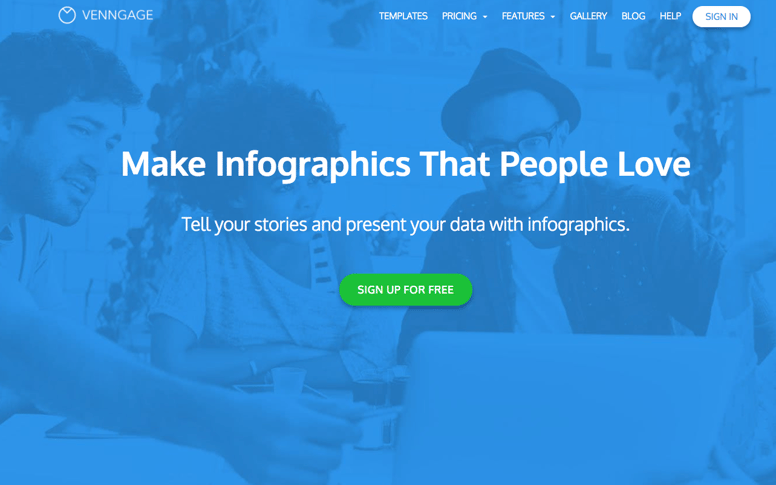 Like the other tools on the list, Venngage is designed for non-designers, so you will be able to jump right in without the steep learning curve of more powerful programs from Adobe and the like. They offer some many templates, but it's much more limited for free users than the others on the list.
Although there are occasional bumps with layers and formatting, their team is very responsive to customer questions and concerns. Plus, they are continually improving the service with new templates and features. For now though, the free version doesn't allow you to download your work in different formats, which can be a bit limiting, but you get what you pay for.
The free version is a great way to test out their tools and see if they're right for you, but the business plan greatly expands on the service's capabilities. It does come at a cost, however, of $49 a month. It's a bit pricey, but it does come with an exceptional level of customer service. If you're the type of person that likes one on one help when issues arise, it could be a good option for you.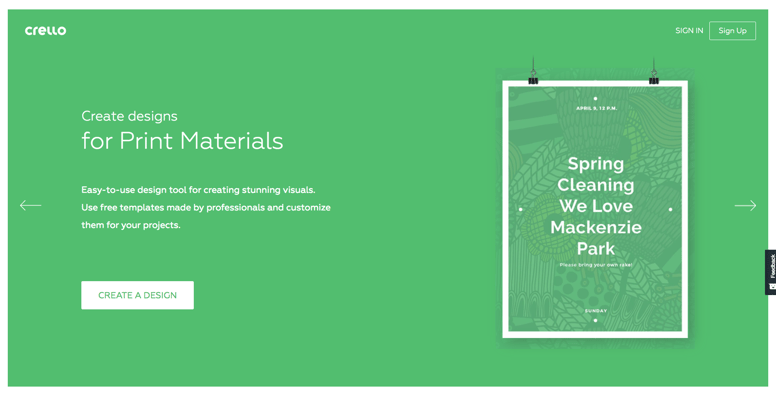 Crello has a pretty simple, straightforward dashboard when you enter the tool with inspiration from current events at the bottom to get you going. They offer 33 different formats for infographics including social-specific sizes like Instagram.
What makes this different from the rest is that it is not a subscription based service. You can pay for individual premium features/graphics for as low as 99 cents. They even offer animated templates.
Making infographics is good fun. Though when you have the budget it will make sense to delegate that to an expert if you don't enjoy the process or are really horrid at it. In the meantime though, enjoy using these tools to create stunning visuals on your own.
---
Did we miss a tool out? Let us know!