You know the old saying, look good feel good." This was the expression Phil Knight, the co-founder of Nike, capitalized on in 1972 when he introduced the Nike Cortez.
Knight entered the footwear game strong and immediately made big waves with the Cortez at that year's Olympic games in Munich.
Why?
Because he took the blank canvas that performance shoes were at the time and fitted them with new textiles and colors, creating art for the athlete's feet. Art that looked good and still gave athletes that extra edge.
Equipped with a red, white and blue colorway and a fresh leather upper, the Cortez caught the crowd's attention. Suddenly something you wore on your feet became more than just a tool to improve performance, they became a fashion statement.
Knight's vision for aesthetically pleasing footwear spanned every sport from basketball with the Air Jordan to tennis with the Air Trainer. No sport was safe as Knight aimed to provide something different for athletes in all fields; he looked to provide shoes that represented the person wearing them. As a revolutionary tinkerer in the field of footwear and disrupter of the market, Knight opened the floodgates to endless possibilities of footwear styles.
The New Era of Performance Footwear
Fast forward to 2017. Any devoted sneakerhead will tell you that modern athletic sneakers are more for fashion than they are for performance.
The line between the two has been blurred in recent years as consumers continue to ask for styles that will satisfy their fashion cravings.
Let's take a look at Adidas for example, a brand that parallels Nike in innovation and style.
They've recently been killing the game in fashionable performance footwear with some of their latest lines like the Yeezy and EQT Support. They both contributed to an 18% increase in sales in 2016.
The EQT line has a rich history, dating back to the '90s as one of Adidas's pinnacle performance running shoe lines, they even touted the slogan "The best of Adidas."
As of earlier this year the German Giant decided to revive the line and make what was once old, new again. This time around, to meet the style standards of modernized tastes. Adidas crafted the EQT Support with modern materials like boost and primeknit to give them a futuristic glow.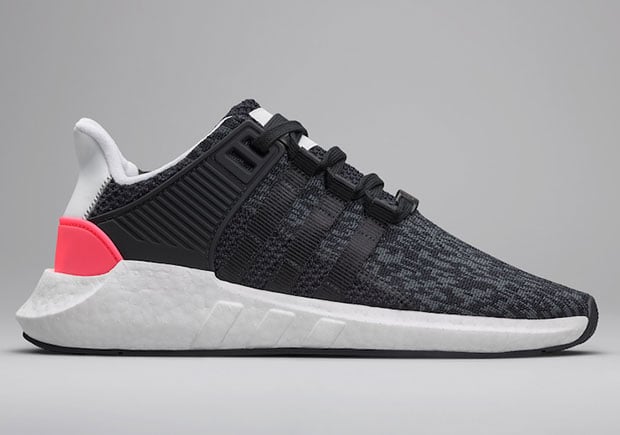 Image via Sneakernews.com
While the shoe upholds some indications of a traditional runner, like a supportive midsole and midfoot support, the essence of it screams fashion. Compared to its '90s predecessor, this model can be worn with more than just athletic clothing; people can take to the streets in them.
At the end of the day, they still serve the purpose of being a running shoe, they just also provide popping aesthetics that give some eye candy to sneakerheads.
Fortunately, these style trends aren't limited to just Nike and Adidas. Many of the top brands like Asics and Reebok are redefining the way athletic sneakers look, and they're reaping the benefits.
Consumers have put a high demand on models that go beyond the traditional sneaker. Take a look for yourself at some of the most expensive sneakers of Q2 in 2016, courtesy of StockX.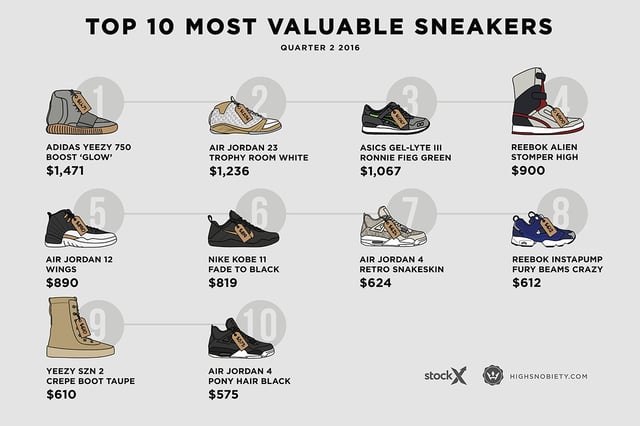 Image via Highsnobiety
Projected to reach a global value of $84 billion by the end of 2018, the athletic footwear industry appears to be doing something right.
Although this niche of fashion footwear is only a small portion of the market, it drives sales. The value footwear companies gain from fitting athletic sneakers with untraditional materials and colors speaks for itself when a pair of Air Jordans can sell for $1,200.
As sneakerheads continue to scoop up multiple pairs of new releases like the NMDs and Air Jordans, I don't see this trend devaluing anytime soon.
The performance footwear creatives have a lot of work ahead of them to keep on top of the fashion game.