Studies have shown that as many as 90 percent of online companies fail within their first four months in business.
Yikes!
Whether you're starting up an ecommerce business or already have one that's in danger of stalling out, here are six reasons ecommerce companies fail to grow—accompanied by our tips on how to pull yourself out of the death spiral and become part of the 10 percent that are successful in the long run.
6 Reasons Why Ecommerce Companies Fail to Grow
A misunderstood market, imbalanced price and cost, poor omnichannel marketing, lack of valuable content, avoidance of marketplaces, fuzzy goals—in this piece, we'll dig in to the top six reasons ecommerce companies fail to grow and how to turn it all around before it's too late.
1. Failure to Understand What Shoppers Need and Want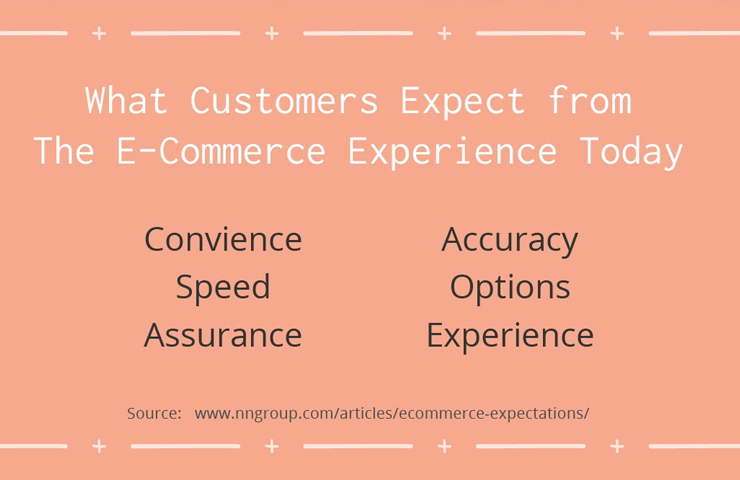 CB Insights found that close to half of all online startups fail because they neglect to analyze and understand what their target audience wants.
So, what exactly is it that they want? The user experience researchers at the Nielsen Norman Group found that, generally speaking, modern consumers are looking for an easy checkout, a smart and seamless transition between the web and brick-and-mortar locations, precise and up-to-date product data (think inventory, order status, pricing, etc.), and delightful experiences that flow easily between the digital and the physical worlds.
However, simply basing your business model on these general findings is a failing strategy in itself. With these general guidelines in mind; run tests, look at competitors, and analyze any data you can get your hands on to find out who your market is and what they're buying, searching, and doing online.
It's important to remember that this isn't a downfall that only affects startups. No matter the size or age of your company, the moment you stop understanding and delivering what shoppers want is the moment you become irrelevant.
2. An Imbalance Between Product Price and Cost
The neverending tug of war between pricing and cost has toppled more than a few ecommerce businesses. In fact, an alarming 30 percent of startups go under after burning through their cash before they're able to reach sustainable profitability.
We wish we could give you a hard and fast rule when it comes to product price versus cost, but it totally depends on your products, your verticals, and your buyers. However, what we can give you is some free advice on product pricing in an omnichannel environment and how to protect your margins by adding value instead of bottoming out prices.
3. A Lacking or Nonexistent Omnichannel Marketing Strategy
For online brands and retailers who still don't get why it's time to grow beyond singular marketing techniques, we've only got one thing to say to you: ROI.
In a year-long study of nearly 50 thousand shoppers, 20 percent reported shopping exclusively in-store while 7 percent were online-only. That means 73 percent of consumers shop in multiple physical and digital channels.
Not only do the majority of shoppers prefer to make purchases and consume marketing via multiple channels, they even spend an average of 4 percent more during every in-store visit and 10 percent more online. With every additional channel shoppers use, the more they end up spending on your products.
There really shouldn't be any question as to whether or not you're going to take your marketing multichannel. The only question should be "How do I get started?!"
Find out how brands large and small are adopting omnichannel marketing techniques to transform the customer experience, revenue streams, and profit. Click here to download the free omnichannel playbook from Plytix—no credit card or phone number required.
4. Avoiding Marketplaces
Over half of consumers start their shopping journey on Amazon. According to Statista, in 2016 Amazon was the most popular online store with net sales reaching 136 billion dollars.
Suffice it to say it's really likely your shoppers are using a marketplace. To bury your head in the sand about this fact with surely set up your ecommerce business for failure. Getting your products on marketplaces can boost sales and revenue—but only once you've got a solid pricing vs. cost strategy worked out, as we discussed above.
Top marketplaces like Etsy, eBay, Amazon, Jet, Alibaba, and more are pouring millions into creating personalized, user-friendly shopping experiences. If you want your products to be represented as part of this delightful experience, you have to take advantage of omnichannel marketing and make your presence known on all the right channels.
5. Overlooking the Value of Content and SEO
When online shoppers aren't looking for what they want on a marketplace, they're probably starting with a search engine. It's more important than ever that online brands and retailers focus on content and SEO to show up in those searches.
SEO helps search engine users find your content and your content helps readers determine if your products and business are worth their time and money. Plus, in a world of sketchy bait-and-switch advertising tactics, you can set yourself apart from competitors by creating original content that provides value to shoppers. Valuable content can include tips on use, news related to your industry, a side-by-side comparison with competitors, and more.
As far as SEO, keyword research is part art and part science. Most basic, online keyword research tools will show you which terms related to your products receive the highest number of searches. Some may even give you keyword suggestions and pointers on competition.
In addition, checking out your most-visited items and which terms shoppers search on your website can give you a lot of insight into what they're looking for and the language they use.
6. Fuzzy Business Goals and Baselines
We've said it before and we'll surely say it again—it's hard to know if you're growing if you don't know where you started. And it's hard to grow in the right direction if you don't have a specific path in mind.
You need to know your baselines and you need to set goals if you want to stay out of the ecommerce business dead zone.
Baselines are decently easy to understand and get right. You just have to define where you are—though making sure you're doing this on a regular basis takes a bit of planning. Goals are a little harder because they say where you want to go.
Vague goals like "make some money on online sales" aren't going to cut it. Goals need to be specific, measurable, achievable, relevant, and time-bound (SMART).
For example, a SMART goal may look like this:
In 6 months, we will raise our monthly sales on our ecommerce website from $15,000 to $25,000 by bundling our related most-bought items and branching out into Instagram advertising.
Neglecting to define and get cozy with goals and baselines can really stunt growth for ecommerce startups. Blind growth is often unsustainable and can cost you dearly before you realize your fatal flaw. And, without a watchful eye on baseline business metrics, you won't have a clear view on which tasks to prioritize (Marketing? Website optimization? Both?!) or how to set realistic SMART goals.
Plytix Helps You Grow Your Ecommerce Startup
Analyzing the market, balancing price and cost, adopting omnichannel marketing, creating valuable content, adopting marketplaces, and setting SMART goals—that sure is a lot to do in addition to your regular, daily to-do list!
At Plytix, we get it. We built our product information management (PIM) software on a simple yet effective framework that businesses large and small can use to centralize, optimize, distribute, and analyze product data. We do the heavy lifting when it comes to helping you sell more products so you can turn your full attention to pivoting your downfalls into awesome growth tactics.
Questions? Chat with a PIM expert using the chat bubble on our homepage. Just want to dive in? Sign up for an affordable package and start getting shit done today with Plytix.