Intro to Multichannel Commerce and Product Listing Optimization
Learn the basics of maximizing exposure for your products with Multichannel Commerce and Product Listing Optimization.
Ecommerce has changed!
What works offline just won't cut it in ecommerce anymore.
In this webinar, you will learn how to set up your multichannel listing strategy to successfully sell on any online channel, and enable your team to create content that leads to conversion.
Don't miss the next webinar in this series: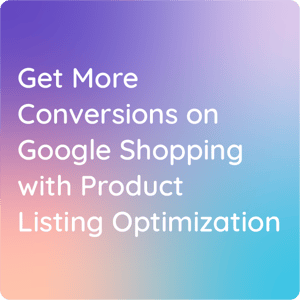 Next:
Get More Conversions on Google Shopping with Product Listing Optimization
Increase exposure and conversions on Google Shopping, without blowing through your entire ad budget.
HOST
Tim Reintgen
Tim has helped over 1,000 companies optimize product content for their sales channels using Plytix. Today, he creates strategic partnerships with industry leaders to get SMBs more exposure using a multichannel commerce strategy.
Check out our whole series of webinars to rank higher and sell more on Google, Amazon, Facebook, and beyond!
ABOUT PLYTIX
Plytix is the central source of truth for all your product information. We help you sell your products in more places with less effort.
- Easy to use: Plytix is Product Information Management software, made easy. (As an added bonus, it's also nice to look at).
- Made for teams: Because we know getting product content ready for all your sales channels is a team effort.
- Multichannel ready: Optimize your product content and send it wherever it needs to go.