Manufacturers, suppliers, and offline and online retail businesses are increasingly turning to product information management (PIM) software. That's because it enables them to keep up with the demands of rich and optimized product information and the growing call for seamless customer experiences across sales channels.
Small to medium-sized businesses (SMBs) especially look into this solution to ensure that they also can compete with larger brands. That they too are able to centralize and streamline the management of all of their product catalogs' basic, technical, and marketing information. And, to be prepared when the time to scale and grow comes.
However, many SMBs still find themselves in a difficult position. They want to invest and implement a PIM solution, but they don't know whether to trust a PIM vendor that claims to be made for SMBs.
Well… since you're on this page, let's make it clear to you that we are a PIM for small businesses. In fact, as of February this year, business software and review site, G2, rated us as the top PIM for small businesses.
Follow our review profile on G2 to see what Plytix users have to say.
Now, let's back up our claim. We'll tell you four important things you need to know about Plytix, so that you can get an idea of how our PIM can benefit your business.
1. Our PIM solution is affordable
Typically, the first reason that stops SMBs from investing in a PIM tool is the cost of it all. Of course, PIMs can be very expensive—the pricing can go from $0 to $250,000 per year. But that's not the entire picture.
While other PIMs choose to not be fully transparent about their pricing structures, despite claiming that they serve businesses of all sizes, but we don't have time for those kinds of mind games. So, our pricing is very clear and we don't have any "hidden fees" that you'll only come to learn of much later in the process. For example, we don't charge you extra for adding more users, we give you unlimited users no matter what pricing plan you choose.
In the past year, we've taken things further by creating a modular pricing structure to ensure that customers only pay for features they need. That way, there's no obligation to pay for features they won't use. It's not our goal to get the highest profit out of each customer, our goal is to help smaller businesses fulfill their dreams. The thing is, we have a dream of our own— we want to see brand diversity become a reality in our lifetime (you can read more about what that means from our previous blog on brand diversity here).
The image below is an overview of how our pricing is set up. If you have any questions regarding some of the features, book a demo with us. We'll provide you with all of the answers you need to make an informed decision.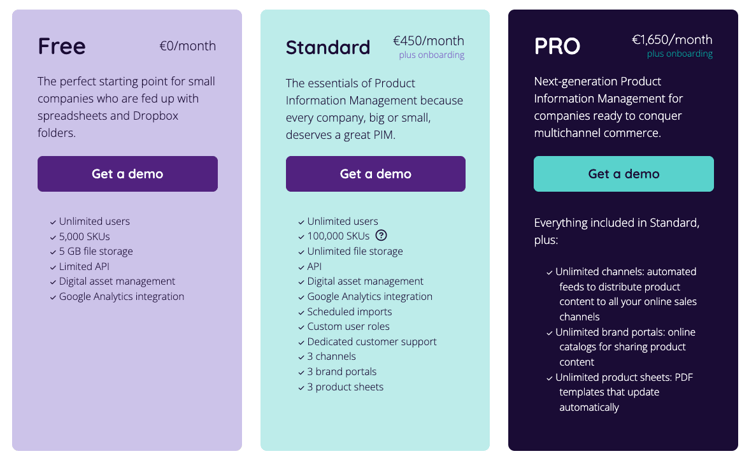 2. We provide whiteglove onboarding
At a time when personalization is all the rage, it gives us so much joy to boast about our personalized onboarding experience. We're not the type of PIM company to persuade a business to partner with us just because they're looking for an ecommerce catalog management tool. Our philosophy is: the key to making a sale is helping the customer see how the product can help them.
If, at the end of your demo session with us, we find that our software is not the best fit for your business, we'll tell you and share recommendations if you're interested. Speaking of demos, if you're at that stage where you're preparing for one, but you're unsure of what questions to ask, here's a guide we've prepared to help you get ready.
3. We excel at dedicated customer support
Before you roll your eyes at our big assertion, we'll have you know that this year alone, we've received recognition in this area. We've bagged the highest satisfaction score for vendor support via Software Reviews' PIM Data Quadrant Report and were named a leader for the best customer support via the G2 Summer 2022 Report.
So, once you join us, we don't simply let you figure things out. We've got you every step of the way and for as long as you're with us. We've got a dedicated team of customer success experts who help you get started from the implementation stage. They help you with any questions and problems you run into as you continue to use the tool, without you having to beg for attention. On top of that, we have a help center platform that is filled with tons of articles that can solve and answer your questions. We also have a YouTube Channel, where you can find numerous videos on various topics that you may be struggling with and interested in.
4. Ours is a cloud-based platform
Now that you know more about Plytix as a brand—our values, dreams, and philosophies, let's tell you about the product itself.
Our software is cloud-based. You're probably thinking, "that's nothing revolutionary", and you're right because there are so many cloud-based PIM tools out there. But, it is worth a mention as there are also just as many open-source product information tools on the market. The cool thing about a cloud-based PIM tool is that it can be accessed from anywhere in the world with an internet connection. In an era, where working remotely or work-as-you-travel is commonplace, it's beneficial to have this type of PIM. Allow us to expand on this from the perspective of our platform.
It's easy to set up and use
Unlike open-source PIM tools, ours doesn't require you to have a whole team of skilled developers to set up the platform, customize it according to your needs, and get your data in the system. You can get this done in a matter of a few clicks. It's also user-friendly, which means anyone in your organization can use it even if they have limited technical expertise. It's truly an intuitive platform, so your teams won't require months' worth of training to navigate their way around the system to get their jobs done.
It's built for collaboration
As mentioned above, Plytix offers unlimited users no matter what plan you're on. This is set up so that your ecommerce and product managers, sales team, and marketing are able to easily work collaboratively toward a common goal. Not to mention that everyone will be on the same page, at all times. All you'd need to do is assign user roles with custom permissions to ensure that everyone does their part without any bottlenecks, such as waiting for access every time they have to perform a task.
It's also worth mentioning that everyone can get involved in the process of sharing product information with upstream partners, press, customers, or whoever else needs that information. Our Brand Portals and Product Sheets features help you create product catalogs, sell sheets, line sheets, product sheets, or any sheet you need—all without the need of a graphic designer.
It's a flexible platform with integrated DAM functionalities
Not only are you able to centralize your enriched written product data, but you can also add any visual assets associated with your products—thanks to the digital asset management (DAM) functionality the platform offers. Its flexibility enables you to structure your data according to your business needs. Using these features, among many others:
Computed and unlimited custom attributes
Easy bulk product editing
Flexible variation handling
Product Families and relationships for upselling, cross-selling, or bundling
Product completion tracking
The platform works for you, you don't work for the platform!
It's easy to scale and expand to new channels
As you may know by now, multichannel commerce is a means of survival in this highly competitive industry. So, when your business is ready to scale and expand to new sales channels, Plytix's Channels feature for product content syndication can make the journey a lot smoother for you. It would be a nightmare to manage product data for all of your sales channels, especially when you take into consideration the fact that each online shopping platform has its own data and submission requirements.
Our next-generation PIM tool lets you store your original data, then you can transform and optimize it through search engine optimization (SEO) and product listing optimization (PLO) according to the requirements of the channel of choice. From there, you can create product feeds in the needed formats.
And, no, Plytix is not a feed management system (FMS). But, it can cover some similar functionalities and can also integrate with an FMS system if you already have one. That way you can maximize the efficiency and effectiveness of creating and managing your product data feeds.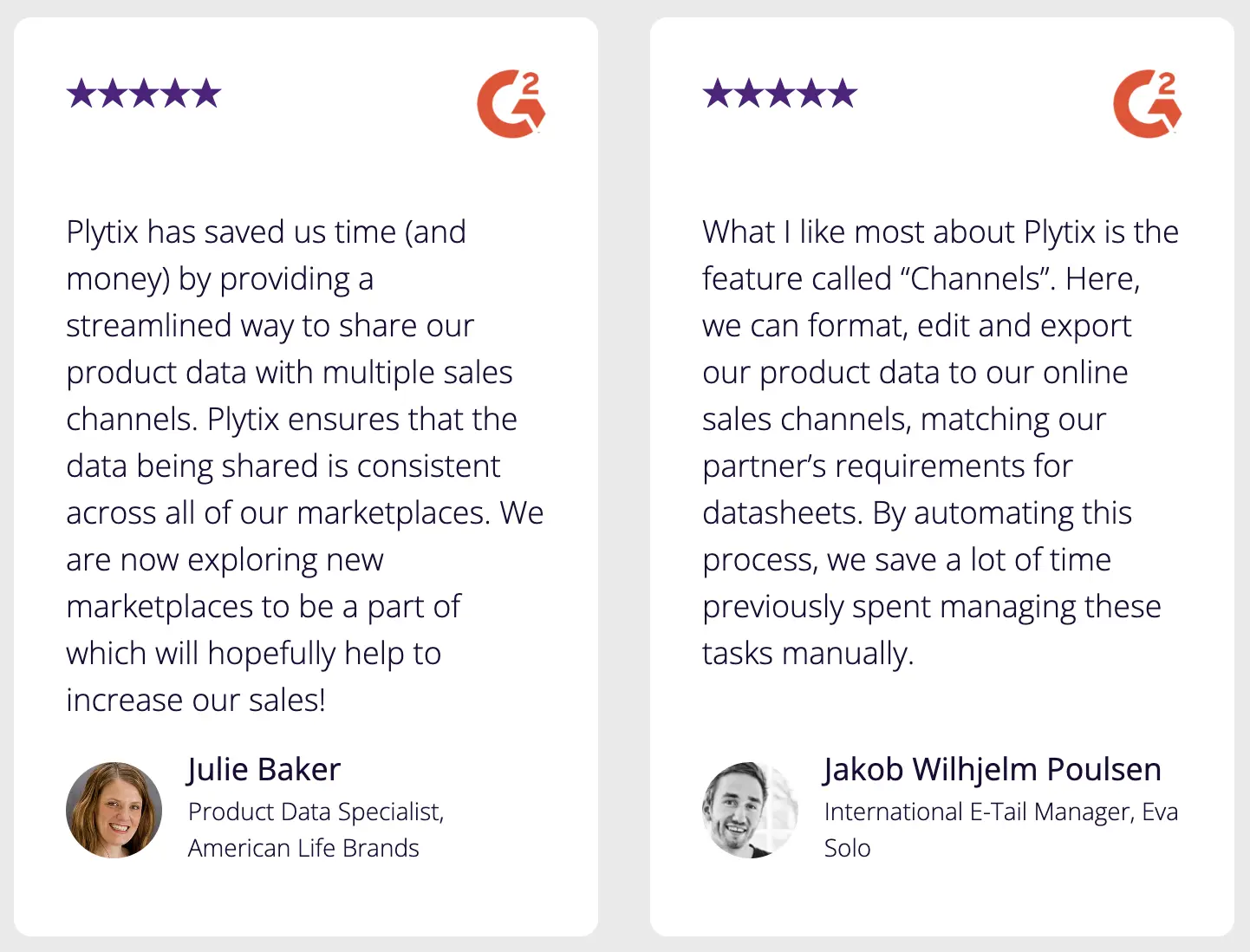 If we didn't cover something you're dying to know about our brand or the platform, you can book a demo today to ask our PIM specialists directly. To learn more about shopping for PIM software download this free whitepaper.
Product Information Management