The past year has certainly taken a knock at many entrepreneurs' egos.
The COVID-19 pandemic opened our eyes to many exciting online opportunities. But it also encouraged small businesses to observe their business from a bird's eye view. Many have found that as quickly as your business can soar, it can fail.
And believe it or not, your ecommerce platform has a role to play.
Due to how demanding consumers have become, business owners are being challenged to expand their online presence (and products). Some businesses struggle to win with their existing platforms due to the limitations they hold. This requires workarounds using third-party applications. And sometimes, workarounds are not enough. For areas directly linked to the customer's experience and your bottom line, you can't count on a plugin to line your pockets.
So, bearing in mind that you haven't the budget your neighbor might have, be wise. Rather than plateauing on your platform, opt for a free hosting solution and spend more in areas that maximize efficiency and streamline processes.
Why the move?
Many small business owners transition from brick and mortar to online or start from scratch with a solution that works at the time. Most don't factor in how your business might evolve over time, how your product catalog will grow, or where you choose to syndicate this content. In time, you might start noticing how you're unable to meet customer expectations through a poorly designed web store or a slow platform that is stunting your growth. Perhaps you're paying for features you're not using, or you're overspending on third-party apps. Either way, the most common reasons why people decide to rehome their store are the following:
The need to reduce costs
The need to improve performance
The need for better functionality
Ecommerce is highly competitive—if you've been burnt in the past by ecommerce platforms that don't meet your growing expectations, you'll need to make a decision for your future. WooCommerce, for example, gives users full control. It's free, and it's open-source. You can customize your store as much as you want.
It's easy to think that the top-performing ecommerce platforms with the highest market share are the be-all and end-all of online success. But you need to match your needs to their functionalities. Every platform has its pros and cons, and sometimes, all it comes down to is your budget. For example, most platforms can't offer you the capabilities that a Product Information Management (PIM) system can for your content—whether it's free or paid. So, weigh up your options and choose a tech stack that supports your objectives and benefits your customers.
Why WooCommerce?
If you've ever worked in WordPress, you'll know how simple this content management system (CMS) is to operate. The foundation of your store shouldn't be a headache to maintain, and that's why over 4.4 million websites around the world currently use WooCommerce as their preferred solution. WooCommerce is a plugin for WordPress, which, to give you some perspective, has had over 123 million all-time downloads. Clearly, it's an effective choice for businesses that want to control and customize their storefronts at a low investment cost.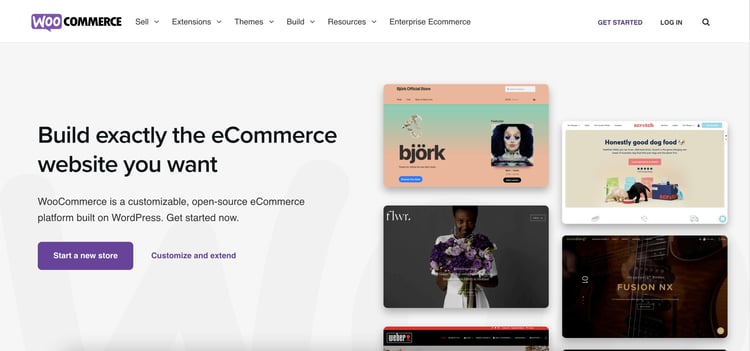 But before we dive into the why's of the WooCommerce plugin, it is important to note that you cannot use this platform without a WordPress site. You will need to install WordPress (or, in most cases, convert your entire website to WordPress) to make management and maintenance easier. Then, choose a WooCommerce recommended hosting partner for your store and buy a plan.
Here are the benefits of WooCommerce for your ecommerce web store:
1. Much more control over marketing
Product listing optimization is key to the success of your ecommerce content. It's how you format your content to gain authority and rank on search engines, how you're able to meet customers during their discovery stages (the window shoppers of the internet), and of course, how you appear on other marketplaces or channels. Every platform has its own marketing requirements, and search engine optimization (SEO) sits at the heart of them all. Now, if you're familiar with WordPress, you will know that it was made for this. It started as a blogging platform and has since evolved into a reputable CMS for websites and web stores.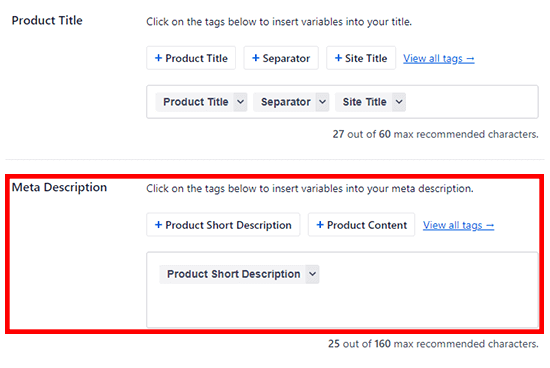 This well-established platform is SEO-friendly, and it does not duplicate content. You're able to edit and optimize every product, image, or category in a unique manner—no matter how complex—without having to worry about meta content being duplicated. It truly does offer incredible organic potential, and you can incorporate add-ons to maximize the return on investment of your online store. To sweeten the deal, WooCommerce has promotional features such as coupons, rewards, and gifting services to drive repeat sales and boost customer loyalty.
2. Product information has its perks
Product information management in WooCommerce is pretty straightforward—it supports unlimited products, variations (bonus), and digital assets. The filtering process is exceptional, as it allows you to tag your products with different categories and attributes to help with product searches. This alone is fundamental in building a successful taxonomy structure for your customers.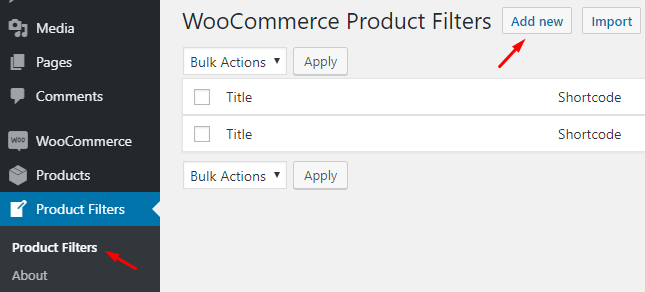 Considering that you can sell anything on WooCommerce—from physical products to downloadables—the product information fields are more extensive and less restrictive than on other ecommerce platforms. You can also control everything from inventory to product data, marketing promotions, and more, from one place, which is both good and bad. (Good, because you're able to do everything without having to switch between platforms. But bad for human error. By having everything in the backend, databases can be hacked, and content can go missing. Your content also has limits, so you're likely to be filtering poor-quality data into your storefront.)
Fortunately, WooCommerce offers free backup options to export data. However, this still means that you'll be left with a ton of spreadsheets to manage data.
The ideal solution would be to integrate your site with an affordable Product Information Management (PIM) to manage content. Not only will you be centralizing your existing content, but you will be able to create new content for multichannel and multilingual selling. You can give many coworkers access to the tool, allowing them all to work on, and edit content in real-time, and have it automatically updated in WooCommerce as if you were in the backend.
Another perk of WooCommerce's content system is that you can create a variety of different marketing material that is not just restricted to your shop or product pages. For example, instructional guides, whitepapers or ebooks, and more.
All of this can also be stored in your PIM.

3. Expenses are optional
With WordPress and WooCommerce, you can build a functional web store for free. To get it off the ground, the only expenses are your domain name and hosting fee. (This can cost as little as $10 per month.) But as far as themes, extensions, and plugins go, it is entirely up to your budget. You can tailor your extensions according to your needs, and you're not obligated to pay for any features you don't want or need. While you cannot test features through a free trial before buying them, you will get a 30-day money-back guarantee should you opt against them.
4. Endless flexibility and customization
A self-hosted ecommerce platform like this means you're able to make changes to the source code and customization however you see fit. You have full control over how you want your store to look and function—and to make it more accomodating—if there isn't a WordPress plugin out of their 54,000 that suits your needs, you create your own. With this freedom and WooCommerce's library of over 600 add-ons, you can scale your store and grow with ease. (In the event that you want to build your own theme, Gutenberg, WordPress' free page builder, gives you the opportunity to design landing pages, blog posts, categories, and more.)
WooCommerce lets entrepreneurs connect with both well-known and smaller payment gateways, with no fee on transactions. You can integrate with over 100 different platforms such as Stripe, PayPal, Square, and Amazon Pay, and the platform accepts credit cards, bank transfers, checks, and cash on delivery. Here are some other features and benefits you can look forward to:
Track and report on products with Google Analytics
Sell anything from physical products to memberships
Dedicated support from a customer service team

Display products in a modular way

The platform integrates with virtually any service

Extensive security on customer data
Manage and automate orders from their mobile app
Receive notifications on downtime alerts, and tax and shipping services
Your store can scale from 1 to 100,000+ orders per day
Sell with multilingual content and prices in multiple currencies
5. A tight-knit community to connect with
As an extension of the WordPress community, WooCommerce has a huge following of like-minded people who are all learning and growing together. So, in addition to the customer support that you will already be receiving, you will always have access to a community of people who can assist you with implementing new features, queries, and more. Developers can also make suggestions on the platform, which are taken into consideration for improvements. Regardless of your experience or savviness, you will always have someone to help you.
6. Grow your small business to new markets
Selling in one "place" is just not enough anymore.
The market is ever-changing, and you need to service and reach new markets to stay competitive. Now, this might sound overwhelming, but WooCommerce makes it simple. You can syndicate your content to popular sales channels, locally and abroad. The platform allows you to translate your content into 24 languages, including Danish, Ukrainian, and Persian, and sell in multiple currencies too! Now, as much as this is a great opportunity, you've got to do it right.
Each channel has its own demands and therefore requires variations of data. Why? Because the content that has been created and optimized for your WooCommerce store is specific to that platform and search engines—it won't lead to success on the others. All this formatted data for other channels cannot live in your WooCommerce store, so you're either need to opt for spreadsheets or a PIM.
In Plytix PIM, you can store all this information in one place, organized by channel, and language. Then, it can be distributed wherever it needs to go, in just a few clicks. Magic!
Final thoughts
When you save on your ecommerce platform, you can be more strategic with how you spend your money. By organizing your product information in PIM software, you'll be able to expand your product catalog with ease and enrich your existing feed with detailed information. Forget having to update and enrich every product in your WooCommerce store manually—a PIM can help you automate the process so that you can focus your energy on driving more sales.
Keen to see what the hype's about?
Book a demo to see how Plytix PIM integrates with WooCommerce!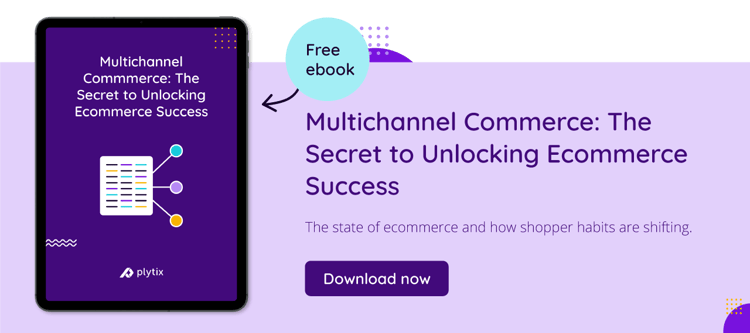 WooCommerce