Guest blogger Rebekah Wratney shares tips for more effective online customer service and how to manage it from the bottom up.
A short Google search will quickly reveal hundreds of bad online customer service stories ranging from businesses giving the silent treatment to complaints to fining customers for bad online reviews. In 2014, the Union Street Guest House (USGH) thought the best way to combat bad Yelp reviews were to threaten wedding guests with a $500 fine for any negative comments submitted.
According to CNN, hundreds of people took to Yelp to complain about the policy and write scathing reviews regardless of whether they had actually stayed at the inn or not. Throughout, USGH maintained that the policy was a sassy response following a wedding years beforehand and that it was never meant to be enforced. However, Yelp user, Rabih Z, has proof that management had emailed and financially threatened them after a negative review.
It should have been obvious that threatening customers will not result in happy reviews, but this is a perfect example of why good online customer service skills are imperative to successful online businesses today. Here are:
Five Tips to Effective Online Customer Service
1. Hire Wisely
Hire people who have the ability to understand why customer service is important to the whole of the organization and execute excellent customer service practices properly. Hiring the right people is essential to any online business, especially retail where your customer service can make you stand out from the competition.
Employees communicate directly to the customers and prospective consumers. Because this connection is crucial to the growth and success of the organization, businesses need to train employees at all rungs of customer interaction.
Customer service training provides employees—and leaders—exercises to practice customer service skills, ways to promote camaraderie, and a clear plan to create a positive culture that will shine with every interaction. If that is not enough to convince you, consider this:
78% of customers

decide not to make an intended purchase if they had a bad service experience

News of a bad experience is

twice as likely

to be spread on social media than a good experience

One in three

will find somewhere else to shop if they have a poor experience
The numbers don't lie. This step is the foundation for all other tips for customer service. Without the right people, online businesses will not thrive and grow to the full potential.
2. Communicate Consistently, Constantly, and Clearly
Zappos.com does this awesome thing on their Twitter account where they respond to 100 % of their inquiries, DMs, and tweets. They have perfected the personal aspect of customer service. They seem to genuinely enjoy their job (remember that bit about hiring well?) as the individual customer service representatives tweet out things like:
Hey y'all! It's Michaela here. Who is ready to have an awesome week? I know I am! Have a great day!

— Zappos.com (@Zappos_Service) July 1, 2015

They are cheery and relaxed, making the whole online customer experience better. People cannot get enough of them. If you simply search for Zappos on Twitter you will find customers like these who rave about their experiences with the company:
Why does every company in America not have a customer service department identical to @zappos Seriously I'm impressed every time I need them

— Rachel Octeau (@Rachell_Lauren) May 8, 2016
Zappos has THE best customer service. I would argue even better than Apple. ??

— Robert Johns (@RobertJohns) May 7, 2016
. @zappos thank you for your swift response and excellent customer service. Much appreciated.

— Leah (@leahhung) May 7, 2016
Constant and clear communication never leaves consumers with a doubt of whether they have been heard or their issue has been taken care of leading to better results and a happier atmosphere. Do not take more than 12 hours to respond. A business open 24 hours a day, needs to respond as soon as possible.
Some scary stats for online customer service managers: almost half of customers expect a response in 60 minutes and 57% say they expect a similar response rate during the week as they do on weekends. If a brand is only open for limited hours, it needs to be made clear online where and when people can contact customer service.
Consistency in communication ensures that your customers know what to expect, it should be an integral part of your brand. Create a plan for online complaints and act accordingly, as well as for when customers reach out to share a good experience. This tip directly affects the rest. If the business is good at communicating, they will be good at customer service.
3. Create a Social Media Presence and Integrate it
Why do online businesses need to utilize social media channels? Because social media is not just for marketing, anymore. J.D. Power and Associate's recent Social Media Benchmark study found that 67% of consumers use a business's social media page for service, compared to the 33% for social marketing. Consumers are turning to social media to ask questions, leave comments, and share suggestions. And they are all expecting responses.
Not only that 43% of all consumers expect the social media experience to be integrated with other more traditional channels so that they do not have to explain the same problem or request over and over again. You can integrate your social media accounts with your CRM for increased monitoring and understanding of your customers needs. This can help your team be proactive about problems and potentially prevent lags in communication.
One of the best ways to use social media for customer experience online is to create a distinct customer service account—like the Zappos Twitter service account. When online businesses separate accounts, it keeps the questions and support separate from the marketing efforts of the organizations. This is practical for many reasons, including reducing distraction from company content, and allowing customer service reps to focus on a single account.
4. Check Reviews
Find the problems. Don't let them find you. Check out sites like ResellerRatings,Yelp, Glassdoor, TripAdvisor, and social media sites. Set up Google Alerts for your company name. Chances are these will be the first places customers or potential consumers see if they are looking for a particular product or service. This is your opportunity to say thanks, right wrongs or at least say you are sorry for whatever may have happened to warrant a bad review. Treat your customers how you would want to be treated.
If they see an interactive brand and four stars, there are better chances the new customers will stop by. If they see a silent brand and only one and a half stars, they will probably be less likely to pay for your services.
The online world offers the unique ability to find problems and answer questions before they are asked. With social media management systems or analytics, like previously mentioned Google Alerts, one can track specific words or phrases online allowing businesses to proactively engage consumers and address negative reviews. It shows customers that the brand really cares about what they say.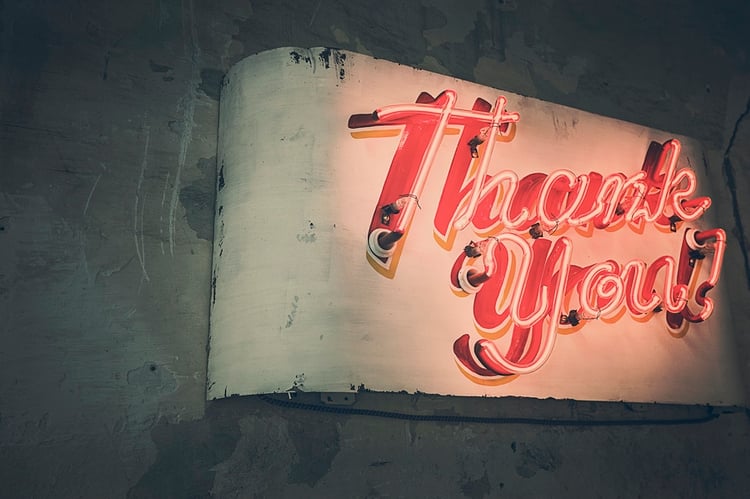 5. Go Above and Beyond
In reality, being just okay at customer service is not enough. The world of modern retail is cut-throat. People are delighted when online businesses give them a surprise discount, a personal letter, and an easily accommodated last-minute changes.
There was a story told about a local department store manager giving a pair of shoes to a homeless Veteran. The onlookers assumed the store would take care of the cost, until the manager took a credit card and bought the shoes herself.
Though, this is not technically good customer service from the store, it is obvious the encounter had a positive effect on the rest of the customers witnessing the event. Of course this is not something we can replicate online. So what is an example of above and beyond for online customer service?
Joe Nocera, columnist for the New York Times, wrote about an outstanding experience he had with Amazon where he bought a PlayStation for his son for Christmas, only to have the item shipped, delivered, signed for by a neighbor, but then disappear into thin air, most likely stolen from his front step. So he called Amazon in desperation, not hoping for anything to be solved. To his surprise, he wasn't accused of trying to scam the company, and he wasn't shirked off as "not my problem". In fact, they shipped him a new one and gave him free shipping!
It all boils down to accessibility, effort and thoughtfulness. These seemingly small acts can make a huge difference to your customers when they decide where to buy what they need. It all goes back to tip number one: Hire Wisely.
To ensure company growth and a successful online business, these online customer service tips are essential.
What other tips do you have to ensure successful online customer service for growing brands?
Ecommerce
,
Retail Industry & Trends