Product categorization, also known as product taxonomy, helps customers navigate your ecommerce store with ease. It's a technique used to replicate a physical in-store experience by creating a virtual, digital aisle that leads customers to the product they wish to purchase.
Now, if you think of product categorization like that, you'd think every ecommerce store would put in the effort to prioritize this structure, right? Well, that's not the case for many businesses.
Only 10% of ecommerce stores address product categorization—and since you're reading this article, you may be part of the 90% that don't have structure for your product offerings.
But this is a judgment-free zone. We're just here to help you see why it's important.
It's not
just

about the customer experience

Yes, a good customer experience is crucial when selling online. Not only is that what modern customers expect, but with so many stores entering the online space, customers always want to see if the grass is greener on the other side. A study even showed that a total of 75% of online visitors leave within 15 seconds of not finding what they're looking for. But, that's not the only reason why product taxonomy is important. Keep reading to find out more!
1. Categorization ensures better reporting and decision-making
Data runs the show. In ecommerce, it's a sure-way to know what works and what doesn't. So, having a well-organized product page helps you to better understand what is going on with your sales. For example, your leather jacket might not be selling as well as your denim jacket.
While poor-performing products are caused by a number of reasons, having a hierarchy can help you identify small issues that could be contributing to your sales (or lack thereof). For example, if your leather jacket is at the bottom of your filtering list, it might not be as visible as the denim jacket. With that knowledge, you can consider featuring it as a product recommendation or create a campaign for the leather jacket. Having a structure helps you see the full picture of your product catalog, which in turn, allows you to make calculated decisions.
2. Categorization improves productivity and communication between teams
Everyone loves structure. It improves efficiency, gives everyone clarity of what's going on, and as a result, it makes everyone productive. That's not just true for organizational structure.
Your employees deal with your website and products just as much as your customers do. For example, when a customer calls the sales department with a query, how will a sales representative be able to respond quickly without common terminology and structure?
Not only is it impacting the experience for the customer, but it hinders your employees from doing their job as best as they can. With product categories, any department is able to thrive.
3. Categorization boosts your SEO efforts
Search engine optimization (SEO) should be every seller's best friend. Why? Because visibility is crucial to driving traffic to your online web shop. While there are many tactics you can use to boost your rankings for your ecommerce store, product categorization can be one of them.
Categorizing your products impacts your site's architecture, which is a big thing in SEO. It helps make it easier for search engines to crawl your site and index pages faster. These various entry points (your categories) can also bring in more traffic to your website, especially if you make use of keywords in image alternative text, meta content, and URLs for all your categories.
Not only will it boost your traffic, but it also:
Increases the time users spend on your website
Boosts the search and user experience
Search engine optimization isn't just about using keywords to help you rank but creating a user-friendly experience for customers, and product taxonomies can help in both regards.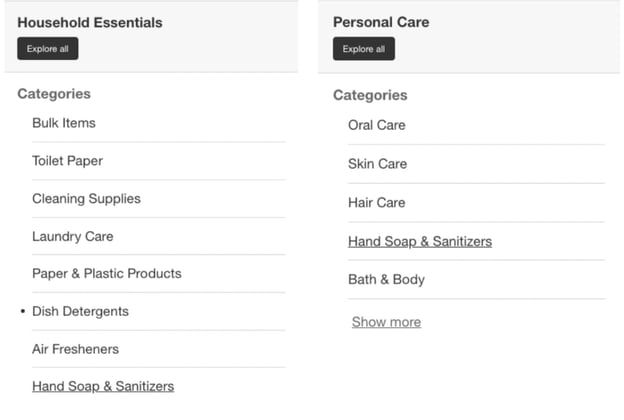 4. Categorization increases sales and conversions
No one runs an online shop just for the sake of it. It's your livelihood, and therefore, you need to make sure products sell. To close a sale, customers expect a clear shopping interface that's visually appealing with robust site navigation. That can all be achieved when your products are structured well. Studies even show that a poorly architected website sells 50% less than an organized one and 75% of users judge a site's credibility based purely on aesthetics.
Without product categorization, you're failing a lot of customers and not meeting their expectations, which often leads to a drop in sales. Statistics further show that 72% of online shoppers will tell six or more people about a bad shopping experience. Something as simple as categorizing your products can help improve a customer's user and shopping experience, resulting in more sales. According to the U.S. Bureau of Labor Statistics (BLS), 20% of new businesses fail during the first two years, 45% fail within the first five years, and 65% during the first ten years. Don't be a part of those numbers when you can make small improvements to increase your sales. Instead, be in the 25% of new businesses that make it to 15 years or more.
Product categories are a must for your ecommerce site
Imagine if a customer went into a physical store and found that there were no signs in the aisles? That would be chaotic. So, don't make it the case for your ecommerce store.
A product information management system can help with product categorization. How? Well, product information software is a modern solution used for creating, editing, managing, and distributing product content easier. (Product taxonomies are no exception to this.) PIM systems have automation functionalities that help you auto-categorize taxonomies. With the best PIM tool for ecommerce by your side, you don't have to spend hours doing the manual work.
Download our white paper to learn how a product information database can help you optimize content. You can get in touch with us, and we'll tell you everything about Plytix.

Ecommerce