DTC brands enjoy a retention rate of 28% overall, according to a recent DTC metrics report by Metrilo. What's even more interesting is that 60% of the revenue is generated from return customers. In other words, DTC brands thrive because of their loyal customer base.
How Retention Impacts The Bottom Line
It's a fact of ecommerce that DTC brands lose money on the first sale to each customer. To turn profitable, you have to offset this initial cost of acquisition through repeat orders. Each new order coming from an existing customer makes up for the cost of the first one.
If a DTC merchant only gets one-time customers, the situation is usually one of the following:
The profit margin is very thin because of big acquisition costs or
They cannot afford to spend a lot on acquisition in order to protect the profit margin. Which in turn brings in low-quality leads who don't order again...
Customer retention literally brings the cost of each sale down so the profit grows.
Why Acquisition Is Not Enough
Undoubtedly, every business should make an effort to acquire new customers but for some brands there are limitations to acquisition. Many DTC brands are quite niche - vitiligo makeup, keto cereal, biodegradable diapers, hand-crafted knives, for example - exactly because they challenge the one-size-fits-all mass products available in retail. A small niche means a limited market and a cap on growth. The nature of the products, their exclusivity, may be an obstacle in itself. (Of course, brands like Allbirds and Glossier prove that wrong, but their products - casual shoes, skincare and makeup - are not so niche.) Customer retention makes sustainable revenue possible for smaller, niche brands. Repeat customers can be the stable, predictable cash flow keeping them afloat.
Another barrier to uncontrollable acquisition is production capacity. We saw tissue paper DTC brand Who Gives a Crap sold out at the beginning of the COVID-19 pandemic when customers bulk-bought groceries and supplies. The company was not able to up production to answer demand. Another bittersweet side of the story is that the unexpected spike might be a one-off thing that will never repeat when people go back to shopping in supermarkets. What would be ideal for the brand? You guessed it, customer loyalty. A stable customer base that shops regularly and predictably so the company can properly forecast demand and prepare extra for new acquisitions.
And lastly, a benefit of customer retention that often gets overlooked. If you are stuck in the vicious cycle of pumping money to make money, you'd never be able to move your brand and products forward. When you have a reliable cash flow from return customers and don't need to pour all this money into ads, you are actually able to reinvest in growth - be it new machines, new materials, new designs or simply more people to work on more orders. If your budget is looking thin, consider these ways to acquire customers on a $0 marketing budget.
Retention Best Practices
For customer retention to work, it should be built in the brand's strategy. People can really see through remarketing as an afterthought - without context or relevance. So we will go over a few of the best practices bringing results for DTC brands.
Tailored and Continuous Engagement
It's counterintuitive but true: to sell more, you need to do sales less. People cannot possibly be buying all the time and the brands that recognize that, win. Constant product pushing is not engagement. Content marketing and community building are. Nurture your customers until they're ready to shop again. Educate, inform and discuss.
For example, the DTC brand REI's YouTube channel is the home of their outdoor enthusiast community. It houses a huge collection of original videos by sport and activity, camping tips, destinations, nature conservation, dedicated series in collaboration with sports people and experts, and more topics of interest to its audience. It's a place for sharing the common passion for the outdoors and learning about nature, without selling and calls to action.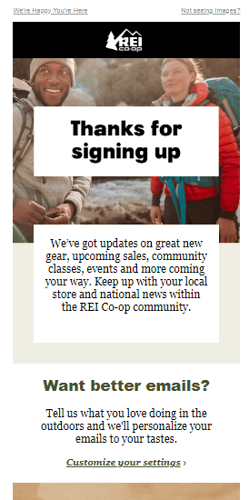 REI also asks new email subscribers to choose the content they want to receive. This is another part of their engagement strategy. The idea is to serve only highly relevant content and promotions. Customers see you understand them and have a lot to offer so they come back to shop again and again.
It is not as hard as it sounds. Your ecommerce CRM would have enough data on your customers' orders, shopping behavior and brand interactions for you to be able to tag them in a few categories of preference and take it from there. We suggest running a few newsletters targeted at different segments rather than just one. The content should be tailored to the products bought by each customer and their interests.
If you sell fashion, style preferences and sizes can work well - plus size customers don't need to see petite items. Food brands can easily differentiate clients by dietary restrictions - maybe omnivores don't care about vegan options.
VIP Treatment of Loyal Customers
If you recognize the importance of retention, your loyal customers are gold so make sure you treat them right. They have stayed with you longer than the others and they are closer to the brand so their comments and suggestions are more valuable. Make them feel special by asking their opinion about new products and variants, collaborations, events, etc.
Other perks that will make them feel special and convey your gratitude:
Priority support, shipping and returns
Early-bird access to new items
Insider discounts (think Booking.com tiered Genius discounts)
Member services like customizing, tailoring, personal shopping assistance
Gated content on topic related to your shared interests
Milestone gifts (for every fifth order, for example)
Carefully Timed Reorder Reminders
Repeat orders need stimulating. Metrilo's report found that the average time between orders of beauty products is 126 days, of apparel - 115 days, and of health supplements - 75 days, among others categories. To speed things up and make sure you don't lose existing customers, you can use this metric measured for your products and adapt your email marketing to it.
Schedule reminder emails for a few days earlier so people are already thinking about ordering again, but have not yet run out of your product. This is the perfect time for re-engagement because it's not too soon after their previous order to be annoying, but the chance of conversion is very high because they're still using the product. After the mark has passed, they're much more likely to churn and switch to other DTC brands.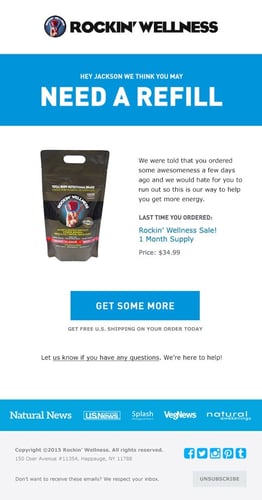 Shopping Experience People Want To Repeat
Easy shopping and free returns are the norm now, not the differentiator. The shopping experience your DTC brand creates should be extraordinary, it should be more than just a convenience to win customers' love. It should wow, surprise, be memorable so customers tell their friends and can't wait to order again. This extra mile on your part keeps people engaged and excited to shop from your brand again and again to relive this moment of feeling special.
Here are a few points to consider:
Shopping assistance and recommendations so every shopping session is an adventure in itself where the customer feels pampered.
Cool packaging that's begging to be Instagrammed. Even better if people keep it and repurpose it - and see your branding every day.
Exciting unboxing experience, including surprise freebies, samples, reusable packaging, etc.
Post-purchase social media engagement with user-generated content. People love being featured by brands and acting as trend-setters among their friends.
Women business attire brand M.M. LaFleur plays on its customers' professionalism and practicality with its highly organized and reusable packaging of each item in the box. There's also something for the soul - a little booklet about professional women with inspiring careers. The motivational messaging on the box highlights the brand's mission to clothe women so they succeed in their careers. It's all a thoughtful and pleasant experience for the target audience, and together with the practical details makes it worth repeating.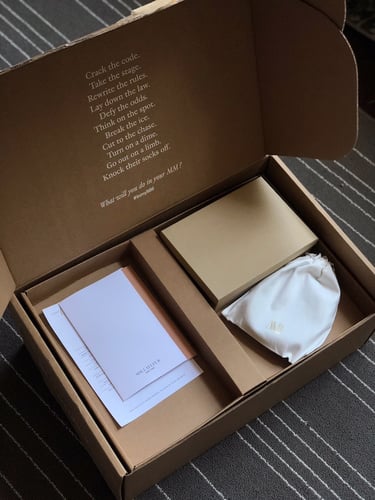 Work With Customer Feedback
Both positive and negative feedback is valuable if you want to keep your customers happy. When there's a problem, responding to it, seeking solutions and being accountable is the right thing to do. Your customers would see you really care and that their suggestions are important to you. Such transparency can actually keep them from churning because they'd recognize you're doing your best.
When things go well, feedback is also important. What exactly is that people like? Use their real language in your marketing to get closer to the right people. Happy customers will give you more ideas how to make things even better and develop your products. Thanking them for their feedback will increase their brand loyalty.
Promote Products That Attract Customer Loyalty
Some of your products naturally drive more repeat orders than others. Maybe the quality of your product content is different or some items fall short of the promises you give on your website. A quick look at retention cohorts by product will show you the true stars of your products range. They should be your frontliners on all platforms you sell on, pictured in ads and emails, loaded with keywords for SEO and featured by influencers. The more people see and buy them, the higher your chances of hooking them up for a long customer lifetime.
Those tactics are used by DTC brands across categories and countries. Making them part of your strategy will strengthen the relationship between your brand and your customer community, earn you higher retention rates and more repeat sales.
For more on how to transform your ecommerce brand and harness the power of your product content through PIM, have a look at how PIM adopters are outperforming their competition.