Welcome to the second installment of our Ecommerce Content Marketing Inspiration Roundup It's safe to say that September simply flew by, can you believe it's the fourth and final quarter of the year already?! (That's right, it's nearly Christmas!)
Luckily we still managed to make time to create our roundup of our favorite ecommerce brands for the month. Enjoy!
Netherlands
What it is:
LEFF Amsterdam creates very unconventional, and beautiful accessories including some seriously swish looking watches, clocks, speakers and more. "We think time is simply an amazing concept… [and] we believe watches are the perfect example of functional beauty". Looking for a very statement, time-telling device? LEFF is the place to go.
The content we love:
The attention to detail is second to none. Not only showing images of the products, but including beautiful diagrams to break the item down into its different parts and functions, so that even the least watch savvy among us will have a clue as to what we're buying.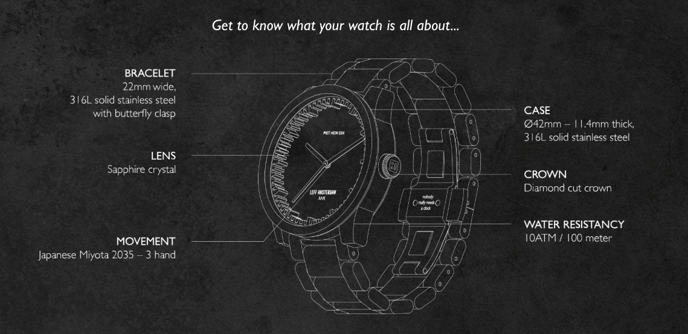 And for those that are still dying to find out more, there's plenty of information about not only the watch itself, but all the other important things that you hadn't even realized you needed to known until know! Plus it's all displayed in very clear format, with the contrast of white text on a black/grey background making the information seem not only important, but even crisper and clearer than it already is.
How you can follow suit:
Don't hold back on content sharing with your potential buyers - answer the questions they didn't know they had.

Display information in a beautiful, yet digestible way

Carefully consider text vs background colors when creating content.
Footwear
United States
What it is:
Rothy's is a 'feel-good footwear' brand, selling shoes only made from recycled plastic - which you have to admit is pretty darn cool! Founders Stephen and Roth realized there was a gap in the market for sustainability in fashion, and so developed their 'stylish, comfortable, sustainable shoe' for the busy woman of today's world. Not only are these shoes the prettiest plastic for your feet that you ever did see, but a bloody fabulous, environmentally-friendly, fashion alternative.
The content we love
:
They have a simple (yet amazing) product, but of course it's easy for us to say that, so where's the proof? Rothy's have allowed customers to directly review the product on their website, as well as showing existing product reviews.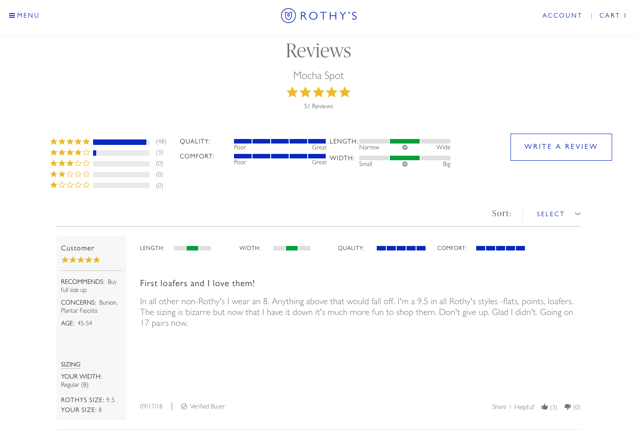 They also have an incredibly simple website for navigation to products. With an obvious, easy drop down and category search structure, there's no way you can't find what you're looking for.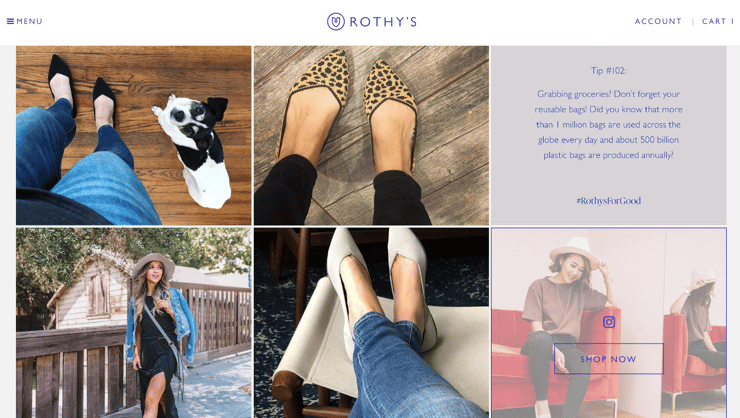 Another thing Rothy's has mastered is their social media presence. They have a clear and quirky culture, and it shines through their different channels, especially their Instagram feed (also linked to their website), where they have their trending hashtags and real-life customer examples to show the context of their products.
How you can follow suit:
Make finding your products as easy as possible

Share real product reviews with customers, and allow them to leave their own

Rock your social media platforms to communicate your brand and company culture, and link it to your website

Celebrate your customers using your products via images, testimonials, use cases and more
Home Accessories
United States
What it is:
Hint: It's in the name! Cowhides direct is a no-nonsense, family-based, business selling (you guessed it) cow hides - among other animal hide goods. Whilst this may not be everybody's cup of tea, there's no denying the quality of the products that they are providing. Cowhides direct wanted to make a difference in the cowhide industry, and so set out to provide high-quality, yet affordable hides, with a big emphasis on transparency (no, before you ask, the hides aren't transparent). "All of the cowhides we sell are sold with integrity, honesty, and accuracy… ...there is no 'product will arrive similar to what you see'. With our company, what you see is what you get!"
The content we love:
What really caught my eye about Cowhides direct was the product images. Their principal USP is that every single product they sell is different, and every photograph of the products (even similar ones) are entirely unique. Plus it took me all of 3 seconds on the homepage to become aware of this.
They take what makes them different, and they have communicated this throughout the entire website, especially the product pages. Another thing they do really well is include scrupulous detail on their product pages, including clear shipping, and after purchase information. 'The devil is in the detail' right? They include so much information about the product, it's no wonder they have a 5 start satisfaction rate.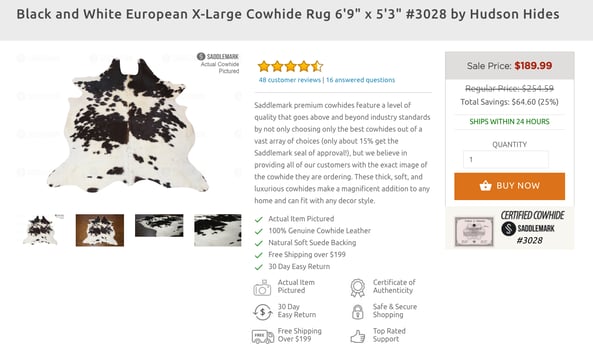 How you can follow suit:
Ensure high quality, real product images

When doing something different, make sure your customers know about it.

Be as transparent as possible with your product information
United Kingdom
What it is:
Made is a furniture brand. One that believes that everyone deserves the right to decent furniture. To fulfill this belief Made founder, Ning Li, set about creating good quality, 'designer' furniture, at an affordable price. Now, 8 years on from when it was founded, Made furniture is spreading their furniture philosophy to many areas of Europe.
The content we love:
Other than generally having a very simplistic, and aesthetically pleasing website (always helps), their use of products images leave something to be desired. On the main product page they actually have basically every angle of the product photographed, a photo including measurements, plus a real contextual image and video e.g. an armchair in its natural habitat - a nicely designed living room.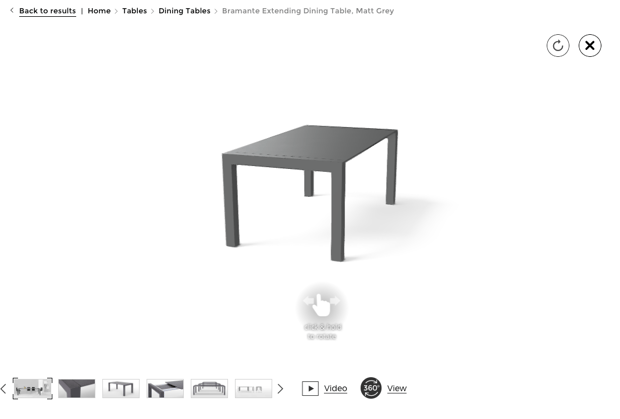 But better yet, what makes Made special, is they include a 360° image of the product so that the customer can interact with the product, and really see it from every angle. One of the recurring doubts when purchasing online is that the product being different to that which was shown online. But Made eliminates this doubt by communicating to customers what the product looks like from every aspect.
How you can follow suit:
Apply as many relevant images, videos & files as possible

Include ways for your clients to interact with products before purchase, like 360 images.
Looking for even more content inspiration?