At Plytix, our goal isn't only to bring the best PIM to small to medium-sized businesses. It is also to create a workplace where employees feel appreciated, seen, and supported.
This is why we're thrilled to announce that we are officially certified as a Great Place To Work in Spain for 2022-2023! This project is close to our hearts because it embodies what we believe drives our success: the relationship we have with each other. To be ranked as one of the best places to work, GPTW uses a methodology called the Trust Model. With their Trust Index and Culture Management platform, Emprising, they see how employees perceive their:
Relationship with their managers
Relationship with their colleagues
Relationship with their work
Based on this survey:
100% of employees say Plytix is a great place to work
100% of the employees value their colleagues, the onboarding process, and the work ethic of their colleagues
98% of our employees feel pride for their individual work, the work of their team members, and the organization
100% of employees acknowledge they receive good treatment, regardless of their position in the company
99% of our employees perceive there is fairness, lack of favoritism, and fair treatment within the organization.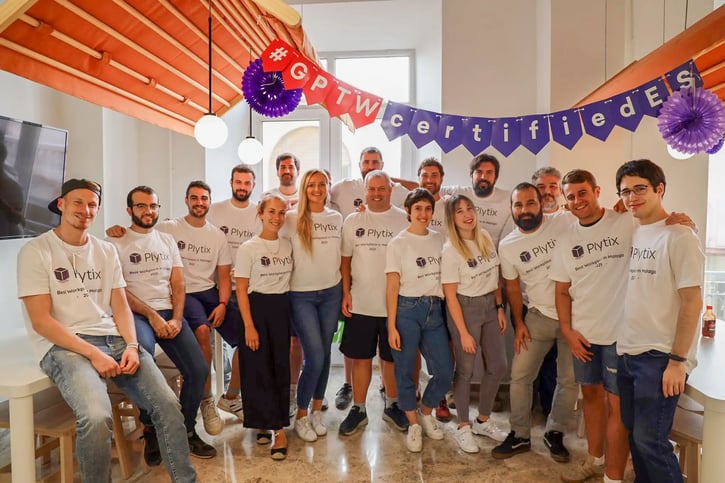 Here's what Adela Romero, our Human Resource Manager has to say:
"This is a big achievement.
When I started working here last year, we only had half the employees we have today and only qualified for the Best Place To Work in Malaga. Not only did we have to keep up with the amazing work we had done in the past year, but we also had to take care of more people than we ever had before."
"Now, we're recognized nationally and I am incredibly proud of the work we've done at Plytix," she adds.
"Last year when we were #1 Best Place To Work In Malaga, and now we're certified as a Great Place To Work in Spain. But we're only getting started and are so excited to see what we achieve going forward."
To find out more about our GPTW certification, check out our results here.
And, if you're hoping to join this great place to work, take a look at our careers page for open positions.
_______________________________________________
About Plytix:
Plytix is one of the leading Product Information Management (PIM) tools on the market, specially designed for online retail. It is a collaborative, single source of truth designed to help you manage content at scale and get your products to market faster.
Plytix News