Rich data is your greatest weapon for strengthening customer experience and relationships. As you already know, great customer experience and relationships drive sales and encourage customers to continue to buy from you.
That's exactly why data enrichment is such an important task to do as it improves the quality of your ecommerce product data.
But what is data enrichment, how does it differ from data cleansing, and how do you implement it? Stay with us, we'll take you through the answers to these questions and offer some tips to help get you started.
What is data enrichment?
Product data enrichment is the process of taking raw product data and enhancing it with layers of extra and verified details that improve its accuracy. This is done to ensure that customers have enough information to make a buying decision about a product they're browsing or searching for.
For instance, if you have raw data such as a product image, name, material, color, size, etc. you can enrich the data with a detailed product description that highlights the best qualities of the product, fit size, and care instructions. Another way to enrich product data is to add extra product images taken in various angles or a video that showcases the product in various angles or in a lifestyle format.
Let's give you an example of raw data: "Nike black laptop backpack, poly fabric, 17.3 inch, padded foam, spacious compartments."
Now an example of how you enrich it: "Nike laptop travel backpack made from environmentally-friendly and durable poly fabric with water repellent function, large compartments built for laptop, ipad, wallet, power bank, cables and more items. It also has comfortable and adjustable padded shoulder straps. It comes in black and gray colors."
See how more appealing a product can be when you enrich it? That's what online shoppers are looking for when trying to make a purchasing decision. So, how does enrichment differ from data cleansing? Good question, let's get into it.
What is data cleansing?
Product data cleansing is all about making corrections, removing irrelevant and repetitive information, filling in missing attributes, and standardizing product data for accuracy and consistency. For instance, using the same backpack example above, you have the backpack in two different colors, but you made the mistake of adding one color twice. That means you have repetitive and incomplete information. So, you have to delete the one color and add the other color variation to the parent product. This is what is considered as a data cleansing effort.
In short, enriching improves product data and cleansing fixes issues with the product data. While they both have the same goal, they're not the same and shouldn't be used interchangeably. Each requires its own implementation strategy.
Top tips to enrich your data to maximize on sales
There are five elements that make data rich, data needs to be:
Accurate
Complete
Up-to-date
Consistent
Relevant
Without these, the product data is not useful to the customer, and they can't make any buying decisions where your brand is concerned. But they will jump ship and go to a competitor that provides content that adds value to them. Let's help you avoid that and get you started with data enrichment using these following tips:
1. Study your demographics data
Demographics data will help you better understand who your customers are and what their shopping tendencies and preferences are. The benefit that you gain from this type of data is that you get to understand what kind of information will be relevant to your customers.
For instance, location data tells you about the current season your customers are experiencing. This provides you with an opportunity to deliver seasonal product information that customers will be interested in. Let's say that you sell homeware, for example, for the winter season, you can enrich your product data by adding keywords like vacuum insulated coffee mug that keeps your beverage hot for 6hrs in the product description. To take it a step further, you can include information such as "a perfect gift for a loved one", if the data shows that your customers typically buy products for specific events.
2. Study your customer feedback data
Customer feedback data offers a wealth of information that you can use to enrich your product data in real-time. Whether it's through surveys or customer reviews, you're guaranteed to learn something that can add value to your existing product data. After going through your customer feedback, implement this information in your product descriptions.Talk about attributes and features that they like and dislike about the product.
For example, if you sell clothing items and reviews hint that your product is not exactly true to size but rather a larger fit, this is information you can include in the product page of your web shop. That way, the next batch of customers are aware of the size fit, which in turn, will reduce the chances of cart abandonment and product returns.
3. Invest in a PIM system
A product information management system is perhaps the most effective way to improve the quality of your product data. An automated product database like a PIM tool centralizes information in a single source of truth. This allows you to view all product information in a single dashboard, where you can spot products with a low enrichment level. It also enables you to see opportunities to update and tweak your product titles, descriptions, etc. to make them factually correct, and to make keywords rich for visibility and relatability.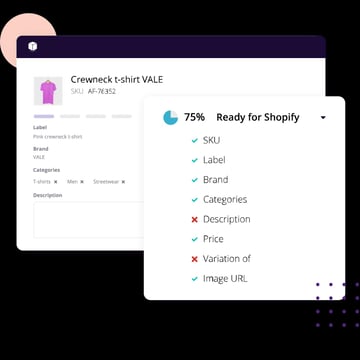 In addition to that, you'll notice the quality of your digital assets, and see opportunities for improvements such as adjusting size and resolution. If all else fails, you can start working on a new product photography strategy to build a better portfolio of visual assets.
Enrich your data with Plytix
Plytix is an affordable content management tool that's designed with data validation capabilities to help ensure you have the right information at all times.It also has digital asset management abilities and can integrate with other systems, like an inventory tool, so that you can really unify all of your product data.
Plytix works with you so that you can reach your goals. With a next-generation PIM tool like ours, you can also spot opportunities to optimize your product listings. Download this FREE whitepaper on Ranking Higher and Selling More Using PIM for Product Listing Optimization.
For more tailored information, book a demo with us today, and we'll answer any questions you may have about how a PIM can help you grow your business.
Product Information Management