In this guide, we will dissect the technical SEO involved in getting your ecommerce store found. Technical SEO actually refers to all the work that goes into getting search engines to crawl, find, and index your site apart from the content.
If you are just joining us, this is the second part of a two part product page SEO guide: content vs. technical SEO.
Part 1: Product Page Content SEO
Optimize your product description text
Create short but meaningful titles
Include reviews on the main product page
Add a relevant meta description
Use original, high resolution photos and edit alt text
Part 2: Product Page Technical SEO (this one!)
Carefully structure your site categories
Use custom keyword friendly URLs
Make sure your product schema is accurate
Set up Open Graph meta tags.
So if you are ready for this, here we go with the getting your product pages SEO ready from a technical perspective!
Part 2: Product Page Technical SEO
1.) Use custom keyword friendly URLs
If you aren't already using custom URLs for each of your products, you're missing out on one of the easiest ways to optimize your pages.
All you have to do is take a few of the keywords from the text (as well as brand names, sizes, colors, model number, etc.), and separate them using dashes (-) in the URL.
That's it.
This not only signals to crawlers what's on your page, it also helps when other websites link to your product pages.
Plus, it's much easier for customers to know what to expect when they click on your link, whether directly from Google or from a third party site.
So for example, which one of these two URLs means something to you?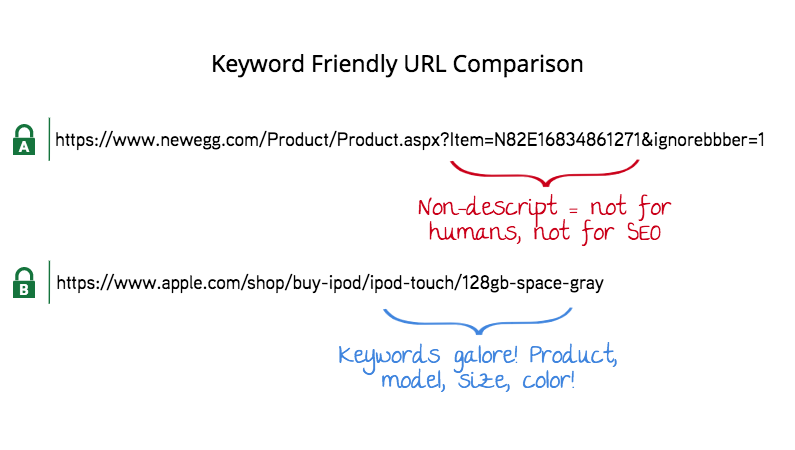 If your product pages look like the first example, then you should change them. These types of URLs are not created for people, and so are not created for SEO.
When you do, don't forget to set up a 301 redirect that permanently links your old URL to the new one.
So to recap:
Set up custom URLs

and your redirects. It takes literally a few seconds
If you changed an old URL, make sure to redirect it
Custom URLs

should mean something to humans
When someone links to your site, the URL itself is often the

anchor text

(which is good for SEO)
Leave out articles and connectors (a, an, the, and, etc.)
Longer URLs are fine, but

keep it below 100 characters
8.) Make sure your product schema is accurate
If you've done everything correctly up until now, it's all for naught unless your product schema is accurate.
Product schema (or schema markup) is essentially a way for search engines to know specific, structured data to include in your snippet. These are called rich snippets, and they let customers know everything from the price of your product to customer ratings and availability - before they even click on the link.
Pretty much all of the information a customer could want to know about your product (or service, for that matter) can be displayed using rich snippets. They look something like this (taken from Google's Structured Data Testing tool):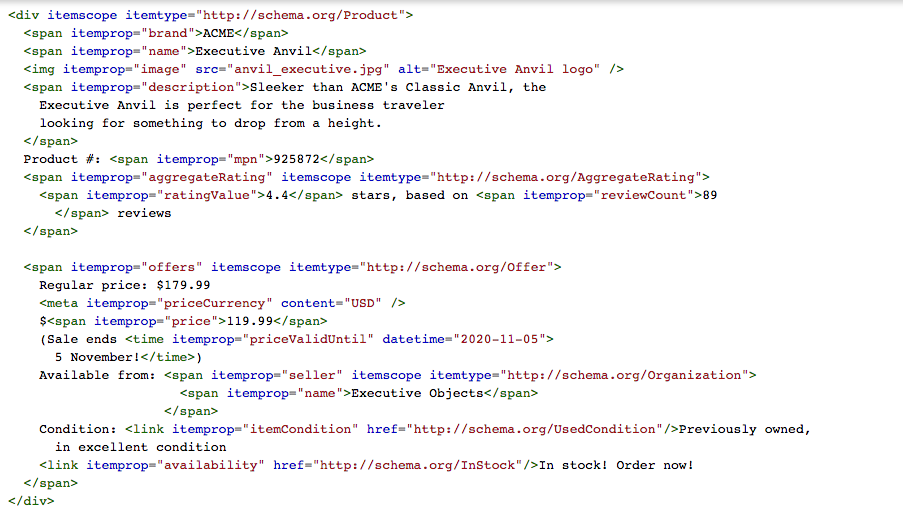 Here are some of the things found in rich snippets:
Average customer ratings
Brand names
Prices (in a specific currency)
ISBNs and product numbers
Colors
Materials
Much, much more.
A full list of potential data can be found on their website.
Product schema is vital to getting search engines to display your page snippet properly. And depending on your CMS, it can be done automatically or require quite a lot of code editing.
So how do you set it up?
If you're using a modern ecommerce CMS like Shopify or Woocommerce, it's done automatically. To make sure that it's set up properly (or set up at all), head over to Google's Structured Data Testing Tool and enter the URL of your product page.
This displays all of the structured data that your site contains. If it doesn't contain any, you can still do it all manually using JSON-LD.
JSON Link Data is a data format that's easy to use for both humans and machines. If you're not comfortable editing code you might want to leave it to a professional, but if you are check out this guide for beginners.
9.) Set up Open Graph meta tags
Like product schema, Open Graph tags signify which part of your product page contains important information.
But this time that information is for Facebook, Twitter, and other social media platforms.
As a result, editing them won't have an effect on your SEO, but it will give you more control over how your brand's online presence. And that's just as important.
Here you can see the OG tags for Onchek's Red Pattern Cardigan: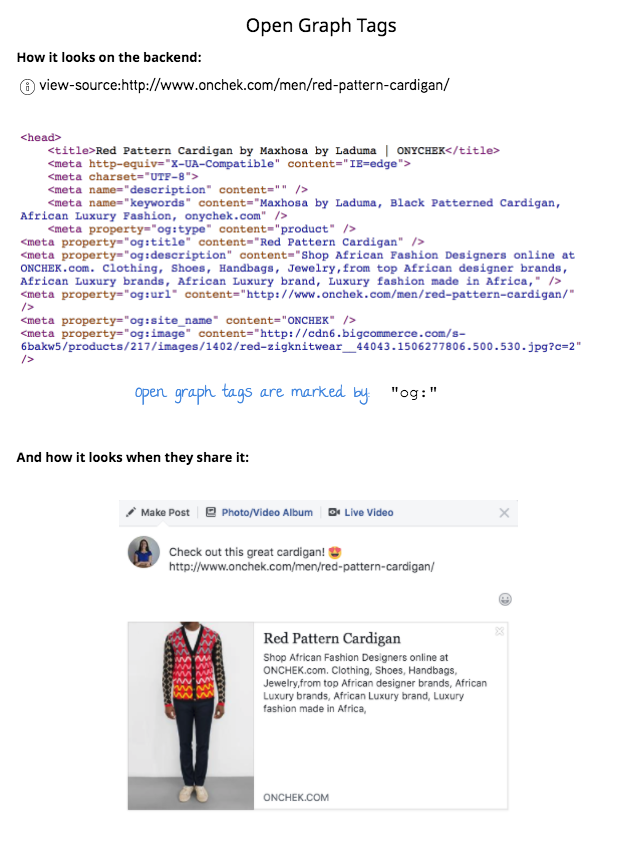 Checking your Open Graph meta tags is easy: just share one of your product pages like in the example above with Facebook.
If anything is off, there are a couple of easy ways to fix them:
Install an SEO plugin like Yoast SEO for Wordpress to edit Open Graph tags with ease
Edit them manually

in your code (not as hard as it sounds)
Keep in mind that in some cases you may need to clear the cache on the social media platform before the changes will recognized.
Again, this won't have an immediate effect on your search results, but it will definitely improve how your products perform on social media.
6.) Carefully structure your site categories
Keeping your site structure simple and clear is not only a plus for usability, it helps search engines know what exactly is on your site.
Separate your products into categories, subcategories, and so on depending on the variety of products you offer. Google will pick up on this and display them beneath your snippet.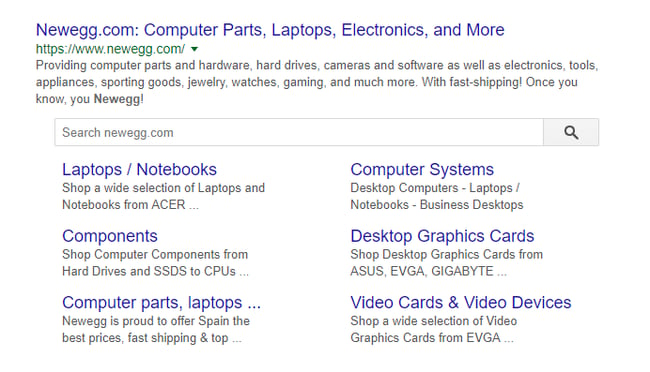 Unfortunately, you can't choose which categories will be displayed, but you can exclude the ones you don't want from the Google Search Console.
Once your site structure is looking great, add a breadcrumb menu to your product pages. This not only creates a simple link for shoppers to continue browsing your wares, it will also be included in your snippet beneath the URL.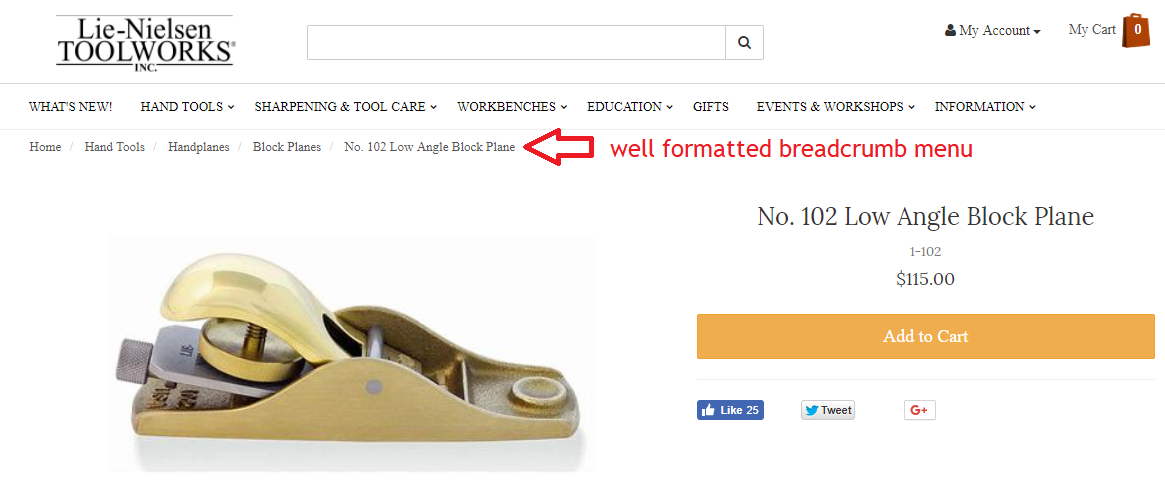 The example above makes it easy to browse other products in the same category. On the SERP, these categories replace the URL, which can lead to a higher click-through-rate (CTR).

Usability and SEO, what's to lose?
Product Page SEO Part 2 Recap:
This technical SEO framework will help your content get found on search engines.
Use keyword friendly URLs

- make your URLs meaningful by including keywords and product data separated by dashes
Carefully structure your site

- setting up categories and subcategories will help search engines (and your customers) browse your products
Make sure your product schema is accurate

- once you've got everything set up on your product page, make sure your product schema is accurate so it's visible right on the SERP
Set up Open Graph tags

- although it won't directly affect SEO, controlling your products' appearance on social media will improve their performance and reach
As mentioned at the start, before you get carried away making SEO changes, step back and make sure the changes don't hurt site usability. All the traffic in the world won't make a difference if your pages don't convert
---
Got the technical bits down? Check out the content side of things!