With over 150 million paid Prime members, Amazon is now the most popular ecommerce channel—surpassing many key players like eBay, Walmart, and Aliexpress. Not only are buyers using Amazon, but 89% of buyers agree that they are more likely to buy products from Amazon than other ecommerce sites. Amazon has proven to be the most popular online selling website globally.
As a small business, the opportunity to access Amazon's market could take your business to a whole new level. But this isn't new, as there are 1.5 million active sellers already taking advantage of what Amazon's Marketplace has to offer.
In reality, the decision to sell on Amazon isn't hard. The real challenge, however, lies in the setup and logistics of it all. Fortunately, Amazon provides various services to help small to medium-sized businesses (SMBs) succeed with their marketplace. But, depending on what you sell and how much stock you have, these extra services may not be in your best interest. One of the main decisions you'll need to make as an SMB is if you want to use Fulfillment By Amazon (FBA).
So, what does this service entail?
What is Amazon's FBA Model?
According to Amazon, FBA is "the process of storing, packing, and shipping orders as well as handling returns and exchanges." In other words, this means that as a business, you would be in charge of selling the product on the marketplace, and Amazon would take care of getting your products to your customers. To get a clearer idea of what this might look like, let's break this down.
1. Get your account going
First, choose your selling plan (if you want to be charged $0.99 for each item sold or a flat $39.99 rate each month). Then, you'll create your Amazon sellers account. This is where you'll set up your business with your bank and your tax information.
2. Make your product listings
This is an important step in the process. This will determine how well a product is optimized for Amazon search results and can generate better customer experience and, most importantly, sales. In this step, you'll want to make sure that your products are properly categorized, identified, and enriched with quality keywords and marketing information. You should use a product management system to help make sure this is executed properly—so that you can get those products in the hands of your customers and out of Amazon's warehouse!
3. Prepare and pack your products
While you may not need to deliver your products directly to your customers, you need to make sure they are prepped and ready to go so that Amazon can deliver your products with ease. Amazon has specific packaging and prep criteria you'll want to follow. Using these guidelines about proper labeling and packaging will help avoid any issues getting your products from the warehouse to your customers—you don't want any late or wrong deliveries!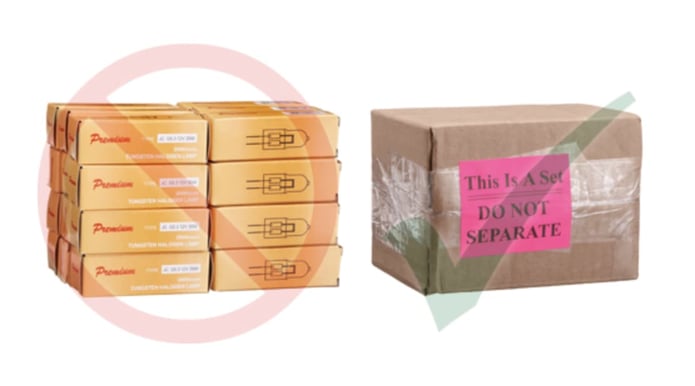 4. Send your products to Amazon
This is the final stage you'll have in direct contact with your products.
So, be sure to create a shipping plan, get the right shipping labels on your products, and send them off to your designated Amazon fulfillment center.
Amazon has my products. Now what?
Once Amazon has received your inventory (with all of the products labeled and packaged properly, of course!), they will store your products until a customer places their order. Once the order is placed, Amazon takes care of picking, packing, and shipping your customer's products, as well as billing and inventory updates. When it comes to customer service and returns, Amazon takes care of that too! Then, two weeks later, you'll happily find your earnings directly in your bank account.
Another benefit to using Amazon FBA is that you can also access their multichannel ecommerce fulfillment services—meaning that you can sell products on your own website or other multichannel commerce sites, and Amazon will ship those orders out for you too. How cool is that? But, alas, very rarely do good things come for free, and of course, there are Amazon FBA fees to consider.
Additional costs can accrue through the following fees:
Selling plan
Referral fees
Fulfillment fees
Inventory fees
High-volume listing fees
Refund administration fee
Advertisement
Inventory placement fees
Specialty program fees



Many businesses want to know how much profit they will actually earn using FBA. Luckily, you can get an estimate by using the Amazon FBA profitability calculator. Once you're able to establish that, you'll be in the green. After you've done some number crunching, there are still other factors you should consider.
Once you've weighed the pros and cons, you'll see if Amazon FBA is worth it or not.
The pros: what can FBA do for my business?
1. Quick delivery while handling the logistics and customers
Known for its lightning-speed delivery service, Amazon offers this premium service to all businesses using FBA. All you have to do is monitor your listings and make sure that your products are stocked. Amazon handles the rest. This opportunity is huge for SMBs because they can save money on warehouse space and paying others to pick, pack, and ship their products (not to mention a whole customer service team to give your customers the best experience). You can also rest assured knowing that they perform at a high quality and professional level, which can be hard for businesses to attain on their own without great monetary resources.
2. Prime and Buy Box privileges
Choosing to use Amazon's FBA program also comes with some marketing perks. With FBA, you'll automatically get Amazon Prime delivery as an option, which customers love because they'll be getting your products delivered for free in up to two days. Prime delivery is also trusted by customers, so they'll be more likely to buy from you compared to a seller who doesn't provide this as an option. If you aren't sold on FBA, you can get Prime delivery marketed on your product through Seller Fulfilled Prime (but you'll have to jump through some hoops to get your warehouse and delivery process approved—if you haven't been waitlisted).
Another handy marketing perk you can get with FBA is the Buy Box.
Now, this isn't an automatic feature like Prime, and you'll have to prove your products' selling metrics along with its sales volume. If you do pass these requirements, you'll get high visibility and more sales. This happens because the Buy Box is placed by the "Add to Cart" section of the product details page, making it more likely that customers will choose your product over others.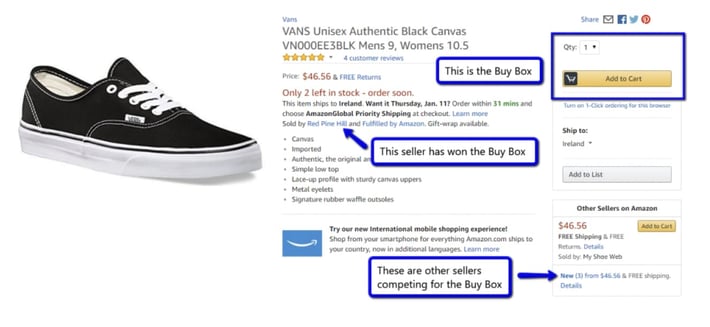 3. Selling in global markets
With Amazon's global marketplace, you won't be limited to your own geographical location. You'll be able to sell in markets you wouldn't normally be able to.
As long as you can get your products to the right fulfillment center, you'll be able to sell to millions of customers worldwide—not something that most SMBs would be able to achieve on their own.
The cons: what headaches come from FBA?
1. The costs of FBA services
As previously mentioned, FBA services do come at a cost. You'll be paying for your selling plan, a referral fee between 8-15%, and a fulfillment fee, along with any other extra services you've tacked on to your FBA plan. This is when Amazon's profitability calculator comes in handy because some items don't make sense to sell using the FBA program (like low-cost goods). Another option would be that you mix-and-match items from your range. You don't have to commit to selling all of your products through the FBA program. Find the products which are the most profitable for FBA selling, and then manage the storage and shipment of the rest.
2. No questions asked return policy
Customers love Amazon for many reasons, and one of those being their no-questions-asked return policy. While this policy is appealing and overall can create great customer relationships, it often creates an increase in returns for vendors. Luckily, Amazon FBA is specifically designed to manage those returns and get them back into the warehouse (not like how they previously would send them directly back to the vendor—how annoying would that be?). Avoid these common Amazon mistakes to help minimize these returns.
3. Product prepping and packaging
For customer experience and logistics reasons, Amazon has strict and specific prep and packaging requirements. You have to make sure that everything is FBA ready before getting to the fulfillment center, so there is a lot of pressure to make sure that you have your products properly labeled and in the correct wrapping.
If you make any packaging mistakes, this could end up in customers getting the wrong items, or you might even be accidentally sending them freebies—oops! This may be one of the biggest headaches when using FBA, so make sure you do this well, or you might end up with a mountain of negative reviews and returns.
How to combat customer returns and logistics mistakes
Amazon's FBA program has helped take thousands of SMBs to new levels of success. While there are some drawbacks, there are innovative tools you can use to help counteract them. These tools help you avoid moments where you are worried about customers sending in numerous returns, or if Amazon can't send out your package because you labeled your products incorrectly.
Thankfully, there is a PIM solution that can help you manage your products in a way that avoids these issues. Plytix, a next-generation PIM, could limit customer returns by helping you provide accurate product listings that give customers the right information. You could even increase sales when using this catalog management solution by optimizing product listings using the right keywords.
Not only can you help mitigate customer returns, but you'll also be better organized with the right product information to make sure that packaging is a breeze. You can store the information that your product needs to be labeled and packaged exactly how Amazon needs you to be. No more logistics mishaps and unhappy customers—which also keeps the returns from rolling in.
Take a look at how you can get your products to market. No more headaches!
Amazon