What a dream—Shopify goes from a Canadian snowboard shop in 2004 to a whopping 130-billion-dollar ecommerce platform. Since launching in 2006, it has become a market leader with the second-highest market share in its field.
Shopify Plus, specifically, has won the hearts of premium brands—Nestle, Pepsi, Unilever, Budweiser, and Red Bull, to name a few. Its features have helped brands soar financially, achieving 10149 peak orders every minute and a 126% average year-over-year growth. While it might be a pricey upgrade from standard Shopify or advanced plans, it's proven to be one of the few flexible, cost-effective solutions to reach the scale needed for multichannel commerce success.
What is multichannel commerce?
Multichannel retailing is crucial for ecommerce success in a digital world. Nowadays, it's not enough to offer single-channel selling from your online store. Customers want it all, and it's your responsibility to be everywhere for them. Your products need to be available on multiple sales channels, from social media to marketplaces, comparison shopping engines (CSEs)—you name it.
Download our latest white paper to unlock multichannel secrets for 2022.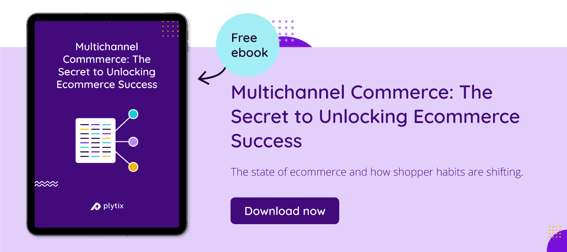 Up until now, companies have been hesitant to commit to the idea, but the coronavirus certainly painted the picture of modern retail. With the COVID-19 pandemic still lingering, retailers have had to move their eggs from one basket to many (if they hope to see a fraction of the turnover they experienced a couple of years ago.) To put commerce into perspective: we've got 73% of customers who use multiple channels to shop and 62% of consumers who say they choose to buy from physical stores because they want to see, touch, feel and try out items.
Clearly, customers crave both interactions—so why not offer both seamlessly? By investing in a multichannel ecommerce strategy, you're creating an engaging online environment for customers to conveniently shop whenever, and however they want to with your brand.
Why go multichannel?
The way people shop has changed. As customers keep expanding their buying portfolios, it becomes harder to win them over with a lukewarm approach.
Multichannel selling enables you to sell in-store and online while tapping into a variety of new markets. It helps you to reach new customers, sell in multiple languages, engage on more platforms, deliver omnichannel customer service, increase bottom-line profits, and much more. The long-term benefits are endless.
How does Shopify Plus make this possible?
Shopify Plus is designed for enterprises looking to expand—fast.
This upgrade combines the latest technology with epic business opportunities. Whether you're unifying your digital presence, finding new customers, or expanding to an international market, you can do it all in-app. Here are four Shopify Plus elements that can help you win at multichannel commerce.
1️⃣ Focus on the customer experience: Shopify Plus provides users with real-time insights into their customers' purchasing history, interactions, and search patterns. This means that you're able to use this information to provide a better, more seamless shopping experience for customers. You also have the design flexibility to custom build personalized interactions, and the opportunity to experiment with new apps to enhance the level of customer satisfaction.
2️⃣ Focus on the owner's efficiency: If you're managing multiple storefronts under your brand, you'll appreciate the unity that Shopify Plus can offer. Anything from customer orders to inventory data, product information and more, can be viewed and tracked from one ecommerce platform. You can streamline the content process even further and save time by integrating with a Product Information Management (PIM) system. This single source of truth is used to centralize product content, allowing store owners to optimize custom attributes for each selling channel.
3️⃣ Focus on the business's potential: Growing an ecommerce empire is not always possible without the right software, tools, and resources. With Shopify Plus, you can stop trying to tackle the challenges yourself. The platform and the necessary foundations are there—it's how you leverage them that determines your success. With so much potential, there is no excuse not to sell everywhere. With cutting-edge shopping experiences like built-in augmented reality, 3D, and product videos in Shopify Plus, you've got everything you need to succeed at your fingertips.
4️⃣ Focus on customer support: If ever you need 24-hour support, Shopify Plus will be at your service. Their team of support and success specialists will assist with technical issues, as well as business-related queries that could influence your sales, marketing, and customer experience. With experts available at all hours, you can forget bottlenecks that prevent improvements from happening. Since Shopify Plus is there for you, you can be there for your customers at any moment.
Benefits of Shopify plan (Plus)
✅ User-friendly. The clean, sleek interface makes it easy for non-technical users to operate. It doesn't take much training to bring your teams up to speed and deliver the ultimate customer experience in Shopify. With all the add-on software development kits (SDKs), application programming interfaces (APIs), and features available to you, you can customize your store on your time. Whatever your brand's strategy might be, Shopify Plus is flexible for all businesses.
✅ Time-saving. This all-in-one ecommerce business platform makes selling a breeze. From the front-end to the back-end, everything you need to improve your business is there. You don't need to rely on designers or developers to assist you with real-time changes; you can do it themselves.
✅ Affordable. On paper, the Shopify Plus fee can be considered pricey at $2,000 per month. But for what you get, it's worth every dollar! External resources and development tools can be minimized, allowing business owners to save money in other areas. Since every feature and application you need to deliver a beautiful web store is readily available in Shopify Plus, you'll only need to pay extra for a few key third-party integrations, such as a PIM system, to enhance operations.
✅ Scalable. Shopify Plus is built for high-traffic websites. Regardless of how many products you sell or how many sales you make, there is no limit to what this platform can do. You can customize your storefront with a flexible design and adjust your checkout for maximum efficiency. You can experiment and build the store of your dreams with no hidden costs.
They're growing, and so are you...
Don't let traditional ecommerce platforms hold you back. If it's not product information limitations, it's feature restrictions that prevent you from achieving ecommerce success on a small and enterprise level. Take advantage of Shopify Plus' opportunities to scale your multichannel business and adopt PIM software to power the rest of your ecommerce organization.
By storing all your product information in one central source of truth, you can syndicate Shopify-ready content to your store in multiple languages. From there, you can quickly organize, edit, and optimize the exact same content for other sales channels. This approach is three times faster than manual entry and ensures brand consistency across every touchpoint.
Plytix is the best PIM for Shopify. It's available at an affordable rate with customizable plans for your needs. For more information on Plytix PIM, book a meeting with our team! Until then, get your FREE copy of our latest ebook: Multichannel Commerce: The Secret to Unlocking Ecommerce Success in 2022, to find out everything you need to compete with your competitors today!
Product Information Management
,
Shopify