The rise in social media platforms and activity continues to fuel customers' appetite to shop online. Why? It's hella convenient. You can shop the latest fashion or electronics while scrolling through your feed and connecting with friends.
Just by looking at the success of Facebook Shops, FB Marketplace, and Instagram shoppable posts, you can see just how much of a trend social shopping is and how it keeps evolving. It's also a sales opportunity that can offer tons of benefits. If you're not leveraging it, you're losing customers to your socially savvy competitors.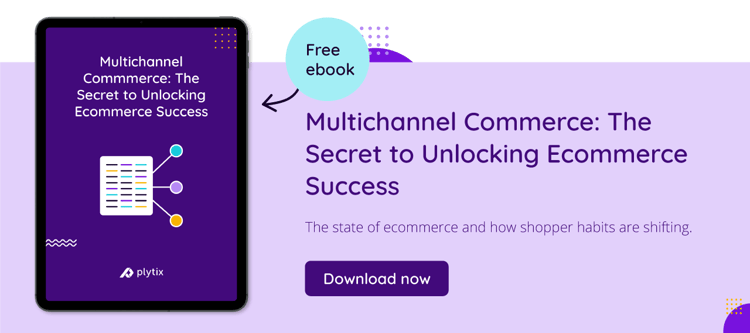 According to this report, in 2020, the global (social) market was valued at USD 474.8 billion and is expected to expand at a compound annual growth rate (CAGR) of 28.4% from 2021 to 2028. In the US alone, the social commerce market is projected to reach 79.6 billion US dollars in 2025, according to Statista. Clearly, we're looking at exponential growth—and growth you want your business to be a part of. So, to maximize your chances of success, invest in social product reviews.
Why product reviews matter for your business
It's free advertising, exposure, awareness—and the list goes on.
Retailers often overlook product reviews, but they're a huge part of the customer experience. Social customers don't have the privilege of physically seeing, touching, and testing out products when shopping, so they use the information from reviews to form first impressions. As a result, their perception impacts their behavior, buying decisions, and whether or not they'll endorse you.
Here is why product reviews should play a key role in your marketing strategy.
1.) Reviews influence buying decisions
Product reviews encourage customers to buy products via a social channel or web store. According to a BrightLocal study, a total of 87% of consumers read product reviews to learn about other customers' experiences with both the brand and the product they're thinking of buying. (*There is no doubt that customers also read and compare competitor reviews before purchasing your product.)
2.) Reviews offer unbiased and independent insights
The same research reveals that 79% of customers trust product reviews as much as they do recommendations made by their family, friends, or people in their close circles. This is because customers prefer to gain constructive, unbiased criticism and suggestions from external consumers. They want to know how real-life people feel about your product/s, whether or not they're happy with their experience, and ultimately, to gauge if the product adds any worthwhile value to their lives. They are looking to other customers to eliminate their concerns regarding a product.
3.) Reviews establish credibility and trust
HubSpot reveals that 69% do not trust advertisements and 71% do not trust sponsored ads on social channels. However, they do trust other customers.
BrightLocal shares that the average consumer reads about ten reviews before they're able to "trust" a business. They use product reviews to make decisions on whether to engage or avoid a business before even getting in touch with them. Not only that, but customers also read brands' responses to reviews, whether positive or negative, to further vet their credibility. Oftentimes, brands do not respond, despite that being a polite thing to do and an opportunity to reinforce qualities customers already like about the brand and their products.
They also shy away from responding to negative feedback due to the fear of causing more harm or simply because they don't know what to say. Needless to say, customers appreciate being heard. It brings out the human in a company.
Here are two examples of responses: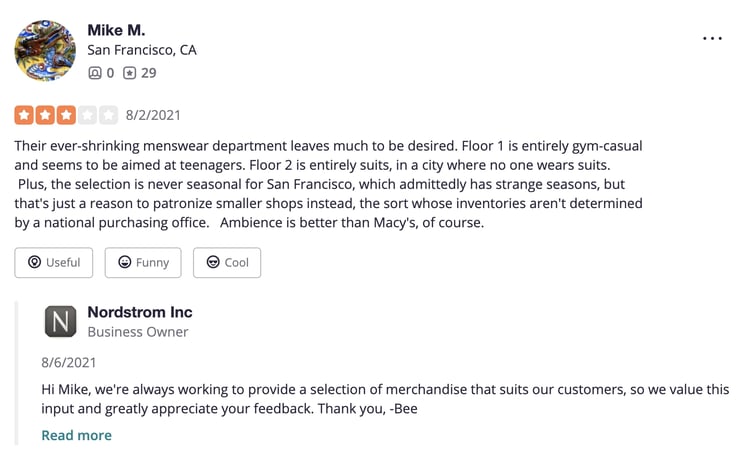 SOURCE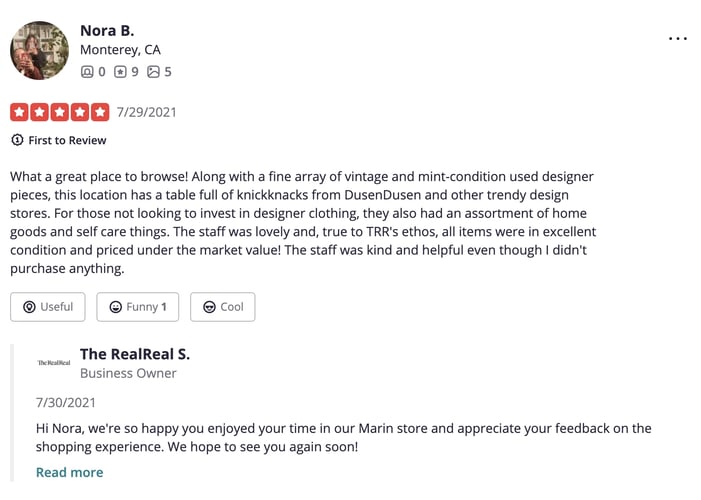 Responding to product reviews plays a role in establishing credibility. The more you build on this, the more likely you are to rank higher for product reviews.
4.) Reviews help you rank higher in Google
Speaking of rankings, Google's newly updated product reviews algorithm is giving you the opportunity to rank higher through quality product review content.
The purpose of this core update, as explained by the search engine giant, is to showcase the most useful and helpful information to ecommerce shoppers.
"We know people [customers] appreciate product reviews that share in-depth research, rather than thin content that simply summarizes a bunch of products."
To get rewarded in Google's ranking system, you have to be "producing rich content in the product reviews area." By rich content, your reviews should ...
Express expert knowledge about products where appropriate.
Show what the product is like physically, or how it is used, with unique content beyond what's provided by the manufacturer.
Provide quantitative measurements about how a product measures up in various categories of performance.
Explain what sets a product apart from its competitors.
Cover comparable products to consider, or explain which products might be best for certain uses or circumstances.
Discuss the benefits and drawbacks of a particular product, based on research into it.
Describe how a product has evolved from previous models or releases to provide improvements, address issues, or otherwise help users in making a purchase decision.
Identify key decision-making factors for the product's category and how the product performs in those areas? For example, a car review might determine that fuel economy, safety, and handling are key decision-making factors and rate performance in those areas.
Describe key choices in how a product has been designed and their effect on the users beyond what the manufacturer says.
These guidelines will help you develop a product reviews strategy that puts the customer first, and has the intended outcome of promoting and nurturing customer relationships. This will, in turn, ensure that your customers provide you with rich product content that not only helps you rank higher, but also converts.
Boost product reviews with high-quality content
Make it easier for customers to leave positive reviews. Focus on providing rich, detailed product information using a PIM system. This next-generation tool centralizes your content, making it easier to manage, optimize and share data.
Keep polishing your marketing content to drive positive interactions online!
Ecommerce
,
Social Commerce