When you look at the recent ecommerce growth spurt in Europe, it's gone from 690 billion euros pre-pandemic to more than 757 billion euros post-pandemic.
During the peak of the COVID-19 pandemic, European retailers didn't waste any time. They built the necessary infrastructure to support this boost in online shopping, and as a result, Europe's digital adoption jumped from 81% to 95%.
(This rise would have taken two to three years at pre-pandemic growth rates.)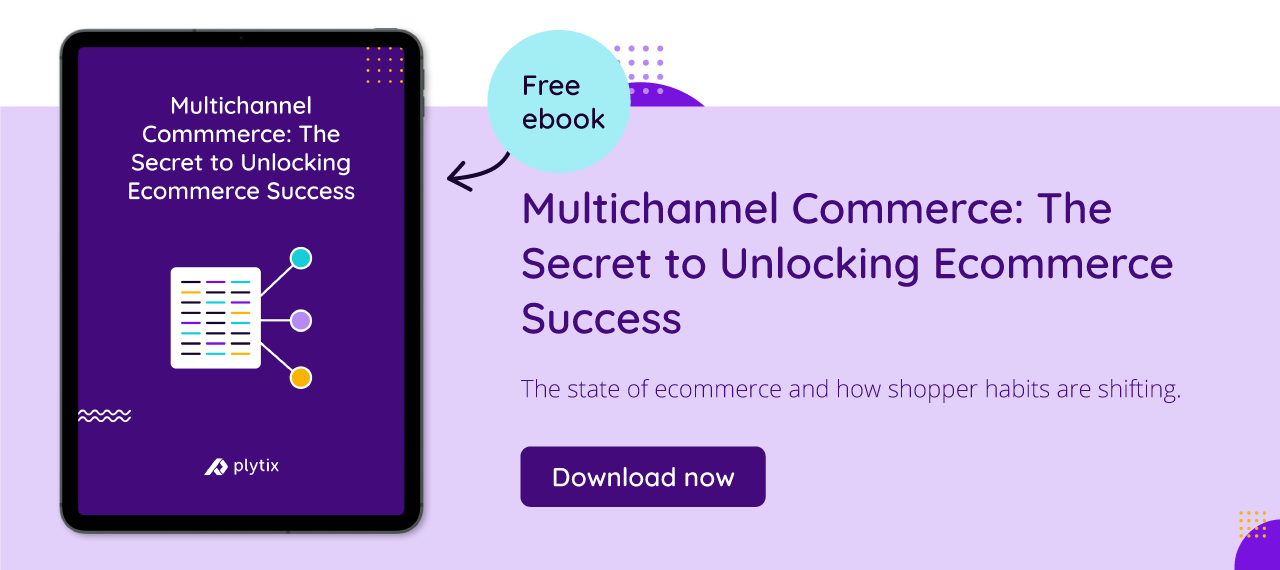 A glimpse into Europe's ecommerce past
A decade ago, Europe's ecommerce sales grew by a total of 19% to reach 312 billion euros, accounting for ​​35.1% of the global market. This catapulted the European business-to-consumer (B2C) market into the largest market in the world.
This growth can be attributed to the high penetration of mobile devices and internet usage. In addition to that, the number of B2C websites grew from 15 to 20% and was estimated to have reached 550,000 by the end of 2012.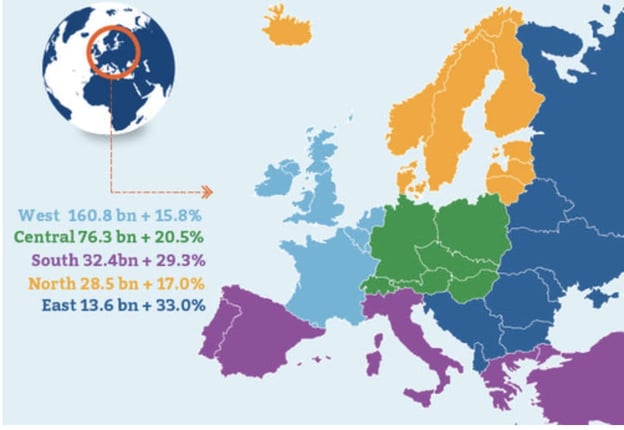 The growth in 2012, as you can see in the above image, was a collective contribution of all regions in Europe. With Western Europe leading the ranks, followed by the Central, South, North, and Eastern region, respectively.
According to Ecommerce Europe, the United Kingdom was the main contributing market, with 96 billion euros spent in ecommerce, while Germany spent 50 billion, and France used 42 billion. It's obvious that these three countries dominated the EU's overall ecommerce market as they "accounted for 69% of ecommerce activity in the EU and 61% of Europe's entire B2C ecommerce sector." However, Spain and Russia trailed behind, achieving a total of 12, 969 and 10,302 billion euros, respectively. What's interesting is that during that period, there were 250 million European people who actively shopped online, at a time when there were a total of 1 billion e-shoppers across the globe. Another interesting fact is that these EU shoppers were each spending an average total of €1,243 euros per month online.
The common thread, briefly mentioned above, is that they were using mobile devices (smartphones and tablets) to make their purchases. This indicates that mobile commerce, also called m-commerce, was breaking out steadily at 5.5%.
"The fast pace of mobile commerce growth is helping to drive overall ecommerce growth by converting potential bricks-and-mortar sales to digital sales for consumers using their smartphones and tablets while shopping in-store."
Now, you may be wondering, what were they even buying? It turns out that three categories were dominating the sales: clothing, electronics, and books. When we got to 2017, the same categories are were still dominating online sales in Europe.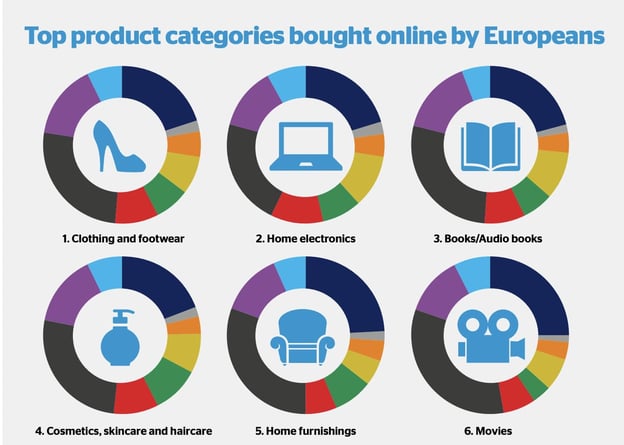 Now you're wondering what was Europe's ecommerce worth in 2017?
A total of 534 billion euros, with the highest proportion of online sales reaching 178 billion in the UK, 93.2 billion in France, and 93 billion in Germany (euros).
Once again, the three countries were dominating the European market.
It was also around this time that cross-border shopping started exploding, with popular online marketplaces seeing an increase in sales. According to this, one in four consumers shopped at Amazon, followed by 14% who shopped at Alibaba/Aliexpress, and 8% shopping on eBay and Wish. About 38% of all Europe shoppers ordered internationally, with half of them buying from sellers in other EU countries. However, the speed of delivery made it hard to meet expectations. Now, fast forward to the coronavirus, and the speed of delivery is a challenge once again, impacted by the supply chain issues that came as a result of this virus.
So, where does this put Europe's ecommerce in the 2021-2022 period?
Europe ecommerce today
While the pandemic came with challenges, it hasn't stopped Europe's steady ecommerce growth. In fact, if anything, it accelerated the growth rate. When you look at the number of e-shoppers, you'll see a huge jump from 2019 to 2021.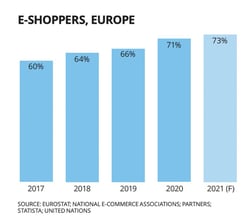 Many European brands offered a buy online and pick up in-store (BOPIS) or at a pick-up point as options to curb the delivery issues. That's multichannel commerce done right! According to this 2021 report, "the use of pick-up points is highest among webshops with 200+ million visitors per year (89%), followed by web shops with 50 to 200 million visitors (76%), and lowest among web shops with less than 500,000 visitors (27%)." So, as you can see, customers are still shopping online.
Right now, Amazon is dominating sales in Europe, especially in Western Europe. But these companies are hot on Amazon's heels right now, in this order:
Otto

John Lewis

Apple

Zalando

Tesco

E.Leclerc

Metro Group

Shop Direct

Marks & Spencer
Germany leads European ecommerce future
After the UK's exit from the EU in 2020, Germany took over as the leading representative of the EU's ecommerce market, amassing a total of 99.1 billion euros in 2021. This is a growth of 19% compared to the ​​83.3 billion euros collected in 2020. Once again, the mobile commerce trend is showing its face.
In Germany, 40% of all sales in 2021 took place via mobile devices, and the total sales volume of m-commerce reached 39.9 billion euros. German customers typically use search engines and online stores to gather necessary information. Social media and shopping apps are also on the rise. This makes it imperative for German companies to optimize their presence and cater to this rising demand. (Especially when you consider that Germany is the third most active country worldwide in import and export ecommerce, after the US and the UK. Not to mention that Germany is forecasted to overtake the UK by 2025. Exciting!)
As you can see, the European ecommerce future is bright. If you're a small brand operating in the German market, now more than ever, you have to seize the opportunity to make an impact with your multichannel commerce efforts.
Tap into Germany and cross-borders with PIM
As you know, customers today have high expectations, and you have to meet them to get a slice of the pie. Investing in a product information management (PIM) system can get you closer to that goal. A PIM doesn't just organize and store product data in a centralized location but it helps you to effectively manage the quality of your product data. More than that, it helps you ensure effective product listing optimization so that your products can rank and be visible to customers.
For instance, if you sell via Amazon Germany, you can optimize your product content to ensure that you rank higher on the platform. If your products are only available for purchase from your web store, you're limiting your sales potential. Use a PIM for small businesses to ensure product diversity and help you land your products on popular marketplaces. Whether it is Amazon or any other site.
We care deeply about brand diversity, which means we'll do our best to help you diversify your online presence and win at multichannel commerce. Read our free whitepaper to get a better understanding of how PIM transforms ecommerce.
You can also book a demo to learn more about PIM capabilities.
Ecommerce