Once upon a time, TikTok was a social platform where Gen Z showcased their dubbing and choreographic prowess. Today, it's a booming social commerce platform that drives shopping trends and influences massive sales. At the peak of the pandemic in 2020, a time when everyone had enough time to scroll through their phones due to restricted movements, the hashtag #TikTokMadeMeBuyIt went viral. The users of the platform used that hashtag to share their favorite product recommendations—from fashion to books, cosmetics, and homeware.
The hashtag amassed over 5 billion views on TikTok (views multiplied to 12 billion in 2022), and the products linked to the hashtag became an explosive hit. There are endless brands whose products "sold out" instantly after trending on TikTok via the #TikTokMadeMeBuyIt hashtag.
These include anything and everything from Maybelline for its Lash Sensational Sky High mascara, Clinique's Almost Lipstick, Elf concealer, Peter Thomas Roth's eye cream, Eos shaving cream, the popular Bissel's little green portable spot and stain cleaner, and so much more!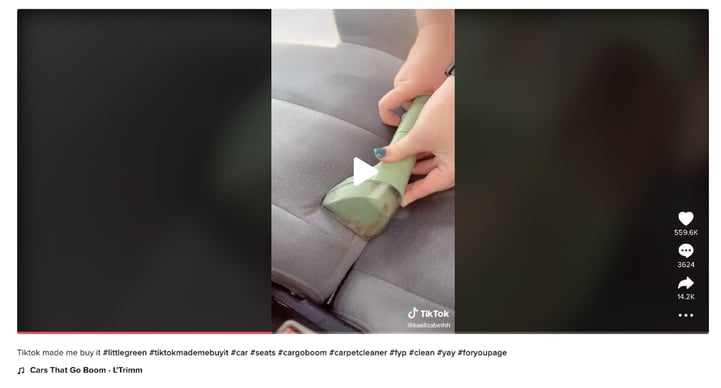 The social platform even caused a huge feta cheese shortage in the US after a TikTok Content Creator's feta cheese recipe went viral. Attached to the hashtag #fetapasta, which collected over a billion views, with many other users sharing their own creations using the viral recipe.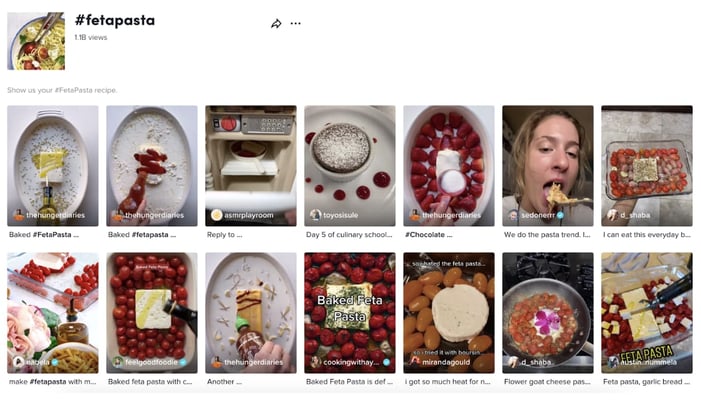 As a result, many e-tail brands started adding TikTok to their social marketing strategies. In fact, marketplace giant, Amazon, launched a section titled "Internet Famous" to help shoppers easily find popular products they've been craving to own since encountering them on TikTok.

TikTok's growing influence is just another reminder of how impactful social proof can be.
We confidently conclude that TikTok is going to surpass other social commerce platforms such as Facebook, Instagram, Pinterest, etc., despite joining the social commerce party a little late? We'll leave that up to TikTok to prove. But what we do know is that in 2021, TikTok dethroned Google in its seat as the most popular site. And what we also know for certain is that the platform has changed the game for multichannel commerce brands aiming for big wins.
If that sounds like a goal you're working towards, stay with us.
Below, we're going to explain more about how selling on TikTok works.
The Power of TikTok Shopping
TikTok realized its power and quickly moved to dip its feet deep into social commerce. The platform made the decision to launch TikTok Shopping to allow users to buy products directly from the app. This came about as a partnership with the Canadian ecommerce platform Shopify. The partnership allowed Shopify merchants with TikTok Business accounts to add a shopping tab to their TikTok profiles. This tab enables sellers to sync their product catalogs to the social app to create mini storefronts that link directly to their online store for checkout.
Piloted in Canada, the UK, and the US, TikTok Shopping exploded.
Kylie Cosmetics was one of the few TikTok Shopping early adopters.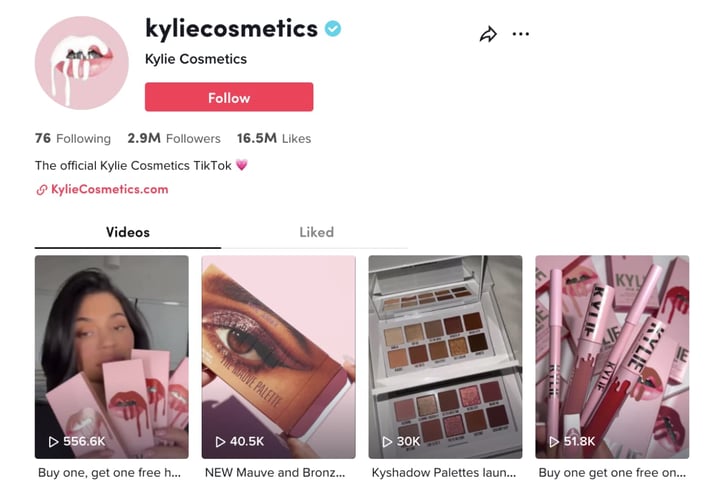 Source
Since then, many features have been added to improve the selling and buying experience.
TikTok Shopping Features
The key features that make TikTok Shopping a powerhouse social commerce platform are Product Links, Live Shopping, and Collection Ads.
Product Links
Product Links enable brands to highlight products from organic TikTok posts, which then directs shoppers to brands' ecommerce sites where they can view more product details should they want to know more. "The TikTok community can choose to shop directly from the merchant's storefront or click a tagged product in a merchant's TikTok video, which will take them to the merchant's online store for checkout," Shopify explains in its press release.
Live Shopping
Live commerce is transforming the industry and is slowly cementing itself as a go-to shopping option. TikTok introduced the Live Shopping feature to enable sellers to connect with shoppers in real-time and share dynamic links to products and services at the same time.
In December of 2020. TikTok partnered with Walmart in an effort to pilot live shopping experiences. In collaboration with the platform's top creators, this event exceeded the retailer's viewership expectations, and they've held more live stream shopping events since then.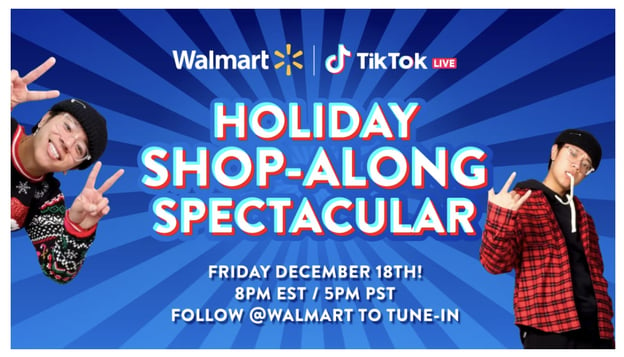 Collection Ads
According to TikTok, Collection Ads are created to help brands include product cards in their In-Feed Ads. "When a user taps on an item featured in a card, they're brought to a fast-loading instant gallery page, where they can browse through more items — and make a purchase."
"Collection Ads can be used to drive traffic to a website, feature seasonal deals, share limited-time offers, showcase top items, and promote recent launches." To fully understand the benefits of Collection Ads, let's give you a brief overview of how the TikTok algorithm works.
Each user's For You Page Feeds (FYP) presents content that's curated according to their individual interests and the content they engage with—accounts they follow, hashtags, sounds, effects, and trending topics. The platform's recommendation system personalizes the user's content discovery experience, which means your ads will most likely land in front of users who are interested in the type of products you sell. According to this research, 72% of users surveyed agree that ads on TikTok are perceived as inspiring, and "67% of all participants agree that ads on TikTok capture their attention: a 10% lead compared to other platforms."
Tips for creating a winning TikTok marketing strategy
As the fastest-growing social commerce platform, TikTok offers you an opportunity to explore different means to market and sell your products. So, here are our tips to consider:
Leverage trends — as you can already tell from the viral posts mentioned above, TikTok users engage with trends. So, creating content and using trending hashtags, sounds, effects, etc., will increase your reach.
Partner with TikTok Content Creators where possible — influencer marketing is far from dead, and TikTok is proof of that. Collaborating with known creators who can push social proof will help improve your brand's awareness, with chances of traffic and conversions.
Post regularly — the more you post, the more chances you have to reach and attract followers who could turn into customers.
Engage — you have to make an effort to connect with the users on this platform as you would on any other sales channel. The more you engage, the more visible you become.
Balance entertainment with promotion — TikTok culture is entertainment first. Users might shop from the platform, but they're there for entertainment first. So, create content that will promote your brand and products but also entertain users who encounter it. A good example of taking away from is Gymshark; they post content like

this

.
Use TikTok Ads — considering that TikTok users don't hate ads, use them to your advantage. But make sure that the

TikTok ads

match the platform's video format and add a rich video description that will grab the user's attention. Here's an example

.

Call To Action — CTAs direct users to do the desired action, don't forget to include them in your content.
The most important tip of all is always to have rich quality product content so that prospects can be encouraged to buy your products. A product information management (PIM) software manages, stores, and optimizes your product content in one centralized location. It's an intelligent tool that allows you to effectively manage your ecommerce product catalog.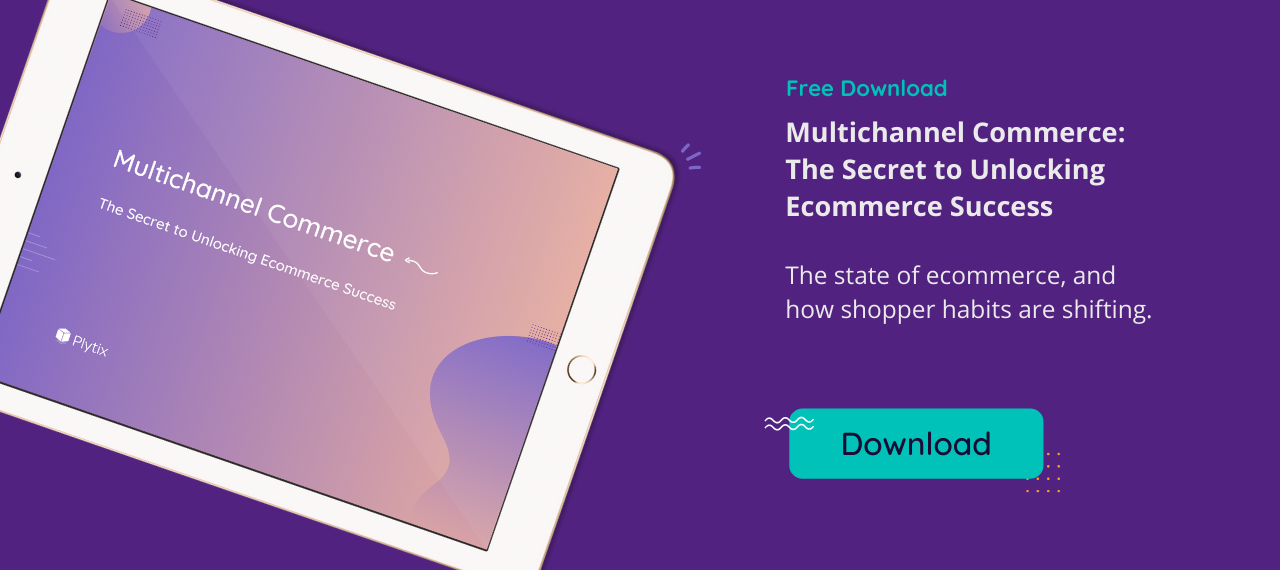 Most importantly, it simplifies catalog management for all your sales channels so that you don't have to do it in silos. Once you're satisfied with the quality of your product content, you can sync it to TikTok and other sales platforms. Investing in the best PIM for ecommerce will ease your journey into TikTok Commerce. So, book a demo and find out how our tool can help you.
Ecommerce
,
Product Information Management