Large marketplace players like Amazon, Zalando, Rakuten, and Alibaba are killing it in the ecommerce space, making it intimidating for the smaller guys. But it's nothing to break a sweat over—the success pie is big enough for all to grab a slice.
Thanks to evolving customer behaviors and expectations, SMBs stand a good chance at competing with these giants. Personalization is the ultimate secret weapon to chase your ecommerce wins and connect with customers on a deeper level. This approach will increase customer loyalty, sales, and revenue growth.
What is personalization in ecommerce?
Today, personalization is all about creating meaningful shopping experiences tailored to each customer, based on their preferences, wants, and needs.
According to Forrester, personalization delivers more "relevant, effective experiences to customers." It creates a sense of happiness, and it shows your customers that you know them, understand their needs and care about them.
Customers desire and expect this from all retailers they interact with throughout their customer journey. In fact, a total of 83% of customers are willing to share their data to enable a more personalized online shopping experience. Moreover, a Boston Consulting Group (BCG) study found that customers are 110% more likely to add additional items to their baskets and 40% more likely to spend more than they had planned when the shopping experience is highly personalized.
How to get started with personalization
BigCommerce explains that data collection is the first step to take when looking to tackle personalization. "The cornerstone of personalizing any step in your customers' journey–from discovery to purchase and to repeat purchase–is data collection." There are tons of different customer data you can collect, but for the purpose of personalization, BigCommerce suggests that you prioritize:
Personal data
Traffic
On-site interactions (category and product page visits)
Browsing behavior such as product search
Paid Media Pixels (both social and search)
Purchases and abandoned carts
Pricing
Email
To help you manage this type of customer data, there are various budget-friendly tools available. This list is suitable for SMBs with limited funds and resources, such as Google Analytics. G2, a software comparison site, is also a good place to search for customer data software recommendations that fit your needs.
Now that you know where to start, the next step is to draw up a digital personalization strategy that will work for you and not against you. Below, we'll go through some tips that you can consider in your personalization strategy.
1. Product recommendations
According to this article, 56% of online shoppers are more likely to return to a site that recommends products. So, using the data you've collected, you can start developing product recommendations to offer unique and relevant products to your customers. Depending on your capabilities, there are different types of product recommendations to choose from or that you can use on rotation.
These include:
Recommended for you
Previously viewed products
Frequently bought together
Bestsellers
Trending products
What others (like you or in your area) are buying
While the first two product recommendation types focus on customers' purchase and browsing history as well as behavior, the other types are designed to elicit some sort of FOMO (fear of missing out) and encourage customers to buy more.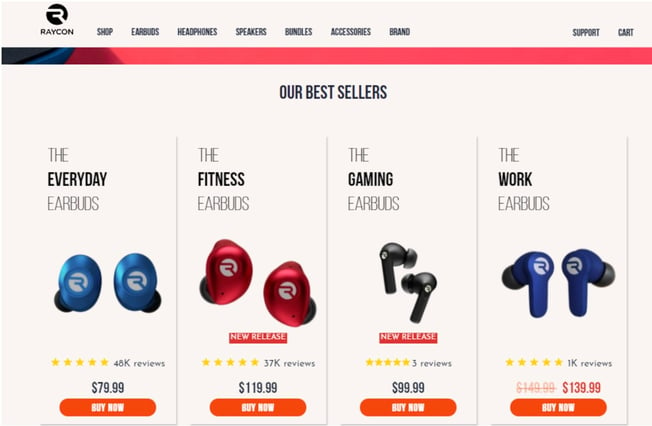 2. Welcome pop-ups
You can create a personalized message through a website pop-up. These will be different messages, depending on who the customer is. For example, you can welcome returning customers back and remind them of the products they've been looking at. To take it a step further, you can add a customer's name in the copy.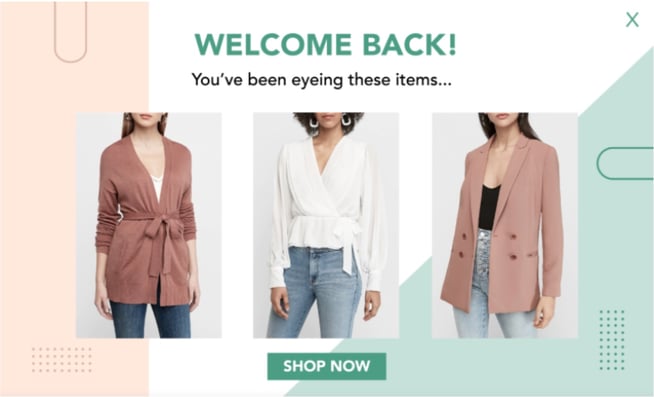 On the flip side, you can incorporate personalized messages for new customers by welcoming them individually and showing them items loyal customers are buying. This can create an interest on their part to investigate the products further.
3. Geolocation targeting
You can tailor the messaging according to the geolocation of the shopper. Two ways to go about it is using the currency for the area in which the customer is in, and the second option is using the weather in a customer's specific area.
Check out the below geolocation personalization examples:
Currency: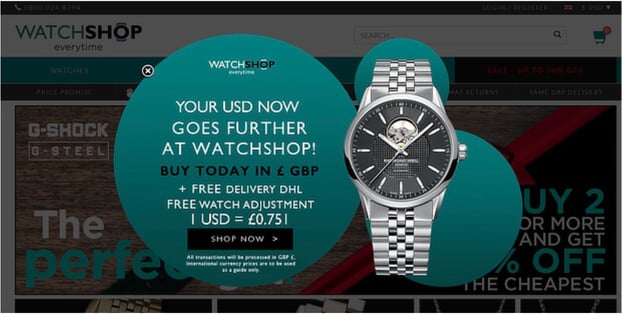 Sunny weather: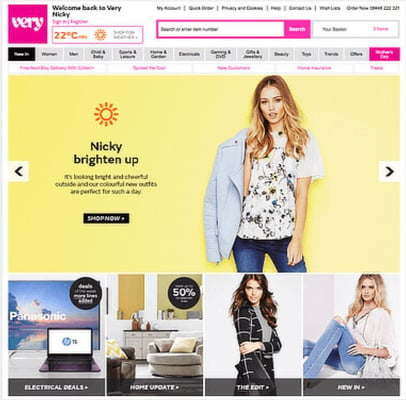 Cold weather: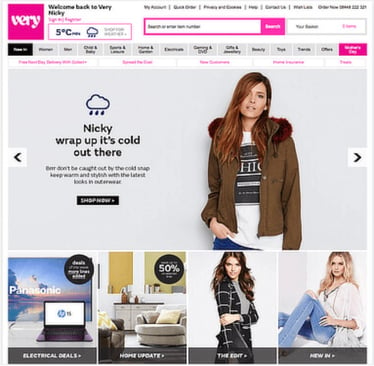 4. Shopping cart and checkout page
You can personalize the shopping cart area by including the shopper's name at the top near the virtual cart icon. When a shopper has completed their purchase, you can include their name in the thank you message after completing checkout.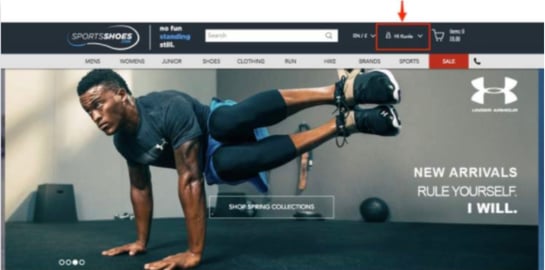 5. Email notifications and promotions
While email notifications and promotions are nothing new, you can make them extremely personalized beyond addressing the customer by name. You can add time-limited offers or free shipping to encourage customers to return to products they left in their carts. For example, you send an email that says, "Hi Linda, we've noticed you have items you're interested in that are not in your hands, we'd like to offer you free shipping." Then proceed to state your terms and conditions.
6. Targeted product catalogs
You can send a personalized ecommerce product catalog to your existing customers, listing recommendations based on the data you collected. Whether you're informing them of new products you know they might be interested in or showing them best sellers that are on promotion, or even a mix of these tactics.
7. Product information ties it all together
No matter which personalization approach you choose to use, everything will always go back to product information. It's all good and well to entice customers with high personalization, but if they get to the website and product content is lacking, they will leave without buying anything. That's why you need a PIM system that is built to help you boost your customer satisfaction and conversion efforts.
Compete and soar higher with PIM
Plytix's purpose is to help small-to-medium-sized businesses deliver a seamless customer experience that will result in a win-win situation for both the customer and the retailer. Our product content management system, specifically, is exactly the kind of tool that drives such a goal. Not only is it a central hub for storing, organizing, optimizing, and enriching product data, it's also a system where you can create product catalogs that are guaranteed to convert.
Download our latest whitepaper to learn more about how you can improve sales, operating margins, market reach, and customer satisfaction in just 2 years!
Product Information Management
,
Retail Industry & Trends