Now more than ever, customer experience is a determining factor for the success of your business.
This is because customers know that they are the ones with the power, not the seller. And with that knowledge, they aren't just looking for products based on how good the product is but on the customer experience they receive.
They know that if they're unhappy with the experience you give them, they can easily find an alternative. But, the idea of what makes a customer experience good is constantly changing, so how can you improve your Shopify store's customer experience as we get closer to the end of 2022?
The answer is simple: interactive and rich content.
What do we mean by enhanced content and rich media?
In ecommerce, product information and digital assets are the elements that convince a customer to purchase your product. But, you can always take it a step further by introducing interactive digital assets and using digital media that has dynamic motion. This can be done by having enhanced sensory features on content such as videos, GIFs, infographics, product images, Instagram stories, and more.
Here are four different examples that you can implement.
1. Interactive images
Images tell a story, but interactive ones go a little bit deeper. As shown in the image below, interactive images allow customers to click on each spot and see different features of the product or even call-to-actions. You can use this to drive customers to the desired goal, whether it is to encourage them to read more information related to the product, go to the product page, or add it to the cart directly. This captures your customers' attention and can further push them down the funnel toward a purchase decision.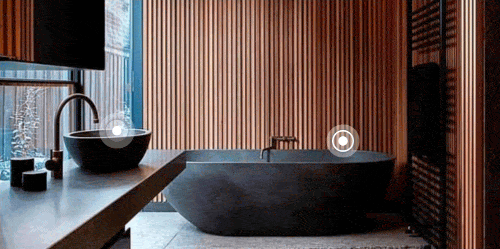 2. Interactive lookbooks
When it comes to fashion, lookbooks are essential in getting the target audience's buy-in. A lookbook is a creative marketing tool that can bring your collection to life and help connect with prospective wholesalers and retail buyers. If we take a look at the image below from Monsoon. Their lookbook combines interactive video and images to get the message across and create more engagement and conversions in the process.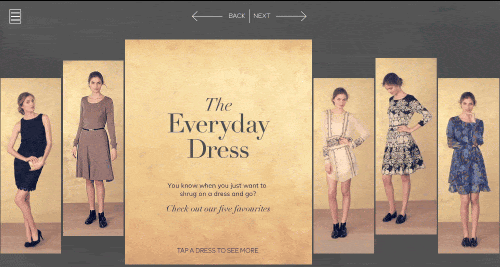 3. User-generated content feed
An Australian furniture brand, Eureka Street Furniture, gives us another great example of rich media. They made a user-generated content feed in the form of a gallery on their website. The gallery had Instagram posts from customers who had posted images of their products and how they had made use of them. With a custom hashtag, the Australian furniture brand was able to pull the posts and display them in a gallery format that allows you to shop the item. Not only is this a way to grab a customer's attention and see how real people made use of the product, but it also counts as social proof.
Studies find that people are more likely to engage or do something if someone else is doing it. In ecommerce, that means they're more likely to purchase a product if they see it being used by real people in their own homes. This in turn brings in more sales and improves your company's credibility online.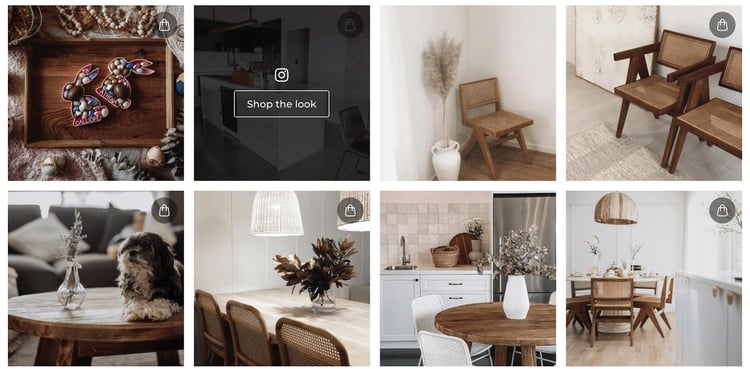 4. Interactive landing page
When it comes to websites, Apple goes the extra mile. Take a look at their interactive website (image below) when they launched their AirPod Pro. Apple created a product presentation experience where the screen changes as you scroll their landing page to help create awareness of their new product. This is helpful when you have a wide product range like Apple, and you want to draw customers' attention to a specific product. An interactive product presentation can help customers discover a specific product and increase sales as that's the first one they see and the motion helps bring attention to the product when they land on your website.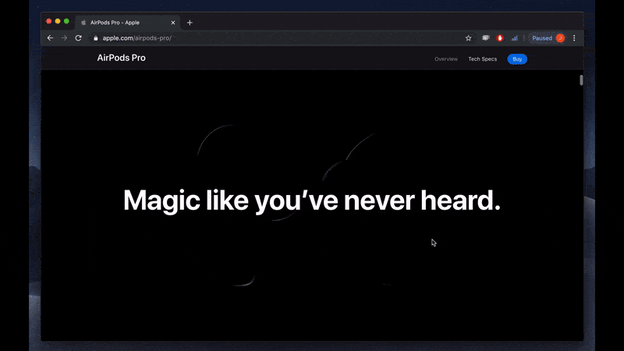 These are just a few examples that you can implement on your website. Now let's get into the benefits.
How can it improve an online customer experience?
It took a while for businesses to see the benefits of enhanced content and rich media. Up until it was backed by data, many thought of interactivity as a gimmick. But the numbers don't lie.
The data clearly shows that customers enjoy interactive content. Interactive content helps customers understand what a product can do for them, which is what they ultimately need. When shopping online, customers don't have the privilege of asking a salesperson for information about a product or seeing the product in its physical form. They depend on images and videos to get a detailed understanding of the product, which affects their experience with your brand. So, on top of everything else you're doing to improve customer experience, make sure you add rich media to give customers the full experience.
Store your visual assets in Plytix
If you're using spreadsheets for your product information, adding visual assets will turn out to be a nightmare. Spreadsheets aren't meant for complex data nor are they meant for rich media. Now is the time to invest in PIM software.
A PIM which is also known as a product data management system, allows you to safely store your product content in a single source of truth. This allows you and your team to work with all your product information without errors, lagging, or outdated information as you may have been experiencing with a spreadsheet.
One of the benefits of a product information management system is that it doesn't just store product data but digital assets as well. Product content management tools like Plytix also have digital asset management capabilities. This allows you to store everything related to a product, digital assets included, all under one roof. Now you can focus on the product experience management side of things without any hassle and work much faster than ever before.
Our content management tool also has a Shopify connector that allows you to directly send your products to Shopify from Plytix. Eager to learn more about how our PIM for Shopify can help you? Check out our latest ebook about how we can help you with Shopify limitations and more.
Product Information Management
,
Shopify