Accurate data is the backbone of a well-oiled supply chain. It helps with production scheduling, inventory management, stock forecasting, and a lot more. Without it, supply chain management isn't as efficient as it needs to be. And one disruption affects the entire network.
Many businesses find product information management difficult, which is a big problem.
At any time, a small error can interrupt the data flow from supplier to manufacturer, distributor, retailer, or reseller, right to the end consumer. Each stakeholder has a crucial role to play in developing and delivering products—and quality data is the common denominator.
Why is product data important for supply chain stakeholders?
To understand this, you need to understand the role that each stakeholder plays:
Suppliers:


Responsible for sourcing raw materials; the foundation of all products

Manufacturers:


Responsible for putting the parts and materials together to create a usable product

Distributors:


Responsible for delivering the finished product to wholesalers or retailers

Retailers and resellers:


Responsible for selling the finished product to the end consumer
At times, a supplier and manufacturer can be the same business, but that's on very rare occasions. Similarly, a manufacturer can also be a distributor. But what's important here is that the relationship between these stakeholders needs to be fluid and collaborative to reach a common goal, which is essential to make buying decisions that make sense for the business.
That's something that can be achieved with effective communication and data sharing.
A great way to share information is through technical product sheets. Creating an informative product sheet is no child's play; it has to include accurate, up-to-date, and valuable information that will help your partners make buying decisions. Here are some best practices to follow:
1. Keep it short and simple
Just because it's a technical sheet, it doesn't mean that you have to complicate things. Doing that will not only make it harder for you to get what you need for your product to come to life, but it will waste your time. (Not to mention that no one has the time to read a long data sheet that's filled with unnecessary information.) The truth is that suppliers, manufacturers, and distributors receive tons of requests on a daily basis, so they are most likely only going to pay attention to the important details of the product, and that's where your focus should be too.
Always keep the target audience in mind! For example, what's most important to communicate to them? If you're speaking to suppliers, you need to communicate the components, dimensions, durability ratings, customizations, and features your products have.
2. Lead with unique features
To catch the attention of a partner that you're trying to work with, lead with 3 to 4 key product features that differentiate your product from other similar products. For instance, if you're sharing the sheet with a distributor, retailer, or reseller, you're going to need to highlight the general attributes and customization your new product(s) have. These could be patterns, colors, sizes, materials, and so much more. When you detail this; make sure that it's easy to understand and use bulleted points to sell these key features. It's a sales pitch, make them love your product so that they want to buy it in bulk and are willing to get it in front of customers.
3. Label sections and avoid clutter
The format of your digital product sheet can make a huge difference in influencing your intended reader to thoroughly read every detail. Avoid clutter by clearly defining sections and creating enough white space to break up the content. For example, the product description must have its own little section, and so should the features, the materials you're hoping to use for the product, and the image references. Speaking of images, they're product images, not lifestyle photography. You simply need a small image to support a specification or feature.
4. Compelling headings and subheadings
Headings and subheadings act as a guide to direct readers on where to read. Many people are scan readers, so they simply look for the most important elements before making a decision.
In cases like these, make each heading or subheading compelling enough to encourage the audience to read the information under them. Use specific keywords to attract attention.
5. Don't forget branding and CTAs
You can't invest your time and effort in creating a product sheet but forget to brand it or share details on how to contact you. Add your business name, logo, and contact information in an easy-to-read format. And most importantly, create the sheet with your brand colors in mind.
Creating product sheets that get you results
Product information management (PIM) software like Plytix is the secret to creating a product sheet that gets you results. Not every PIM software acts as a product sheet software, but we can. Our tool allows you to fast-track the process through automated templates.
Plytix offers you the ability to create product sheets without having the skills of a designer. It's as easy as choosing a product sheet template of your choice, customizing it to fit your branded needs, slotting in the information compiled in PIM, and sharing it with any specific stakeholder.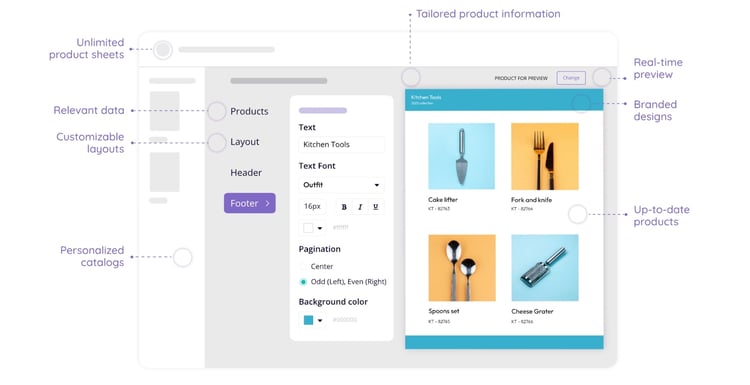 Sounds like a dream, right? Book a demo session with us, and we'll explain everything you need to know. To learn more, download this free white paper on how to shop for PIM.
Product Information Management