Customers choose to watch videos about products they're interested in buying.
In fact, in 2019, Google found that more than 55% of global shoppers use online video while actually shopping in-store, and 50% say they've used video to decide on a product to buy. So, this trend has certainly been a long time coming.

You have to see that as an indication that video is on demand. And we all know what happens when customers have a new demand: it NEEDS to be met.
If you don't meet it, they will undoubtedly go to a competitor, which means you're unlikely to sell much of your products. But you don't want that to happen, and that's why you're here, right? Let's get into the perks of ecommerce videos.
What is an ecommerce product video?
When we talk about a product video, we're referring to an explainer video that goes into detail about what a product is, and what the product is used for.
A product video also demonstrates the key features and benefits of a product. They're used or added to product pages to encourage customers to make a purchase. They're also used in content marketing strategies to promote the products in various marketing channels such as social media, email, etc.
Why are videos important in ecommerce?
Unlike a standard product image, a product video is a demonstration of how a product works in real-life. It's a more engaging approach to product marketing.
Let's not forget that online shopping doesn't offer customers the luxury to physically see, touch, and test the product. However, a video replicates this in-store experience, and even though it's not done by the customer personally, they can see the product in action, which helps them visualize it themselves.
In addition, videos eliminate all doubt customers have about the use or quality of the product, which makes them trust the product and the brand that sells it.
Customers use product demos, video reviews, and unboxings to learn about products before they buy them. According to this:
96% of customers watch explainer videos to learn about a product or service
78% of customers admit that video has influenced their buying decision
Videos are also good for your ranking capability on search engines like Google.
If you do your optimization right (adding search engine optimized keywords to the video title and description), you increase your chances of showing up. In turn, this means that your visibility for the type of products you sell online will increase.
As you can see, customers care a great deal about videos. Without a doubt, they are a success weapon for increasing conversion rates, boosting sales, building trust, and helping customers level up confidence in their purchase decisions. So, if you've been under-using product videos on your Shopify web store, it's time to get into it. But now you're wondering how do you know which type of product video to use? Let's tell you about the 6 types of videos you should use on your web store.
1. Product demonstration
This is the most popular type of product video.
It's as straightforward as the name suggests, and it is a video that demonstrates how a product works. It also highlights its features and benefits. MUD/WTR is a great example of how to do a product demo straight from the web store.
As soon as you land on the landing page of their web shop, you see the product demo video next door to the other product information. It quickly catches your eye, and you will know how the product works before you read other content.
Promotional tip:
MUD/WTR posted a short demo video on their Instagram page, alongside a testimonial copy from a customer. Talk about killing two birds with one stone!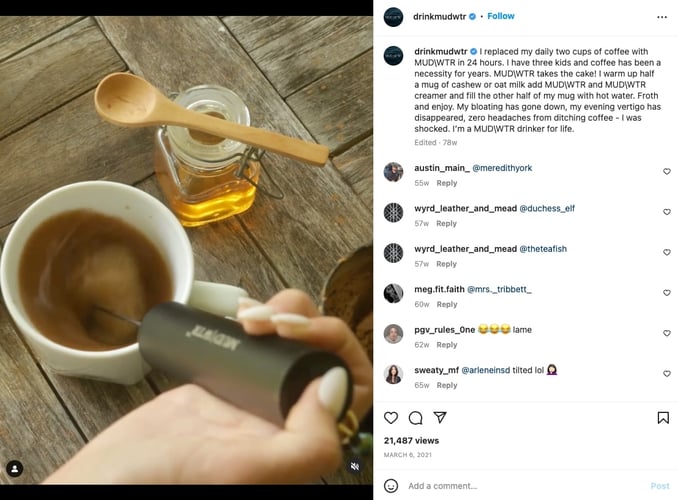 Source
2. Testimonial
Speaking of testimonials, social proof videos are by far the most powerful type of videos you can have on your web shop. They capture other customers' experiences, which tells a customer that is looking to buy the product that 1.) they can trust that product is as it's described to be and 2.) the product can offer added value to them. Here's an example of a testimonial video from Codeacademy.
It jumps straight into the ROIs a customer experienced after using their service. This communicates the value the service brought to the customer. It sure can make other customers want to have the same experience.
Promotional tip:
In addition to showcasing testimonial videos on your website, share them on social media, and via email marketing. You can also create (Google and social) ads or sponsored posts with the video.
3. Product spotlight
Product spotlight videos offer a close-up look at the product, while also highlighting the material the product is made from. It gives customers a "touch and feel" experience, almost similar to the one they would get in a brick-and-mortar store. In such videos, customers get technical information and facts they need to know about the product, making it easier to make confident decisions.
A great example of a product spotlight video is Apple's iPad Pro release video.
When you land on the site, you interactively scroll down until you reach the area where you can watch the full video without leaving the page.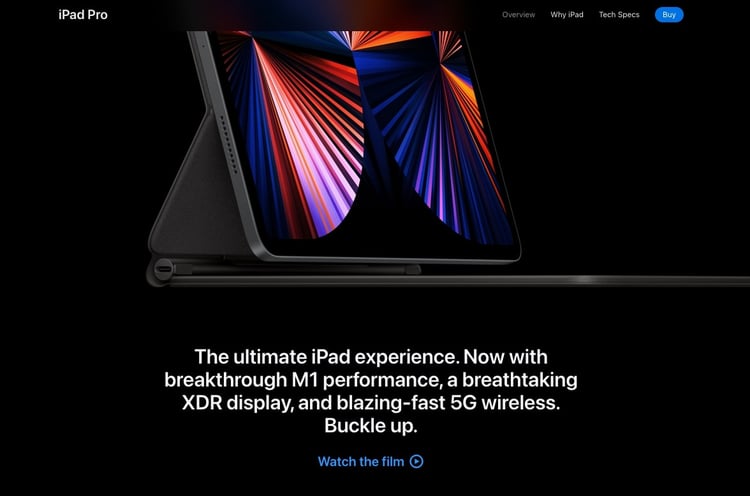 Promotional tip:
Use a product spotlight video to create a buzz by posting it on social media alongside a punchy copy with a unique hashtag related to the product. For example, Apple uses #shotoniphone, a unique hashtag to promote their phones.
4. Lifestyle
Lifestyle videos are a great way of showing how people use your product in real- life situations. Often used by fashion, jewelry, and accessories brands to show how the clothing item fits and looks. Lifestyle videos are memorable and engaging because they offer a simple way of consuming the details of the product.
An example of a lifestyle product video is this Nike video. The video showcases how their sweatshirt looks on a real person in under a minute. This gives a customer a chance to envision how it will look on them if they were to buy it.
Promotional tip
There are many ways to promote lifestyle videos, and you can use them on most social platforms. But with the rise of YouTube shorts, TikTok videos, and Instagram Reels, you can use either of these options to share a short lifestyle video.
5. Tutorial
Tutorial videos simply demonstrate how you can use a product to perform the intended task using a step-by-step guide. It's a good way to show customers that the product does indeed do what you claim it does in your product descriptions.
This Milk Makeup's Kush Liquid Eyeliner is a great example of an impactful product tutorial video. It's under a minute long, and it shows you how to use the eyeliner while also sharing its benefits.
Promotional tip
Tutorial videos can be used on all social platforms, particularly video-heavy platforms such as TikTok and Instagram (reels and IGTV).
6. User-generated content
This type of video lets brands use loyal customers' thoughts to their advantage. Considering that 79% of customers say that UGC highly impacts their purchasing decisions. That's because customers trust the reviews from other customers.
Here's an example of a UGC video.
The first comment on this video is powerful proof of why these types of videos work. It creates relatability and validates customer experiences. It also creates the fear of missing out (FOMO), which can guarantee you more sales than usual.
Promotional tip:
Butter up your loyal customers and encourage them to share videos of themselves using your product or unboxing your product. For instance, if you sell tea, they can take short videos of themselves unboxing the tea or making the tea. Encourage them to tag you and use a hashtag that will create a buzz around your products.
Where do you store all of these videos?
Of course, the answer would be on a Digital Asset Management (DAM) system. And, you wouldn't be wrong. But let's tell you a little well-known secret in the ecommerce world. When you want to simplify your multichannel management, you use a product information management (PIM) system that has DAM capabilities. That way, all of your product information—from SKUs to product titles, product descriptions, images, and videos live in a centralized location.
Plytix is exactly the PIM for ecommerce we're referring to here.
Not only does it centralize all of your product data, but it is also collaborative and easy to use. Did we mention that it makes product content syndication a breeze? Now you can easily distribute all product information to your Shopify store.
Ultimately, every team within your organization can work together to ramp up your product listing optimization efforts, where you'll assign all related product videos next to your products in Shopify. Why wait when you can get started today?
Contact us to book a demo, or dive right into a FREE account here.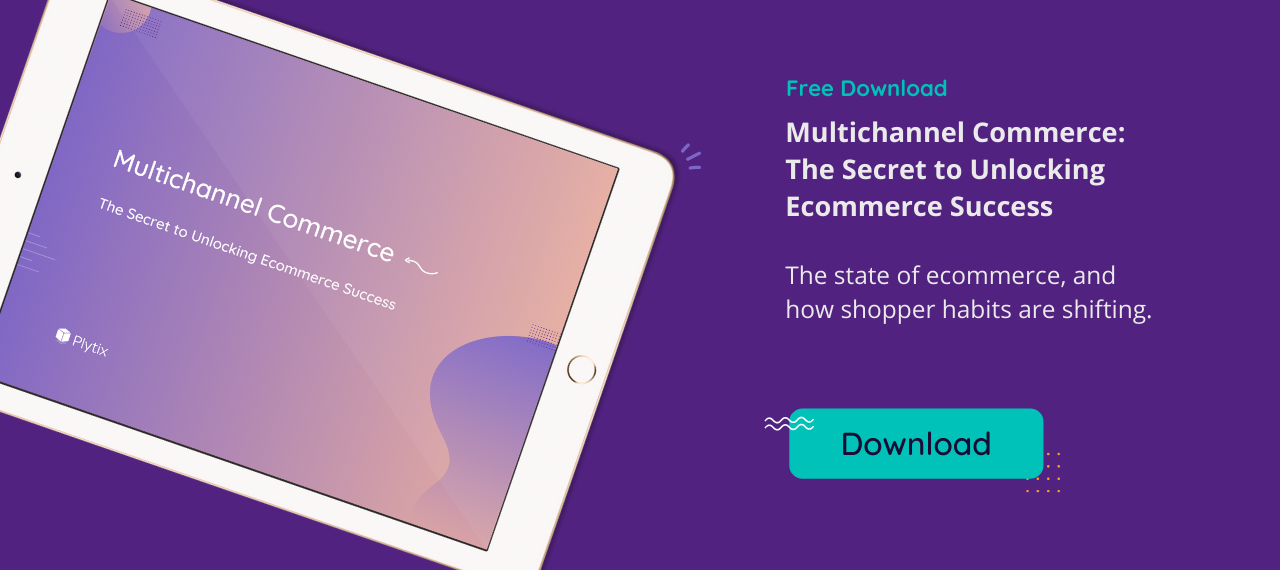 Shopify