Before 2020, business-to-business buyers relied on face-to-face interactions with sales representatives. Today, they prefer remote interactions and self-serve—and that comes as a result of 73% of millennials taking over the decision-making reins.
There is an emergence of new trends that are reshaping the way B2Bs approach the buying process. This year, 2021, has already set the scene for some of these trends, and some are expected to take off in the first half of 2022. Considering that the market is predicted to reach $18.57 trillion in revenue by the end of 2026, organizations have an opportunity to use these trends to boost their profitability.
But achieving this starts with understanding these trends, and how they fit in the B2B ecommerce puzzle. So, in this article, we'll walk you through trends that are set to fire up the industry. (Be warned, you'll need to adopt them to keep up!)
1. Increase in the adoption of a DTC selling model
Because of the pandemic, in-person B2B sales dropped abruptly in the previous year and well into 2021. Due to this, B2B companies became desperate for alternatives to increase sales. Many thought that an online sales channel could be a lucrative avenue and embraced it by adopting a direct-to-consumer (DTC) model.
Companies that took the leap served as an inspiration for many more to join the direct-to-customer pivot. This includes large to small companies from a diverse range of industries. From large organizations such as Heinz to small brands like Rastelli's, we're learning that DTC is a promising ground for B2B ecommerce.
According to eMarketer, DTC ecommerce sales in the United States grew by 45.5% last year—generating $111.54 billion and making up 14.0% of total retail ecommerce sales. This includes both digitally native and established brands. "We expect relatively steady growth each year through 2023, with D2C ecommerce sales reaching $174.98 billion at that time." This growth expectation cements the idea that more B2B businesses will hop on the direct path to customer train.
But what's driving the popularity of this model is how customers are becoming increasingly comfortable shopping with DTC brands. Diffusion's 2021 Direct-to-Consumer Purchase Intent Index has found that more than 2 in 5 Americans are familiar with DTC brands, and of those Americans with DTC familiarity, 7 in 10 have made at least one purchase from a DTC brand in the past year. And most importantly, 44% believe DTC brands produce a higher quality product at a lower price point when compared to traditional competitors. "Nearly a quarter (23%) perceive DTC brands to be an authority of what's cool and on-trend." With the right DTC adoption strategy, you too can reap the benefits of going direct.
2. Growth of B2B marketplaces
B2B ecommerce sales through online marketplaces are rising rapidly.
According to Statista, one-third of B2B buyers complete half or more of their purchasing on marketplaces. In fact, in September of this year, 26% of the B2B buyers made between 50% and 74% of their B2B purchases on marketplaces.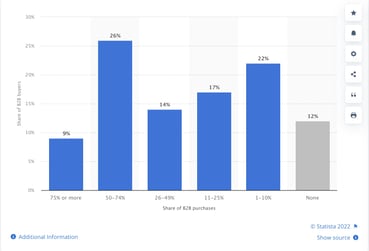 As early as 2018, Gartner estimated that 75% of B2B procurement spending would happen via an online marketplace, and 2022 is the year that this activity is expected to explode. This article explains how Amazon and Alibaba are only two examples of large companies adjusting their business model for buyers and sellers as part of the new B2B marketplace trend. The nature of marketplaces gives them the ability to help small businesses reach a diverse and wider market.
3. More businesses will embrace B2B mobile commerce
In 2021, the number of smartphone users in the world will reach 6.54 billion, which means 83.40% of the world's population owns a smartphone.

The more people use smartphones, the more the dependence on them to fulfill daily activities rises. Millennials, for instance, are using smartphones for work purposes and shopping. This highlights the importance of having a mobile-first B2B offering to resonate with the needs and expectations of current B2B buyers.
In fact, according to this:
60% of B2B buyers reported that mobile played a significant role in the recent purchase
61% of B2B buyers use mobile to research products and services
78% of B2B companies think mobile apps are the future
65% of B2B companies already have mobile apps
BigCommerce suggests that the reason B2B organizations are increasingly launching mobile apps is because the apps facilitate faster-recurring orders based on the business account. "Additionally, the app can connect with your sales team for on-the-go sales that sync with your systems."
4. Opportunities for B2B social commerce
Millennials are digital natives who spend an average of 2 hours and 38 minutes a day on social media platforms. When you consider that this is a demographic that is largely involved in business purchase decisions, there's no doubt that opportunities for B2B social commerce will blow up in 2022.
Statista revealed that nearly 80 million US customers purchased a product or service directly within a social media post in 2020, which was a 30% increase from 2019. That number is projected to grow to over 100 million by 2023.
Now, this ability to actually complete a sale on social media gives customers more choices of sales channels to use. So, sooner rather than later, they will come to expect the same experience when interacting with B2B brands. If 75% of the B2B buyers and 84% of C-level/vice president executives are already using social media to support purchase decisions, imagine what the potential to finalize the sale on social media could mean for these convenience-hungry buyers. That leaves you with an important decision to make. Will you join the social selling revolution by setting up an ecommerce store directly on social media platforms like Facebook, Instagram, or Pinterest, or will you wait until it's too late?
5. Openness to remote interactions and self-serve
A recent McKinsey study found that 70-80% of new buyers prefer remote interactions and self-serve over face-to-face interactions. The study elaborates that B2B decision-makers around the world believe that online and remote selling is as effective as in-person engagement. "Sellers also believe digital prospecting is as effective as in-person meetings to connect with existing customers."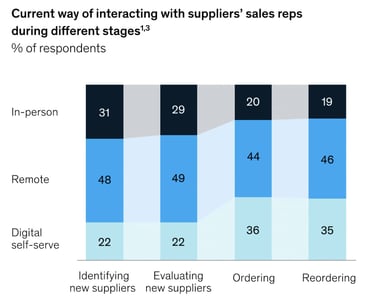 In addition to that, Gartner research found that 44% of millennial B2B customers would prefer not to interact with a sales rep at all. As a result, Gartner projects that by 2025, 80% of B2B sales interactions will occur on digital channels. The above McKinsey research suggests that these channels will be video and online live chat as their research pinpointed a huge interest and use of these platforms.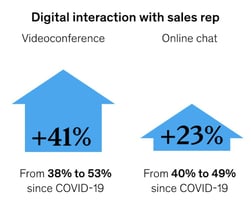 6. Strengthened supply chain management
One of the biggest challenges that came from the pandemic is supply chain management disruption; it continues to give businesses sleepless nights.
At a time where convenience and speed matter the most to customers, you cannot afford to falter on your delivery. So, if you are yet to embrace resilient supply chain management, prepare to get on board and fast. In fact, many already had to quickly improve their supply chains for the holidays. According to this, only 12% of leading global companies are adequately protected against future disruptions in supply chain and operations. And the remaining 88% require additional measures to build resilience in these aspects.
The supply chain issues are expected to still be a pain through to the third quarter of 2022. This means more B2B companies will create resilient supply chain management strategies to ensure survival. You don't want to be the only company that doesn't offer greater customer value unless you're perfectly happy handing them over to the competition.
7. The rise in personalized content and pricing
Personalization is all the talk in the B2C sphere, but it's increasingly picking up steam in the B2B space too. That, of course, has a lot to do with the fact that current B2B buyers expect B2C shopping experiences.
According to this article, a total of 50% of B2B buyers indicated that personalization is an important factor they consider when searching for suppliers to partner with. These are customers who are willing to pay 48% more to brands that offer personalized content, and overall experiences. The longer you ignore this, the more you get left behind by businesses that listen to their customers.
Now when you have a product content management system by your side, you can easily create personalized content that you can distribute to all of your sales channels. You can also create personalized sales enablement materials such as digitized product catalogs to further inform, strengthen the relationship, and encourage your customers to make a purchase with you. But it doesn't end at personalized content based on each of your customer's likes but personalized pricing is just as important. Each customer has their own preferences when it comes to payment options they want to use. It's your duty is to ensure you leave the choice entirely in their hands. Here are the options to provide:
Credit cards
Checks
Purchase orders
Mobile wallets
Mobile wallets such as Amazon Pay and Apple Pay are becoming more popular by the day, and it will be only wise to adopt these options to further quench your customer's thirst for convenience.
8. Building a consolidated technology stack
Software as a Service (SaaS) technologies are in abundance in the ecommerce landscape. But as the years pass by, it's becoming clear that ecommerce businesses need to consolidate these technologies. Before you can build the perfect tech stack, you must understand each tool's purpose for your business.
You need to think about 2-in-1 (or more) tools. For example, when you invest in a Product Information Management (PIM) system that has Digital Asset Management (DAM) and Multichannel Listing Management (MLM) capabilities, you can skip DAM and MLM. And, if that PIM tool takes it to the next level by having an analytical tool for ecommerce product analytics, you've really hit the jackpot!
Now, not only are you saving money, but you're also saving time that your employees would otherwise be spending switching between automation systems.
Flourish in 2022 with Plytix PIM
These B2B ecommerce trends indicate that you have a lot of work waiting for you in the coming year. But with a next-generation PIM like Plytix in your corner, you're already cutting down on tools needed to stay on-trend in a growing space.
It has DAM capabilities, product analytics capabilities, multichannel management capabilities, AND it easily integrates with various ERP solutions, ecommerce platforms, and marketplaces. Not to mention, data management will be the least of your worries! Our tool stores and centralizes all of your enriched product information. All you have to do is distribute it to all of your chosen sales channels.
This is done through a plug-and-play solution, so you can save time and focus on delivering exceptional customer experiences with a tool that works!
Ecommerce