More business-to-business (B2B) merchants have realized the need to open a direct path to their customers using the direct-to-consumer (DTC) business model.
This shift in people's buying habits can be attributed to the evolution of ecommerce, which is generating insane numbers of sales. By bypassing the middlemen—distributors, wholesalers, and retailers—you're able to gain access to an audience that is showing an increased appetite to buy straight from the source.
In 2020, DTC ecommerce sales reached $111.5 billion in the United States alone, and now, this figure is expected to surpass $170 billion by the end of 2023.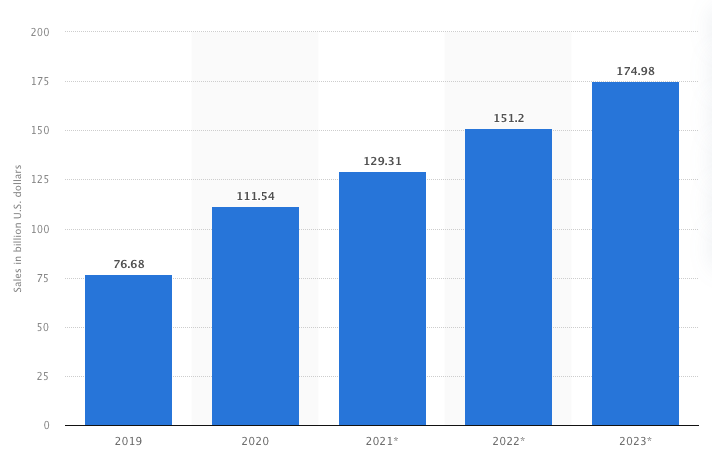 According to Mckinsey, B2B sales leaders have moved from being "forced" to adopt digital in reaction to the widespread COVID-19 shutdowns, to a growing conviction that "digital is the way to go." The firm further explains that the most notable sign that digital sales have come of age is "the comfort B2B buyers display in making large new purchases and reorders online." That presents an opportunity for organizations to tap into the potential of the go-direct-to-market model. It also means they'll be taking on the responsibility of the entire supply chain process:
Manufacturing

Product organization

Marketing

Order processing

Packaging

Shipping

Product delivery
It doesn't stop there. There is also post-delivery customer support and nurturing to ensure customer satisfaction, which can lead to retention and advocacy. That's why developing a robust DTC adoption strategy is crucial. It helps you develop objectives, set yourself up as a differentiator, and estimate return on investments (ROIs) to work towards and determine a route to reach the market directly.
In this article, we'll go through the best practices to consider in your strategy.
1. Choose the right DTC platform
Popular ecommerce platforms like BigCommerce, Shopify, Magento, and WooCommerce have made putting your products in front of your business customers easier and more cost-effective. BigCommerce explains that when considering a DTC platform, you have to understand how it will support your day-to-day operations and the vision that influenced you to go direct in the first place.
You have to choose a platform that lets you integrate with the right tools. For example, from a day-to-day perspective, you want to start thinking about data management infrastructure. Enterprise resource planning (ERP), customer relationship management (CRM), and product information management (PIM) are complementary systems that are no longer only for large companies. If small to medium-sized organizations can use them to power their web stores, so can you.
2. Prioritize headless commerce architecture
Headless commerce architecture may be a bit confusing to anyone who isn't tech-savvy. In short, it means decoupling the front end and back-end functionalities on your website so that they operate independently. It gives your teams the flexibility to make changes on the front end without disrupting the back end in real-time.
Basically, front end includes a content management system (CMS), custom storefront, and other plug-ins such as payment gateways. On the other hand, the back end includes more technical store functions such as shopping carts.
The purpose of headless architecture in ecommerce is to provide your marketing team with freedom and flexibility to customize the front end interface and build quality customer-facing content experiences. Building a fluid web shop is critical for businesses that wish to respond quickly to buyers' evolving needs.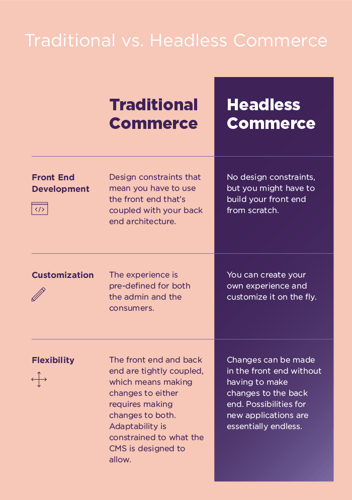 However, the main limitations of this approach is that it requires a development team to be all hands on deck for the back end functionalities. This architecture is multi-layered, and if you're looking to work fast and smarter, you can can offset this drawback with PIM to store, manage, and deliver data to the front end.
3. Optimize for mobile and social experiences
We know that online research influences B2B decisions. BCG research from 2017 showed that mobile leaders are generating "high levels of mobile engagement, as measured by search queries, site traffic, lead generation from the lead scoring system, and transactions."
"They see a greater share of revenue that is mobile-driven or influenced—42% on average." Not only that but also 75% of the business customers and 84% of C-level/vice president executives use social media to support purchase decisions.
The study further elaborates that "the average B2B buyer who uses social media for buying support is more senior, has a bigger budget, makes more frequent purchases, and has a greater span of buying control than a buyer who doesn't use social media." The top platforms that B2B decision-makers use to do research are YouTube (50.9%), Facebook (48.5%), Instagram (36.2%), and LinkedIn (33%).
They typically use business social accounts to engage networks and potential partners or suppliers. So, if you don't add social media experiences to your DTC strategies, you're missing out on leads, conversions, and client relationships.
4. Bet hard on customer experience and loyalty
B2B customer experience score averages less than 50% when compared to the B2C market sitting at 65%-85%. B2B buyers expect this gap to close fast.
Going direct offers you a chance to make sure that you achieve exactly that, or at least close enough for your business and its niche. Create seamless and personalized experiences; a strong omnichannel strategy that will make you stand out in the digital crowd of competitors. Offer loyalty incentives or rewards in the form of discounts or promotions such as discounted sign-ups or free trials.
Provide subscription options as the new business buyers are indicating a strong interest in this offering. Subscriptions are an opportunity to evolve from selling components, products, or parts to fully integrating them into the product lifecycle.
6. Consider suitable logistics and fulfilment options
Building a direct path to your customers means that you're responsible for picking, packing, and delivering the products. The order fulfillment process includes:
Receiving inventory shipments
Inventory storage
Order processing
Shipping
Returns processing
This can be a challenging undertaking for a brand that is transitioning to D2C. But it's doable if you do your homework and implement order fulfillment options that make sense for your business. You can look at in-house fulfillment, which means you use your own employees to handle each step in the order fulfilment process. Or the alternative, outsourcing through a fulfillment partner such as DTC ecommerce fulfillment software, which will handle every step on your behalf.
Another solution to leverage is automated order fulfillment to ensure fast, affordable, and trackable shipping experiences. Often, a very complicated process for both buyers and sellers can be streamlined through robotic processing automation (RPA). Another is having a mix of all, depending on factors such as storage space, order volume, product size, product weight, shipping, and costs.
The expectation for fast and hassle-free shipping is no longer exclusive to the B2C space; there's also a growing increase in the B2B landscape. To succeed, you need to develop a shipping strategy that ensures your customers get their products at exactly the time they expect to receive them. These shipping options include:
Free shipping
Flat rate and table rate shipping
Live rates from a carrier
A mix of the above
In that, provide seamless return policies and strategies to ensure efficiency in resolving order issues. While ERP and CRM systems carry vital ecommerce information, they're often siloed and fail to effectively manage product information. (Which, let's be honest here, will be the key driver of your new DTC business.) Shoppers need to be aware of what your products are and what a product can do for them before they consider you as a supplier of choice.
That's where a Product Information Management (PIM) tool comes in.
Plytix PIM is the answer
Our modern product content management system organizes your data in a single source of truth. It's built with small to medium-sized businesses in mind, helping them enrich, optimize, and validate product content for accuracy and completion, ensuring a better customer experience across every touchpoint.
It integrates perfectly with DTC ecommerce platforms mentioned above, which makes product content syndication seamless and easy, so you don't have to rely on manually updating spreadsheets, Dropbox folders, or any other digital assets to sync product data. (To add, the platform is so easy to use that you don't need to have technical knowledge.) Various departments of your company can work collaboratively to update, and manage the content over time. Your marketing department, in particular, can be thrilled to know that the tool has a product sales enablement module that is useful for marketing purposes. All this through plug and play features that enable you to pull any information from PIM itself.
Here's a detailed guide on how to shop for a PIM system.
For more information, book a demo and see what PIM can do for you!
Ecommerce
,
Product Information Management