The Shopify ecommerce platform continues to gain popularity because of its elite features and hassle-free access to third-party integrations. It's no wonder 1.75-million brands chose this platform to sell their products online, across the world.
Their hosting management and marketing support is a dream for a merchant who wants to scale their online business. But as great a platform as it is, it isn't a fully functional product content management system, which is why you need to separate your Shopify store with PIM. Many people, just like you, arrived at this conclusion because they're tired of managing their Shopify product data in spreadsheets. It's labour-intensive-and there's really no more reason to work hard when you can work smart with a PIM tool that simplifies data management. So, what features should the best PIM for Shopify have?
Take a look below.
1. Easy data import capabilities
The purpose of moving your data from spreadsheets to a PIM is to ensure productivity and efficiency. That means looking for a PIM that doesn't mirror your experience of working in a spreadsheet: frustrating and tedious. So, when you're searching for the best PIM for Shopify, you need to know that it can allow you to easily import your product data into the system with as little effort as possible.
For instance, with Plytix, you can follow an easy guide to be able to import a CSV file into the platform. And, you can bring your product content from Shopify into Plytix by following our steps. In addition to that, we have a customer success team that's more than willing to guide you throughout the process so that you can brush out any concerns and confusion when it comes to importing your data.
2. Product data quality control and enrichment
The quality of your product information is the determining factor in whether or not your products sell. Remember that customers cannot physically interact with your products, so they depend on the information provided to make a decision.
It's your job to make the product experience stand out with clear, rich product information. With that being said, the PIM database you choose should have data quality control functions to ensure that you're pushing error-free content to your webshops. For instance, Plytix has a content validation function that helps you identify errors and missing information before going live. It alerts you so you can easily rectify it before you distribute the product information to your storefronts.
3. Collections management functionality
Shopify uses collections, also known as categories, to organize products. To ensure that you're providing your customers with a seamless user experience, you have to make your collections clear and link them properly. Your product database tool should allow you to easily organize collections and prepare them for visibility on your customer-facing storefronts. This functionality is especially important when you launch new products, create a new collection, and link related products. Pulling data from a centralized source will ensure that this process is a breeze.
4. Multistore data management functionality
Shopify doesn't offer the capability to manage data in different languages, or currencies or to easily choose a data feed for another region's store. The same can be said when selling on channels such as Facebook, or Instagram Shops.
If you have a multilingual store or are thinking of expanding to increase your reach, you'll definitely need a PIM to store all these variations of content.
5. Content syndication capabilities
A PIM system that offers you product content syndication capabilities is crucial in the ecommerce space. If you run a multichannel store or are getting ready to take on multichannel commerce by expanding to marketplaces, you'll need a listing management solution that can be integrated with a variety of sales channels.
At the end of the day, you want to choose a Shopify PIM that can sync information and let you maintain a consistent brand experience across all of your selling channels.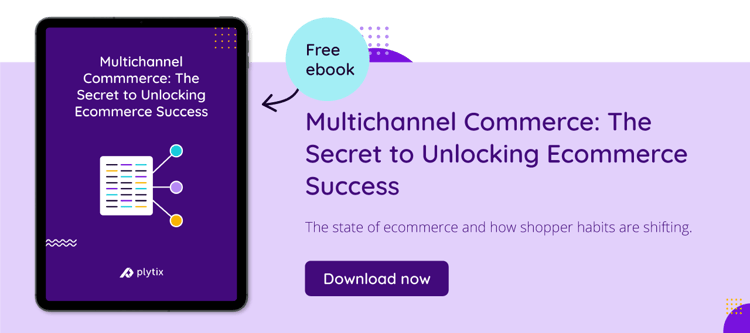 6. Effortless data export capabilities
Just like you deserve to work on a system that provides you with easy import capabilities, you need to ensure that the Shopify PIM you choose also makes exports an effortless experience for you. Our PIM, for instance, allows you to export product data in any format of your choosing; whether you prefer CSV, XLSX, or PDF format, Plytix gives you the power to make a choice that suits your needs.
7. Sales enablement functionalities
The ideal PIM tool should allow you to show off your products, your way, and without making you feel like you want to pull your hair out from frustration. A PIM tool such as Plytix comes with a Brand Portals module which allows you to create product catalogs of the products you want to shine a light on. You can easily distribute these wherever they need to go, and when you make an update, it will automatically reflect so that you won't need to send new links every time you update.
Getting rid of boring and time-eating tasks makes you more efficient and gives your customers, and external partners access to updated content in real-time.
8. Ecommerce product analytics
Product analytics helps you gain insights into customer behaviors when they interact with your products. This helps you make improvements where necessary so that your products can better connect with your prospects. A PIM that allows you to analyze your product performance and optimize accordingly will be a game-changer. Our PIM is integrated with Google Analytics so that you can learn valuable information such as which products get the most views, how many times they're added to carts or checked out, and so much more. Plytix also can compare various channels; that way, you can see where your products sell the most.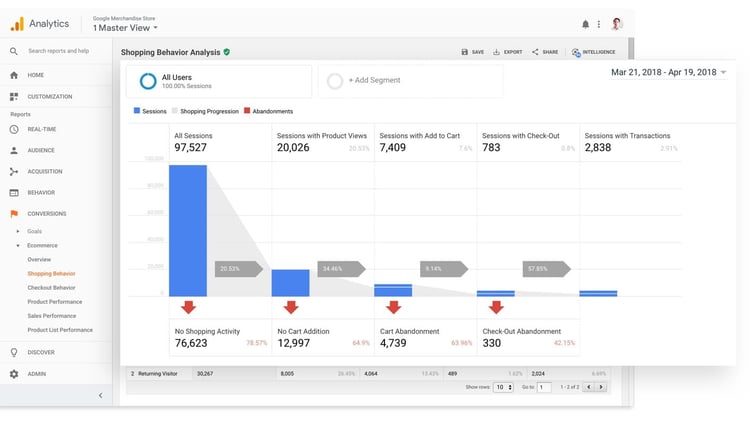 Unlock your Shopify growth potential with Plytix PIM
Shopify has impressive features to help you stay relevant and competitive online, but it lacks where product content management is concerned. So, getting the right PIM for Shopify or Shopify Plus is just the key to unlocking more of the potential to level up your reach, improve on customer engagement, increase sales, and ultimately, revenue. Plytix will help you do just that! It will let you automate content for Shopify so you can focus on reaching your bottom lines. To learn more about the features and capabilities of Plytix, book a demo with sales.
Product Information Management
,
Shopify