At some point, you came to the realization that ecommerce is the place to be. That's why you've slowly started selling online to supplement your brick-and-mortar store, right? Sure. But now, you're faced with the marketing task of getting customers to your web store to purchase your products. And that's the challenge.
Well, the good news is, it's all possible, and you're not alone. Many other small business owners do not have top dollars to throw at expensive marketing campaigns. So, let's get into how you can build a solid multichannel marketing strategy that can drive traffic to your online shop without emptying your pockets.
1. Use Google Business Profile to your advantage
Google Business Profile (GBP), previously called Google My Business (GMB), is a free business listing profile that helps you attract and engage potential customers when they search for your business on Google. It allows you to add super important business information such as an in-store address, URL, contact number, and trading hours. It also gives you a chance to showcase your products and promotions through images, and to build credibility via customer reviews.
All of these key factors can help drive foot traffic to both offline and online stores. And, thanks to the new update, you now have a chance to also appear on Google Search and Maps when customers are in search of your services or products.
So, if you haven't created or updated your GBP, now is the time to do so.
2. Leverage offline traffic for online success
You've built a great reputation with your brick-and-mortar store; however, now it's time to utilize that to drive traffic to your online store. You can do this in a variety of ways, depending on what's possible according to your resources. For example, you can encourage customers who come to your physical store to buy online by giving them online-exclusive discounts on products they usually buy regularly.
This marketing strategy can work vice-versa as well, where you tell your online customers that the product is on a discount when bought in-store. Another option you can use is the "pick up in-store" tactic to encourage more online sales. When you give customers the "skip the queue" incentive, they're likely to use it.
3. Make an effort to display social proof
Social proof has proven to be an effective marketing tool time and time again. That's because customers trust other customers, friends, and family's opinions or actions more than they trust brands. According to this Sprout Social report:
91% of shoppers read online reviews before making a purchase
82% of American shoppers ask for referrals and recommendations from family and friends before making buying decisions
40% of customers find new brands to follow online based on recommendations from friends and family
But what does social proof look like?
It can be anything from expert stamps of approval, certification, customer reviews or testimonials, celebrity or influencer endorsements, reputable brand endorsement, best-selling products, and so much more. A great example would be Shopify store Island Creek Oysters, which includes reviews on the website.
4. Create engaging organic social media content
As of January 2022, there are over 4.62 billion social media users around the world. The same study reveals that social media users visit an average of 7.5 different social platforms each month, and spend an average of close to 2 and a half hours per day using social media. That's a lot of screen time you can use to your advantage. Using social media to showcase your products and clearly define what value they can add to your customers is the best way to create engagement.
To push the engagement up a notch, ask your followers to leave a comment, tag a friend, give a suggestion, make their own posts, and tag you. Don't be afraid to use the latest social commentary trends (whether it's a new slang or challenge), but all within reason and without deviating from the essence of your brand.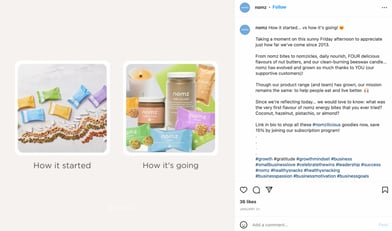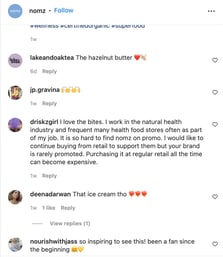 5. Create punchy video content
Video has become a crucial part of marketing as more customers are showing an interest in learning about products through video. According to this, 54% of customers want to see more video content from businesses they support.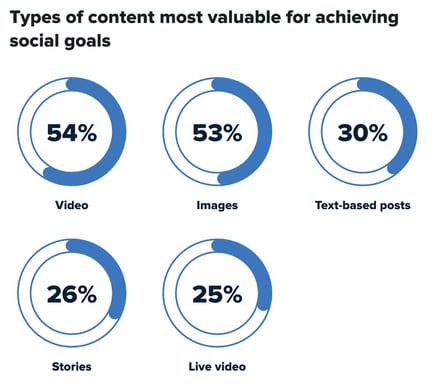 We know that video is a powerful tool, but here's why:
81% of marketers believe that video has a direct, positive impact on sales
94% of marketers agree that videos have helped increase user understanding of their product or service
There are various ways to use video for marketing purposes:
Showcase your products with a demo video
Showcase your product through how-to videos
Showcase behind the scenes content
Product Q&As (live videos)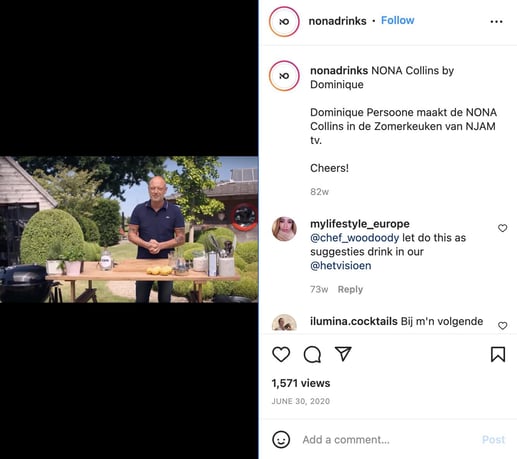 6. Create an effective email campaign
Email marketing is not a new concept, but it remains a valuable tool to use to connect and engage with customers. People all over the world have and use email, and no matter how small your business is, you still have a huge potential to reach as many people as possible through email. According to Oberlo, 81% of SMBs still rely on email as their primary acquisition channel, and 80% for retention.
Okay, so what can you do with email marketing?
You can any, or a mixture of the following:
Promote your new products
Promote products that are on a discount or sale
Thank customers for purchasing from you and share recommended products to encourage them to buy again
Send discount or promo codes to customers who haven't been coming to your store for a while before to encourage them to buy again
The important thing to remember is to keep your email marketing strategy as simple as possible. Here's an example of a simple email marketing campaign.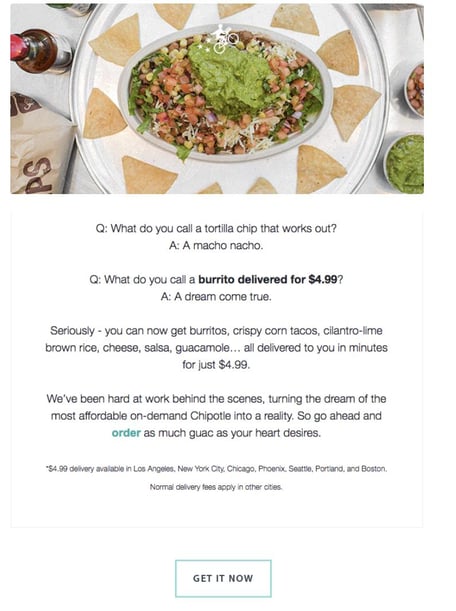 The best thing is, there are free email marketing tools that you can use, such as MailChimp or HubSpot Email Marketing.
Boost for your multichannel marketing efforts with Plytix
Multichannel commerce marketing is all about creating compelling messaging that can inspire the customer to check out your store/s. But you need more than a nice-looking web store to convert browsing customers to paying shoppers. You need to ensure that the content you have across your web shop is high quality.
By that, we mean that the content needs to be clear, accurate, up-to-date, and answer customers' burning questions such as "what can this product do for me." When your ecommerce tech stack includes a product information management (PIM) tool, your content will definitely have all of those qualities.
SMBs know Plytix as the best PIM for Shopify because it's designed for efficient product content syndication, no matter the volume of your content. Plytix is also a great tool to use for creating enticing sales collateral. For instance, you can create a product catalog with our Brand Portals feature. All you'll have to do is pull the content of the products you want to promote and add them to your catalog template. When done, send it out and watch people flock to your store.
Get in touch with us to learn more about how Plytix can help you in your multichannel marketing journey. Don't forget to download our FREE Multichannel Commerce: The Secret to Unlocking Ecommerce Success white paper!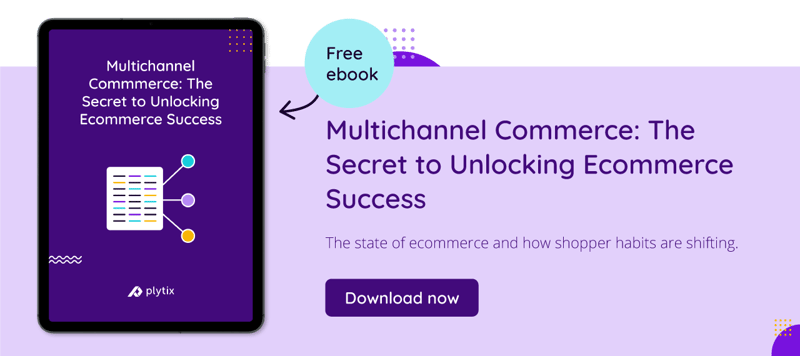 Multichannel Commerce