Black Friday and Cyber Monday, step aside.
Savvy online shoppers know there's another day for finding great deals: Amazon Prime Day. Since 2015, Amazon has been hosting the artificial holiday (and genius marketing tool), offering bottom dollar deals to help boost sales. And it works.
Data shows that retailers who participate in Prime Day see increases in sales almost across the board, hence why Amazon Prime Day has grown! With 2019 Prime Day right around the corner, both shoppers and retailers should be getting ready to take advantage. Here are the history and numbers you should know to get the biggest benefit out of Prime Day — whether you're a buyer or a seller.
What Is Prime Day?
Amazon Prime Day was launched in 2015 as part of a marketing effort to boost Amazon sales and signups for Prime, Amazon's paid subscription service that offers benefits like streaming music and video, free two-day shipping, and more.
The first Prime Day was held on Amazon's 20th birthday, July 15, 2015. In subsequent years, it's always happened in mid-July, but on different dates.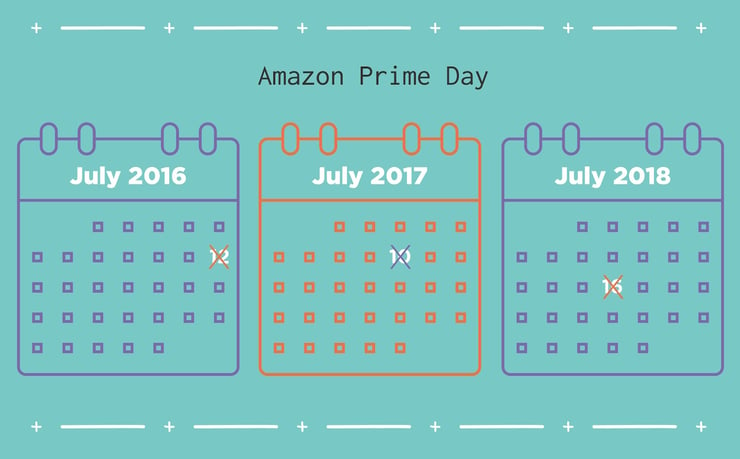 Amazon doesn't announce the date until just weeks or even days before it happens, likely to help prevent other retailers from running concurrent sales.
Prime "Day" is a little bit of a misnomer because most of the deals span several days. In 2018, Prime Day "officially" lasted 36 hours, though many deals could be found extending outside that window. Prime Day 2019 will last a full 48 hours, from midnight PST on Monday, July 15, to 11:59 p.m. PST on Tuesday, July 16.
Prime Day is a worldwide event — it happens everywhere Prime memberships are available, including the U.S., Spain, Italy, Germany, Japan, and other countries. It features some deals that last for the entire event (or until the products are sold out), as well as flash deals that go online for just a short time on a schedule throughout Prime Day.
Today, Prime Day is still a major shopping event. But other retailers (most notably Walmart, which has openly shaded Amazon in its advertising for its own summer deals) have launched mid-summer sales to compete with Prime Day.
Why Do Shoppers Care About Prime Day?
The result is a summer shopping holiday that truly is on the level of Black Friday or Cyber Monday. And that was always Amazon's goal — in a press release announcing the first Prime Day in 2015, with the clear headline:"Step Aside Black Friday - Meet Prime Day. On the eve of Amazon's 20th birthday, the company introduces Prime Day, a global shopping event, with more deals than Black Friday, exclusively for Prime members," the press release read.
The reality is that people shop all year round, and it's not super practical to wait until Black Friday or Cyber Monday, which occur relatively close together during the holiday season, to make all their major purchases. Prime Day — and all the competing summer sales that have cropped up — give shoppers a chance to nab products they want to buy without having to pay full price, and without having to wait until November.
Prime Day Statistics (Or, Why Prime Day Is a Big Freaking Deal)
Prime Day is huge. And we really do mean huge. It was huge when it debuted, and since its inaugural year, it's only continued to grow. Take a look at the numbers to see what we mean.
How Many People Are Prime Members?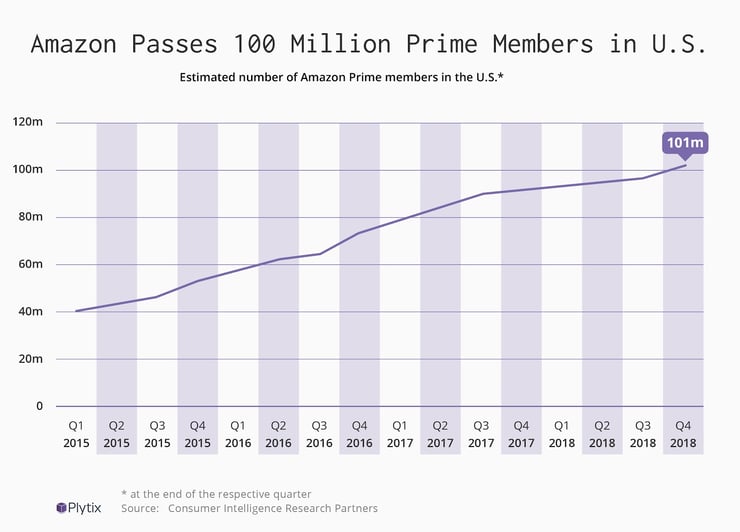 Amazon rarely releases exact membership numbers.
But a number of research firms have done the work of surveying people and estimating. In January of 2016, it was estimated that half of all U.S. households had at least one Prime membership. At the end of last year, Consumer Intelligence Research Partners estimated 101 million Prime Memberships in the U.S. more than double the estimated number when Prime Day debuted in 2015.
How Much Do Shoppers Spend on Prime Day?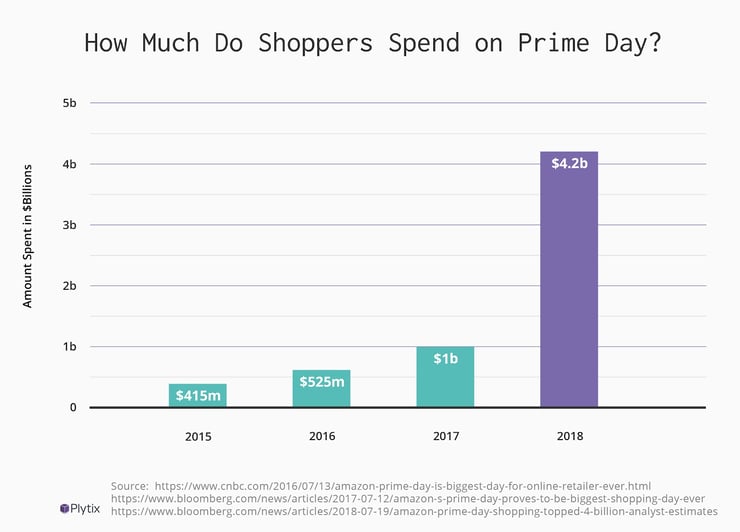 Amazon doesn't release exact figures, but analysts have estimated amounts spent on each Prime Day, and the numbers have grown exponentially year-over-year.
How Much Has Prime Day Grown?
On the first Prime Day in 2015, shoppers purchased 34 million items worldwide. In 2018, that number had almost tripled, to 100 million products.
In 2016, on the second Prime Day, Amazon transactions made up a whopping 74 percent of all ecommerce transactions on that day. That number has only grown as well — in 2018, Amazon accounted for 86 percent of all ecommerce transactions on Prime Day.
How Does Prime Day Compare to Black Friday and Cyber Monday?
Amazon always wanted Prime Day to be a summer version of the U.S.'s two major shopping holidays, and it succeeded.
The first Prime Day's Amazon sales outperformed the previous Black Friday's Amazon sales by 18 percent.
Cyber Monday is a day that holiday sales traditionally go online, and Prime Day has regularly outperformed it, by 19 percent in 2016 and 33 percent in 2017.
What Do People Buy on Prime Day?
Prime Day sales give shoppers a great opportunity to save money on big-ticket items they've been eyeing. But that's certainly not all they buy.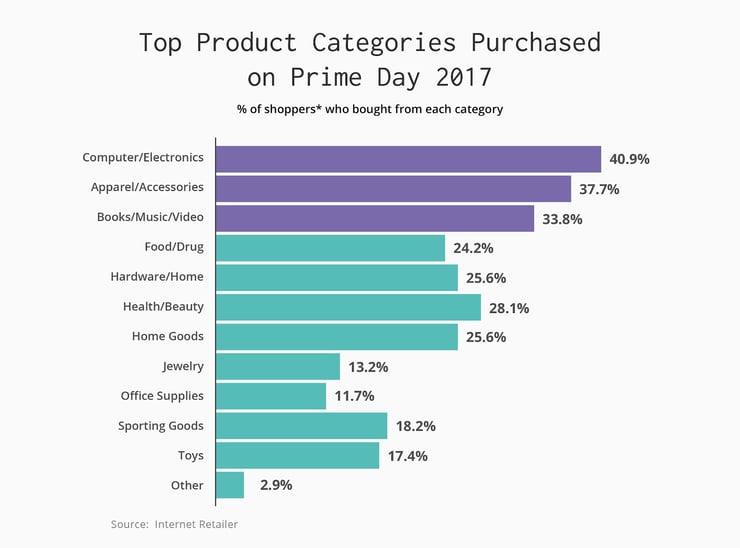 Computers and electronics are popular Prime Day purchases, as are apparel and books/media. Over time, Amazon's own products have taken more of a share of the total sales and profit than marketplace products.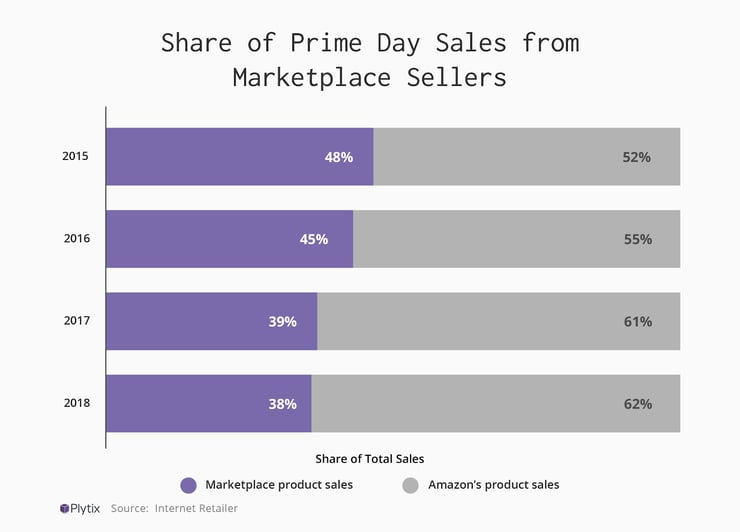 But that doesn't mean marketplace sellers shouldn't be getting in on the action.
Why Every Retailer Should Get Ready for Amazon Prime Day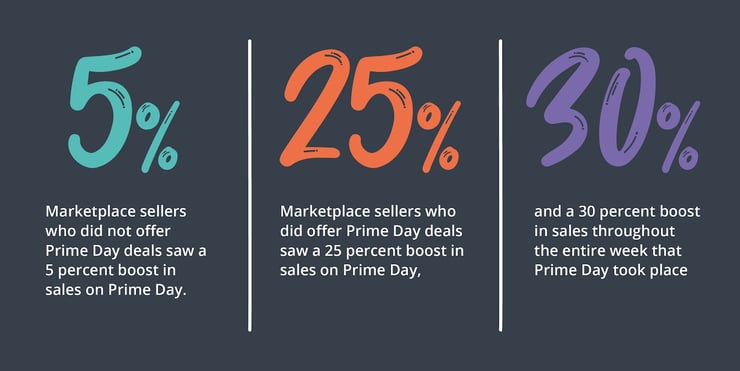 For sellers who participate in Prime Day by offering special deals and sales that coincide with the date, there are huge benefits. Criteo analyzed Amazon Prime Day data and found that retailers who discounted their products to coincide with Prime Day saw a 25 percent increase in sales on that day and a 30 percent increase in sales over the course of the week.
Even retailers who didn't participate saw a 5 percent bump in sales on Prime Day, but obviously, the biggest benefits came to those sellers who did participate in offering Prime Day deals.
With Prime Day right around the corner, every online retailer who sells on Amazon should be preparing to offer deals and get a cut of the huge boost in profits that comes with this new, mid-summer shopping holiday. On Prime Day and throughout the rest of the year, being able to centralize, optimize, distribute and analyze your Amazon product data can help you keep your listings accurate and boost revenue all the time. Download our free ebook to find out how.
Amazon