In the internet age, D2C brands are having a serious moment.
In the past, the only way D2C retailers could reach their customers was through the mail—think catalog and mail order forms. In today's landscape of Amazon Prime and two-day delivery, D2C brands are suddenly on an even playing field with traditional retailers, and they're taking full advantage of that fact.
It's easier than it's ever been for D2C retailers to market and sell their products, so we wanted to see what D2C brands marketing experts are loving right now. We rounded up 7 of the D2C retailers branding experts say are doing things right—and what your company can learn from their success.
What Is D2C Retail?
First things first: What is D2C retail, and why is it so big right now?
D2C stands for direct-to-consumer (also sometimes called DTC). It's a style of retail and marketing that's been around for a while, but in the internet age, has had a huge resurgence.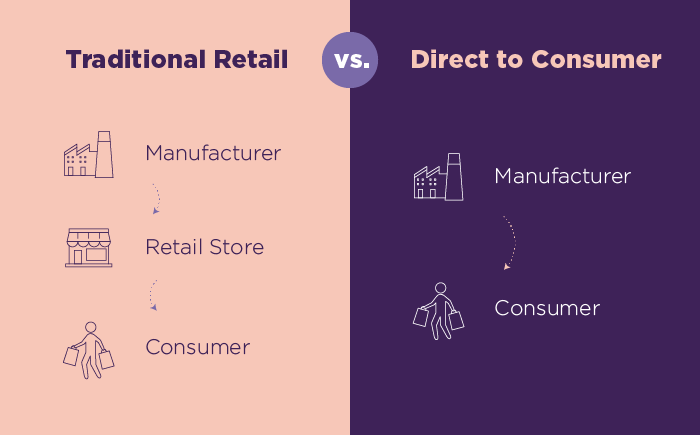 In traditional retail, products would be manufactured, then sent to retail stores, which is where consumers would go to purchase them. Now that we do so much of our shopping online, though, many manufacturers are cutting out the middleman—the retail store—and using the internet to market their products and sell them directly to the customers.
This comes with benefits for consumers and D2C sellers. Customers get to buy products directly from the source, which often means paying wholesale instead of marked up retail prices. And D2C retailers get better control, relationships with their customers, and better profits from eliminating the middleman. Talk about a win-win.
But for manufacturers who are just getting into the D2C game, there can be a learning curve when it comes to marketing products. Marketing is a part of the selling process that was traditionally left to the retail stores, which means traditional retailers have a leg up from their marketing experience.
If you're a D2C seller looking to learn how to better market your products, one of the best places to look for inspiration is the D2C brands who are nailing their marketing.
Successful D2C Brands (And What You Can Learn From Them)
These 7 D2C brands are the ones professional marketers point to when asked who has their attention these days. Here's how they market their products, and the takeaways other D2C brands can learn from their success.
Warby Parker
Colin Finkle, Founder, Contributor, and Principal Designer at Brand Marketing Blog, says he takes marketing inspiration all the time from D2C eyeglass retailer Warby Parker. What does he think makes Warby Parker's marketing so successful? The attention they place on creating an incredible customer experience, Finkle says.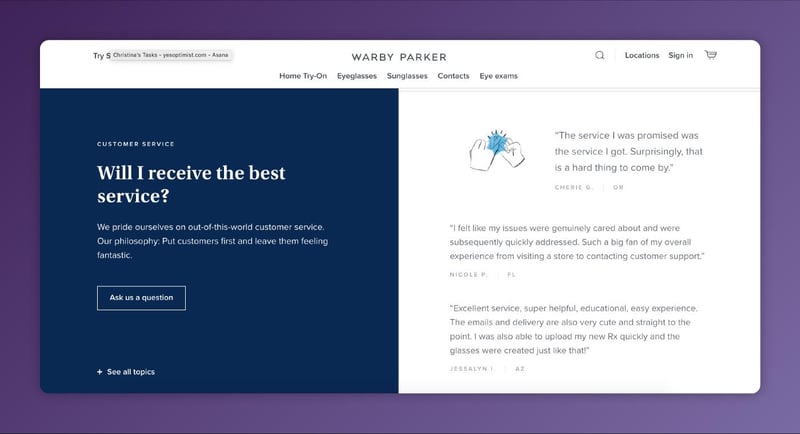 "Warby Parker's browsing and buying process is seamless," Finkle says. "Their retargeting campaign after a customer abandons their cart is firm and consistent without being desperate and tarnishing the brand. They used to post customer service videos to their YouTube page; you get the impression that the on-camera customer service agents wanted customers to get the right fit because they were exceptionally honest about the face sizes and shapes that would be appropriate for each frame."
The takeaway for D2C brands is that there's no such thing as service that's too good. Treat your customers well, and they'll reward your brand with their loyalty.
Parachute Home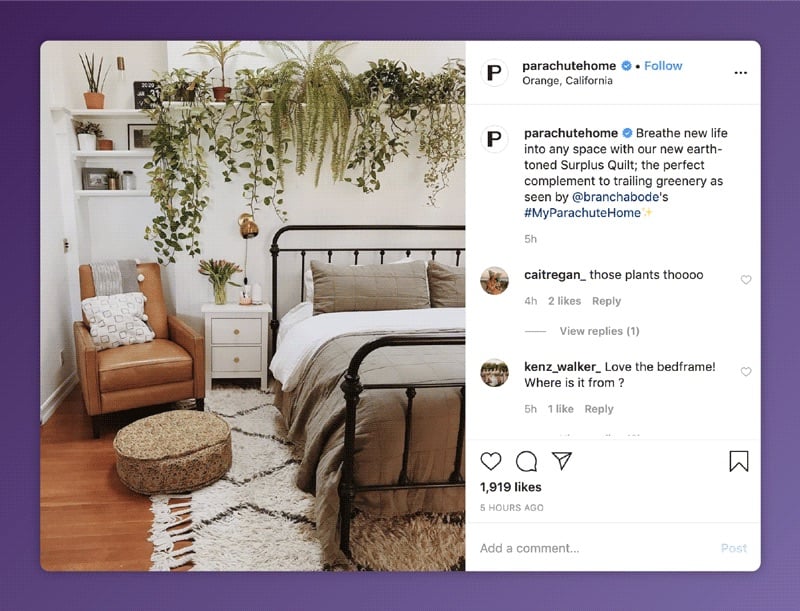 Joy Corkery of Latana Brand Analytics was fascinated in recent years watching the online D2C market that was pioneered by homeware brands like Casper and Tuft & Needle. That's why she isn't surprised that Parachute Home came out on top in a study of brand awareness among social media users.
"We looked at the difference between brand awareness for our target audiences and the general population. For people who use Instagram frequently and care about brands, Parachute Home came out top" by 9 percent, Corkery says.
Corkery points to Parachute Home's savvy use of influencer marketing as one possible reason its brand is so recognizable on social media. But what this teaches other D2C brands is that investing in social marketing and brand awareness campaigns is money and time well spent.
Wine Insiders
Today's online shoppers are savvy. They like to research products before they buy, and Amy Hernandez, from ElectrIQ Marketing, says a D2C company that embraces that is Wine Insiders.
In addition to offering a wide variety of wines at an affordable price point and partnering with big name influencers like Martha Stewart, Hernandez points to the way the company interacts with its customers as a big driver of its success.
"In this day and age, transparency is extremely important to consumers, because they want to associate themselves with brands that share their same ideals and are willing to share more about the behind the scenes aspects of the company," Hernandez says. "In the case of Wine Insiders, they are able to accomplish this and be transparent, thanks to their wine tasting notes, blog, Wine 101 Page and their online involvement with their clientele."
And that's not the only way Wine Insiders keeps its inner working transparent for its customers.
"Something interesting to note, which is very transparent on Wine Insiders' part, is that once you select a wine, underneath the description is an infographic explaining traditional pricing of wine in retail locations versus their direct-to-consumer pricing."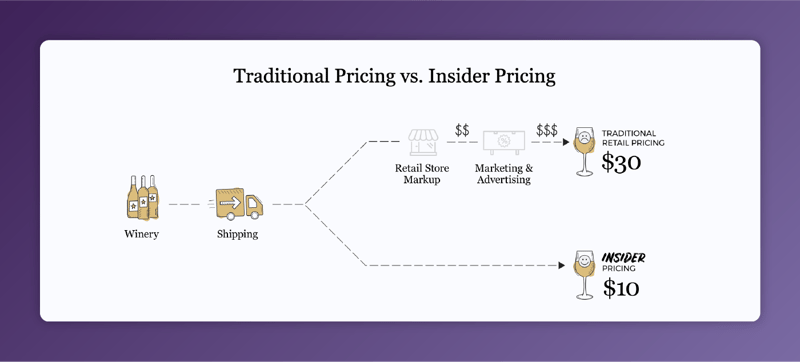 Source: wineinsiders.com
That kind of transparency inspires trust, and customers who trust brands stay loyal to them.
Glossier
Before there was D2C makeup company Glossier, there was the Into the Gloss blog. The creators of the blog listened to their readers when they told them what they really wanted from their beauty products and then, Glossier was born.

Christine Glossop, a marketing writer for AI-powered logo company Looka, points to Glossier as a prime example of how D2C brands can achieve success by listening to what their customers want, and then delivering that. Even as Glossier has grown, Glossop says, the company has made incorporating customer feedback an essential part of its process.
"While the company passed the billion-dollar mark on their valuation last March, they've managed to maintain a close relationship with their customers. The brand's dedication to gathering customer feedback and promoting user-generated content has created a loyal community around the brand," Glossop says. "By continuing to provide a platform for customer participation, Glossier has stayed true to its roots while continuing to grow."
Other D2C brands can definitely learn from that strategy. By listening to and incorporating customer feedback, brands know that they continue to deliver products that customers actually want and need. And customers who know a brand cares about what they want will remain loyal supporters and help spread the word to their friends and followers, which is great for branding.
Quip
Calloway Cook is the president of D2C supplement company Illuminate Labs. And as a D2C marketer himself, Cook recognizes when other D2C brands are nailing their product marketing.
One of his favorites is Quip, a company that's taken a task as mundane and routine as brushing your teeth, and turned it into a sleek and sexy brand.
Cook says Quip has done all kinds of things right from a marketing standpoint.
"Minimalist design, fantastic web and mobile UX, fast page-load time. Their physical packaging is unique, which is something we're looking to emulate in the near future," he says.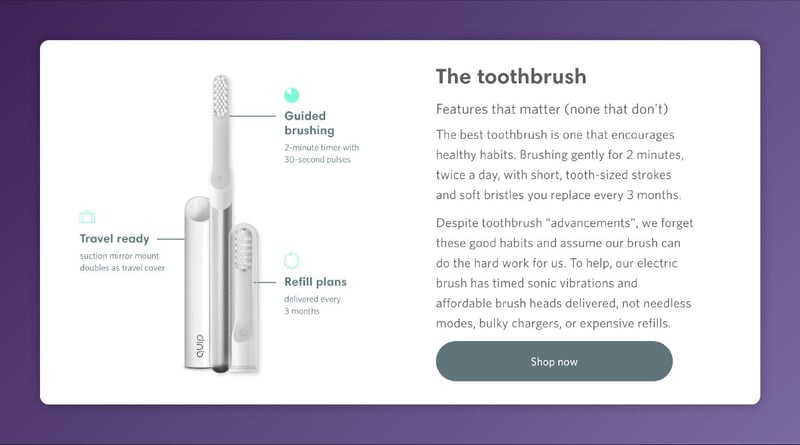 But the marketing strategy that helped Quip reach the top of its niche was targeting advertisements placed exactly where they would reach the brand's desired demographics. Specifically, Quip invested a ton upfront to place ads on podcasts, and the move really paid off.
"Incredibly strong brand recognition," Cook says. "It's not a mystery why VC-funded D2C brands spend millions on advertising, often at a loss. Getting that top-of-mind recognition when there are so many new brands popping out every month is crucial for long-term success and customer loyalty."
While some modern marketers might overlook more traditional ad avenues, like podcast ads, Quip is proof that digital isn't always better than traditional.
Chewy
Boone Clemmons, Chief Strategy Officer at Bandwagon, knows how hard it can be for D2C retailers to expand into new marketing channels. But in today's retail landscape, being omnichannel is a must, and one brand that Clemmons says is nailing it is the pet supply subscription box, Chewy.
In particular, Clemmons points to the way Chewy uses user-generated content on TikTok to promote its brand.
"In a time when many brands are struggling to figure out how to leverage TikTok, Chewy has been very successful," Clemmons says. "There are videos of famous pets wearing the Chewy delivery costume in videos. You also see many of pets opening their Chewy box videos on TikTok as well. I should also point out that some of these videos have over 100,000 likes on TikTok."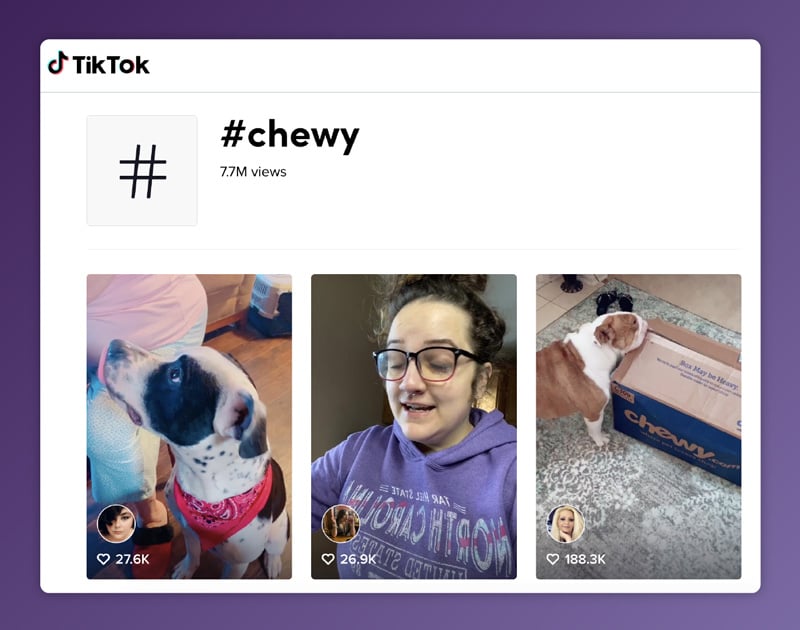 Chewy can serve as an example of a great way to break into a new marketing channel way ahead of the competition, something all D2C brands should strive for.
Minaal
The D2C brand that has captured (and kept) the attention of Team Building CEO Michael Alexis is Minaal, a company that makes high-quality backpacks suitable for both business and travel. Alexis points to the super high quality of Minaal's backpacks, saying that when a product is that good, that's all the marketing it needs.
"What got and keeps my attention is the quality of the pack," he says. "I've had mine for more than two years, and it has trekked with me literally around the world. The bag is durable, so I never worry that zippers or handles are going to break off. Plus it's comfortable on the shoulders, has lots of pockets for organization, and looks good. It's a win-win-win."

Alexis adds, "What makes D2C brands successful is an obsession with quality. That doesn't mean that it has to be an expensive product to make or sell, the quality just has to closely match the needs of your target market."
He has a point. If a brand's products are so good that customers rave about them, like Alexis raves about Minaal's backpacks, that can be the budget-friendly marketing strategy a scrappy D2C start-up needs.
How D2C Brands Can Find the Marketing Strategies that Work Best
It's not easy to choose a marketing strategy, especially if you're a D2C brand just beginning to lean into marketing your own products in the digital age. With so many strategies to choose from, how will you know what type of marketing will work best for your brand and products?
Using a data-driven approach is the best way to choose the right marketing strategy for your needs. But to do that, you need to be able to measure and maximize your strategy. And to do that, you need the right tools for collecting, analyzing, and distributing data.
Ready to learn more? Download our free ebook to see how tracking the right metrics can lead you to the perfect marketing strategy for your D2C brand.