Considering the fact that retail ecommerce sales will amount to 7.4 trillion dollars by 2025, you would expect to see higher conversion rates. But, most websites average around 2.5-3%. Why? Because their product data quality is nowhere near where it should be.
It's simple, what you put in is what comes out. And, regardless of how many channels you sell on, if you aren't optimizing and enriching your content for each platform, those product descriptions, images, videos, and any content you deem valuable means nothing. This is why data cleansing is so important.
What is data cleansing and what value does it bring?
When we talk about data cleansing, we mean regularly checking to modify or remove inaccurate, outdated, duplicate, incomplete, and incorrectly formatted content. This is to ensure that you have standardized content that is rich, correct, complete, and consistent no matter the sales channel.
An ecommerce study conducted by Nielsen Norman Group reveals that 20% of unsuccessful purchases are due to a lack of product information. Data cleansing helps you mitigate this by ensuring that your customer-facing information gives shoppers enough details to trust your product and make a purchasing decision. Updated product data also makes internal and external communication to various stakeholders such as distributors, resellers, manufacturers, and your supply chain more efficient as everyone will have the correct information they need. But this isn't the only reason why you should cleanse your data, it also;
Makes product data management easier as a whole because when data is standardized, complete, and coherent, you can easily optimize, do A/B testing, and tailor your feed to meet specific channel requirements such as Amazon, eBay, Google Shopping, and more.
Increases your product visibility, your click-through rate (CTR), and ultimately, your conversions as your product data will have a higher chance to organically rank on searches and you're more likely to get customers who make a purchase as 81% start their shopping journey online by researching the product.
Increases customer satisfaction as the product information will match what they get at delivery. One of the main reasons customers return products is because the item didn't meet their expectations, so cleaning your product data for accuracy can help lower returns and improve customer satisfaction.
Steps to cleansing your product data
If you're running a multichannel commerce business, you'll need various product information for all your different sales platforms. But, when you keep up with the management of your product data, half the battle is won as you'll be pushing rich data to those platforms. Here is how you can start:
1. Remove duplicated content
If you've been working on multiple spreadsheets, you're bound to have duplicated data. Not only does it cause confusion within the company, but duplicated content can have a negative impact on your rankings.
Search engines index and rank pages that are providing users with unique information. But, they cannot decipher which page to rank and they may rank the unwanted duplicate content, which can result in you losing organic traffic from the original source. A product content management software allows you to have a full view of all your product information, which makes it easier to identify duplicate content. It also has a user-friendly interface making it easy to view and edit accordingly.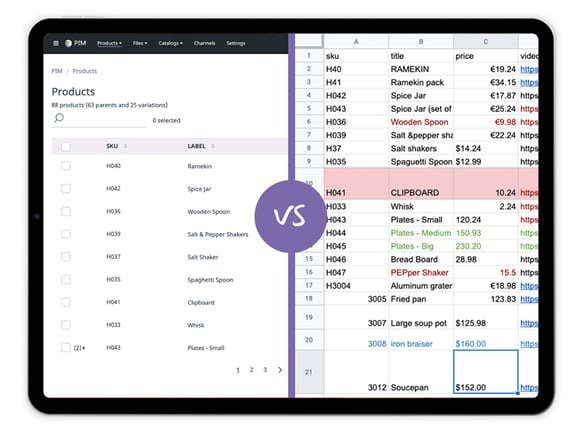 2. Monitor inaccurate product information
In a survey where 1,600 professionals in B2B commerce were asked what their top priority was when evaluating a brand experience, 41% said it was product information. It's crucial to take time and monitor to see whether the information is up-to-date and correct. Keep note of where most errors are coming from as it will help you fix and ensure you avoid inaccurate information. Or, you can get a product information management tool that will help you monitor your product information and ensure that you can edit on the go any inaccuracies you may come across in a matter of minutes. Since you're using one tool, everyone who has access will have access to the updated information, ensuring no one uses inaccurate product information.
3. Fill in incomplete information
No matter how great your products are, if your product pages have incomplete information, your customers will look elsewhere. When cleansing your data, you need to take a moment to go through your data and locate any missing information, cells, blank spaces in texts, or unanswered product information. Incomplete data can be a result of human error, so it's best to get a tool such as PIM software to help you detect any incomplete information.
4. Stay up-to-date with data accuracy
Managing product data isn't a once-off task. It changes frequently so you need to validate your data to ensure it's always accurate, consistent, and properly formatted quality data. When your data is updated frequently, your product information is less likely to confuse customers or your internal team.
Staying up-to-date with your data doesn't only ensure you have data you can trust, but it also ensures you prioritize data governance so that it's safe from scammers, complies with the law, and helps you have a competitive advantage against competitors. When you have a master product catalog, you don't have to spend time doing this manually, it can:
Validate your data
Store data safely in the tightest security
Help you keep your data accurate and updated in real-time.
Plytix is the answer to data cleansing
All of this can be done manually, however, this means a high chance of human error and more time wasted on data management. Studies show that 30% of company data becomes outdated each year, why create more work for yourself when you can have a PIM database that can help you automate?
PIM solutions are here to help you keep product content updated, accurate, complete, and optimized enough to help businesses convert online. And, next-generation PIMs take it to the next level by having digital asset management capabilities so that all your product content is in one place. And, allowing for product content syndication, letting you send it through to your ecommerce platform, social media, marketplaces, and comparison shopping engines in a timely manner, which business wouldn't need a PIM tool after all these benefits?
Read more about PIM systems here or contact Plytix, the best PIM for small businesses today and get started on your journey of having clean, accurate, and enriched product data.
Ecommerce